Planning a trip to Scotland? You'll probably want to rent a car, which will allow you to access the country's vast number of beautiful drives and day trip destinations. Plus, the roads are good and traffic is pretty light.
Even though we loved driving in Scotland, there were three main challenges we faced: choosing what type of car to rent, driving on the other side of the road, and navigating the small highways and roads of rural Scotland. Based on our successful two weeks of driving there, I'm sharing my tips for renting a car in Scotland. Questions or tips of your own? Feel free to share in the comments below.
How to reserve a rental car for Scotland:
If you're flying into Scotland, you can reserve the rental car to pick up at the airport. Booking through Auto Europe is a smart choice. The site searches all available cars and then shows you the best rates. Based on my experience, here's what I would recommend:
Choose a rental car office that is on-site:
Upon arrival, you won't want to deal with any transport to get to the office from the airport. Connected to the Edinburgh airport terminal is a rental car hub with the main rental car offices including Hertz, Enterprise, National, Europcar, and Allied. It's just a short walk from the main terminal to the rental car center. There are other rental car offices located near the airport, but you would probably need to take a shuttle, and in my opinion, after a long day of travel, it's not worth the extra hassle (my mom did this because the car rental was cheaper but regretted it).
How to choose the right size car for driving in the UK:
Before going to Scotland, I wondered what would be the right size car to rent in the UK. Because many of the roads are narrow, you don't want anything too big. But on those two-lane highways where people drive fast and passing is involved, you also don't want a car that's too small. When we made our reservation with Auto Europe, I chose a 4-door sedan similar to a VW Jetta. Once at the rental office, we were upgraded to a Mercedes. In our experience, a sturdy 4-door sedan or small SUV would be the preferred choice.
Also, be sure to reserve an automatic so that you won't have to deal with shifting gears with your left hand. Driving on the other side of the road is a big enough challenge without using a manual that you're not used to.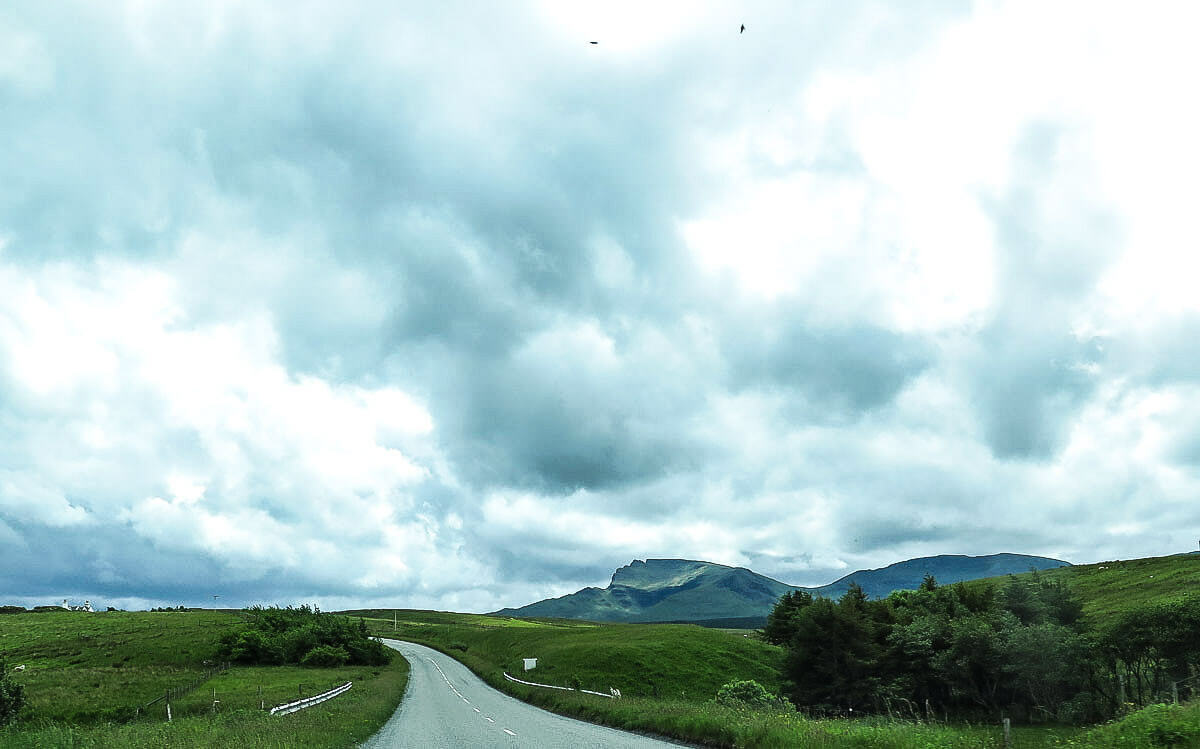 Do I need a GPS to drive in the UK?
In my opinion, a GPS is essential to driving in Scotland, especially if you're not used to driving on the left side of the road. I recommend upgrading to a car that has a built-in GPS. Not only does this type of system tell you where to go, but it also has a map on the screen that allows you to see the turns and roundabouts as you approach them. Being able to see what was coming helped us feel comfortable while driving in Scotland.
Note that you can use the map app on your smartphone, but this has limitations. You can download Google maps before you travel and then use them offline. We did this, but we found the car's built-in GPS to be more accurate and helpful. However, if you don't want to spend the extra money on a GPS with your rental car, using the offline maps is definitely an option. You may want to buy a good paper map of Scotland as a backup.
What other add-ons (insurance, carseats, etc.) will I need?
When booking the car on AutoEurope, I opted for the full insurance. I chose this option because I knew that the chances of damage were higher since we'd be driving on the other side of the road for the first time (but we ended up doing great and never bumped into anything!).
The other add-ons that we were interested in were the additional driver and carseats, both of which need to be arranged at the time of pick-up at the rental car office. With Hertz, an additional driver costs about 13 pounds per day, and there was a max rate of 10 days. You can also rent carseats/boosters — a carseat for children under 6 was about 60 pounds per week, and a booster for children 6 and over was about 25 pounds per week. To avoid these fees, we use MiFold boosters for travel, which are tiny and lightweight.
Tips for driving on the left:
Driving on the other side of the road and sitting on the other side of the car are challenging at first, but most people get used to it after a few days. Here are a few tips that we have after driving on the left for two weeks in Scotland:
Having a navigator is really helpful. When Rodrigo was driving, I was completely focused on being the navigator (not on my phone or much conversation). This means that I reminded him to stay on the left when we got in the car, told him where to go as we drove, and alerted him to changes in the speed limit. I always reminded him to look right, not left, when turning. I wanted his full attention to be on driving without any other distractions about directions or road rules. By the last week, he felt more relaxed, and I navigated only in tricky spots or when he asked for assistance.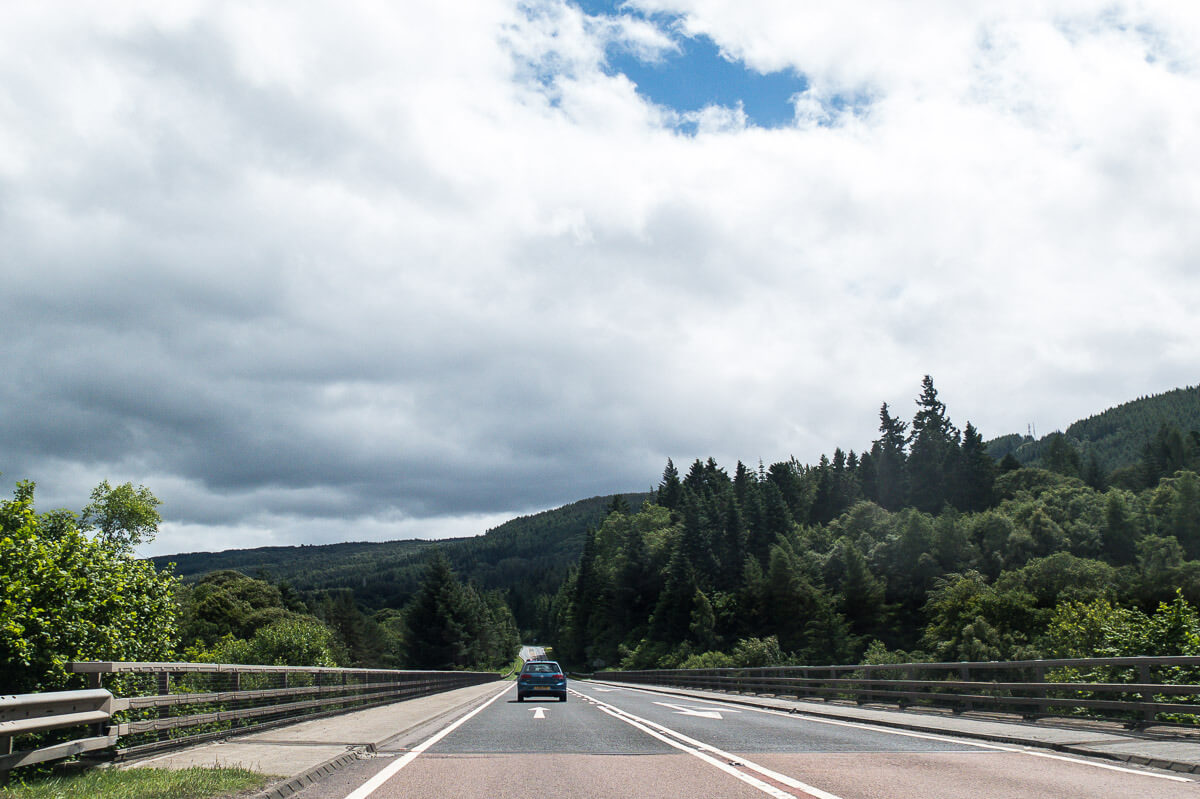 Get a car with a GPS. I mentioned this above, but it bears repeating because the on-screen maps helped us understand the layout of the roads, which helped us feel comfortable driving on the left. For example, when a roundabout was coming, we could see where to enter, which lane to stay in, and exactly where to exit.
Be careful on the left side. When you drive on the left for the first time, you naturally drift away from the center and end up too close to the left side of the road. Because many roads in the UK are narrow, drifting to the left may mean driving a bit in the shoulder and hitting potholes or other things that you shouldn't be close to. Ask the passenger to look in the mirror to see if you are driving on top of the left shoulder line.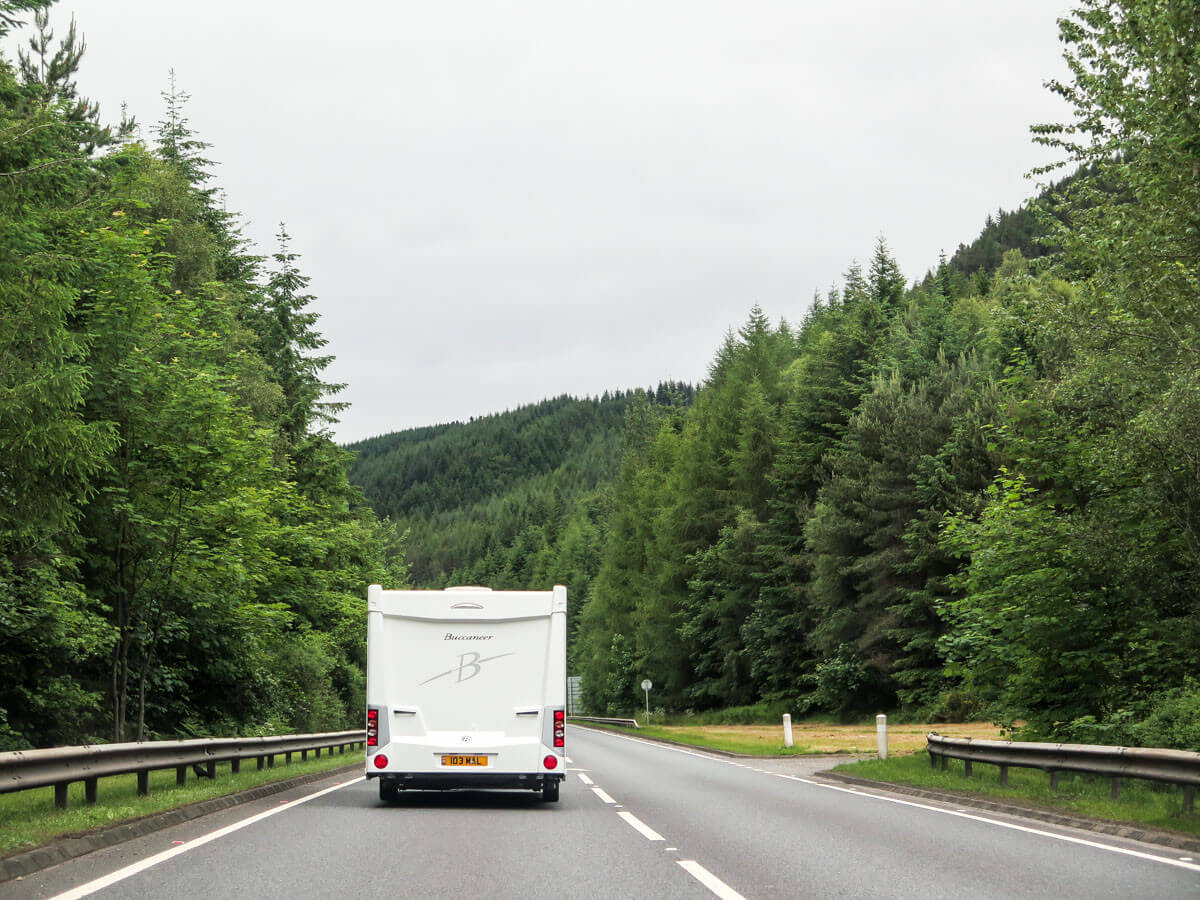 Remember it's not just the road that's different; it's also the car. Besides driving on the left side of the road, you also have to get used to a different car, from sitting on the other side to operating controls with opposite hands and turning your head left to look in the rearview mirror. You get used to all these things, but in order to feel comfortable and safe from the beginning, take some time to get to know the car and its controls before you drive.
We were surprised how much habit (muscle memory?) goes into driving — all those years of walking to the left side of the car to get in meant that he and I constantly found ourselves getting into the car on the wrong side. Rodrigo often turned the windshield wipers on instead of the blinkers, and worst of all was getting used to the gear shift being on the right side of the steering wheel and the rearview mirror being to his left.
Navigating the small roads of Scotland:
You may have heard that Scotland has some pretty small roads, even one-lane roads. This is especially true in rural areas of the highlands and islands. The small roads were easier to manage than we expected, but here are a couple of important tips for driving the tiny roads and highways of Scotland: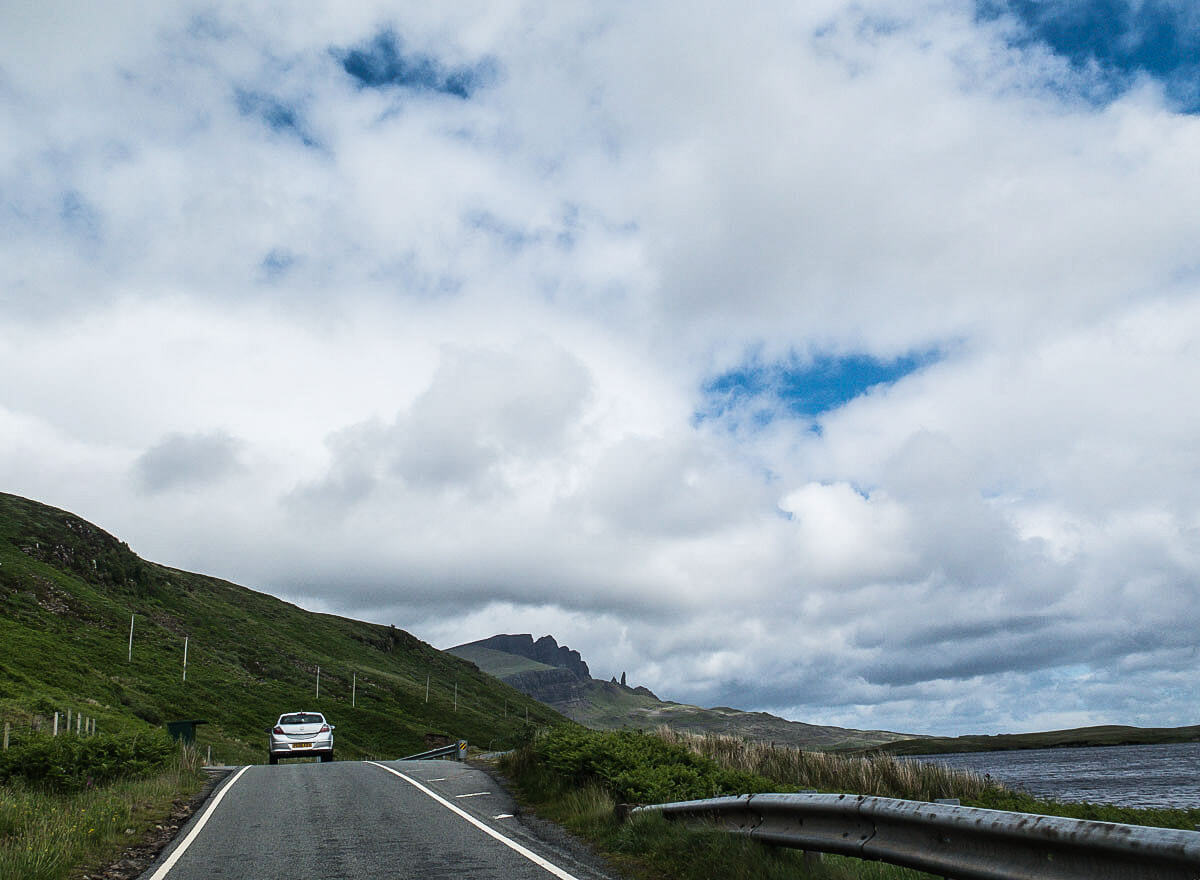 How to drive on single-track roads: It's not uncommon to come upon a section of road that has space for only one car, especially on the islands. This was the case quite often on the Isle of Skye. When the road narrows, there are signs alerting you of a "single-track" road ahead. These roads include many places to pull over to allow the on-coming car to pass.
Here's what to do. Even though the roads are narrow, stay to the left as much as possible so that in case you and another car don't see each other, you're less likely to hit head-on. Always keep an eye on the road as far ahead as possible. When you see a car coming, look for a passing place on the left, and when you see one, pull over and wait for the car to pass by.
If you don't see a passing place on the left, then look for a passing place on the right and pull up next to it; the on-coming driver will pull into it and allow you to continue. Don't cross the road to enter a passing place on the right! If you and a car do meet, the driver who's closest to a passing place should back up and pull over.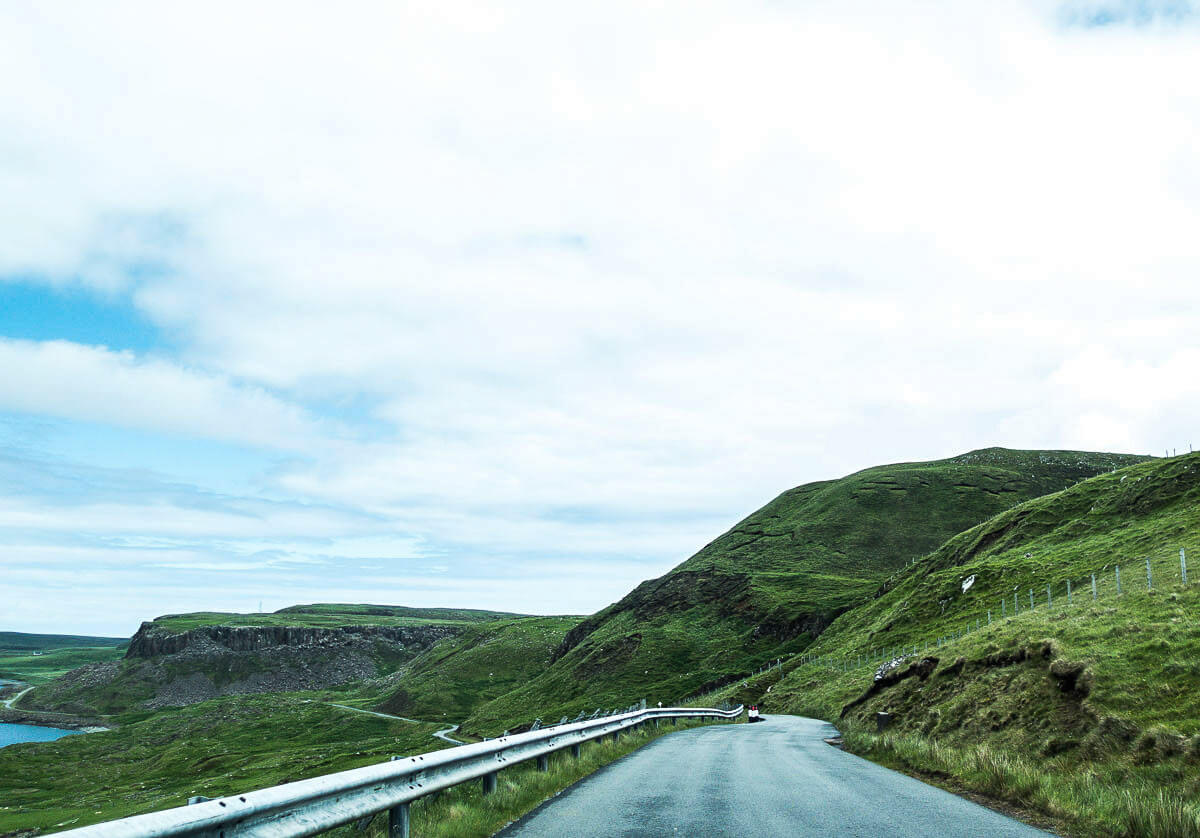 Another rule is that those going downhill should yield to traffic going uphill if possible. Never park in a passing place since they're needed for driving the single-track roads, not for parking. Go slowly around curves, and be aware of the possibility of bikes, pedestrians and animals in the road. We always gave a brief "thank you" wave to the person who pulled over for us and found that other people did the same.
Driving distances in Scotland: We found that the longest route in terms of distance was sometimes the shortest in terms of time. You'll need to decide what kinds of drives you want to do in Scotland, but keep in mind that driving the A roads –the bigger highways — can be faster and less stressful than driving the smaller roadways.
It rains a lot there, so allow extra time and patience in case you get rain (like we did!) on your travel days.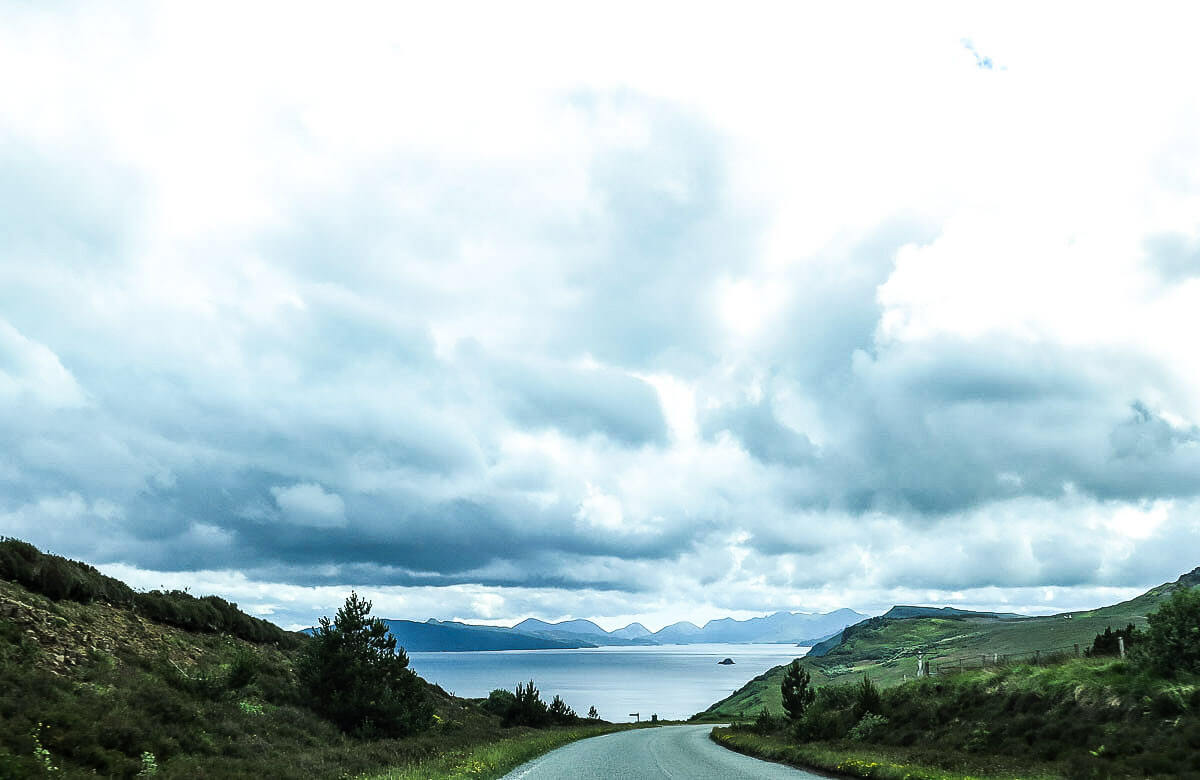 What questions or tips for renting a car in Scotland and driving in Scotland do you have?
More about traveling in Scotland:
30 Things to Do on the Isle of Skye
Why I Loved Scotland So Much I'd Move There
72 Hours in Edinburgh with Kids
Pin it for later: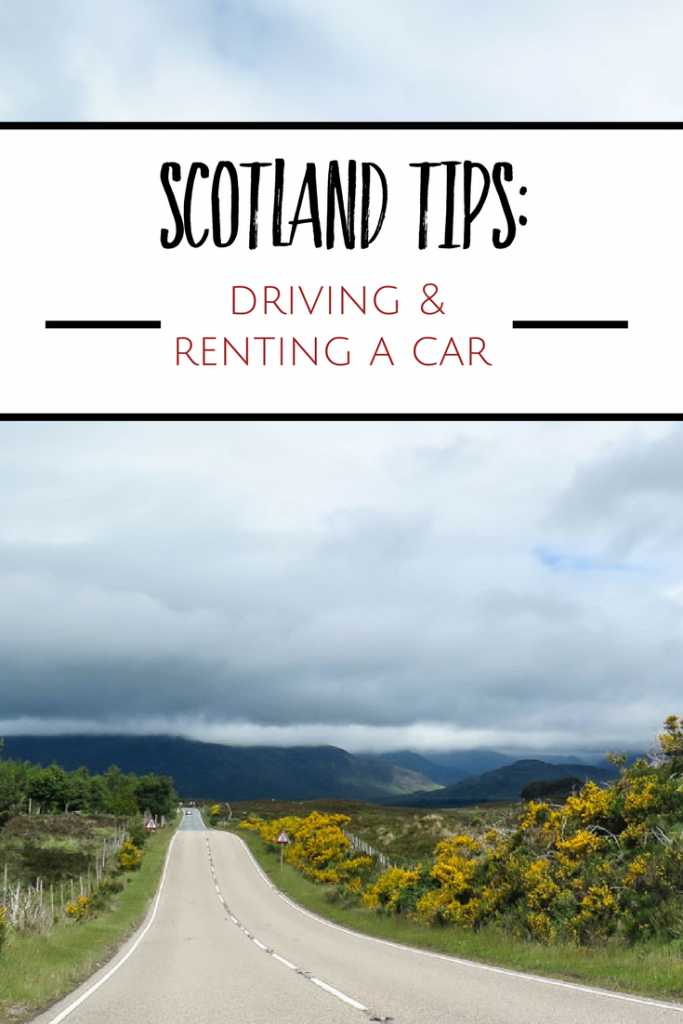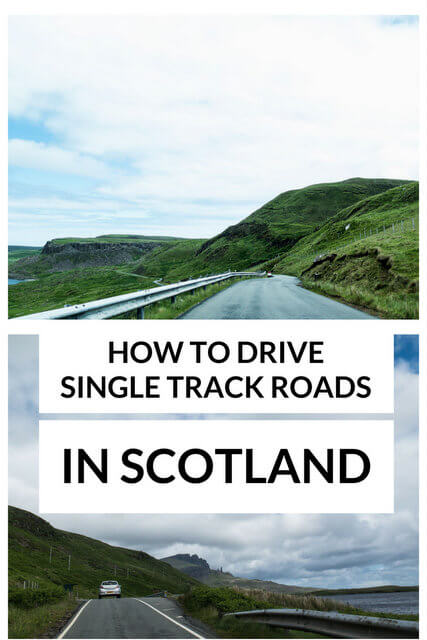 Disclosure: My car rental was partially hosted by Auto Europe, but all opinions are my own.