The theme for this month's ArtSmart Blogging Roundtable is favorite art and travel experience. I have quite a bit to say on this topic, actually, for reasons that might surprise you, but I will keep it fairly short and sweet in this post.
Let me begin with a few words about museums…I love museums, but I don't always think people should visit them when they are traveling. I know that sounds blasphemous coming from an art-lover and ArtSmart member, but I am basing this on personal experience. Experiencing art is something you should do when it feels right. If you'd rather be outdoors, walking the streets of Amsterdam, watching people in a park in San Francisco, browsing antiques markets in Brazil, or whatever your destination offers, then by all means skip the museums. Though museums hold incredibly valuable works that link us to our past and the creative potential of humanity, they are also, in some ways, separate from the current reality of their surroundings and are indoors, away from the vibrancy of everyday life in the city you are visiting.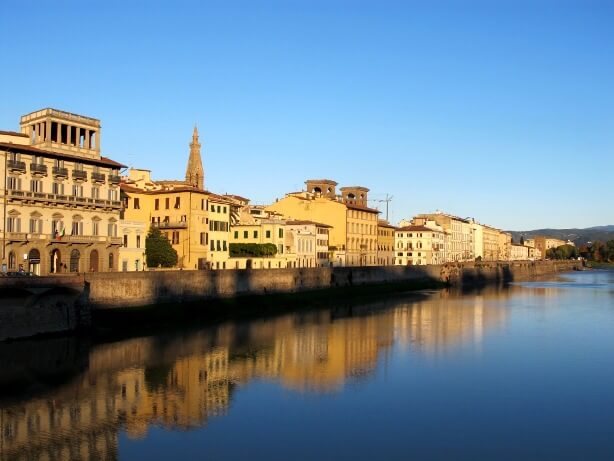 I have spent weeks visiting one museum after another in London, Munich, Florence, Prague, Venice, and São Paulo, but when I went to Amsterdam and paid the steep ticket price to enter the Van Gogh museum, I found myself disappointed–the sun was out, the museum was crowded, and I kept wanting to leave. I came away realizing that museums need not be on the "must-see" list when I visit a great city.
Getting back to the topic of favorite art + travel experience, I must admit that it was hard to choose. Certainly the month I spent in Italy studying Italian Renaissance art history was a fantastic art and travel experience. My agenda-free days of museum/gallery hopping in Munich and London were also pretty awesome when it comes to artsy travels. Thanks to my husband's knowledge as a local in the art/architecture-rich city of São Paulo, Brazil, I've had some pretty cool experiences with art there, too. But the experience that really strikes me now is the recent one I had in Florence, Italy. Here's why.
1) I was fortunate enough to get a spot on TeamFlorens, a social media/blogging team, which allowed me to attend the cultural events of Florens2012 and get a sort of insider's look at some of Florence's treasures.
This is the building where I reported every day, the Palazzo Vecchio, or old city hall.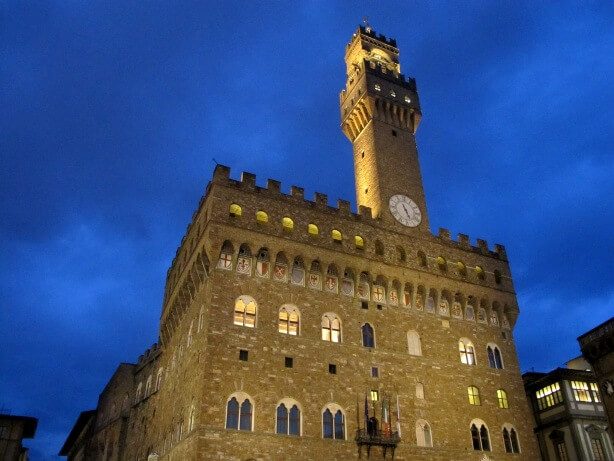 This was the view I had as I entered the Palazzo Vecchio a few times a day. This beautiful courtyard housed a photography exhibit of Italian landscapes.
These are the halls I walked at night on my way out of the conference.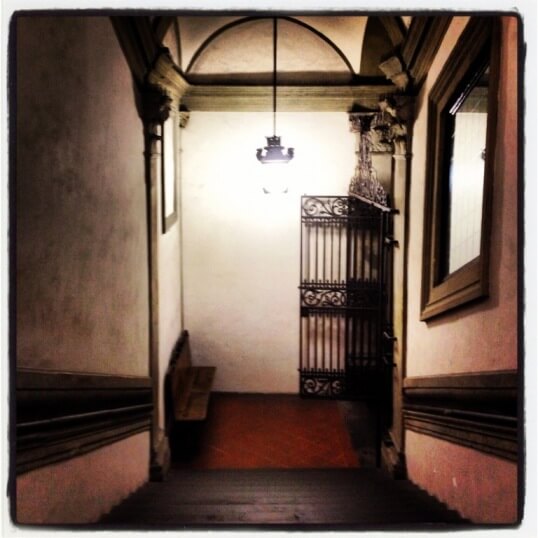 This is one of the rooms where I watched speakers from around the world talk about cultural and landscape heritage. It's the Salone dei Cinquecento, the main hall of the Palazzo Vecchio. Behind one of its painted wall panels is a lost (but recently discovered) Leonardo Da Vinci.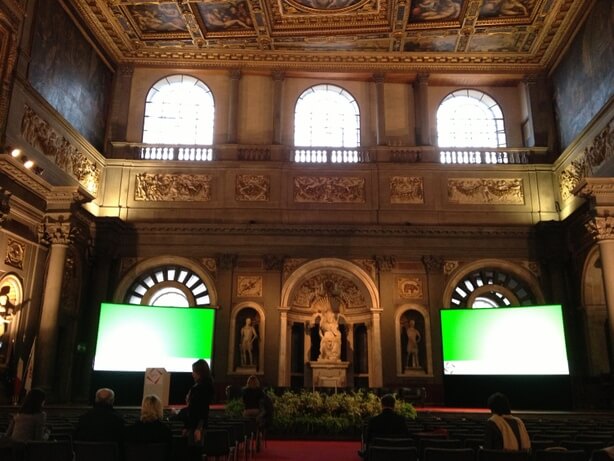 This is what hovered over me at our table in the Salone dei Cinquecento. It's a Michelangelo sculpture.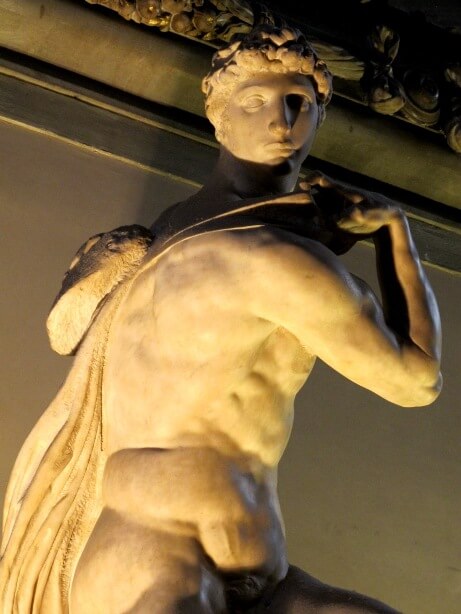 2) Oh, Florence, I still love you…I revisited some of the places that made a big impact on me when I was younger.
One of them is the Piazza della Signoria, the piazza outside the Palazzo Vecchio. Besides the Colosseum in Rome, it is the first place that really made an impression on me during my first trip abroad at 16. Its sculptures are truly impressive; even the Neptune fountain, which I don't really care for, wowed me because I had forgotten how huge it is, how it captivates the visitor with its presence.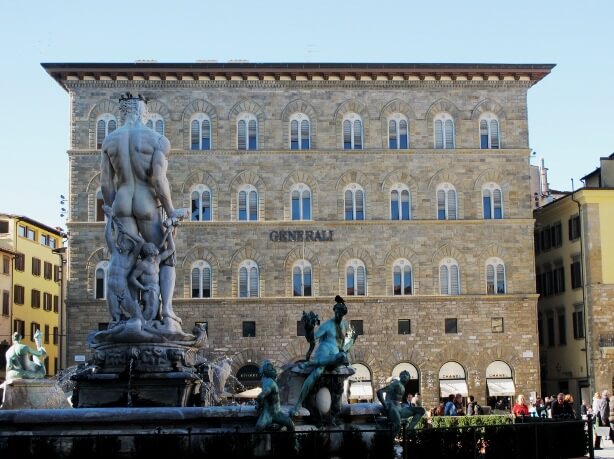 The other is the church of Santa Maria Novella. The interior of the church is (I think) the prettiest in Florence and is full of great art. I've been to that church many times with various friends and classmates, and this time I am happy that I could visit (albeit briefly) with fellow blogger Hasan of 3 Pipe Problem because he loves art history even more than I do (a lot more, in fact!).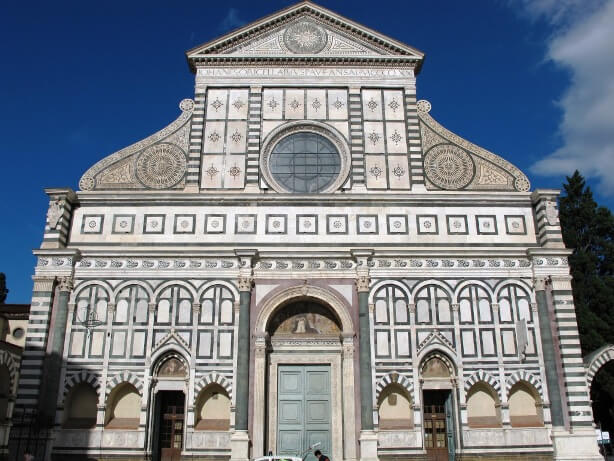 3) I experienced how Florence is embracing art in new, exciting ways. Thinking outside the usual tourist's lineup of museums can be rewarding. I attended a talk on museum apps and realized how much things have changed since my days as an art history student when the Internet was just beginning.
I experienced the coolest museum in Florence, the Palazzo Strozzi museum. On Thursday nights, the museum hosts a free event for the public–its central courtyard is filled with Florentines lounging on outdoor couches and drinking coffee or cocktails. Entrance to the contemporary exhibit downstairs is free.
For the Florens2012 celebration of how culture contributes to quality of life, Florence's Piazza Santa Croce was transformed by a beautiful installation by Mimmo Paladino. I loved seeing how people interacted with the cross-shaped space he created with huge pieces of marble, and I enjoyed the obvious contrast between the new in his work with the old in the Santa Croce church.
There are many reasons I loved my stay in Florence, and certainly experiencing the city's art in new and unusual ways was one of the best parts of the week. And I did it WITHOUT seeing the Uffizi galleries, the David, or the inside of the Duomo! That definitely doesn't mean they aren't worth visiting, but it does mean that a visit to Florence can be just as great with the rest of the art and culture this amazing city has.
Thank you to the Fondazione Florens for hosting my trip to Florence, and a very special thank you to my husband for supporting my time away by taking care of two very crazy children in my absence.
Please check out the rest of the ArtSmart bloggers' favorite travel and art experiences:
The Keeper of the Castle from The Daydream Tourist
Unforgettable Moments at the Vatican from Eurotravelogue
How Ireland Brought Me to the Basilica of San Clemente from A Sense of Place
The Staffordshire Potteries from Culture Tripper
Fresco Feelings in Milan! from CG Travels