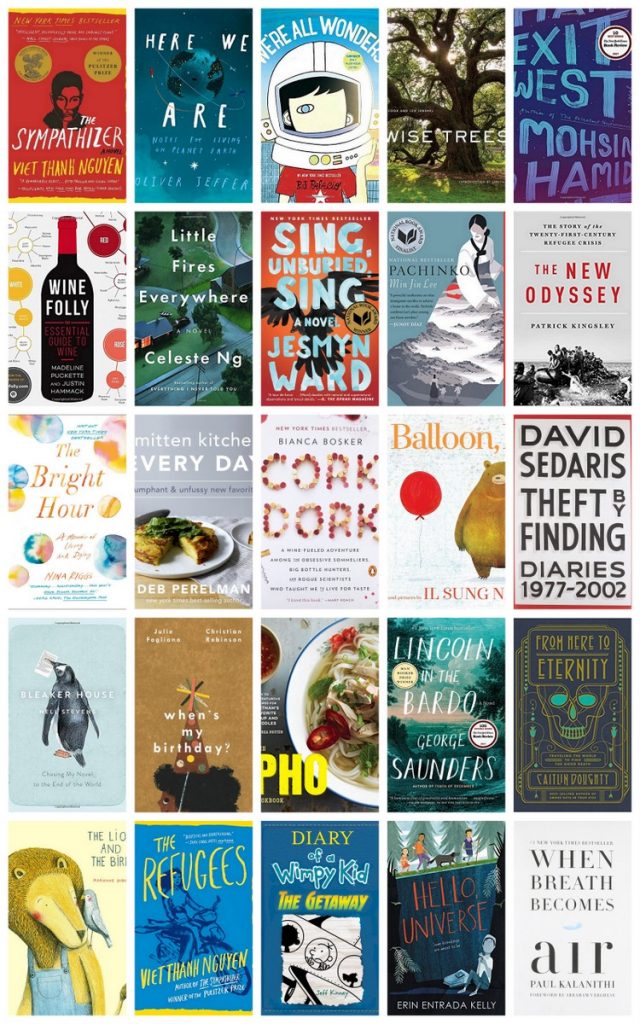 There are very few things better than diving into a really good book. Unfortunately, 2017 wasn't a good year for reading for me–I was either too busy or too distracted to read many books. But I've gotten back into books lately and already have a list of books to read in 2018. This is especially important for me as I'll be including fiction in my writing class next semester, so I've been reading books (this, this and this) about issues that my students can relate to. Here are my picks for what to read in 2018, but I'd love to hear your suggestions, too!
Fiction: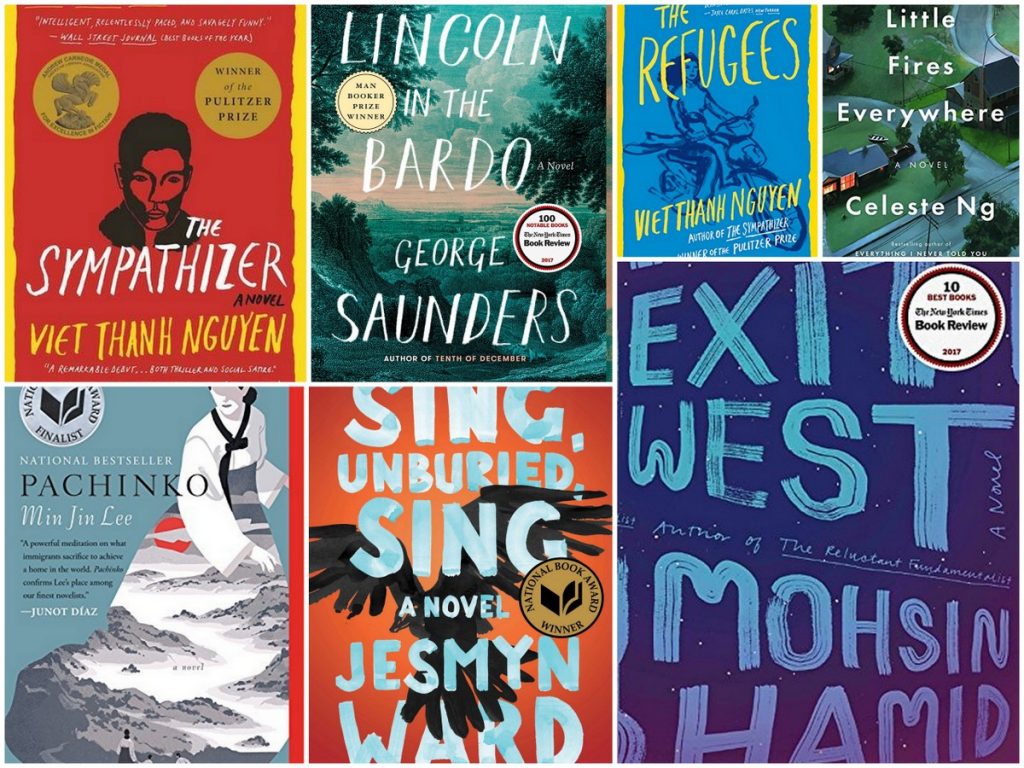 Pachinko : I love a good saga, and this one seems to be the one to read right now. A finalist for the National Book Award and one of the NYT and USA Today Top Ten of the Year, Pachinko follows a Korean family for four generations in Japan.
Sing, Unburied, Sing: The winner of the National Book Award, this stunning novel tells the story of a young black boy from Mississippi who has to grow up far too quickly.
Lincoln in the Bardo: An imaginative novel that won the Man Booker Prize, Lincoln in the Bardo centers around the journey of Abraham Lincoln after the unexpected death of his 11-year-old son during the Civil War. According the Amazon, this book answers the universal question, "How do we live and love when we know that everything we love must end?"

Little Fires Everywhere: This second novel by Celeste Ng explores race and privilege through the connections between two very different families in suburban Ohio.
Exit West: A novel that everyone seems to be talking about…this book is a love story combined with a refugee story with a little magic thrown in. On my nightstand at the moment!
The Refugees: A collection of short stories by Pulitzer Prize winner Viet Thanh Nguyen. I just read it and plan to use it in my writing class because of the details of the lives of immigrants in California portrayed in many of the stories.
The Sympathizer: Winner of the Pulitzer Prize for fiction (see above), this book explores the impact that the Vietnam War had but from the Vietnamese perspective.
Books to read in 2018 with kids: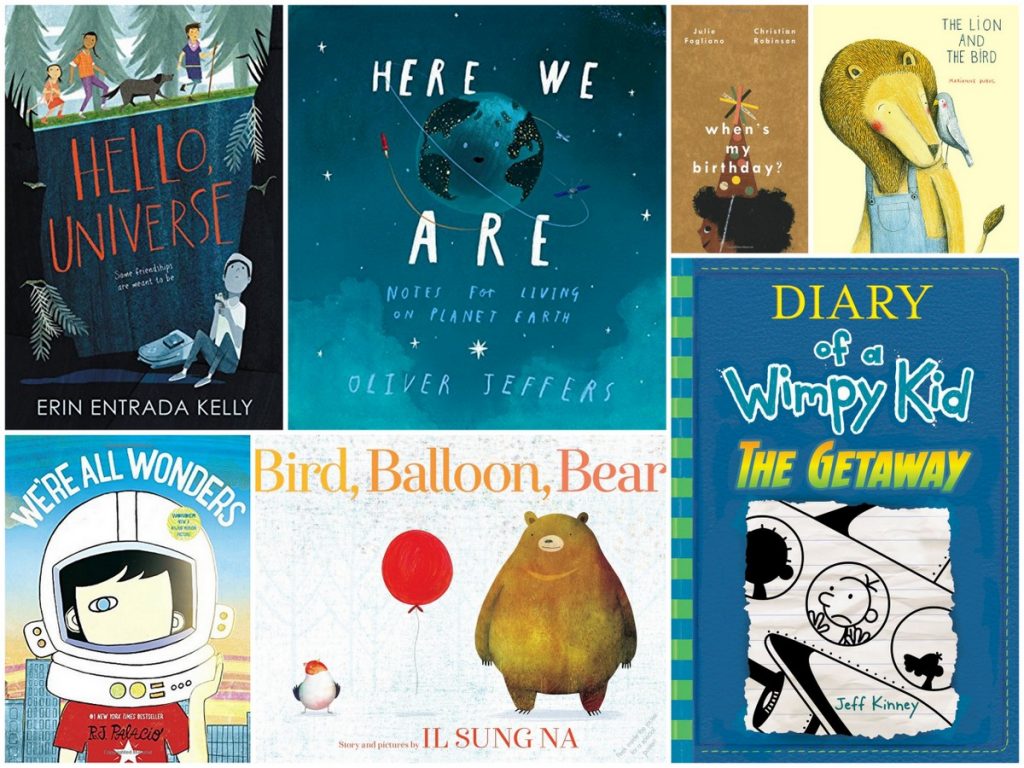 Here We Are: This is, in my opinion, a must-have for kids of all ages. It also shows the best qualities of Oliver Jeffers' work–his beautiful art, his sweet messages, and his ability to be quietly profound.
When's My Birthday? A fun book for little kids about their favorite topic, their birthday.
The Lion and the Bird One of my favorite books last year, this book is so beautiful and simple that I had to include it here, too. 
Hello, Universe: For older kids (around ages 8-12), this book is a neighborhood tale of an unlikely friendship that keeps the reader's attention with mystery and adventure. The story includes bullying, so it's an important read for kids who might be experiencing or seeing that at school.
Diary of a Wimpy Kid: The Getaway: if your kids like Diary of a Wimpy Kid, this latest book in the series is a must for the new year. And if your kids have yet to try the series, start with Book 1. They're so hilarious and well done that even adults can enjoy them.
This Is How We Do It: A look at how 7 children from around the world spend their days. The author worked with real families from these seven countries to create this look at what unites us.
Bird, Balloon, Bear: A sweet story about friendship with whimsical illustrations
We're All Wonders: A picture book that teachers empathy and kindness through this story of Auggie and his dog Daisy from the book Wonder.
Books about food and drinks: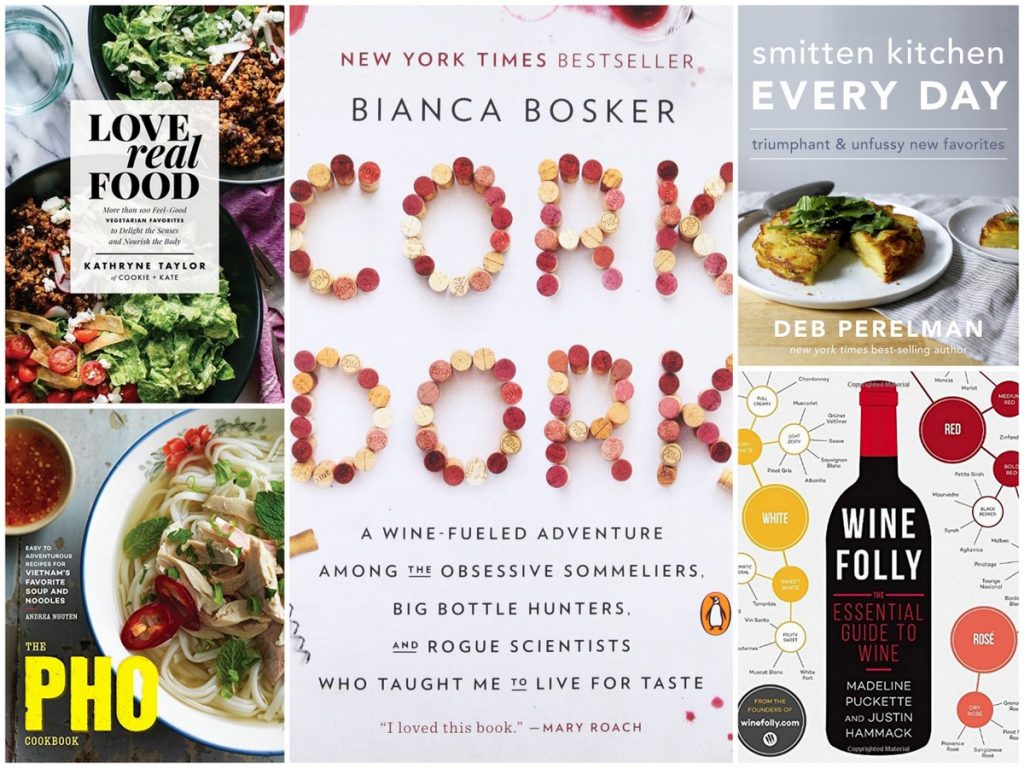 The Pho Cookbook: Easy to Adventurous Recipes for Vietnam's Favorite Soup and Noodles: I hear a lot about pho from my Vietnamese students, and rightly so…Pho seems to be all the rage these days, but a lot of people don't realize the variety of pho types and the fact that it can indeed be made at home. Even though I'm not a big pho eater because I don't eat beef, I aim to have some good pho in my cooking rotation.
Wine Folly: My favorite little book for people who want to know more about wine. It's full of graphics and easy-to-absorb diagrams, making it perfect for people like me who want a quick and easy reference book about wine.
Smitten Kitchen Every Day: Triumphant and Unfussy New Favorites: A cookbook of "real recipes for real people." As a working mom, I don't have a lot of time to cook, so I'm always on the look out for quick but tasty meal ideas. 
Cork Dork: A Wine-Fueled Adventure Among the Obsessive Sommeliers, Big Bottle Hunters, and Rogue Scientists Who Taught Me to Live for Taste: I'm currently listening to this audio book, a memoir of one women's journey deep into the world of wine.
 Love Real Food: My favorite cookbook for everyday vegetarian meals! 
Non-fiction to read in 2018: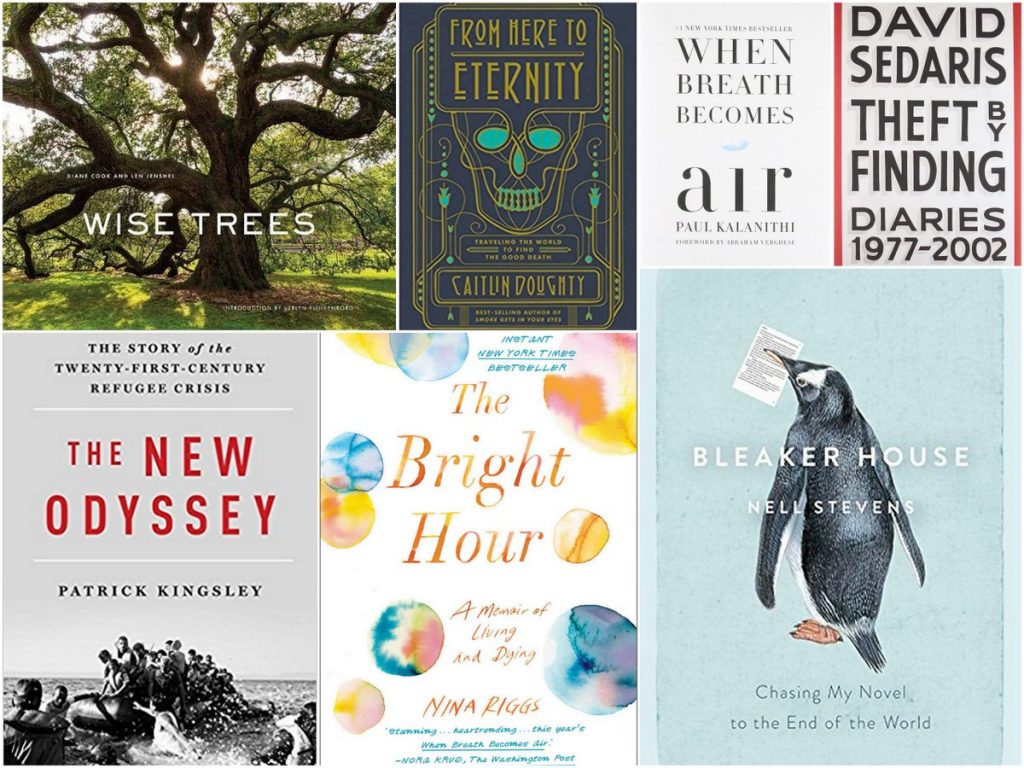 The New Odyssey: The Story of the Twenty-First Century Refugee Crisis: A timely read on one of the most important topics of our time, and one that hits home for me personally because of my work with immigrants and refugees
The Bright Hour: A Memoir Of Living And Dying: It can be hard to read a book about death, but perhaps by thinking about dying, we live more. This memoir was written by the poet Nina Riggs, a mother of two children and wife of 16 years who had terminal breast cancer at age 38.
When Breath Becomes Air: Not a new book but it's so powerful that it's still worth a spot on my list of recommended reads
Theft by Finding: Diaries (1977-2002): The diaries of one of my favorite authors, David Sedaris. I always grab one of his books when I need a laugh or a pick-me-up, and I've heard that his collection of diaries does not disappoint.
Bleaker House: Chasing My Novel To The End Of The World: In this memoir the author lives on a cold, isolated island at the bottom of the world in an attempt to get away from everything and write a novel.
From Here to Eternity: Traveling the World to Find the Good Death: What causes American's fear of death and dead bodies? The author explores this question by traveling the world to experience other's cultures' rituals around death. Fascinating!
The Best We Could Do: Called "a book to break your heart and heal it," this is an engrossing graphic novel that chronicles the struggle of one Vietnamese refugee family told through the perspective of Thi Bui, a writer, cartoonist and artist from Berkeley. I found myself staying up late at night with this unique book.
Why We Sleep: I'm reading this book right now because of my longtime struggle to have consistent, healthy sleep habits and have been making some positive changes as a result. Not only does the author suggest ways to improve sleep, but he also explains why sleep is so important and what benefits you can reap from getting a good 7-8 hours every single night.
What are your picks for books to read in 2018?
This post contains affiliate links.