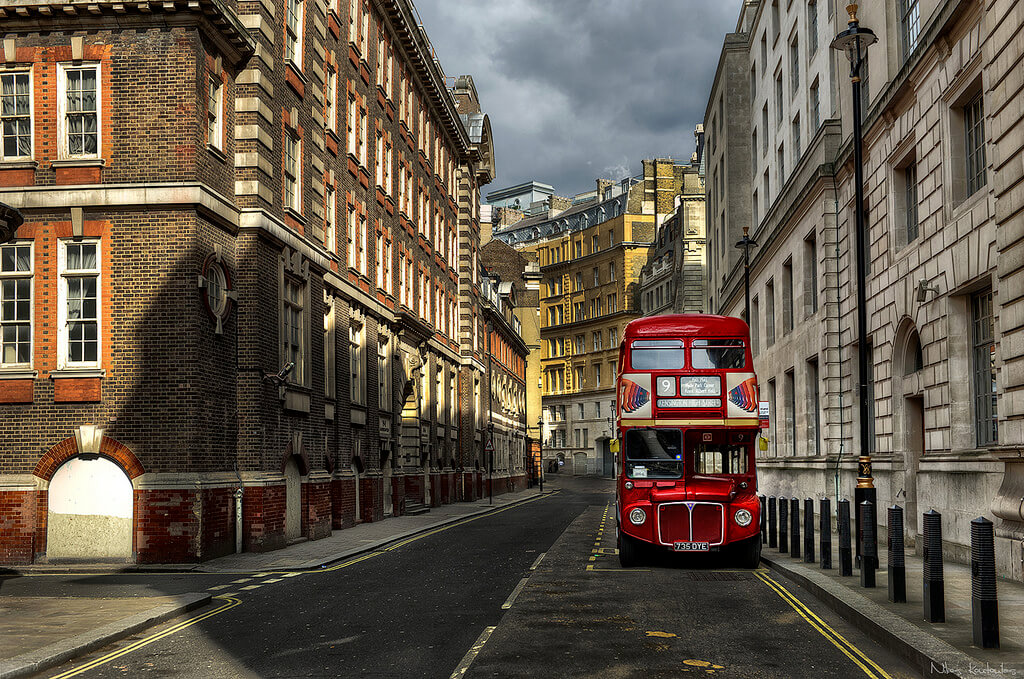 At the age of 22, I sold my car, pared down my belongings, and got a one-way ticket to Prague. I spent 1.5 years in a small town in the hilly countryside of Moravia in the Czech Republic. Since that life-changing experience, I've wondered how my life would be if I lived abroad again, especially as a family.
This was the inspiration behind a new series on the blog called "What's It Like to Live in .. ?" about expat life in countries around the world. The first installment comes from Erin Moore, an American living in London with her family. She talks about expat life in London: what it's like raising kids in England, British vs. American English, her tips for visiting London, and more.
I live in London with my husband Tom, our 6-year-old daughter and our two-year-old son. I write about the differences between British and U.S. culture. My book, That's Not English: Britishisms, Americanisms and What Our English Says About Us, was published last year in both countries. I also write a blog called Ex Libris Expatriate.
On the decision to move to London:
We moved to London in 2007. Tom and I always wanted to live here. He was born in England and I fell in love with it, first through books and later as a student on my junior year abroad. We wanted to live in London because it was a city where we both could work (he is in finance and I was a Senior Editor at what is now Penguin Random House). We imagined it would be easier to raise children here than in Manhattan. We also liked the idea of being in Europe, being able to travel easily and enjoying the benefits of working in the UK: longer vacations, more generous policies toward parents, and universal health care.
On first impressions of life in London:
It has been almost ten years since we moved, and our lives have changed completely.
In the first few years in London, I felt a little bit adrift. I was still commuting to my job in New York every other month. We had friends here, but not as many as there, and I still considered New York home—even to the point of getting my hair cut at my favorite place in the West Village and saving up dry cleaning to do on trips back. I hadn't fully committed to life here and still felt like a tourist walking through Heathrow arrivals. It was only when I quit my job in New York and stopped going back there so often that London began to feel more like home.
I started to make close friends, but it wasn't until our daughter was born in 2010 that I felt fully acclimated and integrated here. Kids really anchor you to a place. I got my UK citizenship when Anne was about 18 months old. It felt really important to have the same passports she had.
Back in New York a few months ago, for the first time in a year, without my children, I felt like an outsider. I didn't recognize anyone in the street. Many of my friends had moved out of the city with their young families, my favorite places had mostly closed or changed, and I was at a loose end in exactly the way I once was in London. Of course, I went straight downtown and got my hair cut… but it was very strange to feel how much New York and I had both moved on!
I am still mistaken for a tourist now and then, but London is home in a way I couldn't have imagined in my first year or two here.
On living and working in London:
I grew up in a small town, always feeling like I was going to be a city person one day, and I couldn't wait for that day to come. London is my third city (Boston was my first) and even though it's huge, on a typical day I can walk to most of the places I need to go and stay within about a 3-mile radius of home.
My son spends most of his day with our babysitter, who comes at 7:30 four mornings a week. At 8:00, my daughter and I get on the bus to go down to her school. We see a lot of people we know on the way, but if we aren't having chats with them we are usually reading our latest book. We're on the St. Clare's series by Enid Blyton at the moment. I've never read them before and they are a cultural experience—set in an English boarding school and very funny.
After drop-off, I might go to the London Library, the British Library or a café to work. Two days a week, I also make it to the gym. At 3:00, I pick Anne up from school. Sometimes we go to Regent's Park with friends for an hour, then we go home where I help with homework, make the kids' dinner, give them their bath and read to them before putting them to bed. Then my husband comes home and we have dinner together.
On raising kids in London:
My daughter has a British accent! I knew she would eventually have the accent of her peers, not her parents, but when she first started school the change was sudden and complete.
Although I occasionally worry about the effects of pollution, and no place is perfect for raising kids, I think they are lucky to be growing up in a place that has so much going on culturally. We spend a lot of time taking them to museums, libraries and parks. Even better—there are at least four religions and 6 second languages among the children in my daughter's class at school. (Of approximately 60 parents, I think only 3 of us are American.) That is such an education in itself, and I'm grateful for all we are learning.
Sometimes I worry that Anne will not ever feel American at all. Her knowledge of our holidays and traditions is a little fuzzy (though she is still very little). Check out her funny description of Thanksgiving here in this interview for the Evening Standard.
On cultural differences and British vs. American English:
When Americans move to England, I think we tend to underestimate the cultural differences at our peril! Take just one example: language. Although we all speak English, there are a number of words that have a completely different meaning in British vs. U.S. English. And you can end up really lost in a conversation—misunderstanding or feeling misunderstood. You can also get seriously laughed at.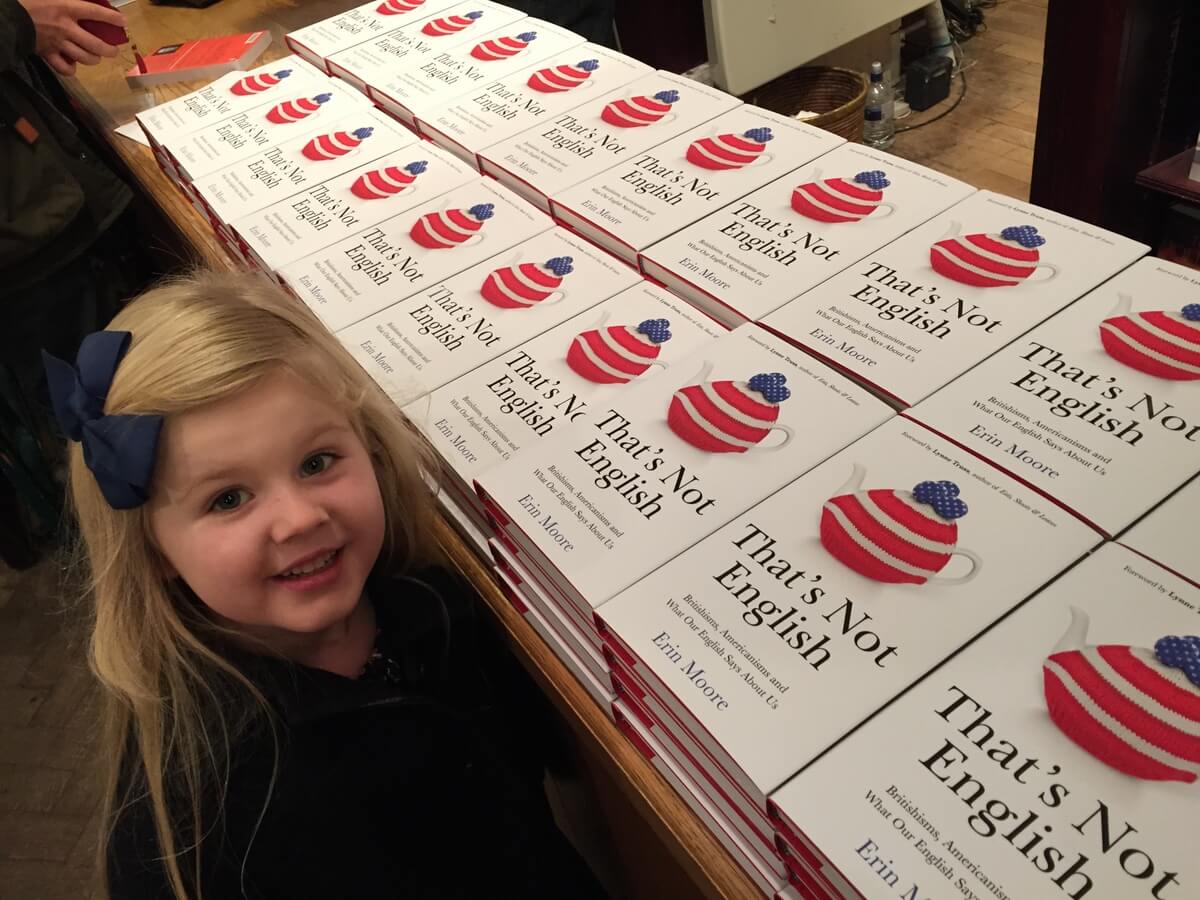 An American friend of mine was at her office in London and said, "I need to get my fanny into the gym"—as in, it had been a while since she'd worked out. Her coworkers thought this was hilarious, because in British English, "fanny" means "vagina." So, Americans: if you travel to England, best leave your fanny packs at home, or at least call them by a different name! (The English call them "bum bags," but that doesn't sound much better.)
The word I learned about the hard way is quite. When Americans say we quite like something, we mean we really like it. And I think that our enthusiasm comes across. But when an English person says he quite likes something, he's damning it with faint praise. He didn't really like it that much, if at all. The difference in what English people and Americans mean when we say quite is emblematic of our habitual ways expressing ourselves. Not all generalizations are fair, but I think it is fair to say that Americans tend to be more effusive and enthusiastic in our speech than the English, who are masters of understatement. They have an advantage when it comes to picking up on what Americans mean, because our emotions are more on the surface and because they grow up watching American movies and television. It took me five years of living in London to figure out what the English mean when they say quite.
There are so many of these words. In American English, smart means intelligent, whereas in British English, "smart" describes someone who is well-dressed. In British English, there are a few ways to convey the idea that someone is intelligent. If you like the person you might say he or she is "bright" or "terribly bright." If you don't much like the person, you'd probably use the word "clever," which is not really a compliment here.
Another word that causes misunderstanding is proper. The English use proper to describe something that is genuine, bona fide, and thoroughly of its kind. ("Fursty Ferret is a proper ale.") English people get a kick out of things being "proper." "Proper!" can even stand as a full-fledged compliment.
This definition, while not entirely unknown, is not the primary one in America. All the most common American uses of the word proper are about conforming to convention, being respectable and appropriate, formal and sedate. When Americans call something "proper" they are thinking refined, virtuous, boring. Being "proper" can even carry the connotation of pretending to be something one isn't. Being genuine, or "real," is far more desirable in American society than being proper. What Americans might not realize is that when the English say "proper," genuine and real is precisely what they mean. Both Americans and the English love authenticity, and they don't like pretension—something that they don't necessarily understand and appreciate about each other. So we do have some things in common—but it took me a while to begin to sort it all out (and I'm still working on it).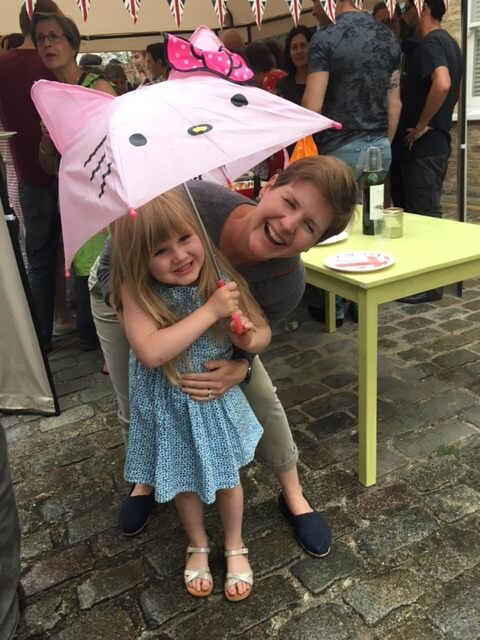 On making friends in another country:
Shortly after we arrived in London, we went to a birthday party for an American friend who'd lived here for a few years—and there were no British people there. On the way home, we started strategizing on how to become fully integrated! But it wasn't easy. We made friends first with our wonderful downstairs neighbors. And they introduced us to their other friends. That was how it started.
Proximity helps—because the English tend to mind their own business and stick to small talk with strangers, it's the people you run into every day (like other parents on the school run, or your coworkers) that are easiest to befriend. Eventually the mask drops and you find out who they really are, and it feels like a real accomplishment.
Tom and I were very purposeful about making friends. In the beginning we set out to invite anyone we even vaguely liked from work over to dinner. A few of those evenings went really badly and I remember crying over the dishes at least once! But some of those early acquaintances responded by inviting us back, and over time relationships developed. My only advice is to be yourself, be open, and keep trying. Some places are easier than others.
It's easy to befriend other expats, and I have made great friends with other Americans here. The only problem is that they usually end up moving away and breaking my heart! So it's important to have local and expat friends.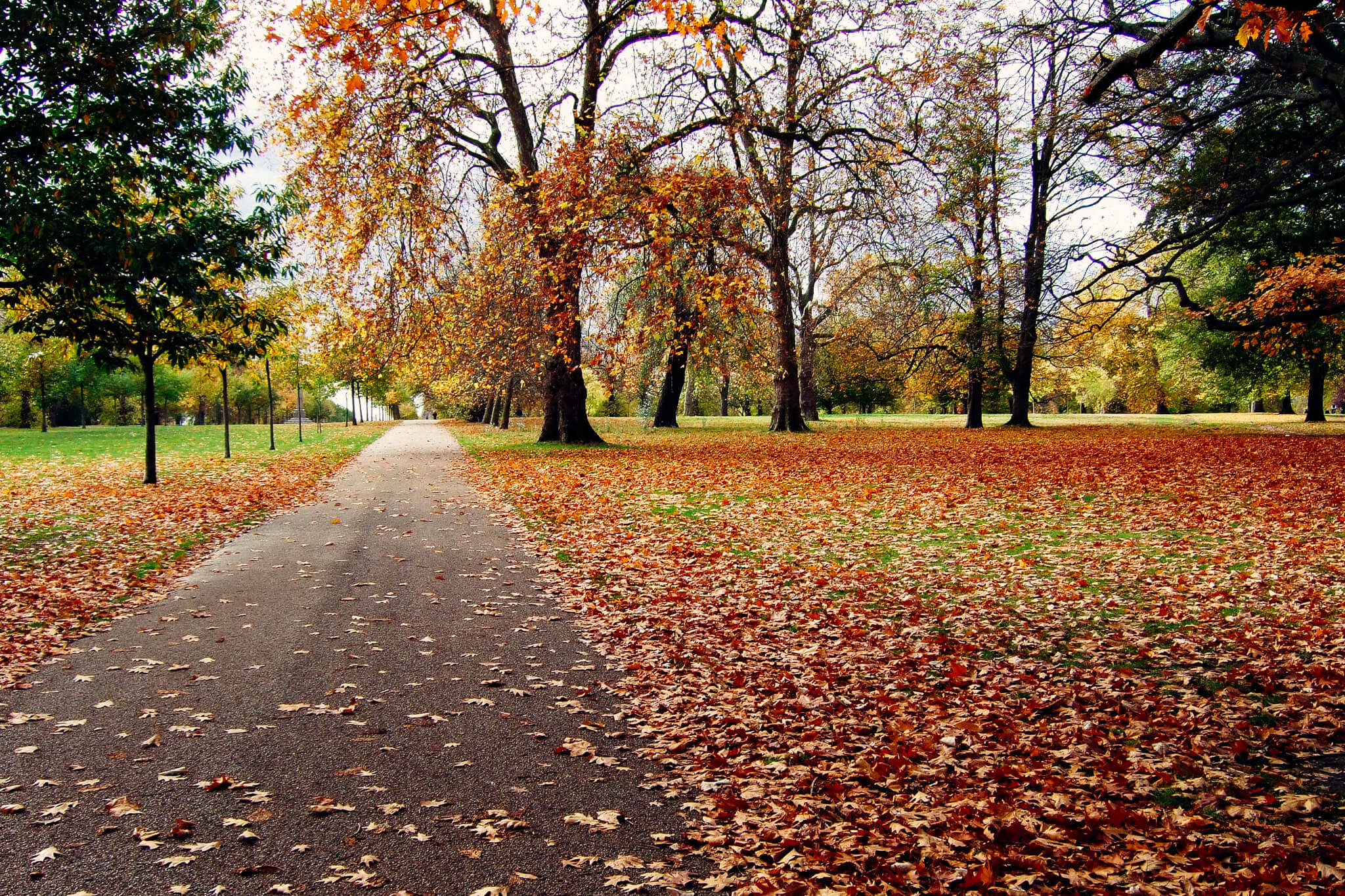 What are some things that you love about life in London?
This may seem like a small thing, but I appreciate how temperate it is here. It never gets very hot or cold compared to other places I've lived. It stays green in winter and almost never snows. I love that it stays light out until 9:00 in summer (though we do pay for that with 4pm sunsets in January).
I love that it's so easy to travel. We went to Provence for a wedding in early July and it was so easy—we were there within 4 hours of leaving home. We live near King's Cross and it would be possible to go to Paris for lunch and back in the same day (though I have only done that once). We can get to India as quickly as we can get to New York.
The possibilities are dizzying, and we have yet to take full advantage of them as we hope to when the kids are just a little older. When I was a kid, living in south Florida, it took us a day and a half of driving just to get to the next state. I didn't get my first passport until I was 20, so this mobility is a huge deal to me and it never gets old.
On the challenges of living in London:
I'm sorry that we live so far away from our families. My parents live in Florida and our only option for getting there is a 10-hour day flight, followed by a 2-hour drive. That did not seem daunting when it was just the two of us, but with a two-year-old, it sure does. Luckily my parents are able to visit twice a year. My husband's parents and sister live in the Northeast, and we see them twice a year, too. But still: our parents miss us a lot, and so do we.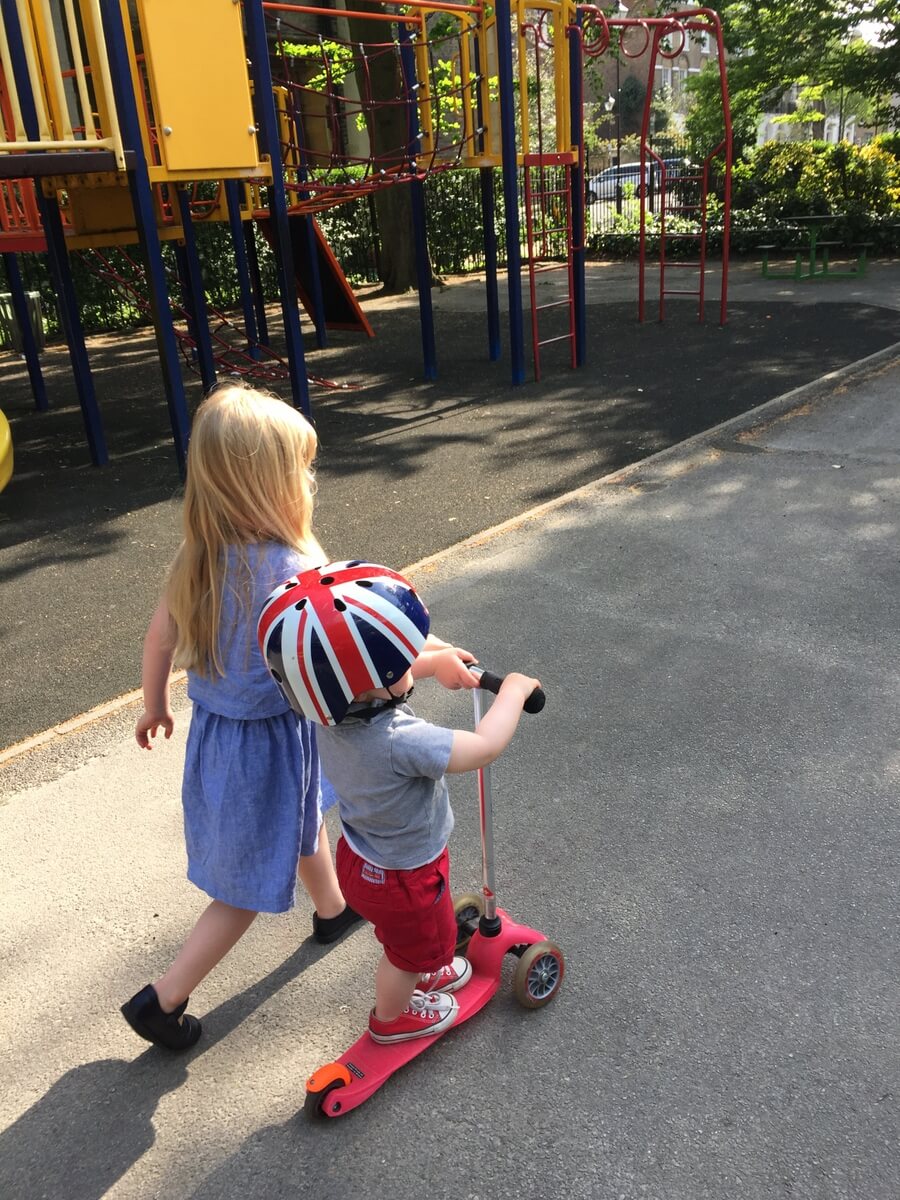 What aspects of life in England do you wish your native country would adopt? 
There are small things, like the ability to get a great cup of tea anywhere, that I miss when I'm in the U.S. But the aspects of British life that are most important to me would not be so easy to export to the U.S. I love that guns are not a fact of daily life here, and gun violence, while not unknown, is nowhere near as big a problem. I wish my friends and family in the U.S. had 6 weeks of vacation per year that they actually felt entitled to take, and that they could take up to a year out of work after having a baby without risking their jobs.
I love the U.S. and feel very American, but having seen these things done differently, and better, in England, I'd love to see them change in my native country. There are also things I love about the US: people's strong sense of individualism, great work ethics, and can-do spirit (to generalize once again!) that I miss a lot, and wouldn't want to see change.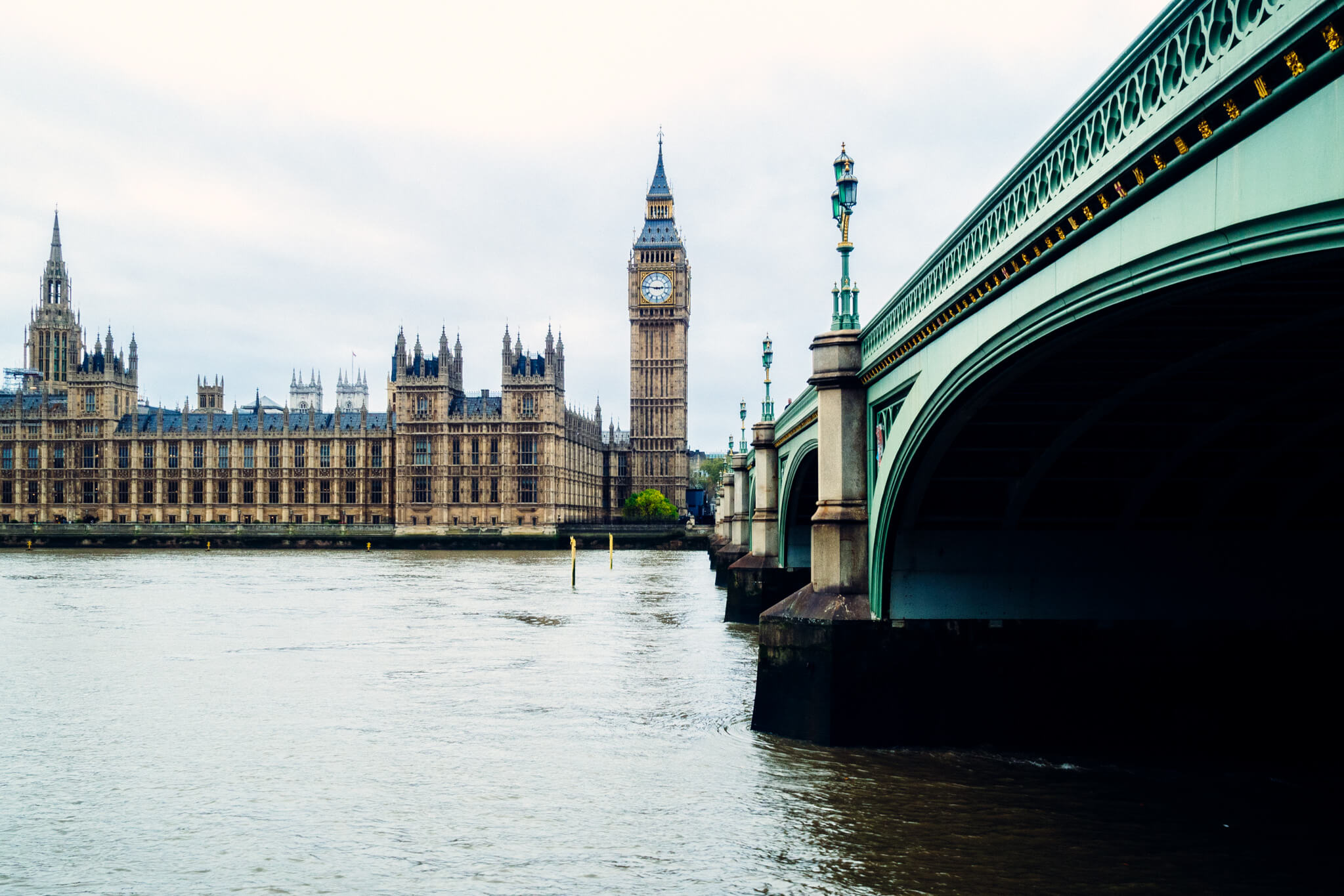 Erin's tips for visiting London:
It's fun to see the monuments and landmarks of central London, and my favorite way to do this is to walk or run through Hyde Park, Kensington Gardens, Green Park and St. James. You'll get views of Kensington Palace, Buckingham Palace, the London Eye, Battersea Power Station, the Shard, and Big Ben and the parks are beautifully planted year-round. You may run right into the changing of the guard. The route is here.
Bloomsbury is one of my favorite parts of town and a great place to while away a morning or a whole day. If you have kids with you, you could start at Coram's Fields, a wonderful playground with something for every age. You can relax and let your kids run around—it's huge and there's only one entry/exit point. Get a cup of tea at the café and explore.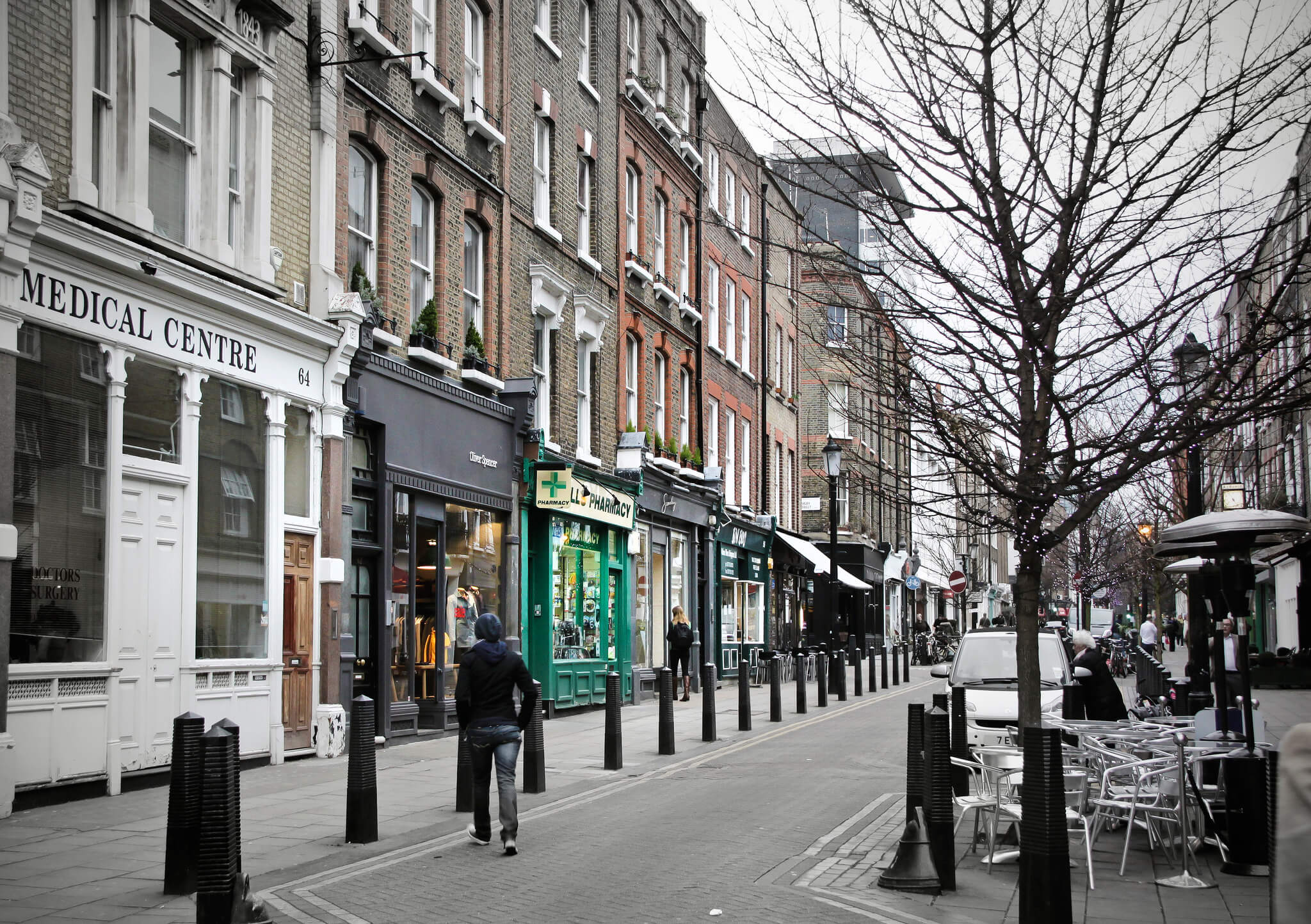 When you leave, you will be at the foot of Lamb's Conduit Street, one of my favorite places for an aimless wander. Check out Persephone Books—they reprint books by neglected mid-twentieth century authors with distinctive dove-gray jackets and gorgeous textile print endpapers. Stop by Knockbox coffee, get lunch at neighborhood institution Ciao Bella, or duck into one of the many great clothing and shoe shops (mostly menswear, but that's never stopped me).
One of my favorite shops in London is Pentreath and Hall on Rugby Street, just off Lamb's Conduit Street. While you're on Rugby Street, Maggie Owen jewelers is lovely, and Thornback & Peel is the perfect place to find a packable souvenir. Their tea towels, aprons, and cards are all screen printed in London, and their aesthetic is both fresh and nostalgic.
My favorite museums in Bloomsbury are the small and quirky ones. I love the Charles Dickens House, Sir John Soane's Museum, and the Hunterian Museum. It's a museum of medical curiosities—not for the squeamish!
My favorite book shops (and other bibliophilic haunts) in London are here.
For the latest and greatest things to eat, follow Clerkenwell Boy on Instagram (but prepare to be jealous).
One more thing: Have good rain gear. Bring or borrow a full-sized (but not oversized) umbrella, a raincoat that's actually waterproof, and shoes that won't get soaked through or ruined. As I write this, I'm sitting outside on one of the sunniest and most beautiful days of the year, but this is not typical London weather! Come prepared for rain, and you'll enjoy the city more.
On what's next:
Our plan has always been to stay, at least until our children are grown. We've been very happy here. It's too soon to tell, since the vote has just happened, but fallout from Brexit could change the way we feel about our long-term prospects. I am very sad that the UK will no longer be part of the EU. Even if I weren't an immigrant myself, I'd be pro-immigration. The UK wouldn't be what it is without its diversity—the energy and contributions of immigrants help to make it truly great, just as they do in the US.
Thank you so much, Erin!
Photo credits: Red bus: Nikos Koutoulas on Flickr, Family photo: Christian Banfield, Regent's Park: Cristian Bortes on Flickr, Park in autumn & Big Ben: Andrea Anastasakis, Lamb's Conduit Street: KotomiCreations on Flickr