When I studied Medieval art history in college, one of the places that most intrigued me was southern Spain. I swore that I'd visit Seville, Cordoba and Granada to see the Moorish architecture. I made it to Granada (and the Alhambra) a couple of years later, but not to Seville. I've always pictured it as a quiet city of colorful courtyards and intricately carved buildings, so today I'm happy to learn about life in Seville in this next post in my Living Abroad series. From the city's architecture and bike-friendly culture to the difficulties of making friends abroad, Cat shares what expat life in Seville is really like: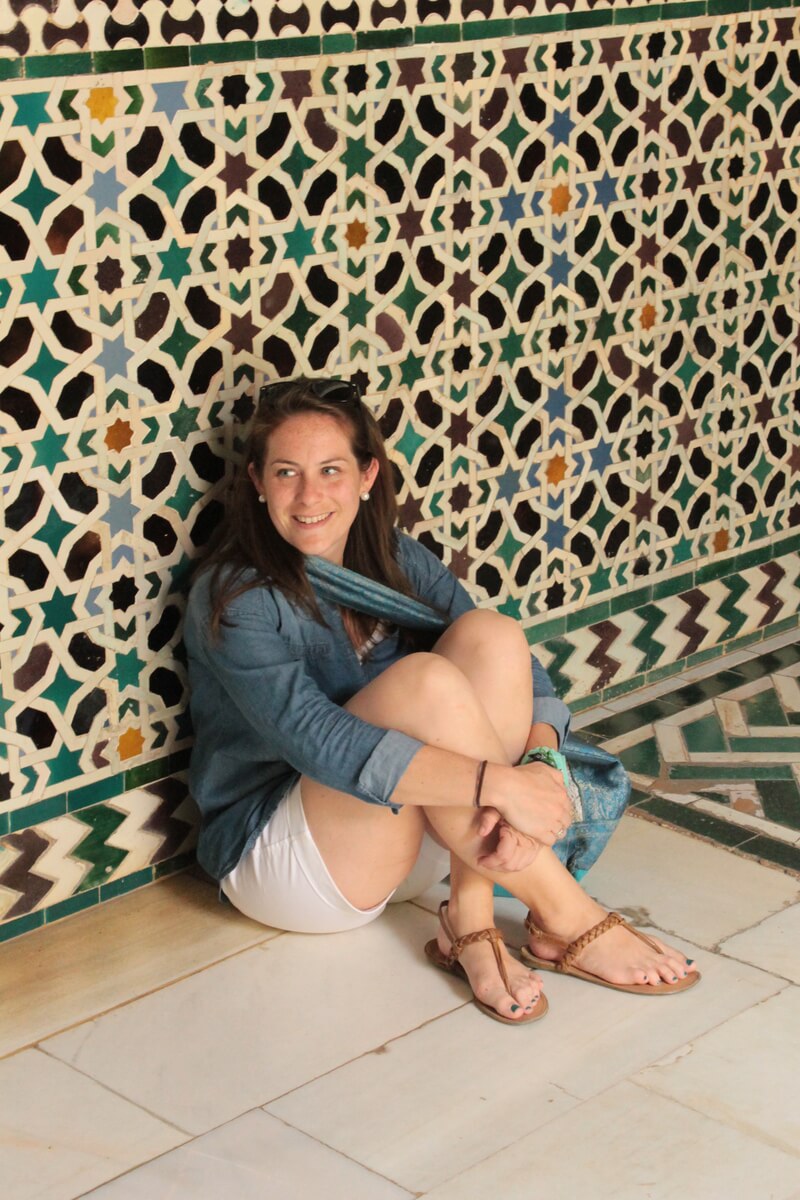 My name is Cat Gaa, and a brand storyteller once said that five words to describe me would be: Seville, cerveza, Feria, Sunshine and Siestas. I am, to the online world, the sevillamericana.
I moved to Seville, the capital of southern Spain, in 2007 just after finishing college in the Midwest. A decade later, I have a Spanish husband and a career as a teacher-cum-admissions counselor for an American university abroad and recently moved to Madrid. Even though we're in the capital city, I chose to give birth to our first child in Seville earlier this year.
I rarely have free time these days (I may believe in the siesta, but my baby doesn't!), but when I do, I publish at Sunshine and Siestas about my life and travels in Spain as well as run the content at COMO Consulting Spain, a blog entirely dedicated to residency issues for non-EU citizens. You can find me on Facebook and Instagram.
On the decision to move to Seville:
After studying abroad in Spain in 2005, I knew I wanted to take a gap year. When the opportunity presented itself to teach in Spain through a US-Spain collaborative teaching program, I applied and selected to be placed in Andalucía. If I could escape a Chicago winter, I wanted to be as far south as possible!
I didn't choose to live in Seville – the Spanish government chose it for me! I was placed in a high school in rural Olivares, about 10 miles west of the city, and decided to move to the capital. I'd visited once when studying abroad and, though initially disappointed that I hadn't been placed in Granada, knew it would be a great fit for me.
On first impressions of life in Seville: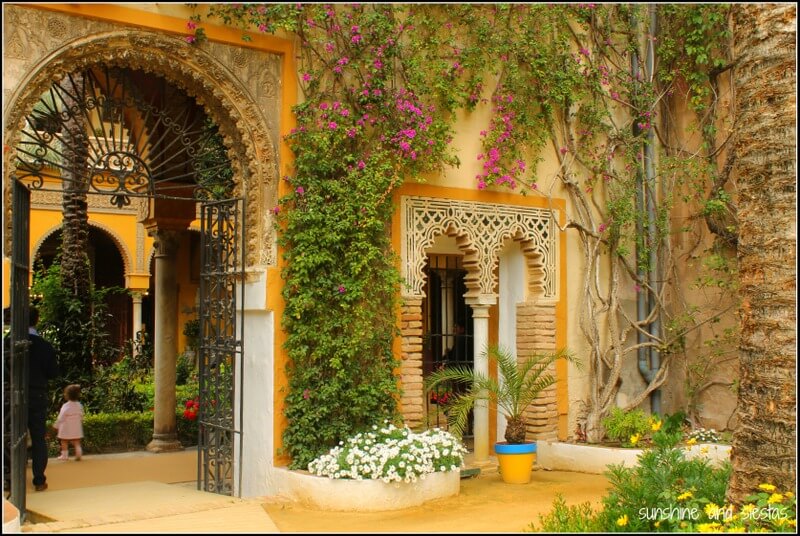 Seville is a city that's easy to fall in love with on the surface. The Moorish architecture, the riverfront, the romantic horse carriages. It's hot, vibrant, traditional and beautiful.
Moving there on your own, fresh out of school, is different. I moved to the neighborhood of Triana because of its proximity to the bus stop for work and was immediately smitten with its traditional architecture and city-within-a-city feel. But the adjustment was hard. I spoke Spanish but couldn't catch the local accent, and there were few American expats in the city at the time. I struggled to do the basics, like open a bank account or order my groceries at the market. Extremely homesick for a good month, I rarely left my house except for going to work.
Meeting the fellow Chicagoan who would eventually introduce me to my husband changed all of that, and I began to love Seville.
Choosing to move away came as a shock to everyone – myself included. Even though Seville is one of Spain's largest cities, there aren't many job opportunities. We hope to move back one day and live in the house we bought in Triana three years ago. My husband is from the area and, like all sevillanos, believes it to be the center of the world.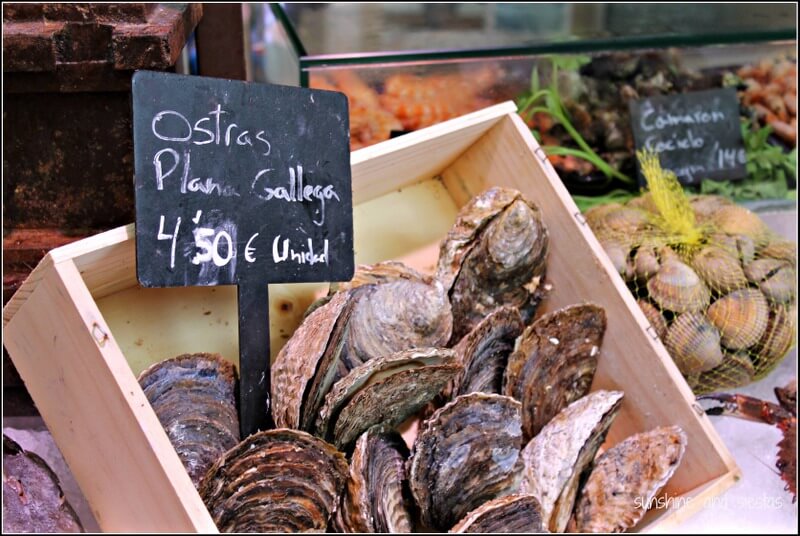 What are some cultural differences that you had to get used to?
Oh, tons. At the beginning, everything from the opening hours to the food. Think that bankers have good hours? Become a banker in Spain – they work from 8am until 2:15pm! Don't leave your grocery shopping until Sunday, as everything will be closed. The heat was oppressive, the humor – called gracia – of the locals was lost on me, and the work culture was entirely different. I struggled to accept the sincerity of Spaniards, too.
But after some time and dating a Spaniard, I found my customs and habits become more sevillana than American. I napped every afternoon, drank before dinner and learned to let go of the future plans in favor of living in the moment.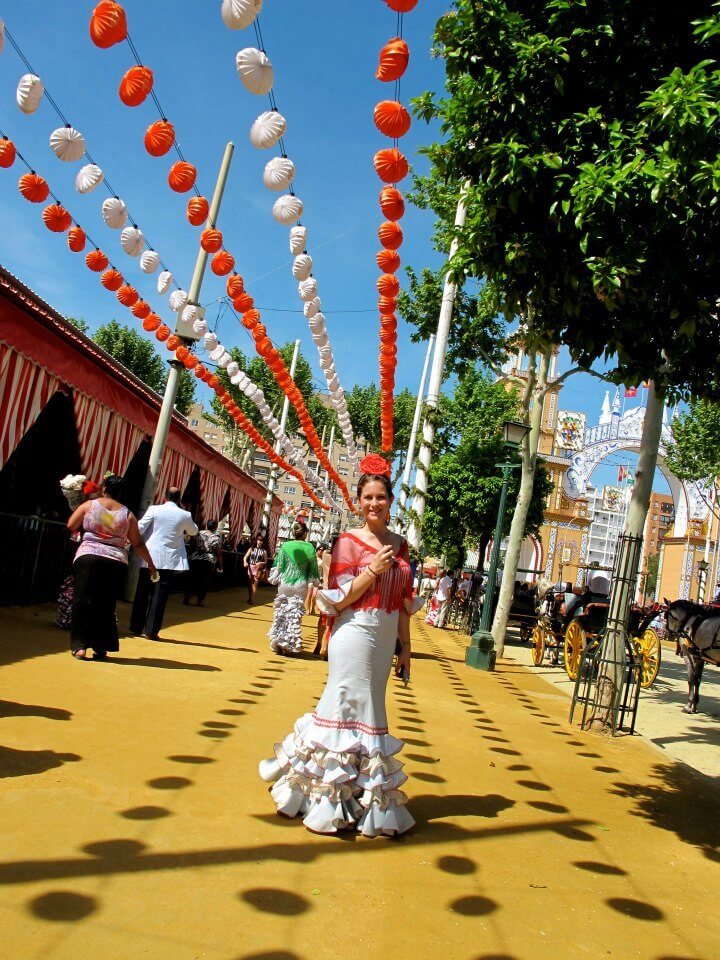 On the difficulty of making friends in another country:
Making friends at first was hard, especially with locals. There's a saying in Seville: A sevillano will gladly invite you round to their house, but never tell you where he lives. I found this to be especially true, and it was difficult for me to make female friends.
At first, many of my friends were transient – lots of expats, study abroad students and European students on a year-long exchange. This meant a lot of difficult goodbyes at the end of the school term. Because I met my husband about six weeks after moving to Seville, I had a solid group of Spanish friends that have eventually become friends on my own terms, and my other guiri (foreigner) friends are some of my most cherished. Even when we moved to Madrid, I already had a network of people to rely on as I became a mother.
I treated making friends much like the first few weeks of college: I always left my door open. Nowadays it's so much easier to meet people via social media – only Facebook existed when I moved to Spain. My advice to be open to any and all plans, to connect with expats before moving and to read blogs to get a feel for the lifestyle and social scene abroad.
I actually think my husband is getting skeptical when I say, "I'm going to have a beer with someone I met through my blog!"
Now that I have an infant, I've been hunting down other mommy friends with whom to share, commiserate and ask questions. Facebook groups have been amazing, as well as the postpartum classes at my health center. I will say I'm protective of my personal time with my baby, but coffee shops have had their fair share of my money and gossip during my 16-week maternity leave!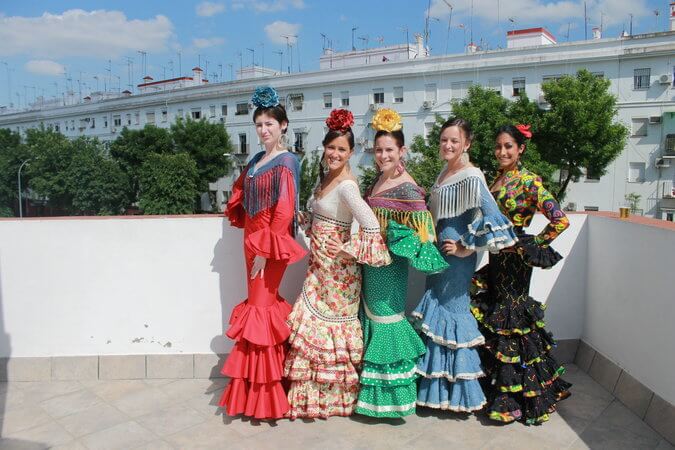 On a typical day in your life as an expat & English teacher in Spain:
My life in Seville is vastly different to my life now in Madrid with an infant. The biggest difference is in my work schedule; I work a normal office job now with 9-5 hours.
Most days in Seville, I'd wake up at 8am and head right to the gym or to the market for groceries. My mornings were filled with side projects, like my blogs and consulting, or meeting friends for breakfast, or even dreaded bureaucratic tasks. I grew to love having mornings off, even though I worked until later in the evening and thus missed several aperitifs or invitations to events.
Lunch was prepared and wolfed down around 1pm, after which I'd ride my bike across town to work. Seville is flat and has kilometer after kilometer of bike lanes, and this became my favorite part of the day. My job as Director of Studies at a small language school meant working from 2:30 to 9:30pm, though I made time for a coffee down the block from the academy before settling into work.
I taught 2-3 hours an afternoon and filled the rest of my time with teacher training, parent meetings and curriculum planning. Post-work routine meant meeting friends for a beer or four before a late dinner. And I had Fridays off!
On the good and bad of living in Seville:
I loved living in Seville. It's a city that is rooted in tradition but has a modern edge. It's staggeringly beautiful and its people are friendly and fun. I greatly enjoyed teaching, even though I come from a PR background.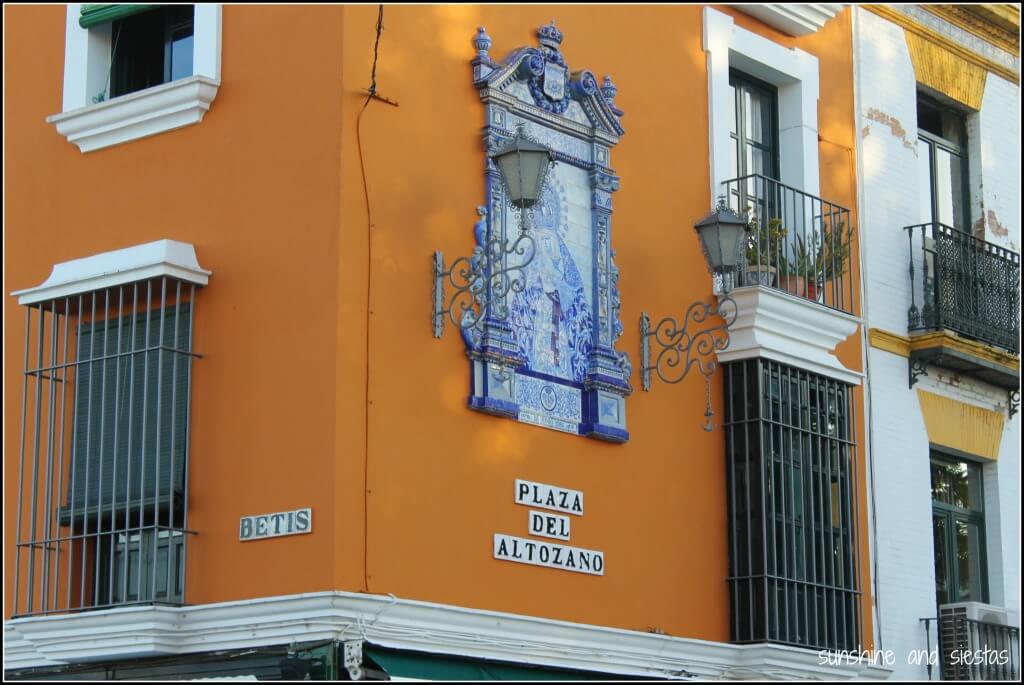 After the initial adaptation period – and not counting the minor annoyances – my biggest hang up about Seville was the lack of upward movement in my career. I was happy teaching but always felt like it wasn't my passion. In order to move forward with my career, I had to leave Seville (and my husband's job transferred him at the right moment!).
What are some things about living there that people may not know?
The two most important weeks of the year are Semana Santa, or Holy Week, and the Feria de Abril. People often take out loans to pay for the festivities, which include fancy dress, membership fees for brotherhoods during Holy Week or a tent at the fair, and a lot of beer.
A study by a local paper once stated that sevillanos would give up anything to save money but their morning coffee and toast. It's one thing I really miss now that I live in Madrid!
The average salary in Seville is close to 1,200€.
Seville is the capital of Andalucía, so it's got a major airport, train station and other transportation options, as well as regional government fixtures. Still, it retains its small-town feel.
Virgen del Rocío, one of two major public hospitals, is one of the best teaching hospitals in Spain and a major center for maternity, organ donation and cancer treatment. Spanish healthcare was recently ranked the 7th best in the world (and your employer pays your social security payments!).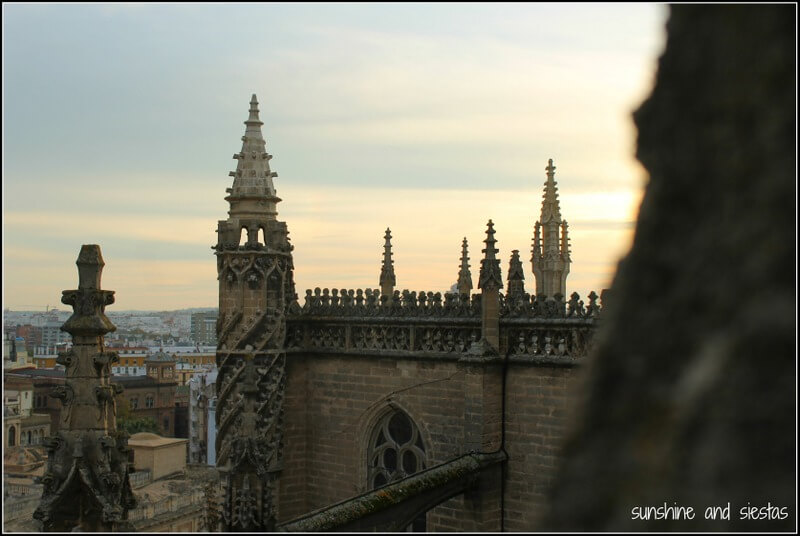 What aspects of life in Spain do you wish your native country would adopt? 
Truthfully, not many! I love that Spain and the US are different, though efficiency and customer service are not huge in Spain. For instance: if you call to have your Internet installed, the company will give you an estimated arrival time of FOURTEEN days. They'll call 30 minutes before, and if you're not home, you're out of luck. And there are huge levy taxes on packages sent through the USPS system to Spain.
Cat's travel tips for Sevilla:
To truly experience Seville, leave 2 or 3 days and bring good walking shoes (and don't come in the summer – summer temperatures are over 100 and humid!). The city center – one of the largest in Europe – is flat, largely pedestrian-friendly and made for walking.
Stick to meal time as best you can. This means a late breakfast, late lunch and later dinner (think, 11am, 3pm and 10pm). Punctuate this with baked good from nunneries, a sherry spritzer and a late-night drink, and you'll fit right in!
I always take guests to Bodeguito Romero on Calle Gamazo for tapas, or to Sol y Sombra for bull tail (Calle Castilla). Typical fare includes the serranito sandwich, fried fish and Cruzcampo beer. Seville is one of the best places to tapa hop in Spain. Just look for a packed bar – bonus points if there's no English menu available!
My favorite day trips are to Córdoba, which can be reach by high-speed train in under an hour and boasts a mosque and gorgeous, walkable city center and Ronda, one of the famous white villages. If you're making a big trip out of Andalucía, include Granada and Cádiz, too.
What's next? Do you think you will you ever leave Seville?
We did leave Seville and moved to Madrid. It wasn't a hard decision in the end, and I think it has benefitted my husband and me both, professionally and personally. The goal is to one day go back to our house and family in Seville.
Thanks, Cat, for being honest and sharing the ups and downs of living in Spain. Seville sounds like a wonderful place to live.
Photo credits: All photos are courtesy Cat except for Cordoba (Ali Arda on Flickr)