Florence has been on my mind A LOT lately because I will be there in a week from now. This upcoming trip is a very big deal for me because, you see, Florence is not just any historic city to me. It is much more than that…
I first went to Europe when I was 16. I visited my father, who was living in Naples, Italy, at Christmas and traveled around Italy with him. It was so long ago, and, being a teenager, I was not really a great traveler yet, but I still vividly remember walking into the Piazza della Signoria at night and seeing the statues that line the Palazzo Vecchio and being completely in wonder. Even though I knew nothing about the history behind the piazza or its art, I was struck by the power and beauty of that place. That was the beginning of my love affair with Florence.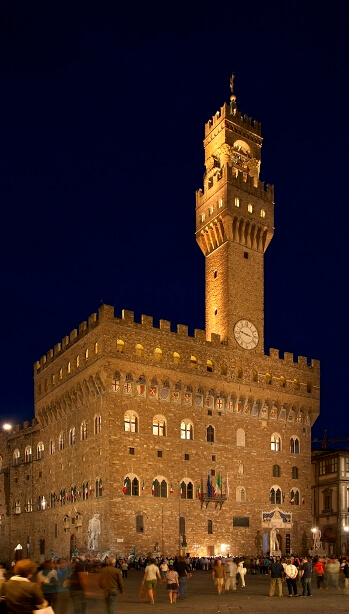 Five years later, I went to Florence again, this time to take a month-long study abroad course in the Italian Renaissance as part of my coursework in art history. The experience could not have been more perfect. I sat outside on the Ponte Vecchio and watched the river at night. I walked the city's streets alone every day, making my own sense of home there. I saw just about every art work in the city.
I had studied the city's landmarks in my art history courses back in Minnesota and was ecstatic about visiting them in person, in the way only an art history lover would be. I still remember how excited I was to see Santa Maria Novella for the first time. To me, these were places where important things had happened (things that were meaningful to me) and where treasures like Ghirlandaio frescoes were housed–not just old churches to visit because the guidebook says so.
Because it was winter, most sights were empty of tourists; I felt like I was able to see the real Florence, and I loved it. I left feeling changed, knowing that Europe would become a part of my life somehow.
Exactly one year later I was back in Florence again, this time to accompany a good friend for her month-long independent study on the work of early Renaissance painter and architect Giotto. It was January and it rained a lot, but this time Florence became like a second home, with daily trips to the markets and cafés, long walks, and slow evenings reading or making Italian friends.
I left feeling reassured that I still loved the city, but, due to a lack of purpose in my visit, I was, in a way, ready to move on. And I did–I soon fell deeply in love with Prague and the Czech Republic.
One and half years later, I visited Florence with my best friend (who was also my roommate in the Czech Republic). It was summer, and I saw a very different Florence. The streets were busy, artists were out reproducing masterpieces on the streets, and tourists were huddled everywhere. We enjoyed it, but the Florence that I had loved, with the smell of roasting chestnuts and places full of Florentines, not tourists, was hard to find.
I haven't been back since, not because I don't want to go or because I have forgotten about Florence. Indeed the opposite is true. However, after that last visit to Florence, my life as an expat in Europe ended: I went to graduate school, fell in love, got a couple of good teaching positions, and spent most vacations traveling to Brazil with my husband. We have gone to Europe together, but just once and didn't make it to Italy on that trip.
For me, Florence is the unrequited love of my young adulthood. I hang on to those memories to keep my connection to the city alive. I walk its streets in my mind. I write about its art. I watch documentaries and read books about Florence. When someone speaks a bad word about Florence or minimizes my love for the city, I jump to its defense. But is this realistic? Are these silly daydreams of something unimportant and disconnected from my present reality? Maybe, but the world is so small now that I can be back in Florence in about 18 hours. In fact, that's exactly what I will do next weekend.
Will I still love Florence now that I have been to many other places and have grown up?
I think I will.
Please stay tuned for my upcoming post about why I am going to Florence and what I will be doing there.
Images are mine and from Wikimedia.