I always have a hard time at the holidays with gifts. As someone who tries to minimize as much as possible, the Christmas season leaves me feeling anxious about excess–too much spending, too much waste, too much focus on gift giving… Fortunately, we've managed to keep the holiday season relatively low-key in my family, and my mom has been a consistent example of positive gift giving over the years. She always includes a charity donation given in our names as well as unusual gifts that support a small business, maker or charity organization.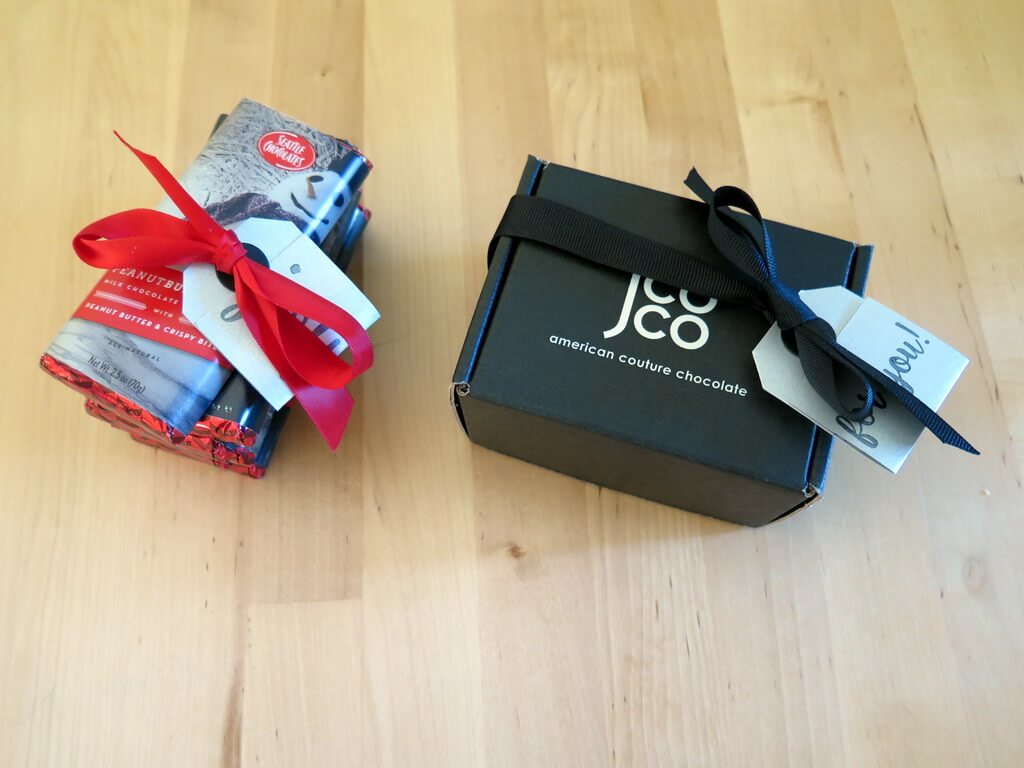 So while we're being inundated with gift guides and sales, on Giving Tuesday I thought I'd share some ways we can give while also doing good.
8 ways to give gifts that do good:
There are two reasons to buy Seattle Chocolates: first, they make really good chocolates, and second, they give back to those in need. Their sister company, jcoco, does the same with their culinary-inspired dark chocolate bars (like the arabica cherry espresso–yum!).
As the holidays approach, Seattle Chocolates has a campaign: for every holiday bar or jcoco bar sold, they give a serving of food to the San Francisco Marin Food Bank. And if you're active on social media, you should know that they also donate for every social share that includes the hashtag #chocolategives.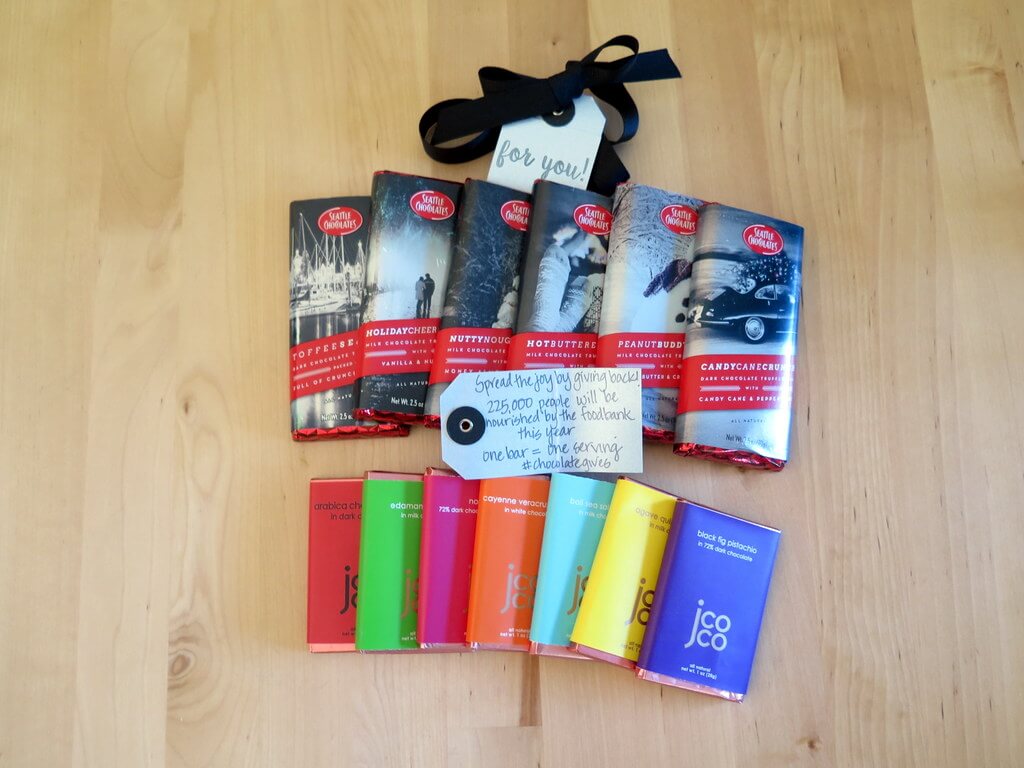 Seattle Chocolates has a few gift options to choose from, but my favorite bars are holiday dark chocolate bars: the Candy Cane Crunch and Toffee Sea Salt.
After a friend recommended this site, I knew I'd love it as soon as I saw their motto: "We rise by lifting others." Not only does this Northern California studio make beautiful hand-crafted items (mostly jewelry, like this cool necklace), but they also include a sweet compliment inside each box–such a fun way to add some extra love to a gift, whether it's for yourself or someone you love. And, even better yet, Compliment donates 5% to educational scholarships for girls.
Grabr allows you to "order" items from other countries through people who are traveling there. It's a wonderful concept–basically, you can buy things from abroad directly from someone who's going there, avoiding the middle man and shipping fees. For just the next couple of days, they're donating a toy to a child in need in Brazil for every purchase made.
Soup for Syria: Recipes to Celebrate Our Shared Humanity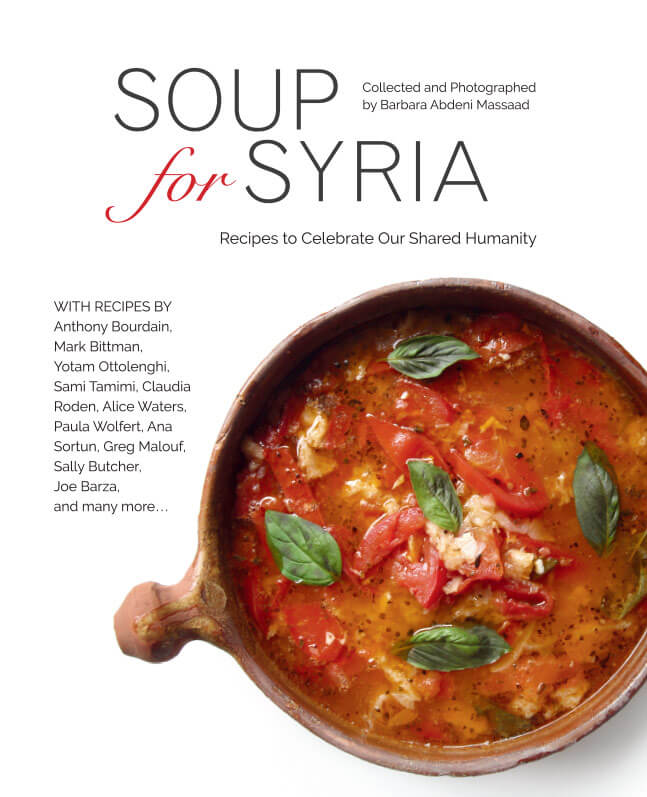 I have had several Syrian students this year, so this book feels extra special to me. This beautiful cookbook (I can vouch because I have one) was created to help the Syrian refugees now–the profits from the sales are donated to food relief efforts through the United Nation's UNHCR. The recipes were contributed by acclaimed and well-known chefs/cookbook authors, including Alice Waters, Mark Bittman, Anthony Bourdain.
If you're shopping for kids, then the gift center at WWF is a great choice. They offer a range of gifts for kids, including games, puzzles, apparel, and species adoptions that come with a special stuffed animal. My kids love to pick out the animal they'd like to "adopt" (last year Gabriel fell in love with his blue-footed booby!), and when the stuffed animal arrives, it comes with information about the species. All purchases help support the important work of World Wildlife Fund.
How can wine be a gift that does good? In the case of Fetzer Wines, you can feel good about buying them because you're supporting the winery's amazing achievements in sustainability. Their commitment to restore and regenerate ecosystems and communities is inspiring, but their wines are also a really good value (my favorite is their Merlot, an easy find at most stores for under $10). Look for more about Fetzer's innovative work coming here soon.
If you're going to shop at Amazon, you should consider Amazon Smile since a portion of the profits go to charity.
Donations to your favorite charity in a loved one's name
This is a tradition in our house, and a few favorites are Oxfam, UNICEF, Children International, and St. Jude Children's Research Hospital. Both Oxfam and St. Jude also have gift centers: here and here.
Another nice charity option is Rick Steves' campaign for Bread for the World. When you give $100, he will match the donation, and you get a set of Rick Steves gifts, either a European Christmas set or his complete set of DVDs.
What suggestions do you have for gifts that do good?
P.S. 10 ways to give back at the holidays
Disclosure: I received samples from Seattle Chocolate, but as always, all opinions are my own.