I love to travel slowly and always have. When I first started traveling as an adult, slow travel came naturally to me. Thanks to the immersive experience I had while studying abroad in Florence, I learned that the only way to really know and love a place is to spend a decent amount of time there. Now, all these years later, it's not as easy as it once was to take a month or two to explore a handful of destinations in Europe, but my trip to Scotland last June reminded me of the value of slow travel.
While in St. Andrews, a seaside town with the coolest castle and cathedral ruins I've ever seen, we met a brother and sister who were traveling by car all around Scotland. It seemed like they'd been everywhere. When we mentioned that we were about to leave for a week on the Isle of Skye, the sister looked at me with a serious expression. She warned me that we would be bored after even one day there! I started to worry that my plan to spend a week on Skye would make everyone else stir crazy, but in the end, my worry was unfounded.
One of the benefits of staying on Skye for a whole week was that we got to make discoveries. Not checking off a list of beautiful places that everyone stops at (those are important, too!), but real discoveries…places that only locals know about, places not found in guidebooks, places that we could connect with because we found them, and there was no one else there but us.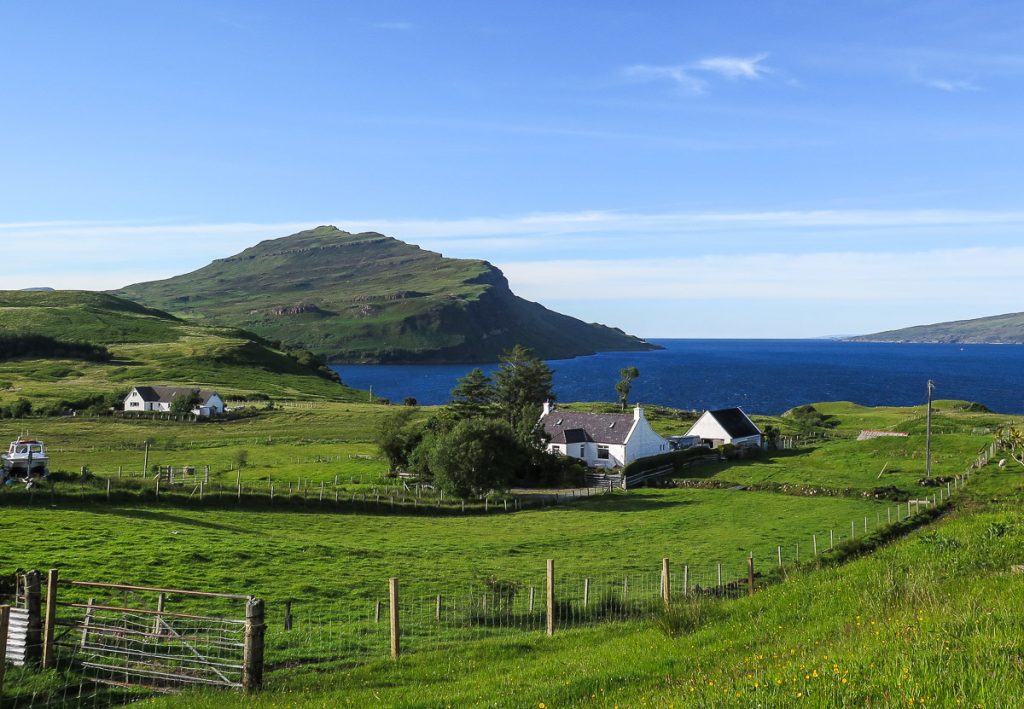 One evening, the sun made a rare appearance, so we set out for a quick drive down a nearby road that my stepdad had found on his bike. It was a tiny road, one that we could locate on our detailed map but not one that you'd see mention of in any guidebook. We passed sheep, a B&B with a jaw-dropping view (above) and houses on the edge of a bay. We saw a couple walking with their dogs along the shore, which adjoined their front yard, and wondered what life would be like living in an isolated corner of Skye with a view like that.

On our way back to the house, we drove behind my stepdad on his bike. He took a left turn, but the way back was to the right. We decided to follow him and let him know that he'd taken a wrong turn. As it turned out, he knew exactly what he was doing because…boom…the little road was a dead end with a view I'll never forget.
And sitting across from these two mountains that pop right out of the water is the perfect place to take in the view. (Sadly my photos don't do it justice because we were facing southwest, right in the direction of the afternoon sun.) There was a couple lying on the grass after a picnic and some local children riding their bikes in circles in the dead end. The only other sign of civilization was the few houses at the base of those mountains across Loch Sligachan.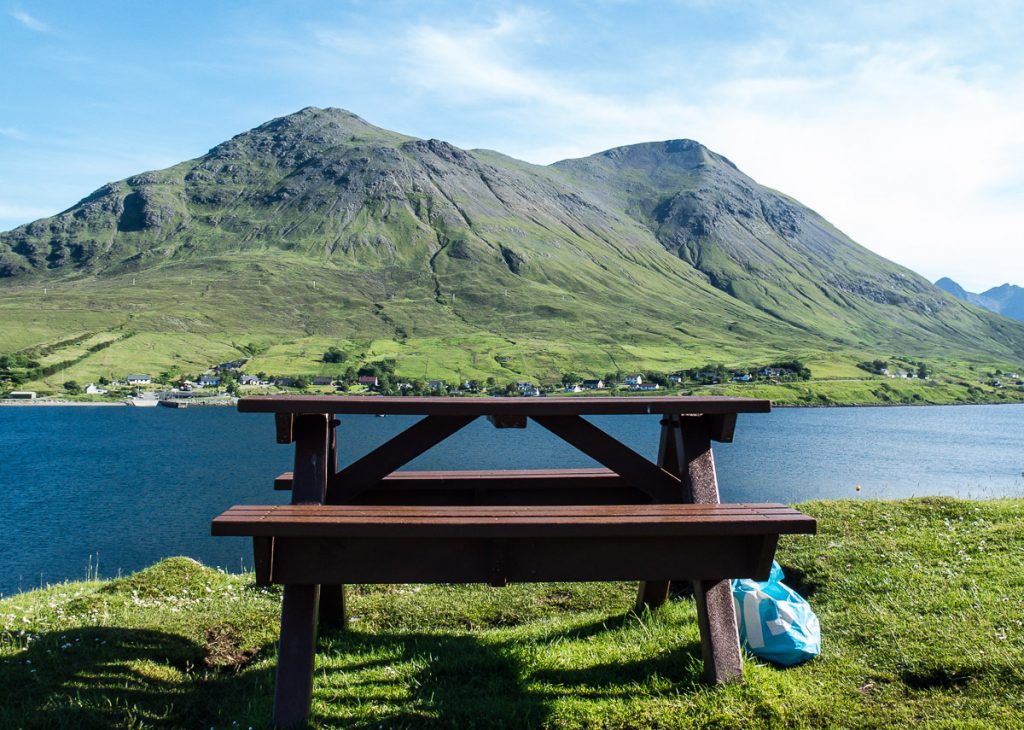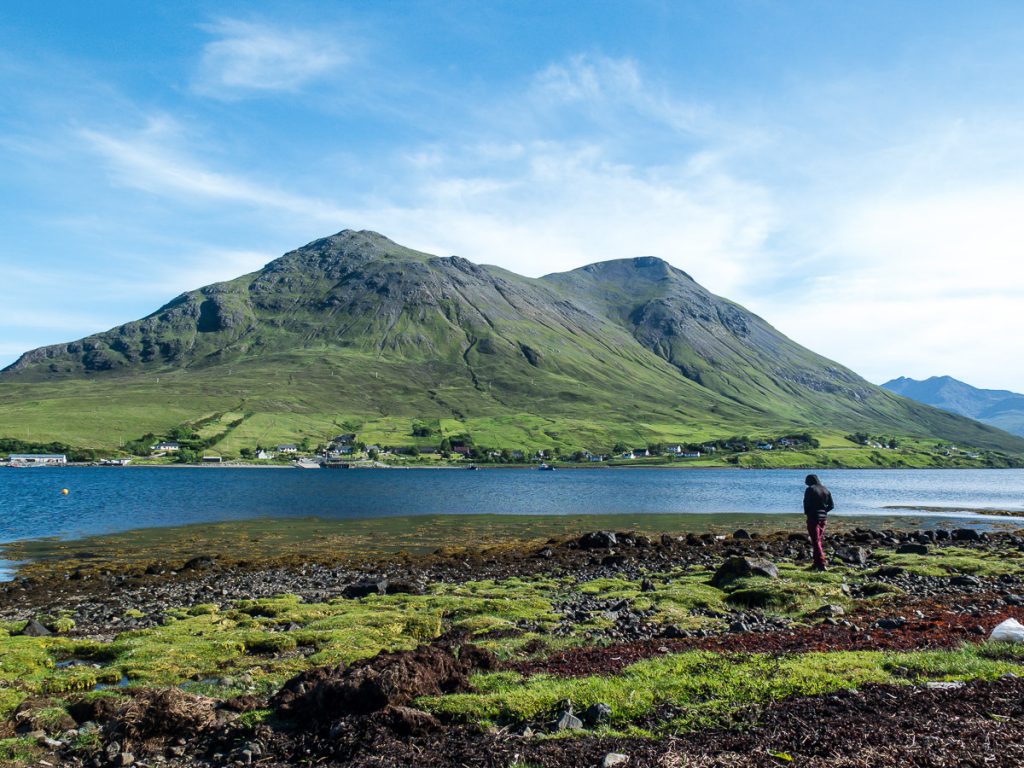 After checking out the calm blue water, we noticed a small sign. "Sligachan 3.2 miles" and an arrow pointing west. So we set off to explore.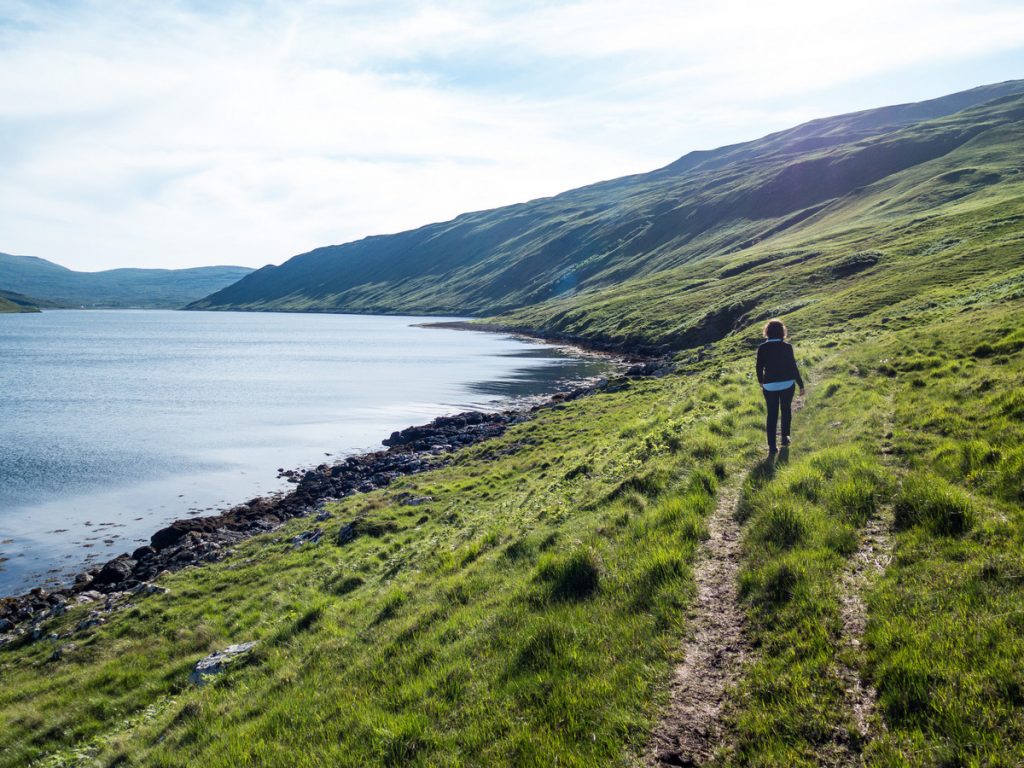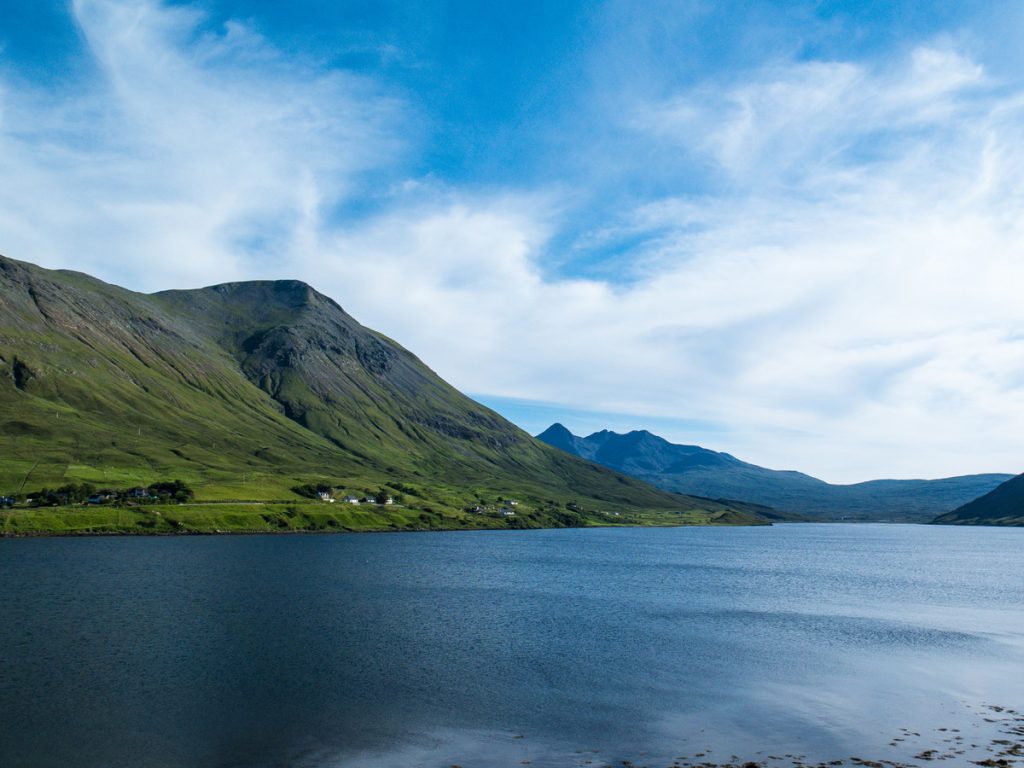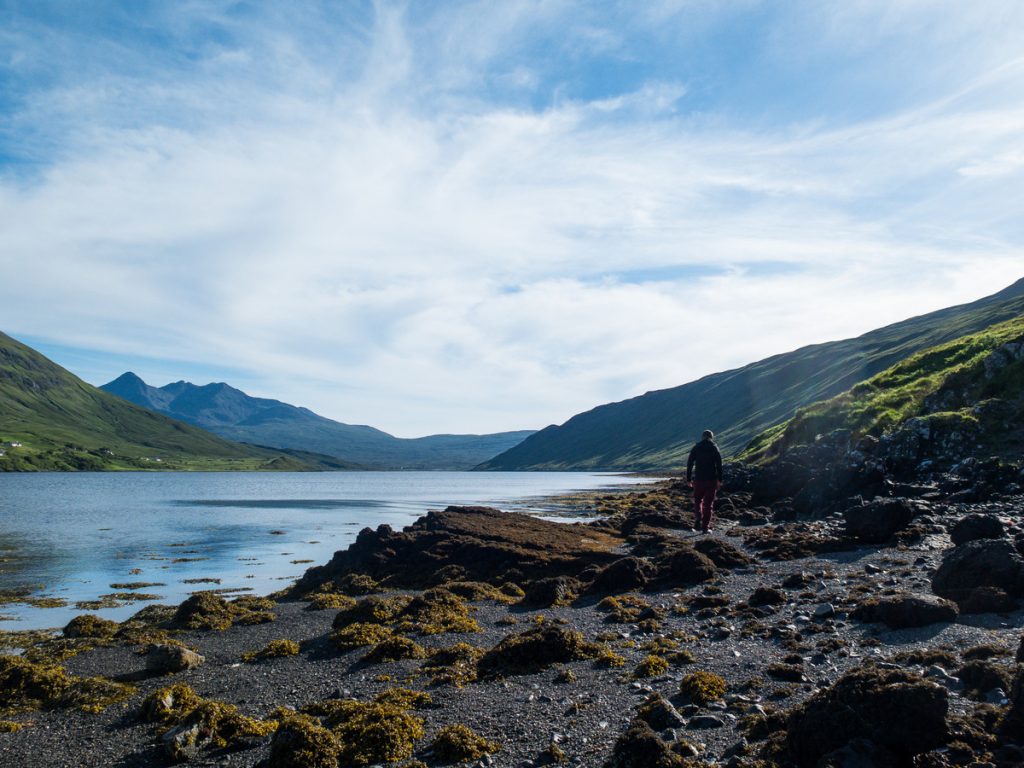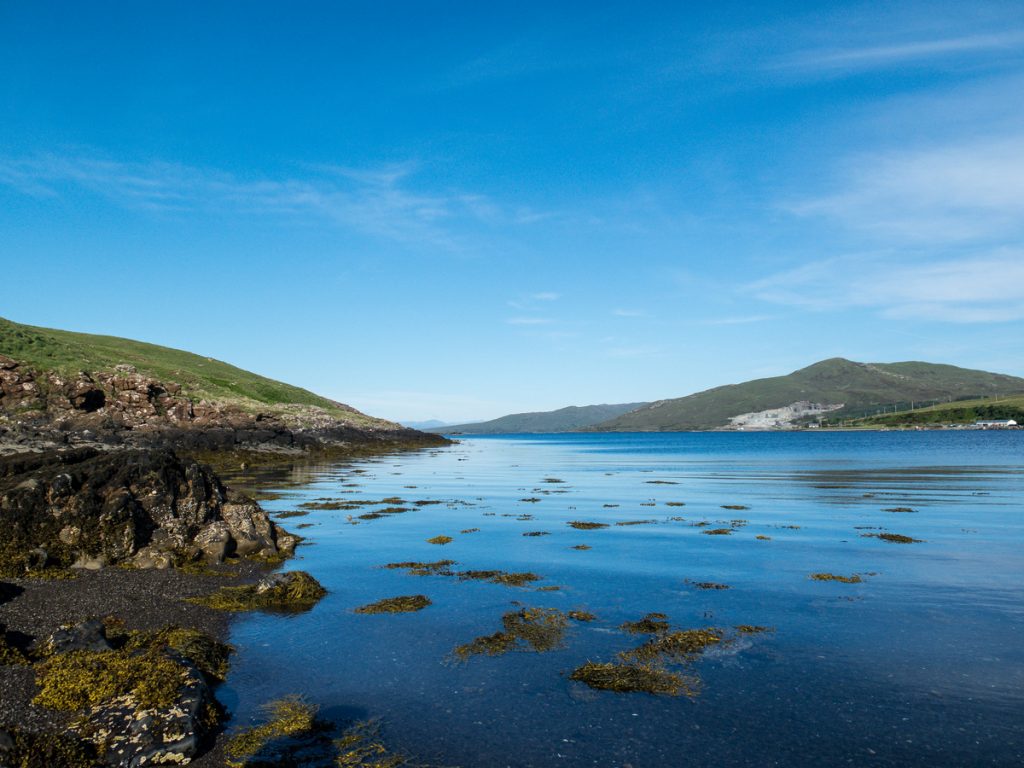 If we had spent only one day on the Isle of Skye, we would have missed so much (so much!), and we never would have had this evening. But this is just one example. When you have time to really be in a place, you get to make meaningful discoveries, whether it be a cove where seals play, a hidden hiking trail, quiet alleyways that only locals seem to know about, or a waitress who greets you with a smile on your second or third visit.
Because these experiences allow us to make a connection with a place, they make travel both memorable and rewarding. And when we can connect with the landscape and people, we learn more about our place on this wondrous planet, and we become better human beings for it.
I'd love to hear your experience. Do you prefer to visit fewer destinations but have more time in each one, or visit more places for shorter durations?