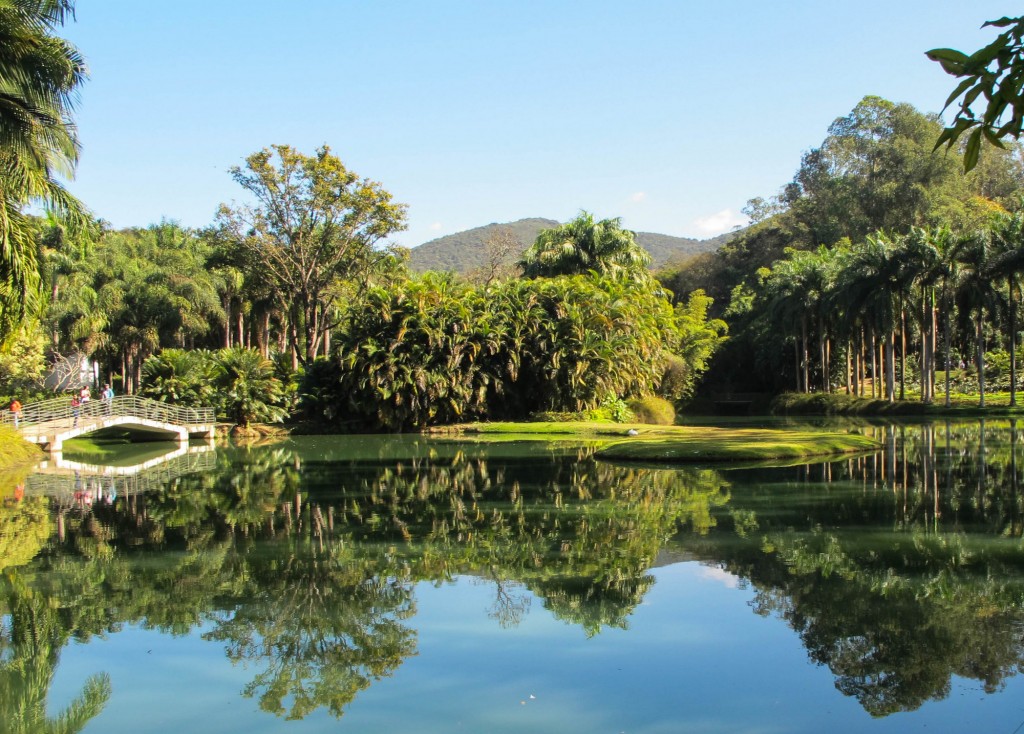 While planning what to do in Minas Gerais before our road trip there last year, I was surprised to find something right up my alley in the hills of this rural state. Art and landscape are two of my favorite things, so when I first heard about Inhotim from my culture-loving husband, I knew I had to go there. It reminded me of a much larger version of one of my favorite art/landscape centers, Cornerstone Gardens in Sonoma, California.
Inhotim, a 271-acre botanical garden and center for contemporary art, seemed to be one of Brazil's most interesting and innovative places, certainly deserving of a spot on my list of where to see art and culture in Brazil, but it's also practically in the middle of nowhere, so I had no idea when I might actually get there. Later my sister and brother-in-law planned a road trip through Minas Gerais that included Inhotim, without knowing how much I longed to visit, and so it was that we visited Inhotim in July.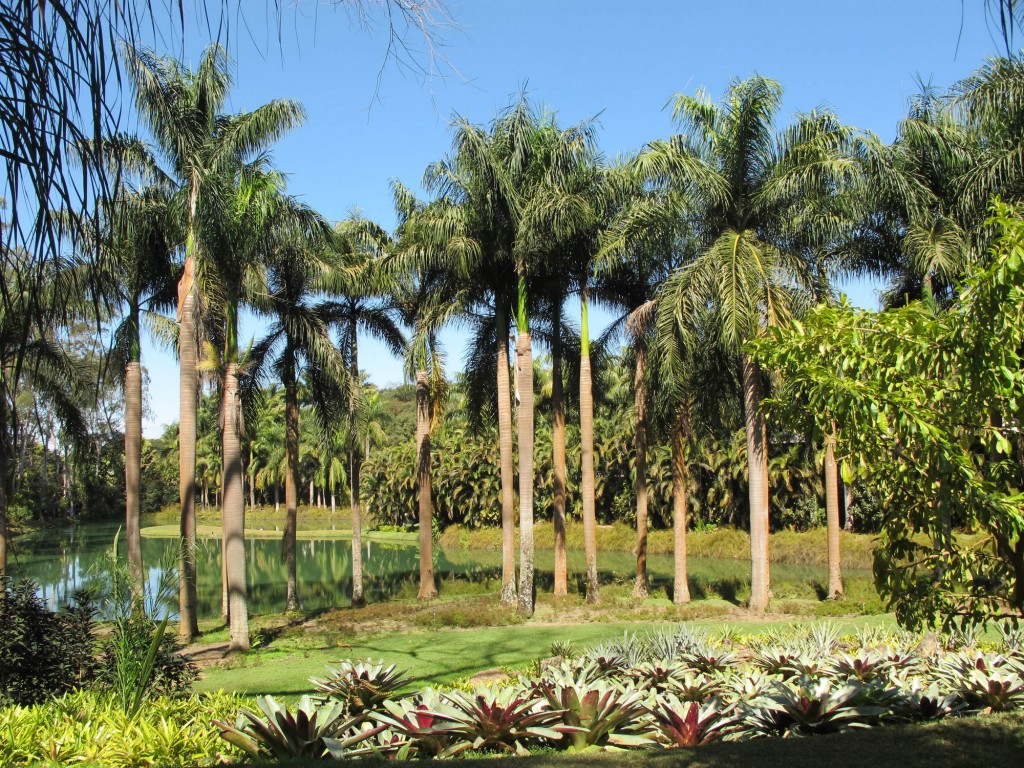 The grounds and gardens:
While walking around Inhotim, one can't help but notice the beauty of its vegetation. Avenues of palm trees, lakes, endless bromeliads, and even jackfruit trees were just some of the landscape highlights.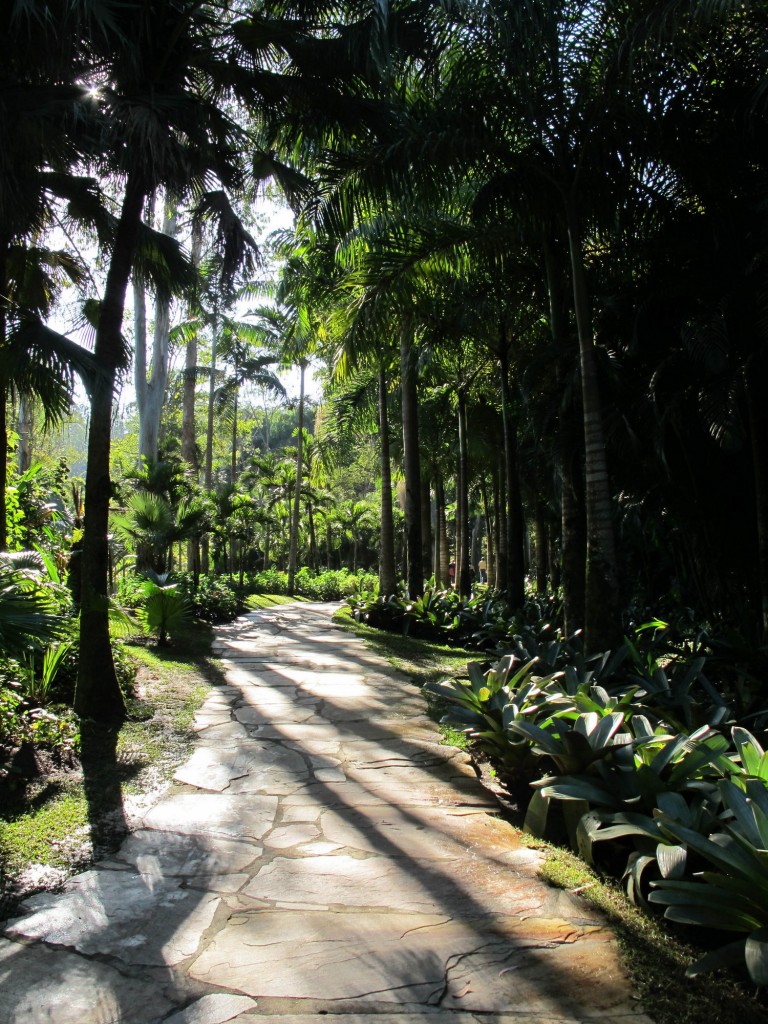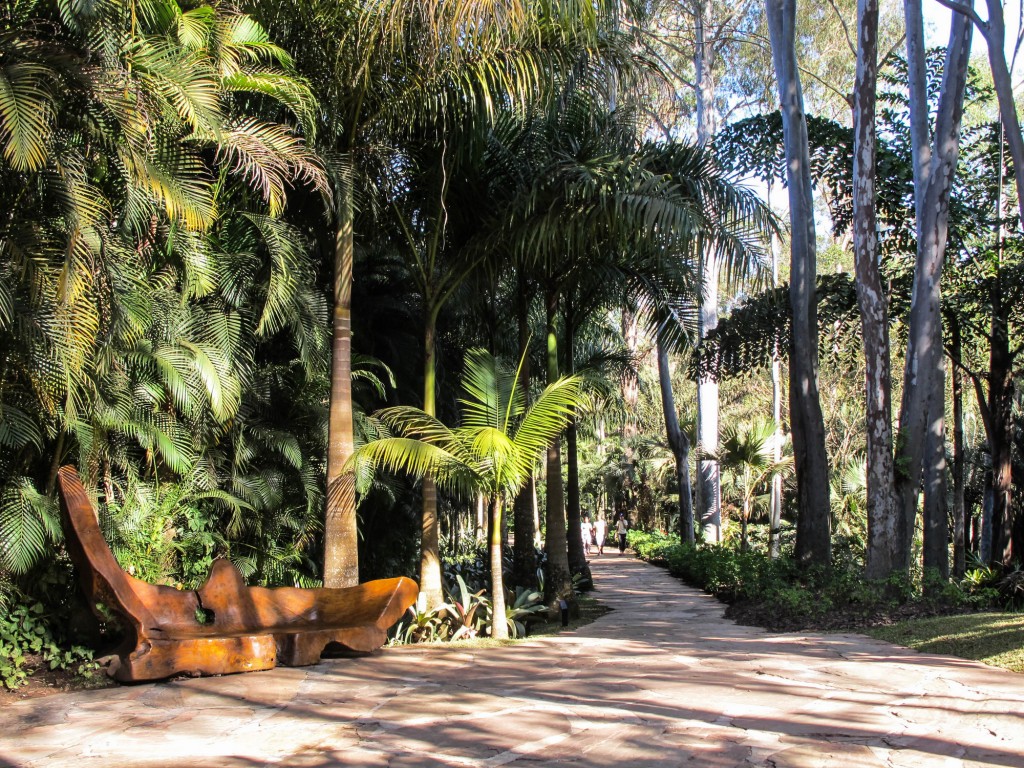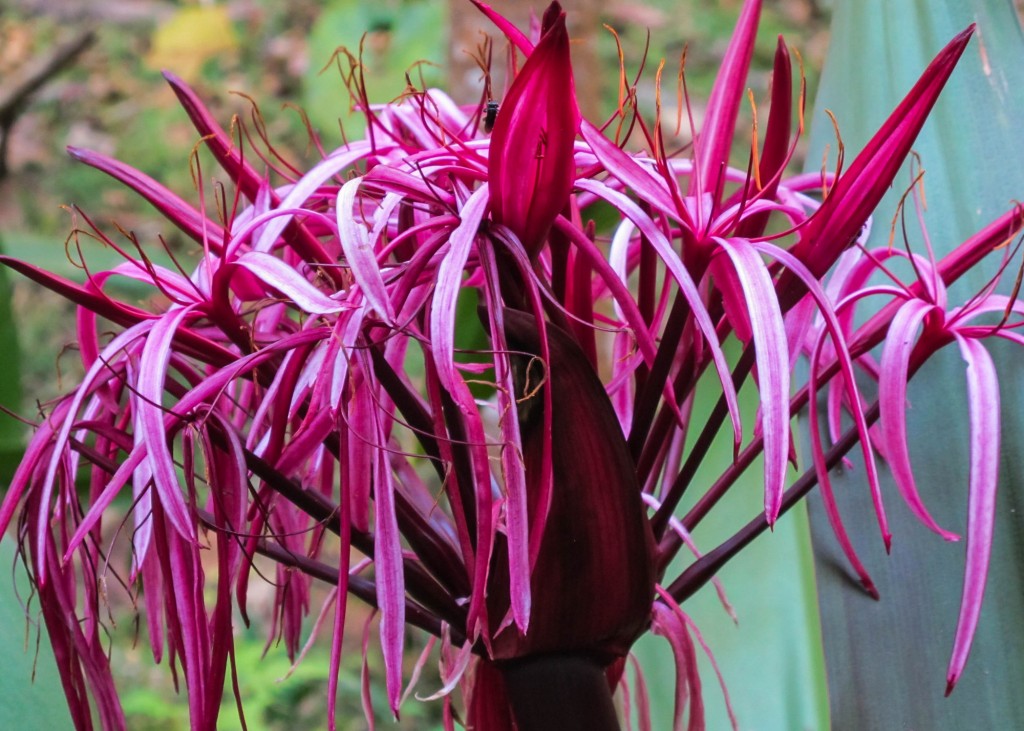 Of course, this being Brazil, everything was just so green. The sunlight was too strong for good photos during most of our visit, but something like this–rolling green hills, tropical vegetation, and contemporary architecture–was the most common sight: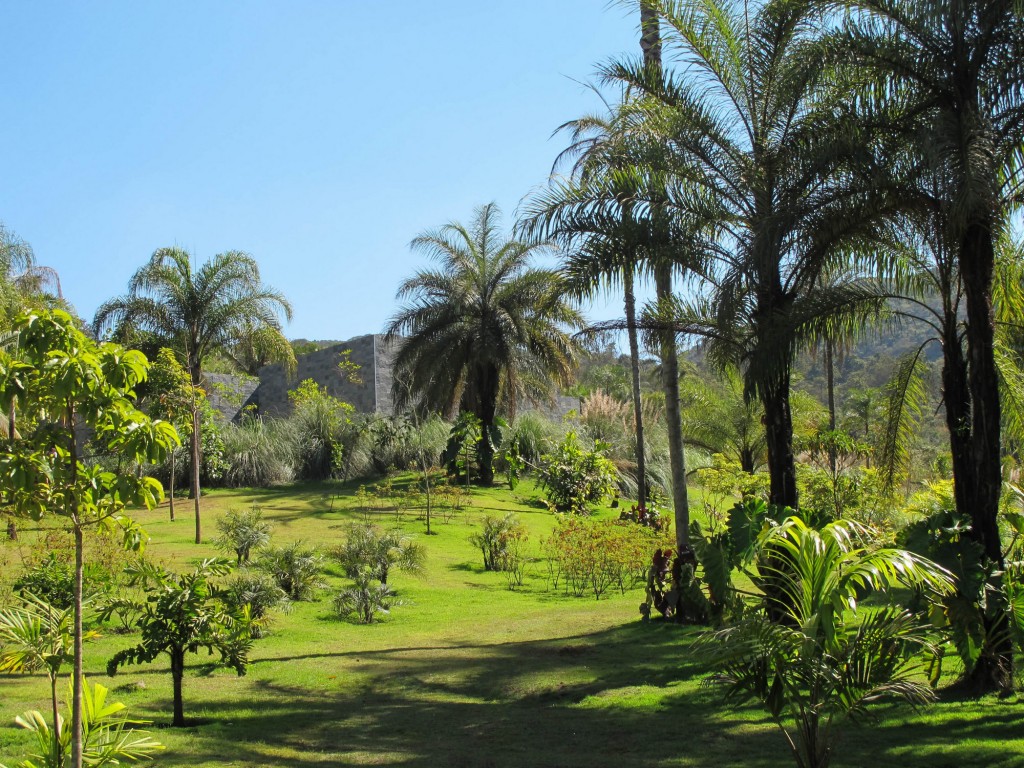 The landscape of the state of Minas Gerais (next to the state of Rio) is mountainous, so the gardens and forests of Inhotim include a lot of hills, which means lots of climbing but also some beautiful views of the surrounding area.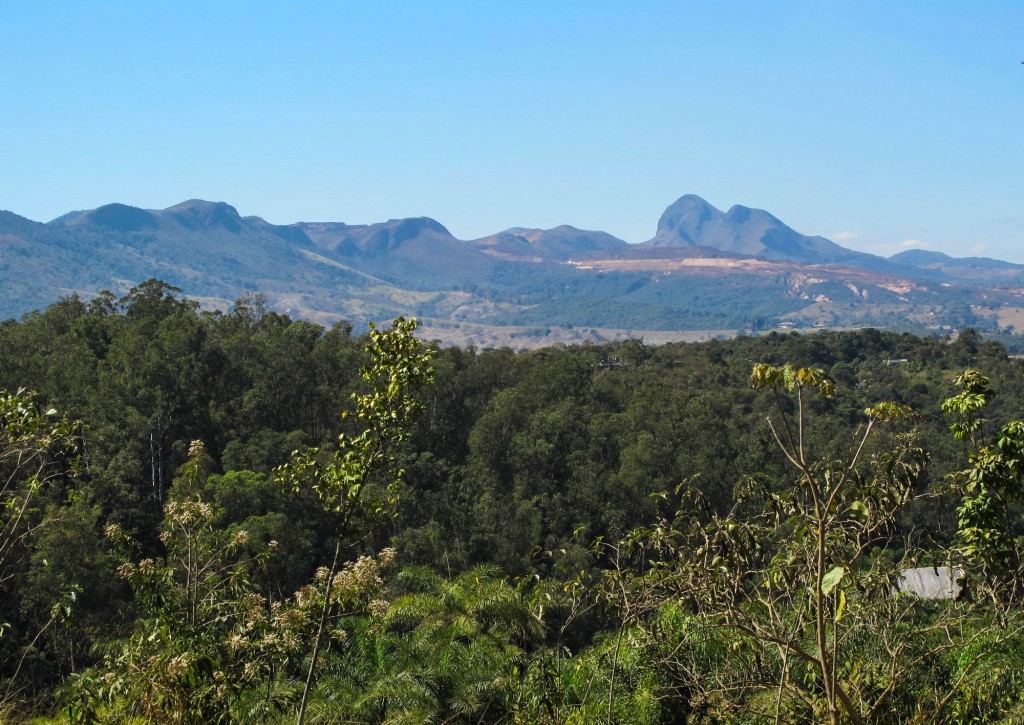 But the best part of Inhotim's botanical garden is the plants preserved by the park in its greenhouses. 4200 species of plants, including some on the brink of extinction, are kept here for preservation and research. One of the institution's main goals is the protection of Brazil's precious plant biodiversity.
Outdoor art/sculpture
The gardens of Inhotim are dotted with outdoor works and art galleries. The outdoor works mostly consist of large-scale sculptures by international contemporary artists.
One of the most striking images for me was this tree sculpture called "Elevazione." It's actually a metal tree that has been fastened to five small trees that will continue to grow and connect with the sculpture.
One of Inhotim's best known sculptures is the monumental work "Beam Drop," by Chris Burden, a recreation of a work that was originally erected at the Art Park in New York State and destroyed three years later.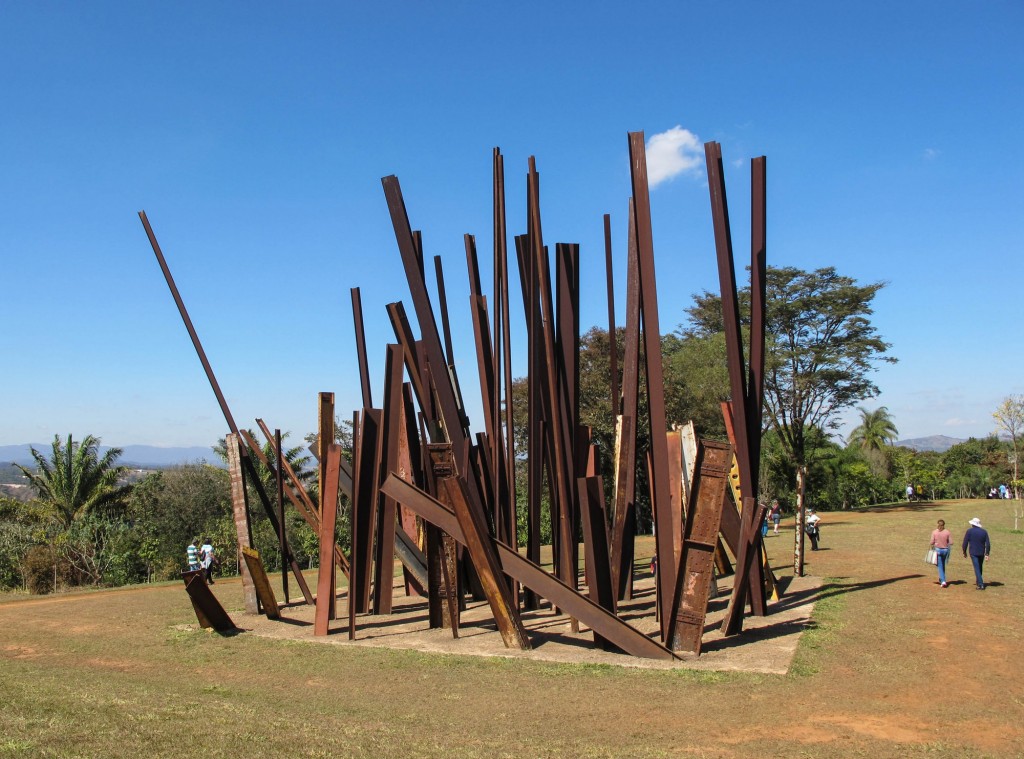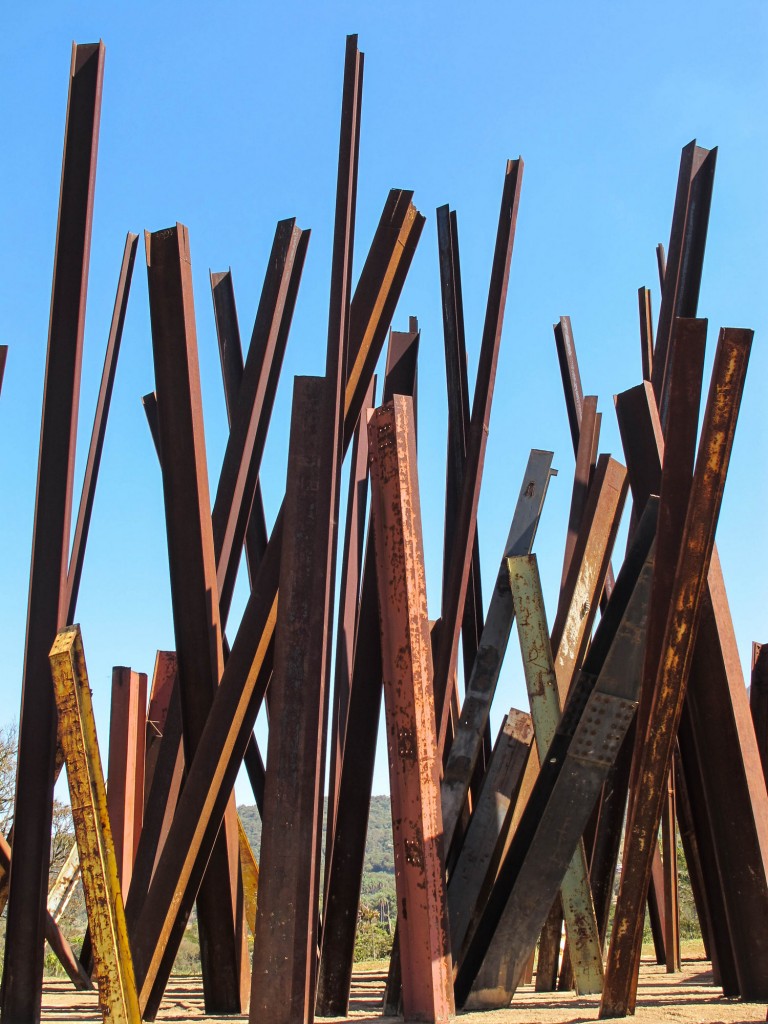 Another of Inhotim's most striking works is "Magic Square" by Helio Oiticica. Like most contemporary art, there is more to its meaning than what meets the eye. The repeated square shapes also represent the concept of a town square where people can meet and interact; in fact, this was one of the few places where the many people at Inhotim actually seemed to bump into each other and interact in some way.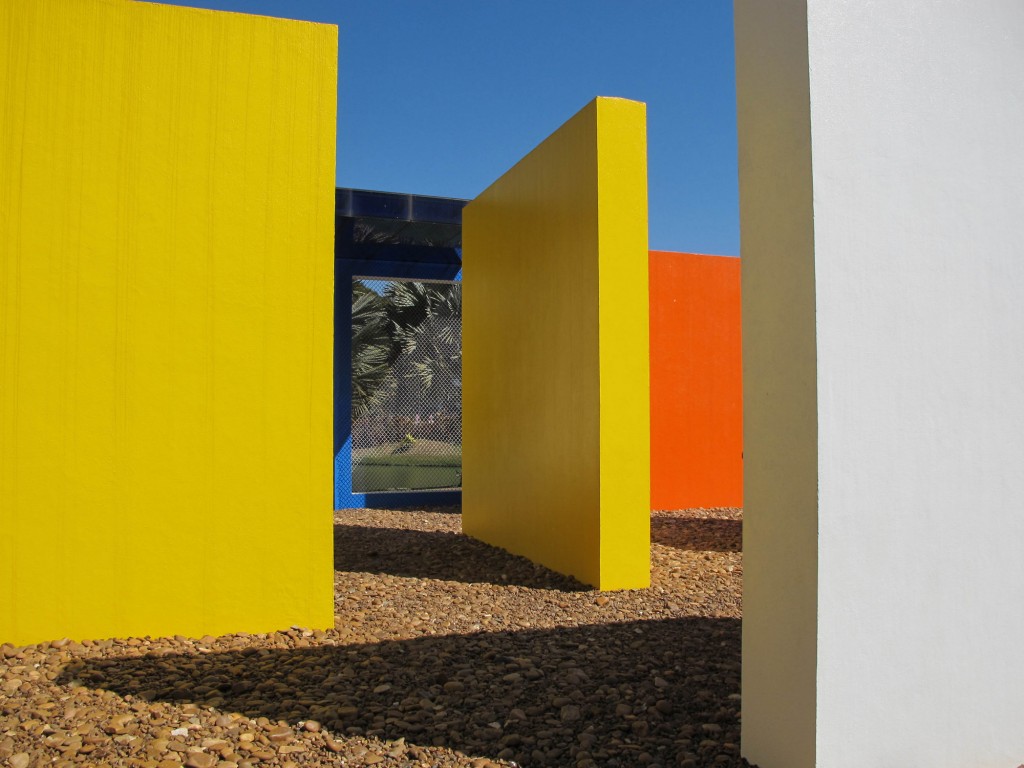 The work is a highlight of Inhotim because of its bright colors and repeated shapes and the fact that it's visible from a distance, as well.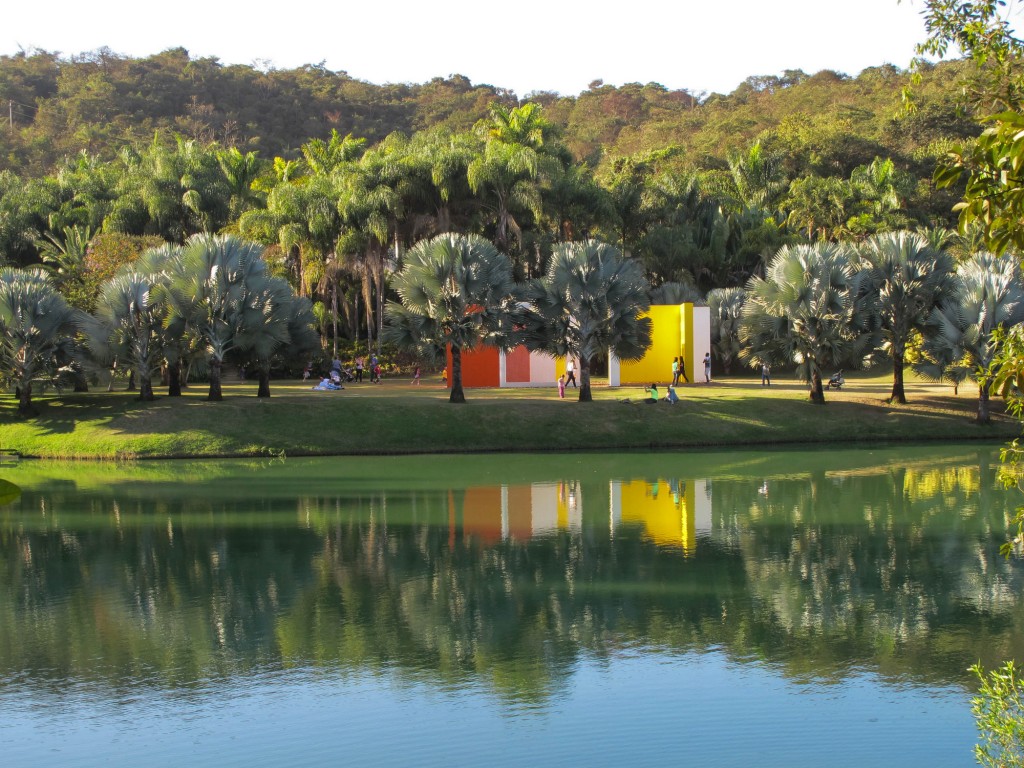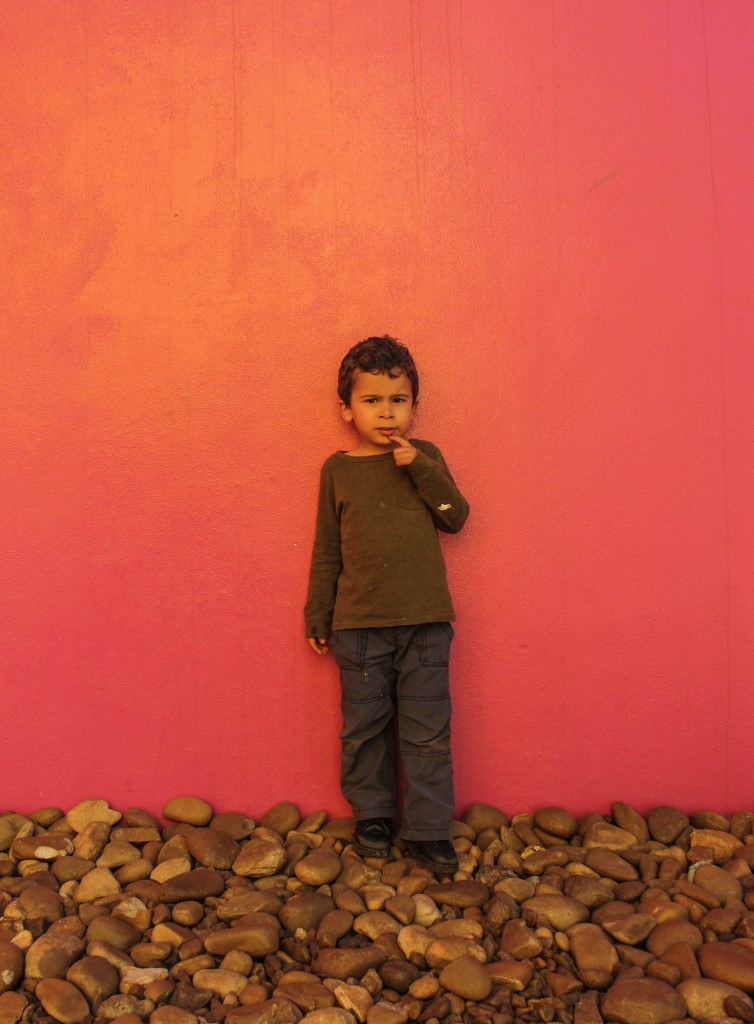 The galleries
Inhotim has a collection of more than 700 works by 200 Brazilian and international artists. Many of these works are shown in the park's contemporary art galleries, while other galleries house temporary exhibitions by cutting edge artists.

While I completely respect and appreciate the place given to contemporary art at Inhotim, I was more interested in the outdoor spaces, which were so beautiful and large that I didn't want to spend much time indoors at all. And after a few gallery rooms of art I just didn't understand and one space with an interesting yet disturbing audio exhibition of a nightmare, I realized that this kind of art is lost on many people; in fact, I have a degree in art history but had a hard time connecting to some (not all!) of this contemporary art. This may have been partly my fault since we were there with children and had just one day in the park.

Wonderful architecture, but the display of fake raw meat (shown below) left me feeling uneasy. (By the way, photographing the art inside the galleries is prohibited. I was told that photographing the buildings' architecture inside is permitted in some places and not others.)

Possibly my favorite indoor experience at Inhotim was the Sonic Pavilion designed by American artist Doug Aitken. A 200-feet-deep well was created under the pavilion, a set of microphones was installed inside the well, and a complex amplification system was used in the pavilion to bring the sounds of the earth to visitors. When inside the circular space, you hear the strange hums, booms, and gurgles of the interior of the earth.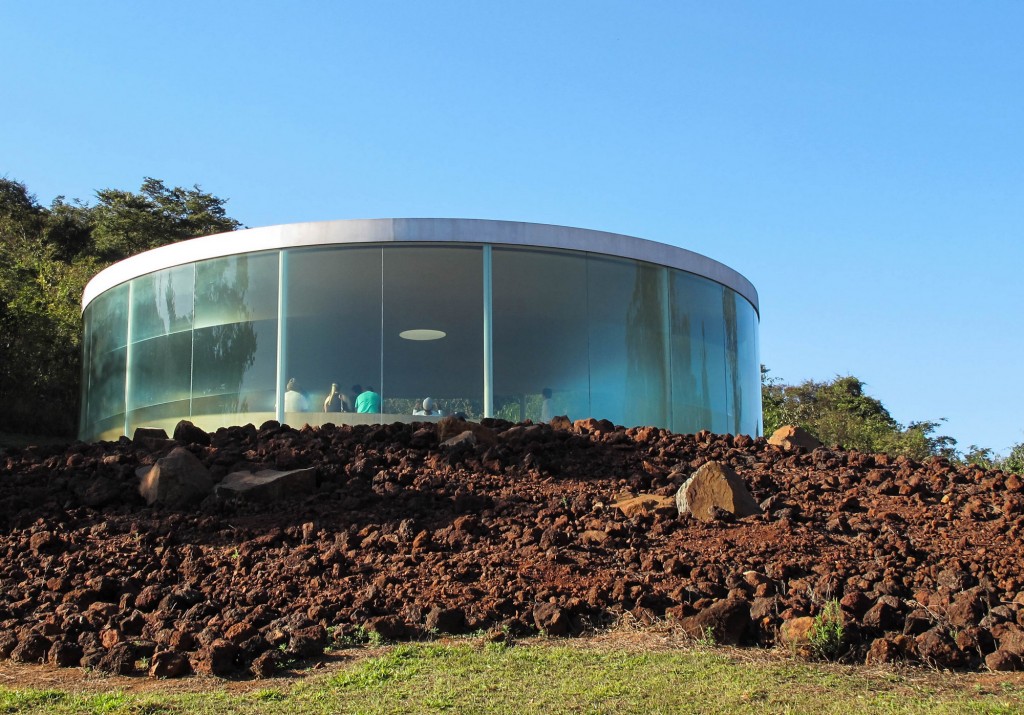 Some of us, including my brother-in-law's 84-year-old father, lay down on the floor to better hear the sounds. It was fascinating!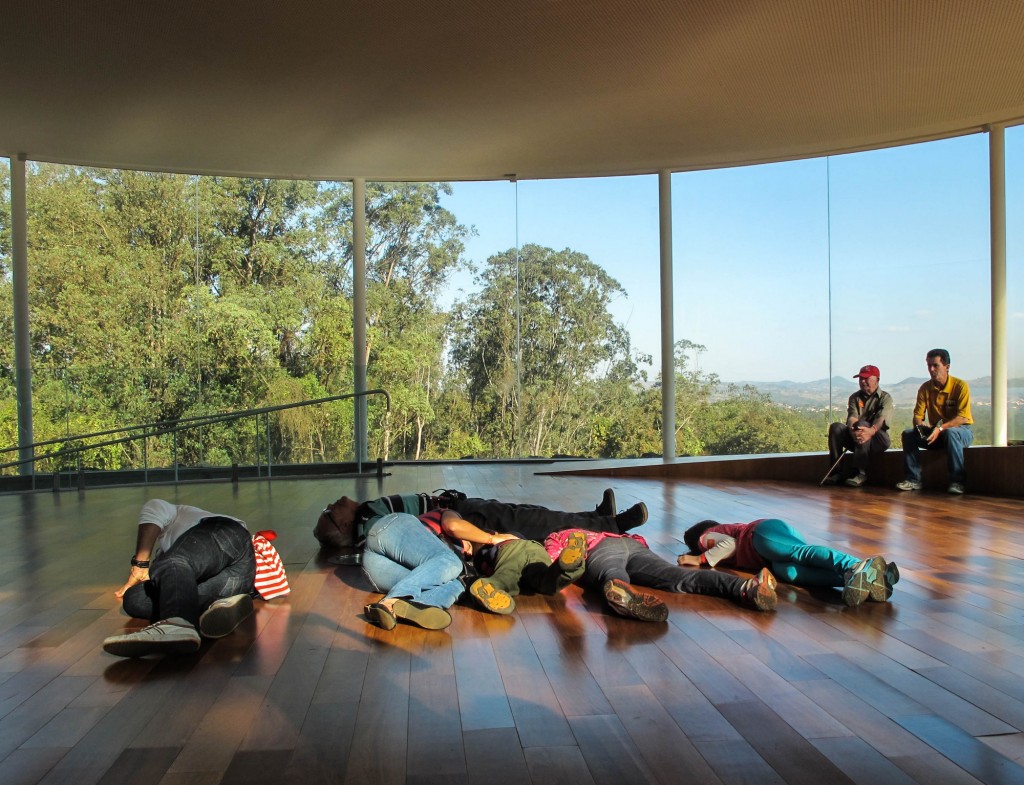 Logistics:
You need at least one full day at Inhotim. We got there in the morning and stayed until almost closing, yet we weren't able to see everything. However, we left feeling that we had seen as much of the park as we could (granted, we were with 4 children and one 84-year-old, who didn't slow us down at all!) and that one day was enough for us. Serious art lovers may want to extend their stay to two or three full days to fully experience all the galleries.
Food: Inhotim has a couple of restaurants: Restaurante Tamboril (very nice atmosphere, buffet and a la carte, expensive), Bar do Ganso (bistro, similar food to Tamboril but a more casual atmosphere), and the one we went to, Restaurante Oiticica (pay-by-weight, crowded but clean atmosphere, good food overall).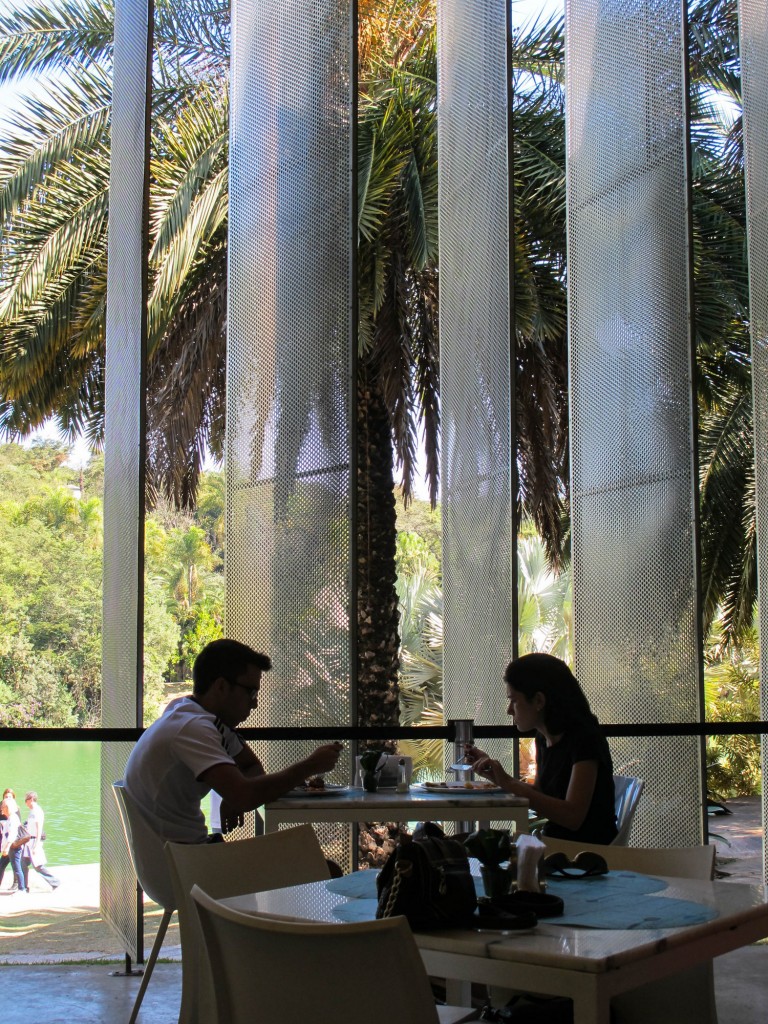 Lodging: Great news! Inhotim is currently building a hotel on sight. This is exactly what they need because nearby Brumadinho has few good lodging or food options, and the nearest big city, Belo Horizonte, is almost 40 minutes away. I'd recommend staying in the park once the hotel is open.
Admission: Every Tuesday is free admission. We went on a Tuesday, and it was crowded, but not so crowded that we couldn't enjoy it. We also went in July, when Brazilians are on vacation and sights tend to be more crowded than during the rest of the year. Regular admission 20-30 reais (20 on Wed. and Thurs.). The park is closed on Mondays. Children under 5 are free, and children 6 and up, seniors, and students with ID are half off.
The park offers shuttle transportation (in golf carts) between some of the galleries for an additional fee of 20 reais per person. We chose this option because there were 10 of us in our group, including one small child and the elderly parents of my brother-in-law. I would recommend walking everywhere because you can see more, but if you do choose to use the shuttle service, be aware that you have to wait for it sometimes and that children need to be held securely since the carts go fast and there are no seat belts or doors!
Resources:
Google Art allows for virtual tours of Inhotim and has detailed descriptions of the galleries and art works
Last impressions:
Visiting Inhotim was another excellent cultural experience for me in Brazil. We probably won't be back because it's far from anywhere we can easily travel to, but we'll always remember the beauty of this special park and hope for the best as it continues to expand and grow.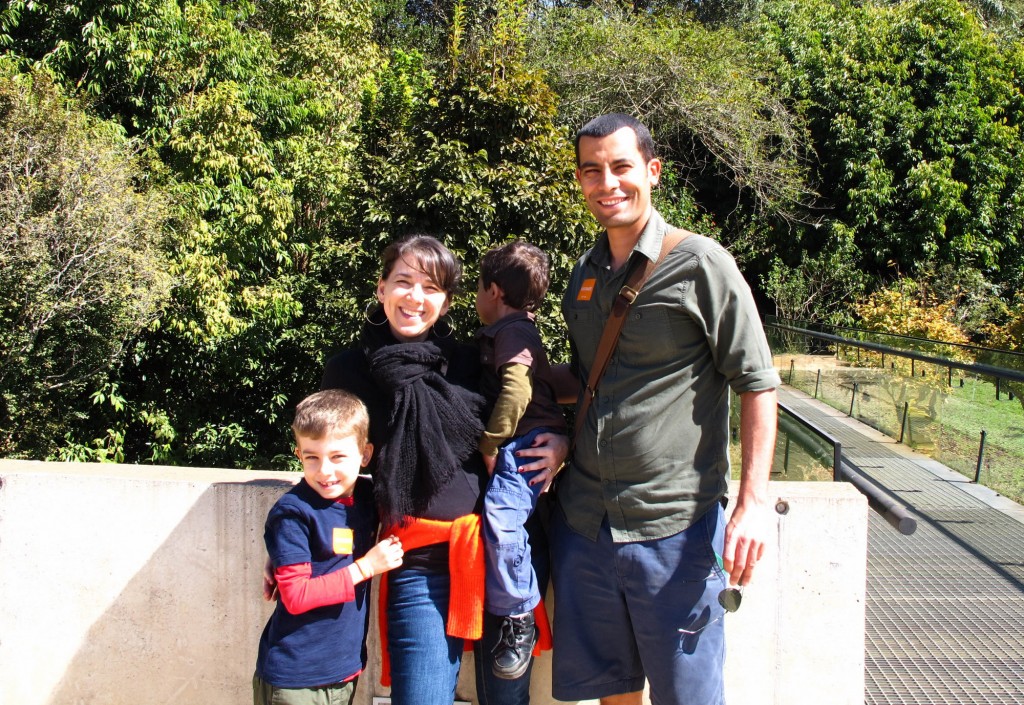 And you? Have you visited an outdoor garden or art center that you think I should know about? Do tell!
Have you been to Minas Gerais? Tell me your suggestions for what to do in Minas Gerais.