I've been raving about Kauai since we returned from our 5-day stay there last summer. It's a beautiful island, but the relaxed vibe and feeling of peace struck me as much as the island's natural beauty. I left with a list of things I still wanted to see and do, knowing that I would need to return one day. Here are 30 things to do on Kauai. I'd love to hear your suggestions, too!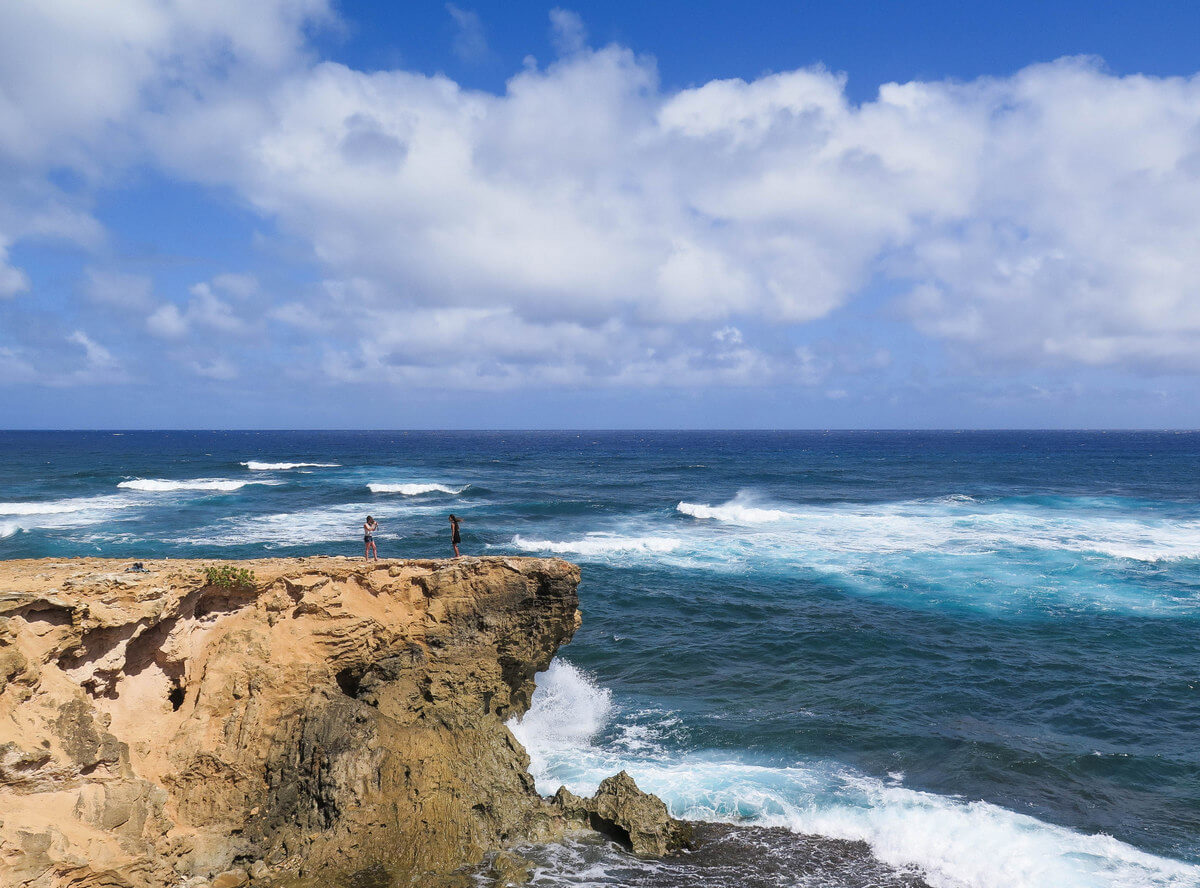 Be sure to check out my related articles, "3 Short Hikes on Kauai" and "Where to Stay on Kauai." And see these best guidebooks for Kauai: (click on the image for details)
Where to stay on Kauai:
For the best prices on Kauai accommodations, try Booking.com's Kauai accommodations. With 125 hotels and rentals to choose from and a best price guarantee, you're sure to find a perfect place to stay.
If you prefer the space of a vacation rental, try the many homes and cabins on Airbnb. And you get a $40 credit towards your stay!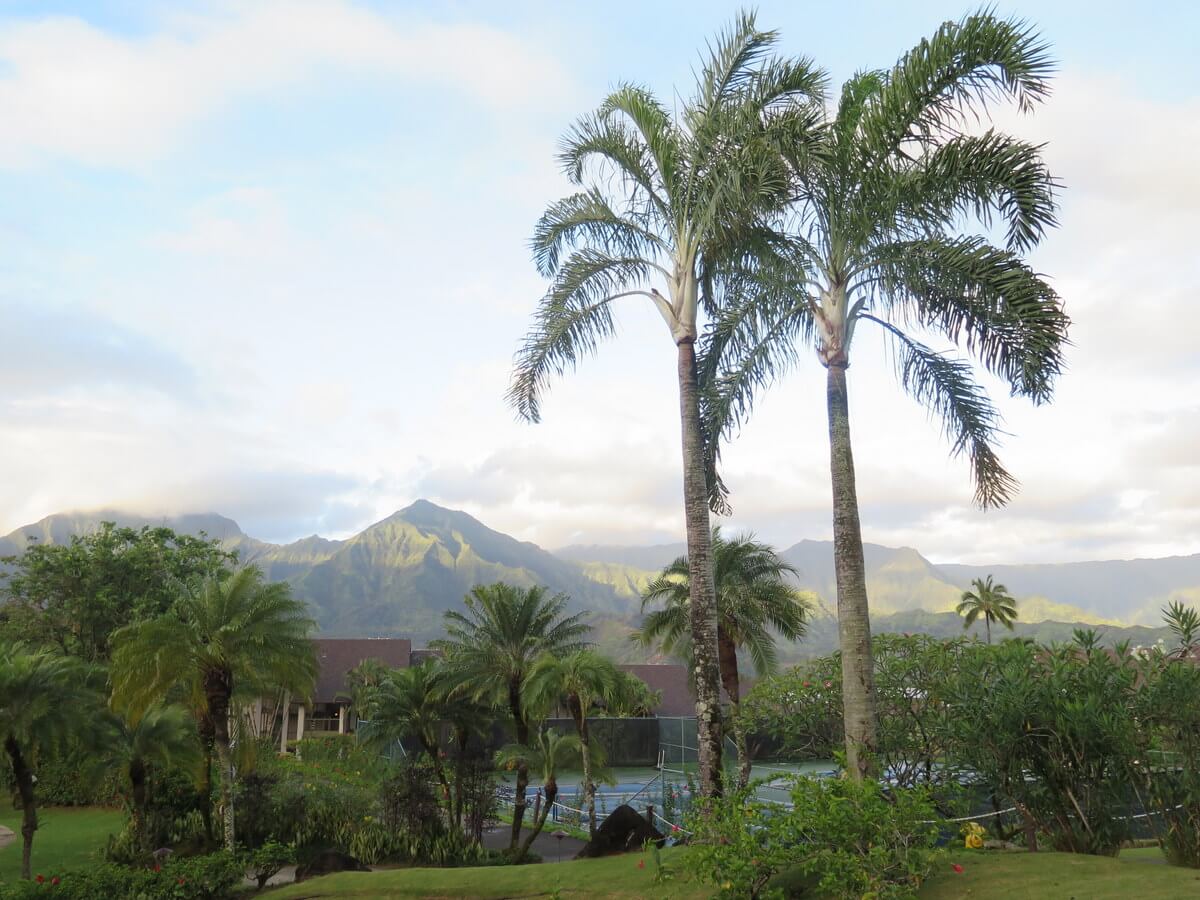 We loved staying in a one-bedroom condo at Hanalei Bay Resort on the north shore of Kauai. In short, it was comfortable, roomy, quiet, and well located. You can read all about it in my Hanalei Bay Resort review here: Where to Stay on Kauai.
30 Things to Do on Kauai:
Click on the map below for a Google Map of these places.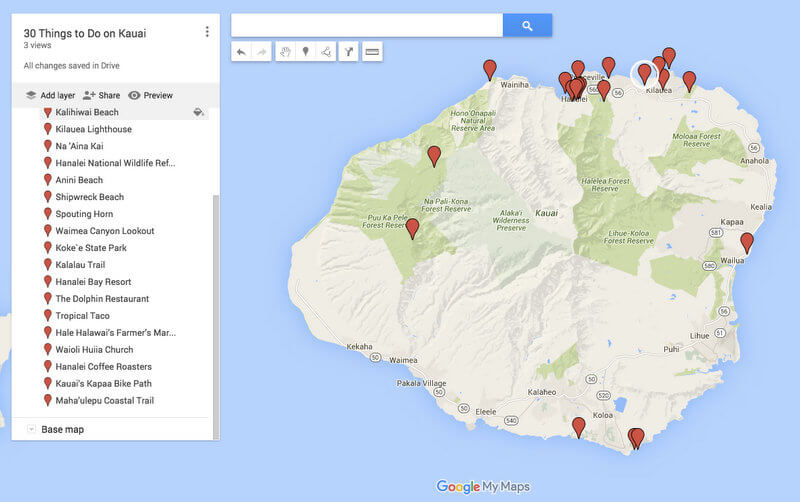 Waimea Canyon & the Cliff/Canyon Trail:
The "Grand Canyon of Pacific" is an amazing sight to see. I just hope you have better weather than we did! Besides visiting the Waimea Canyon Lookout, be sure to save time for at least part of the Cliff Trail/Canyon Trail hike and to proceed on the road to Koke'e State Park (see below).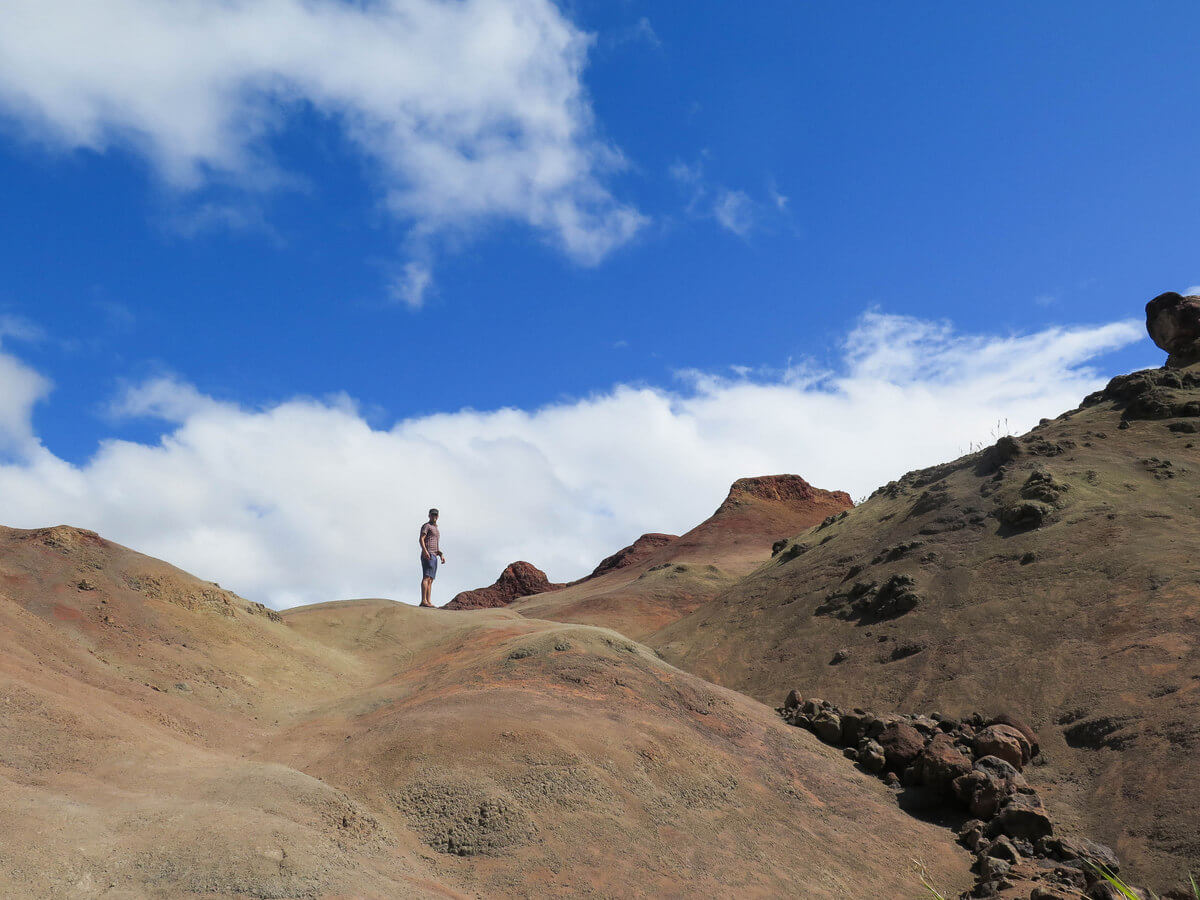 Visiting the canyon is easy–you need to devote about half a day to drive there and spend time viewing the canyon, but bring lunch or good snacks because there aren't many options for food once you're there. As you approach the canyon onHighway 550, the two lane road that leads to Waimea Canyon State Park, you'll notice many places to pull over. Each one has beautiful views of the surrounding nature–don't miss the strange landscapes just steps off the road: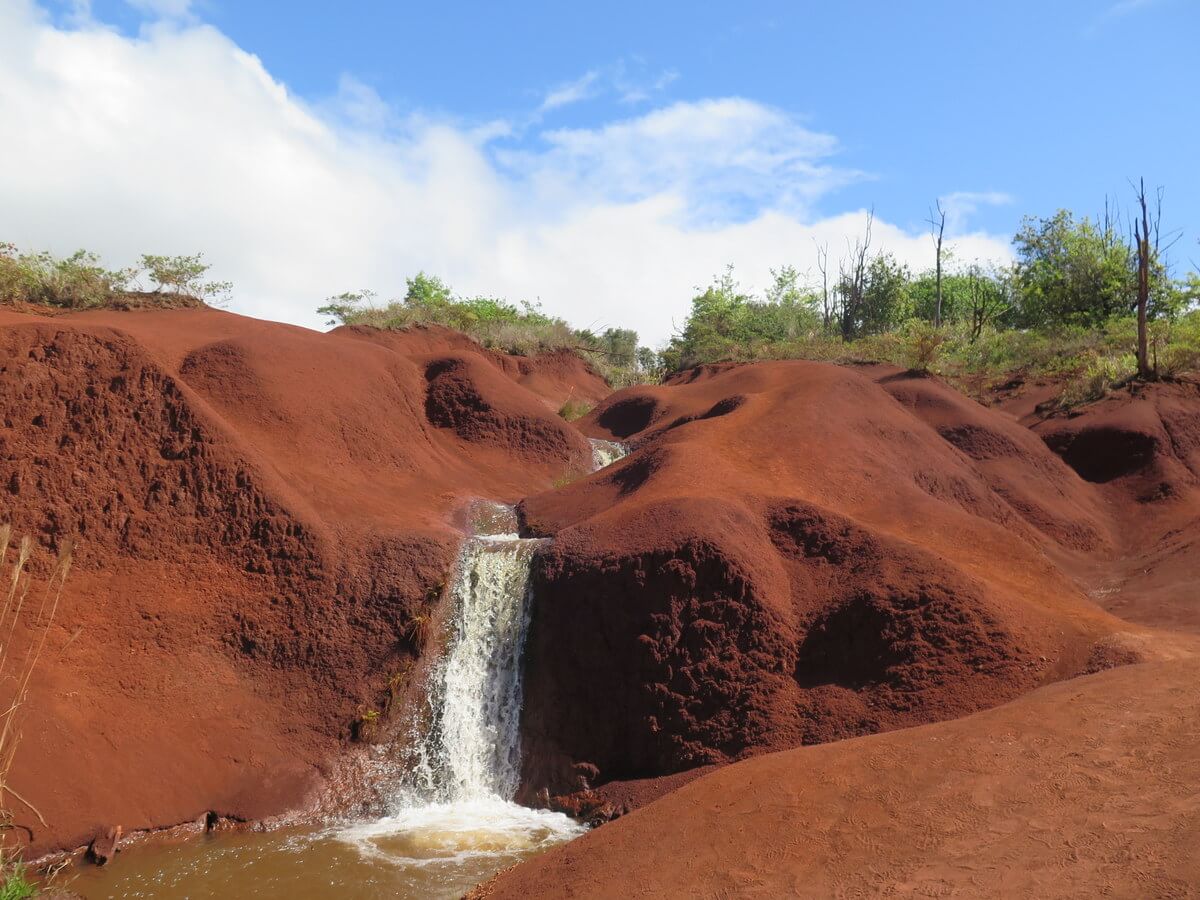 Koke'e State Park: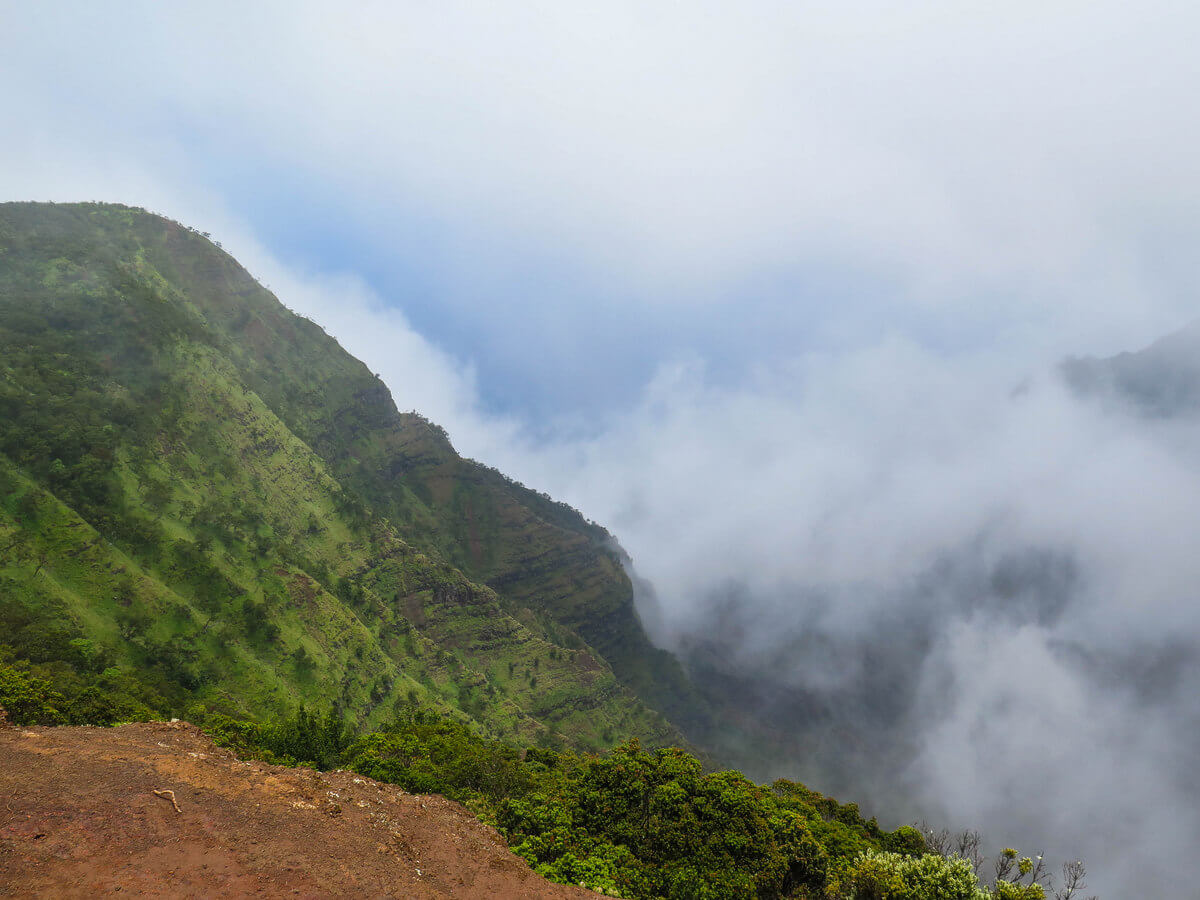 Just past Waimea Canyon State Park is Koke'e State Park. This area is known for its views of the Na Pali Coast from above. It was rainy and foggy when we were there (it's one of the world's wettest spots, after all), but it was a highlight of our stay on Kauai. The landscape feels like another planet, and I recommend walking the hiking trail from Pu'u O Kila Lookout in any kind of weather.
Wailua Falls:
Wailua Falls is the double-tiered waterfall that was used in the opening of the TV show "Fantasy Island." It's easily accessible–just turn off Highway 56 north of Lihue (you'll see a sign indicating where to turn), and head about three miles until you run into the vista point. We visited in the evening on the way to the airport, but I hear that it's possible to hike from the parking lot to get a closer view and even swim in the water around the falls.
Na 'Aina Kai: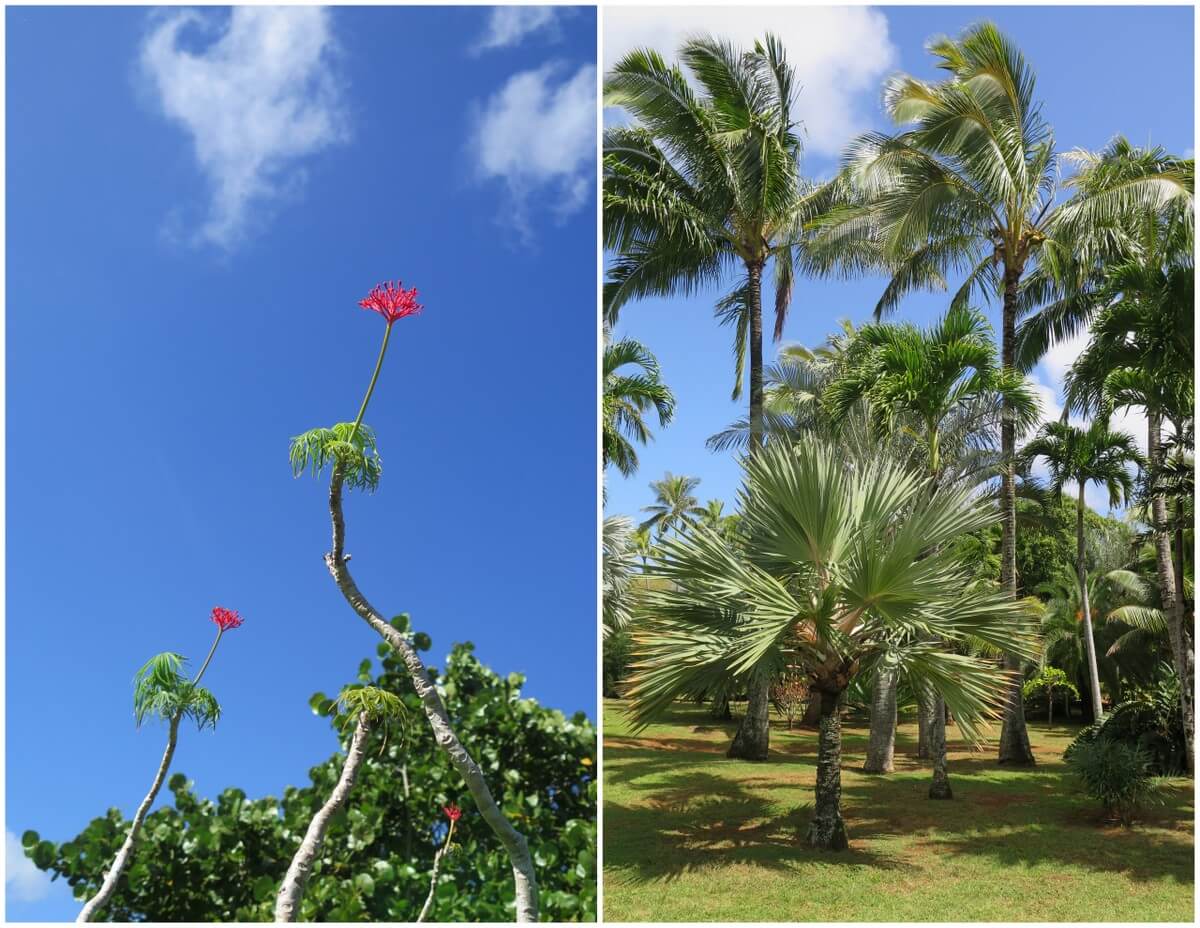 Na 'Aina Kai is one of the botanical gardens on the island of Kauai. This one spreads over a huge property on the northeast side of the island. Visitors are treated to tours of various garden areas, including a children's garden, a maze, and teak forests. Several different tours are available.
Get to know the vegetation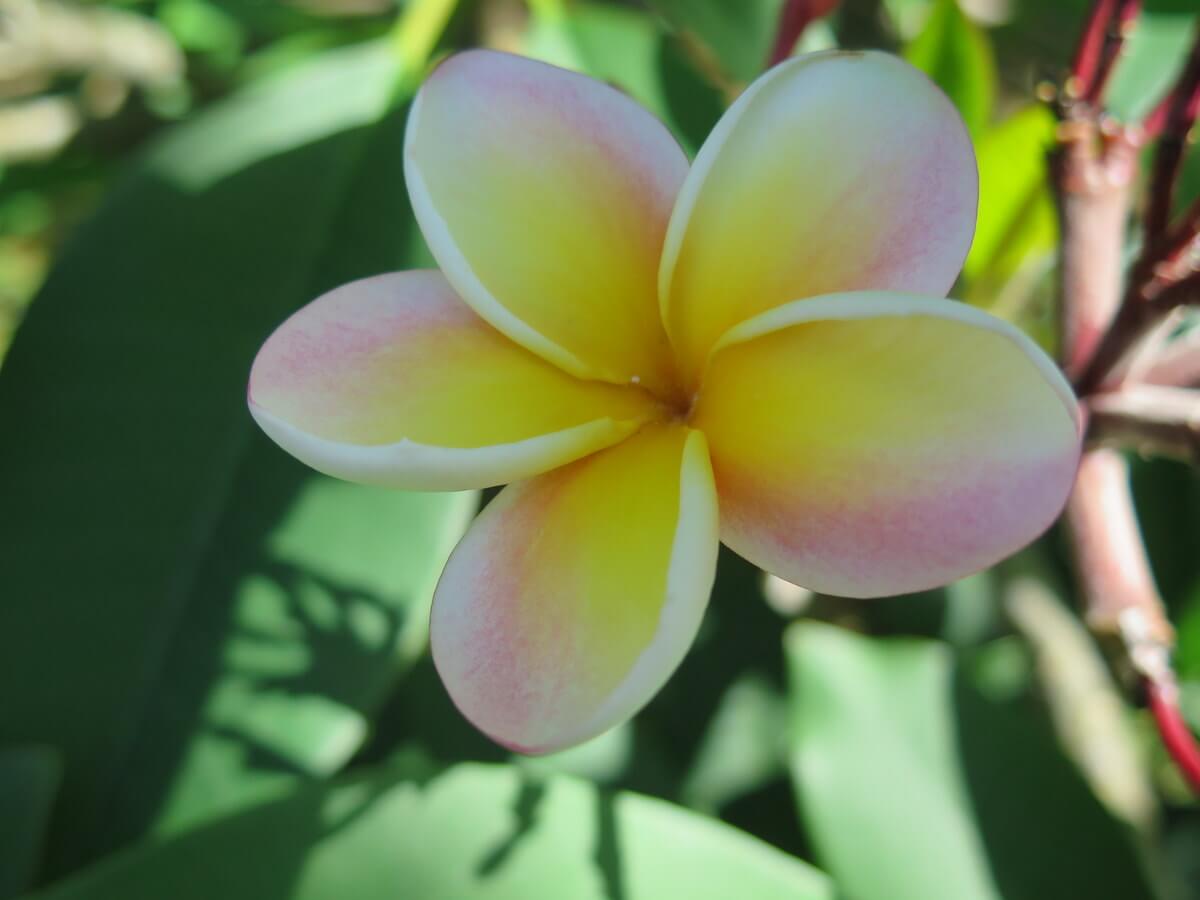 The vegetation on the island of Kauai is so different from that of dry places like California, where we live. Try to see how many different kinds of flowers and plants you can find here. One of the most common sights is the plumeria flower, used in leis, but keep your eyes open for hibiscus flowers, orchids, bromeliads, and the pandanus tree, which is also called the "tourist pineapple" because tourists mistake it for a pineapple plant because the fruit resembles pineapple.
Waioli Huiia Church:

This historic church, on the National Register of Historic Places, sits in the center of the town of Hanalei. It's worth a quick stop not only because the architecture provides a glimpse of 19th century Hawaiian life, but also because the mountains behind it are full of waterfalls, especially after it's just rained. Combine a stop here with the farmer's market on Saturdays.
Hanalei Wildlife Refuge: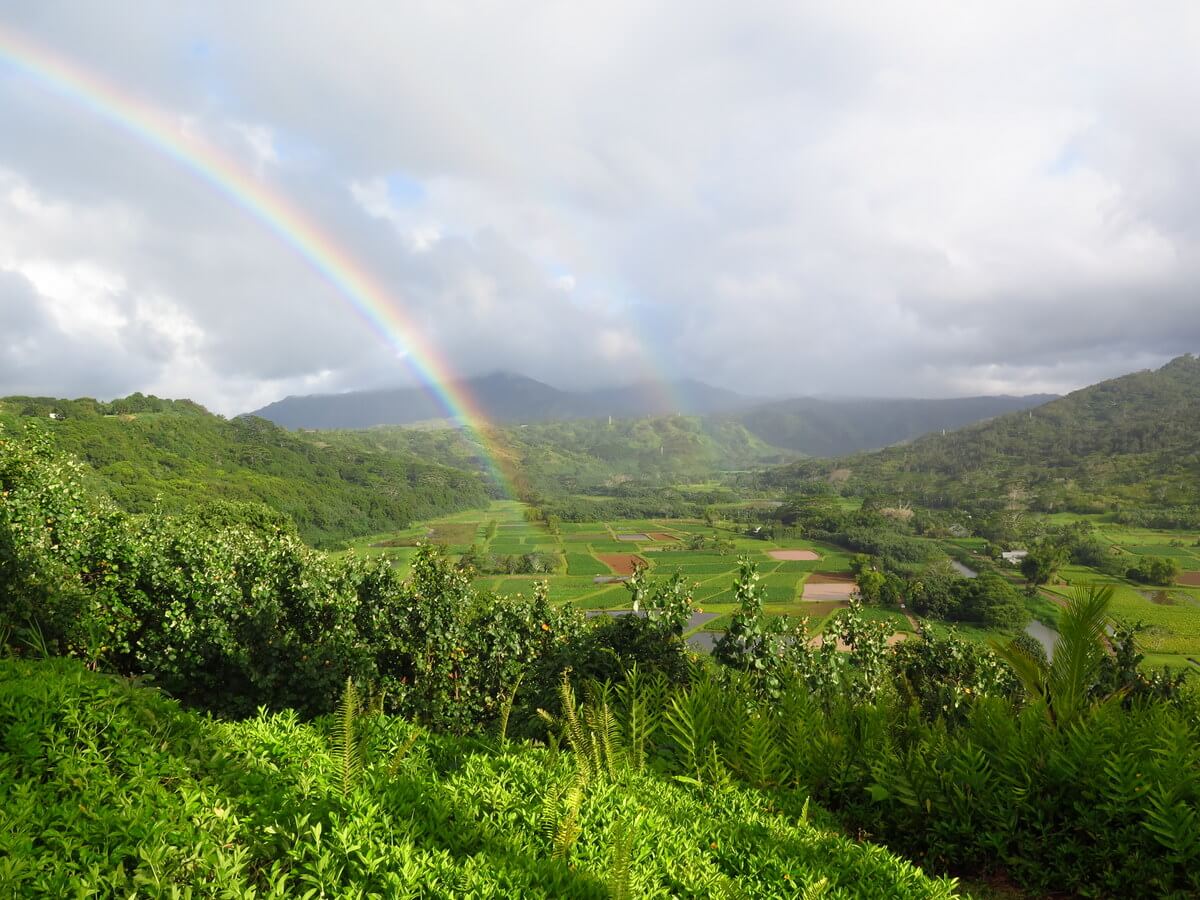 Hanalei National Wildlife Refuge is located within the Hanalei River Valley between Princeville and Hanalei. For most visitors, it's basically just a stop at the vista point along the highway toward Hanalei, but the view into the valley and its taro farms is stunning. You can explore the area more in depth by kayaking the Hanalei River or exploring it on horseback.
The sunsets: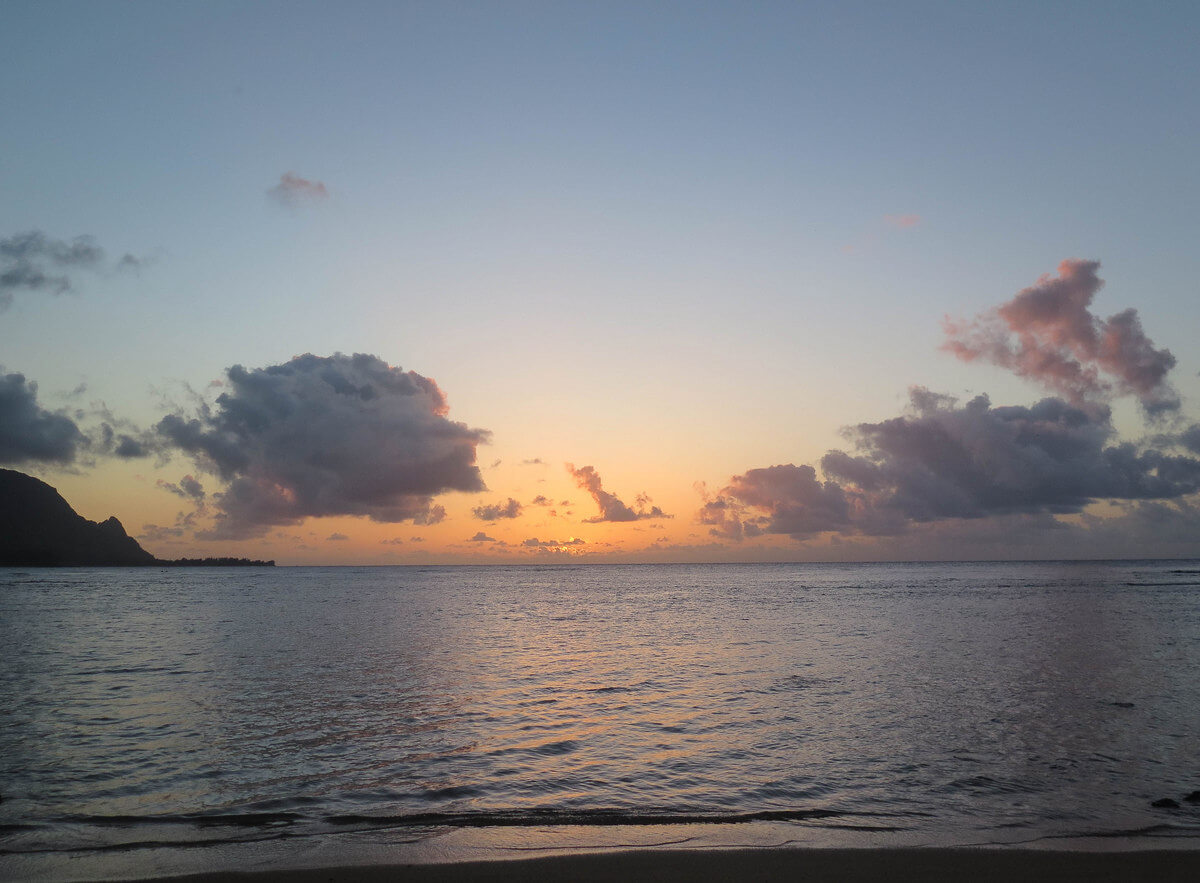 No tropical getaway would be complete without taking in the island's beautiful sunsets. Hanalei Bay and the nearby coves are good places to see the sun go down.
Farmer's Market in Hanalei:
Come here on Saturdays for affordable local fruit and veggies. Don't miss tasting the BEST coconut water (we've had a lot of coconut water in Brazil, but the coconut water in Hawaii was so sweet!). I also bought cute tie-dye t-shirts for my boys here.
Hike the Kalalau Trail: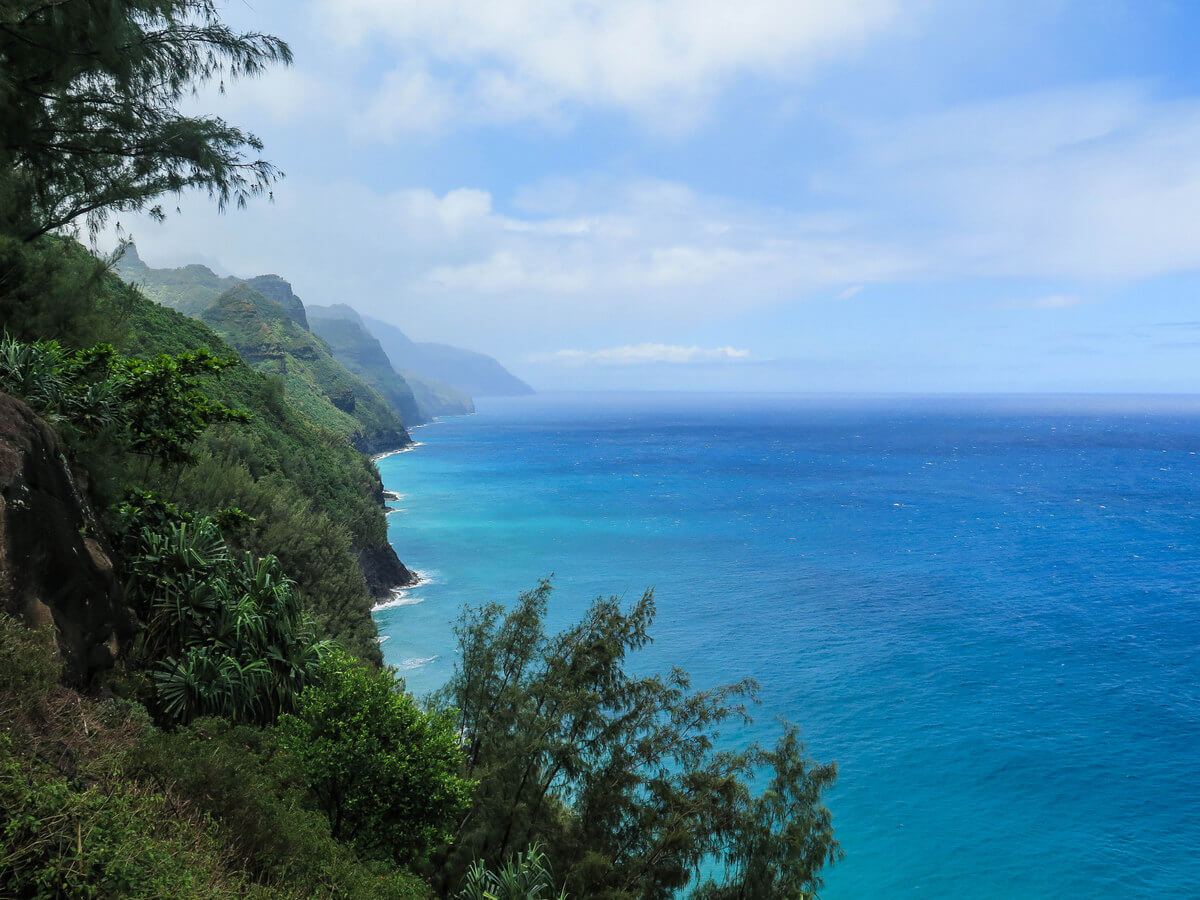 This most famous trail on the island and also one of my recommended hikes on Kauai. (We walked just the first section because rain created dangerous, slippery paths.) Walking at least the first part of this stunning trail along the Na Pali Coast is worth saving a day for, but the hike is challenging. Be prepared for the conditions, and use extra caution when it rains.
Maha'ulepu Coastal Trail: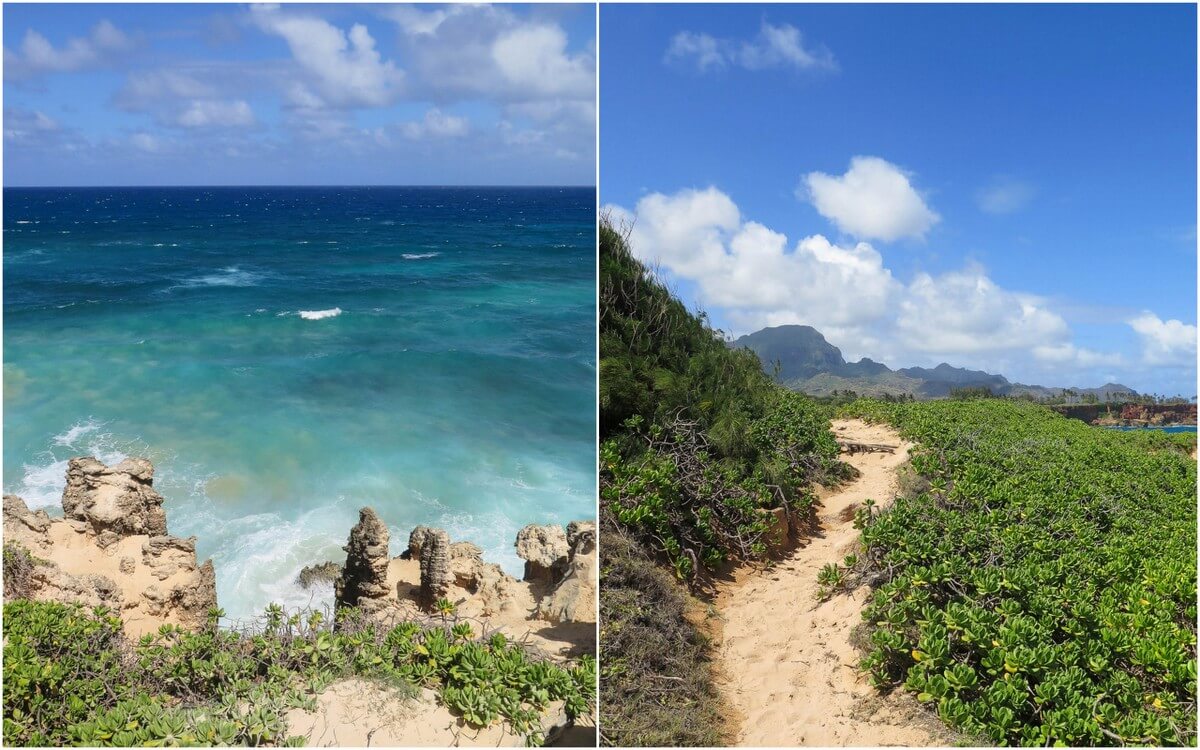 Another of my favorite hikes on Kauai, the Maha'ulepu Coastal Trail is a quiet 2-mile trail that runs along the south coast of Kauai. We saw very few people while walking this trail. Around every turn is something interesting and different to see, from lava and pillars to coves of beautiful turquoise water. There isn't much shade, so bring plenty of water and a sun hat.
Kapa'a Bike Path:
On the east side of the island near Kapa'a, this path follows the coast and makes a beautiful place to bike, run or walk.
Kīlauea Lighthouse: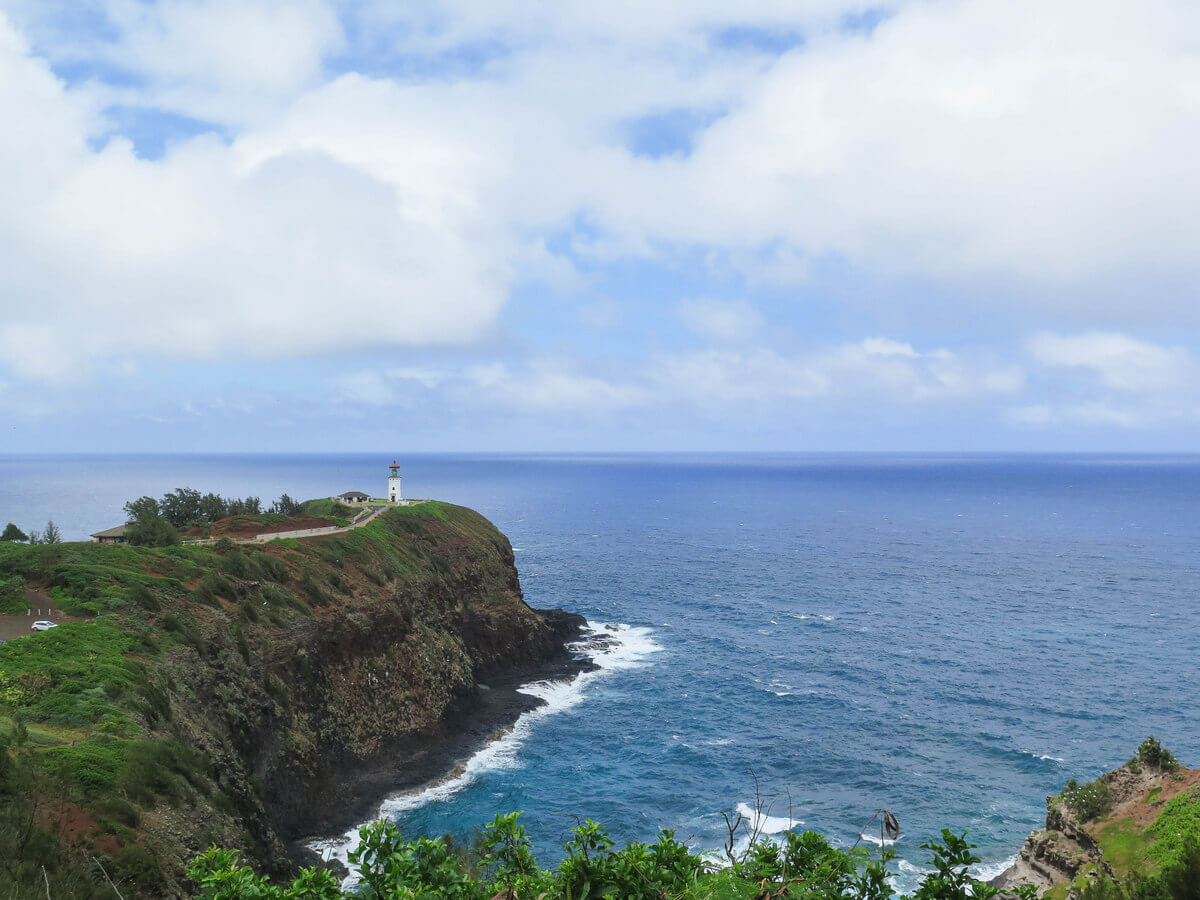 We loved visiting Kilauea Lighthouse because of the birds! It's part of the Kīlauea Point National Wildlife Refuge, and birds can be seen flying overhead and lining the hills near the lighthouse. Look for the huge wings of the albatross and other local species like red-footed boobies.
Spouting Horn: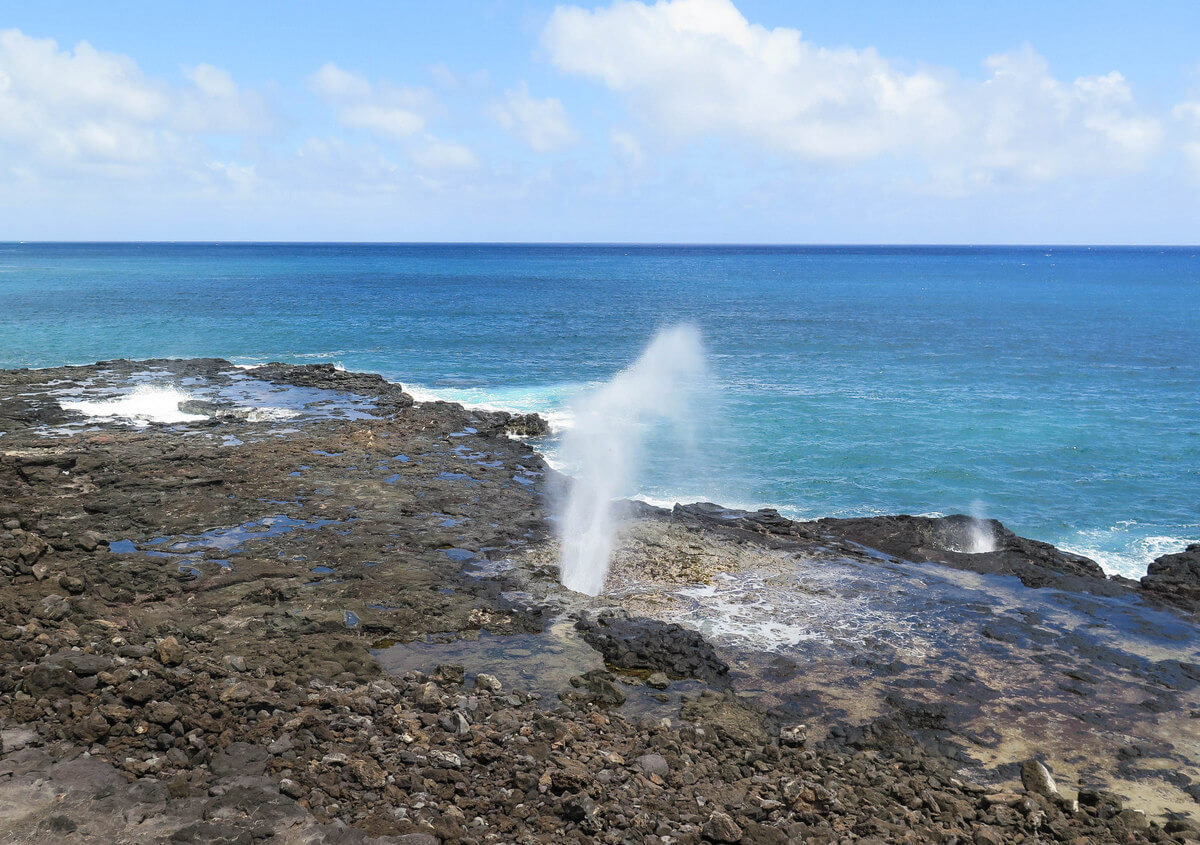 A fun stop on Kauai's south shore is Spouting Horn. Here waves channel into lava tubes, and a spray of water pops up every 30 seconds or so. I imagined that my kids would love anticipating it as the waves come in and waiting for the biggest spray.
Birds! (and roosters!)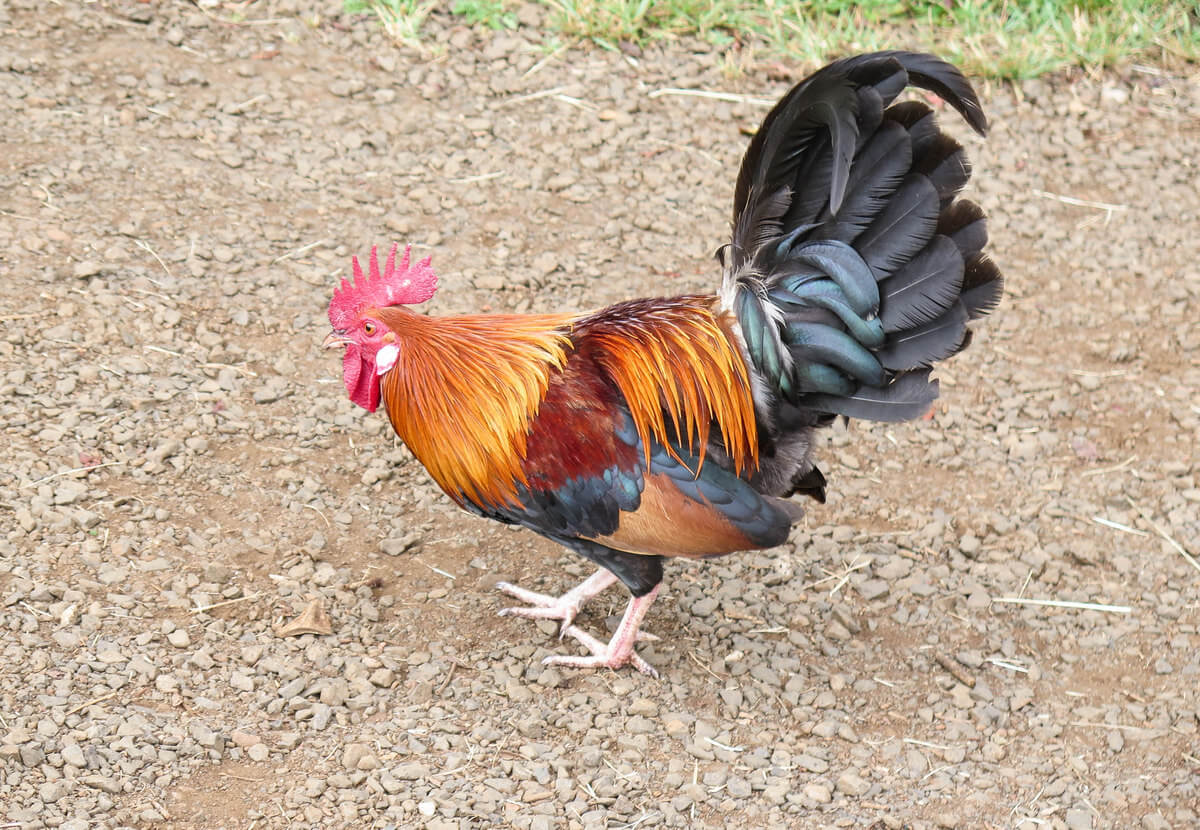 There are birds of many types on Kauai, and because I love animals, I enjoyed listening to their songs outside our condo and encountering them during our time outdoors. Keep an eye out for the nene (the Hawaiian goose), the seabirds at Kilauea Lighthouse, and albatrosses with their huge wingspan. You might even get lucky and see a baby albatross (there are nesting sites in various places around the island), but if you do, be sure to stay quiet and give the baby and its parents plenty of space.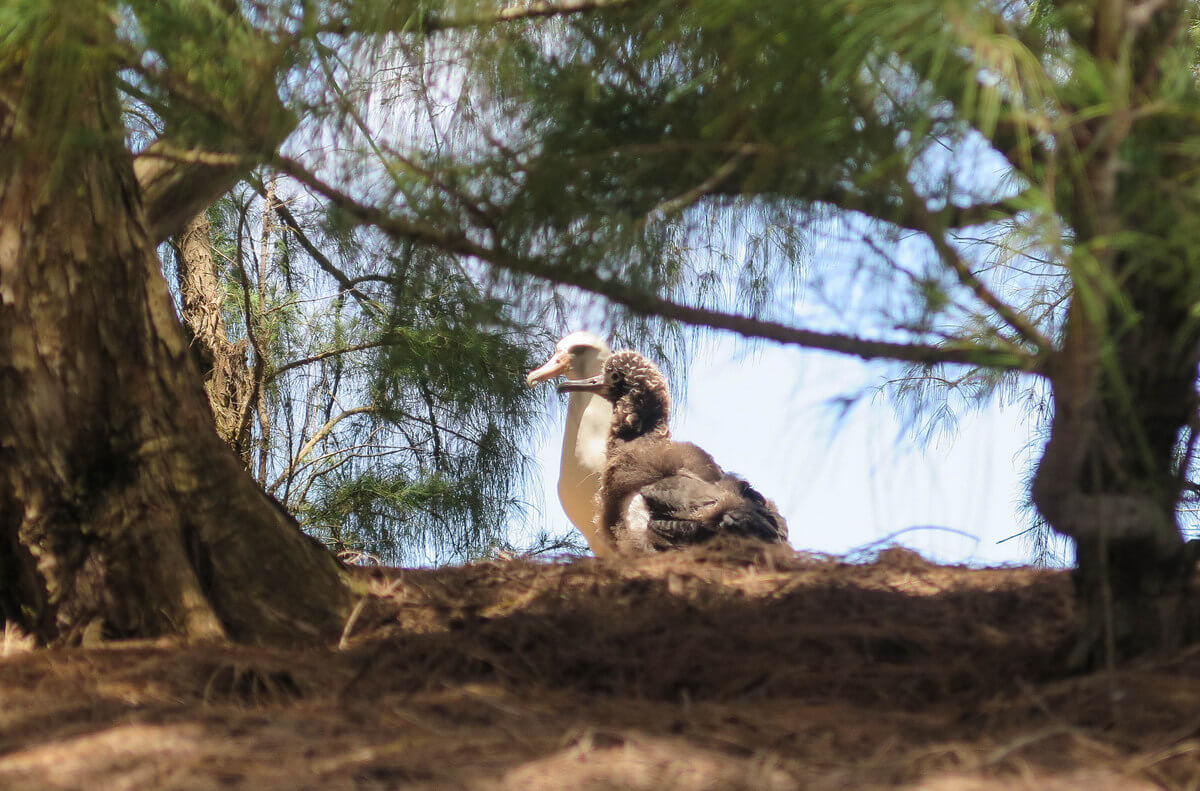 Which Kauai beaches to visit:
Kauai has many beautiful beaches, too many for us to explore in just 5 days. Most of them were easy to access, with free parking and restrooms. I was surprised to find out that, unlike the calmer beaches of the other Hawaiian islands, many of the beaches are not suitable for swimming or snorkeling because the surf is too rough. You'll need to look for appropriate beaches based on the activities you prefer and time of the year you visit. These were our favorites:
Hanalei Bay: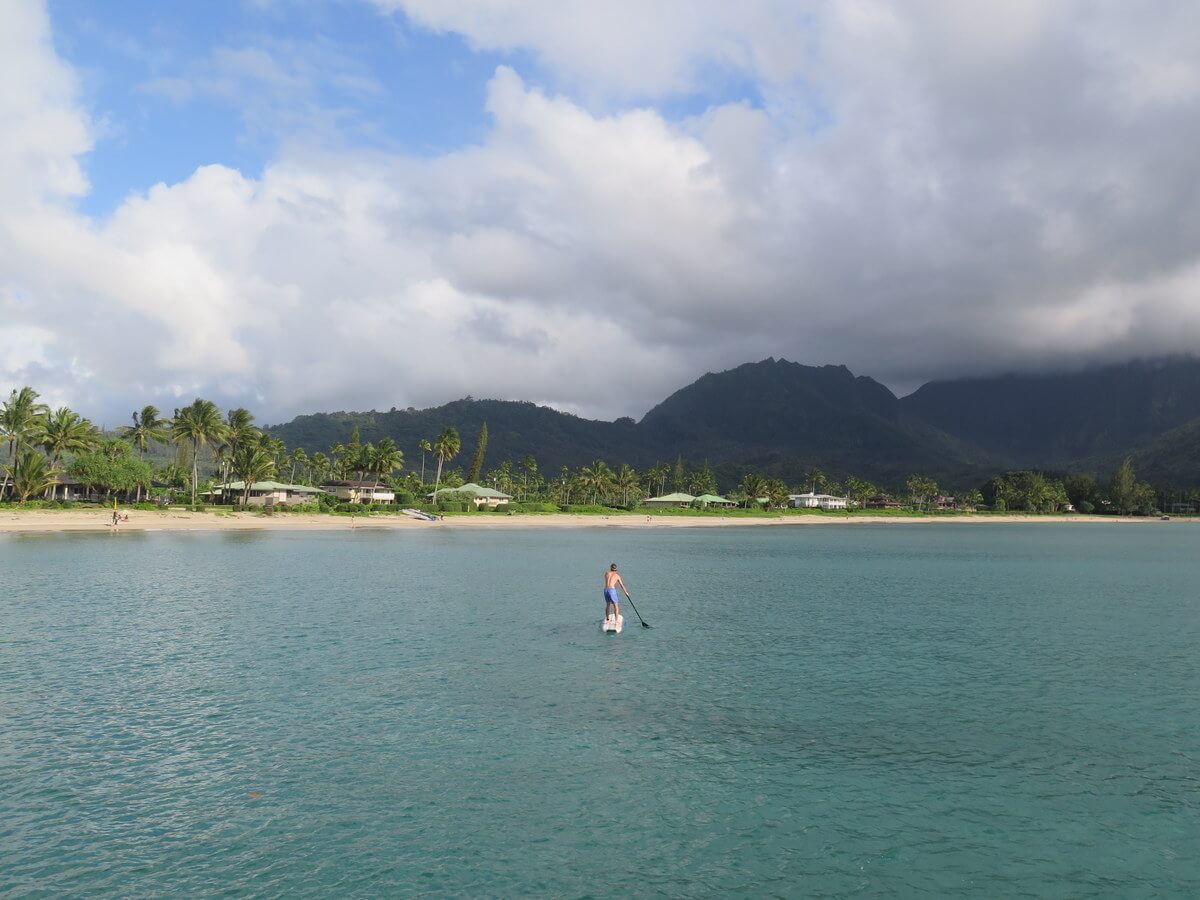 Hanalei Bay is a beautiful place, surrounded by the dramatic green hills of Kauai's north shore and the Hanalei River. This seems to be a popular place for locals and tourists to hang out–jumping off the pier, stand-up paddleboarding, kayaking, swimming, etc.
Anini Beach: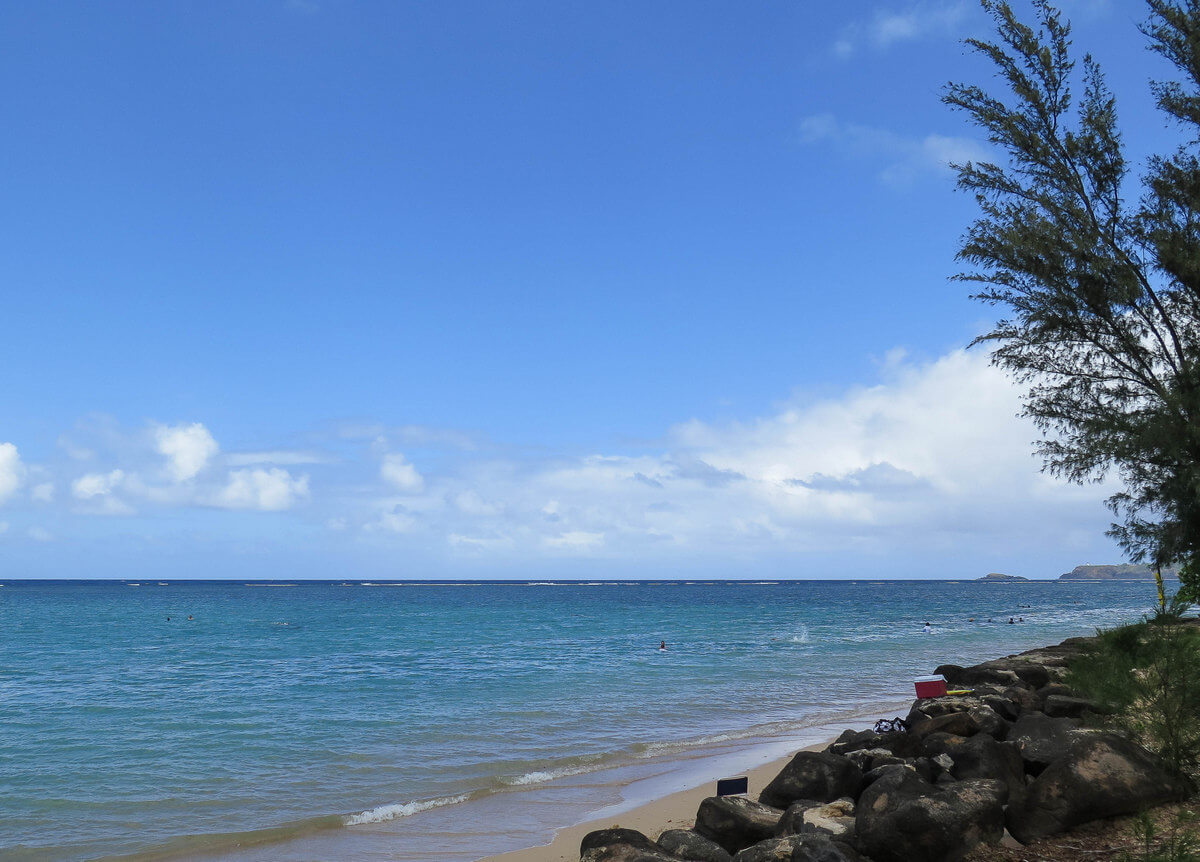 One of the safest beaches for snorkeling is Anini Beach on the north shore between Kilauea and Princeville. There's a long reef that protects the beach from ocean currents, but we found the snorkeling here limited. We saw lots of beautiful fish, but the coral looked dead, and I've heard that places like Ke'e Beach are much better for spotting sea turtles. Tip: the west side of the beach is calmer than the east side.
Secret Beach: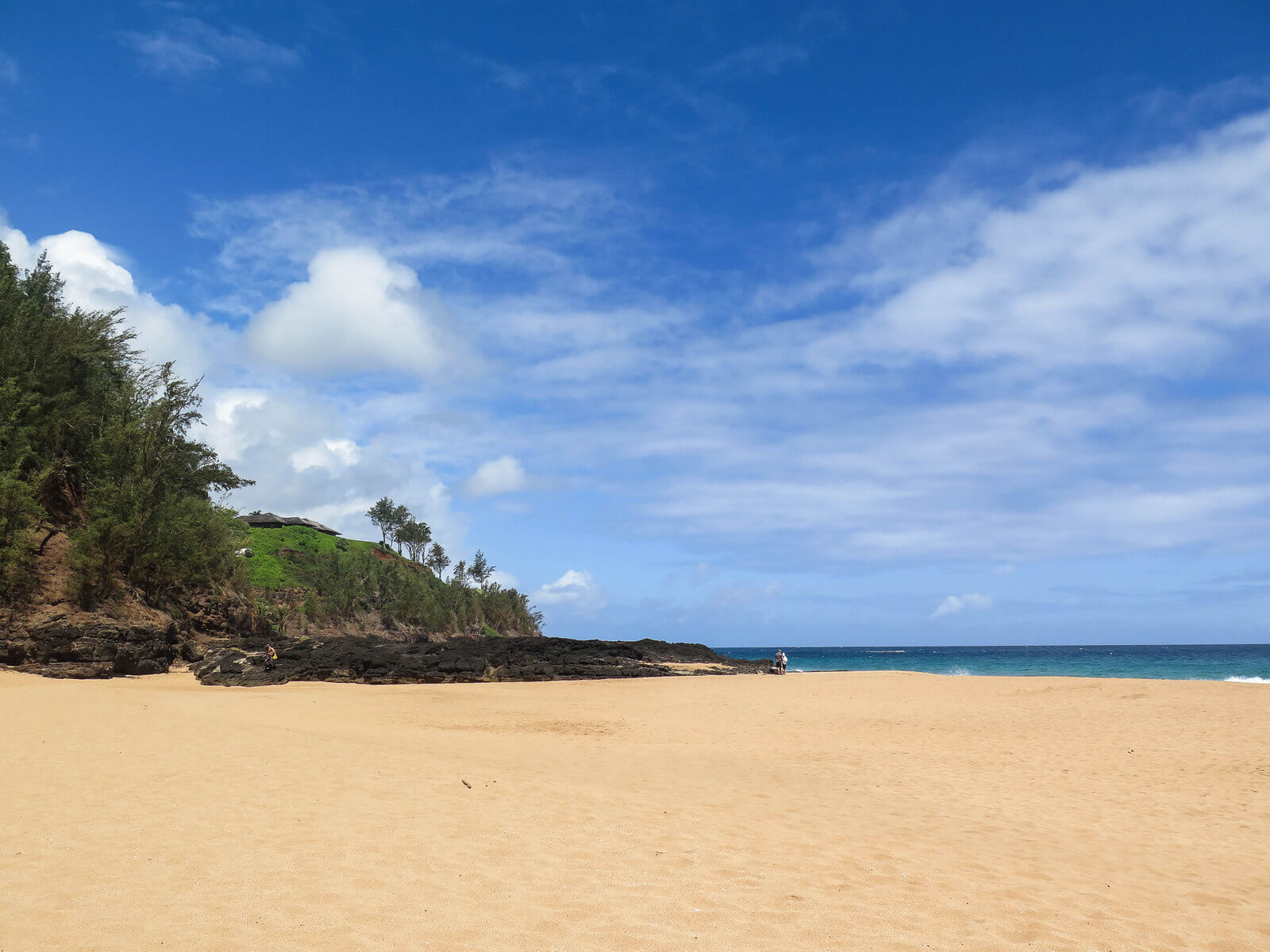 Also known as Kauapea Beach, this is the one beach that I would recommend above all others. It's tricky to find, but if you follow your GPS and keep in mind that you need to turn right onto a small dirt road, you'll eventually find it. At the end of the road is a house–we parked outside the gates of the house and easily found the path down to the beach.
Keep following the path past the properties and then down a steep slope until you reach the beach–it's big and beautiful, lined with lava rocks and patches of palm trees that provide shade. The water here is not calm, so don't expect to swim here. There's even a sign warning visitors to stay off the rocks in memory of young men who lost their lives here. The biggest plus besides its beauty: it's definitely less visited than the other beaches.
Kalihiwai Beach: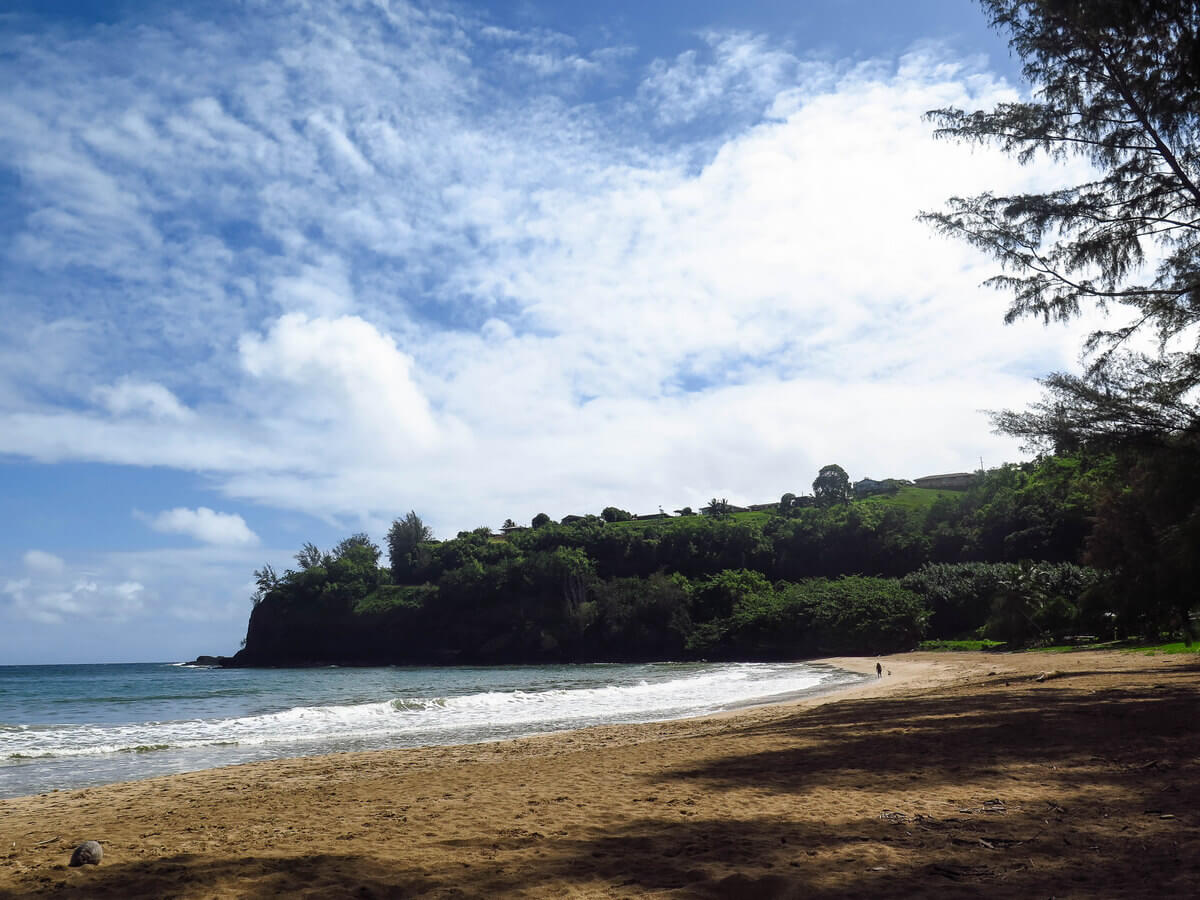 If you miss the turn to Secret Beach like we did, you'll come upon this small beach that's not known to tourists. When we arrived, there was an older man walking his dog, so I sat on the water's edge to take in the view. A few minutes later, a beautiful 8-year-old boy with white-blond hair and freckles suddenly appeared by my side and proceeded to teach me all about this beach. He then asked me to watch him as he took on the waves with his boogie board while his mother and little brother got ready to join him. I feel fortunate to have been able to witness how children enjoy the nature that abounds on the island.
Shipwreck Beach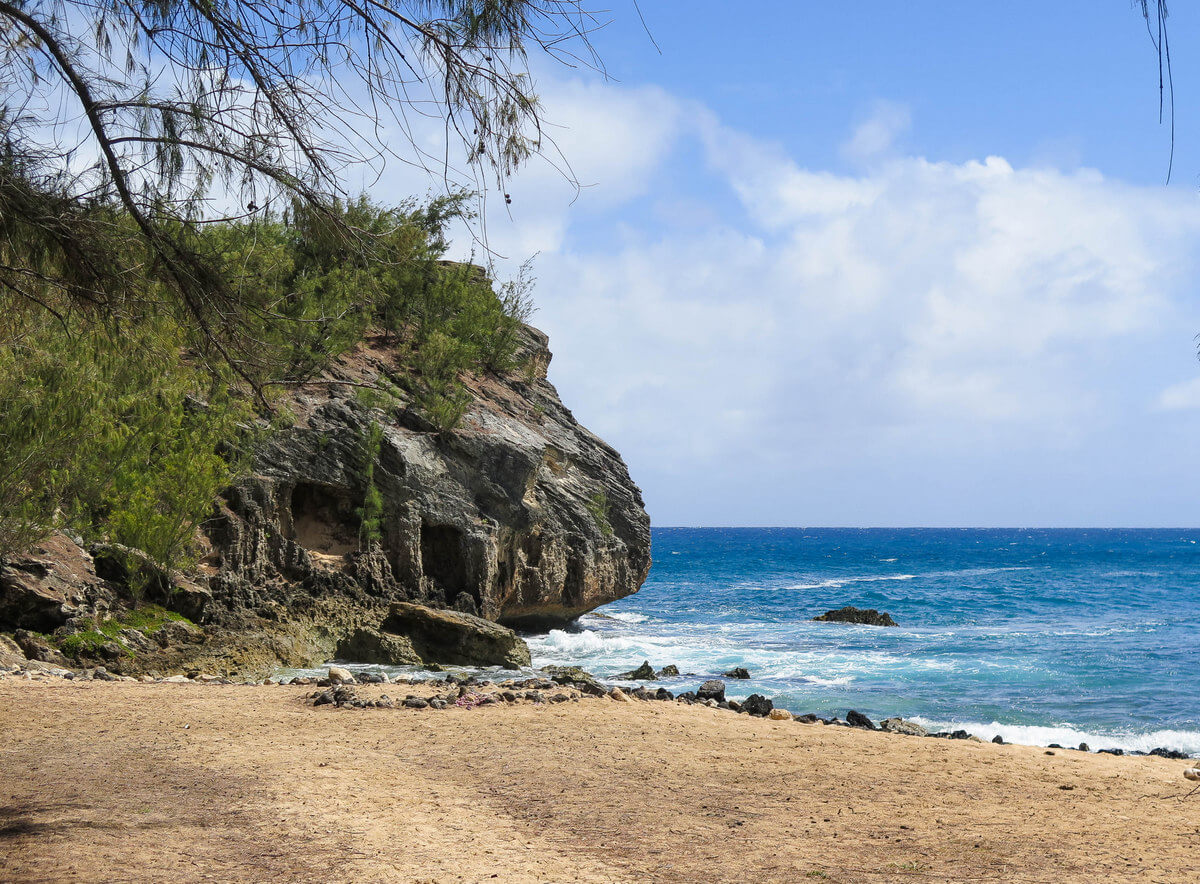 Shipwreck Beach is located at the end of a small road between the Grand Hyatt and the golf course on the south shore of Kauai. While I suspect that there are nicer beaches on the south shore, this one is a good place to spend a little time before setting off on a gorgeous walk along the Maha'ulepu Coastal Trail (see above).
Where to eat on Kauai
I was pleasantly surprised by the food on the island of Kauai, partly because we're pretty spoiled by the food here in Sacramento, and partly because we didn't love the food the last time we were in Hawaii. Despite the fact that we enjoy nice meals now and then, we opted for casual, inexpensive places during our stay on Kauai.
The Dolphin:
This casual restaurant just as you enter Hanalei was not one of our favorites, but the fresh food and outdoor tables with a view of the Hanalei River made this a welcome stop just after we had arrived from the airport.
Shave Ice at Wishing Well:
I've heard that this is the best shaved ice on the island, and I wouldn't doubt it! Choose from specialty organic flavors of tropical fruits like lilikoi (passionfruit) and lychee made with local ingredients and toppings like fresh coconut cream or sweet condensed milk. You can also add a scoop of macadamia nut ice cream, but just so you know…they're huge!
On Hanalei's main drag: Tropical Taco & Hanalei Coffee Roasters:
After a busy morning searching for Secret Beach and dodging rain storms, we wanted an easy, filling lunch, and Tropical Taco provided just that. Further down the highway was another favorite find: Hanalei Coffee Roasters. Head here for their breakfast, baked goods, and smoothies, a good stop for breakfast and to pick up sandwiches to take on a lunch picnic.
Kilauea Fish Market:

Our favorite place to eat on Kauai was the Kilauea Fish Market. This unassuming place was recommended to us by some locals, and we liked it so much that we ate there twice! We loved the ahi wraps, and they were so big that we were able to take half back to our condo for later.
And a few things to do on Kauai that we didn't have time for:
kayaking down the Hanalei River
horseback riding in Hanalei River Valley
Poipu Beach on the south shore
If you've been to Kauai, I'd love to hear your favorite things to do on Kauai.
My picks for what to wear on Kauai. Click the image to go to the site:


Pin it for later: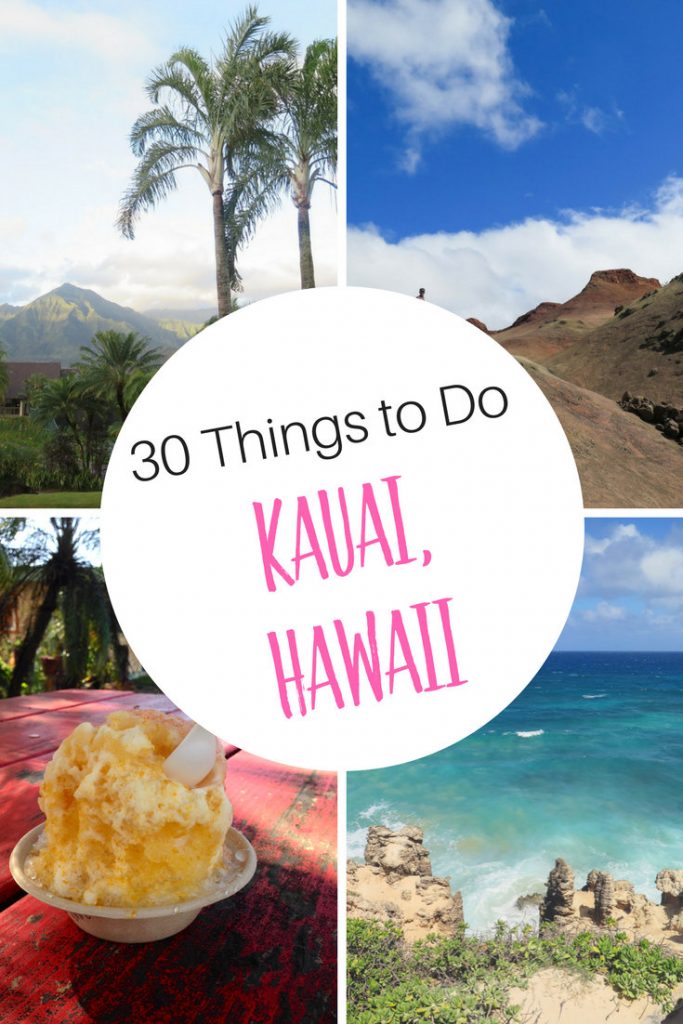 Photo credit: Wailua Falls by Robert Jolly on Flickr
Disclosure: I stayed at Hanalei Bay Resort as a guest of ResorTime and visited Na 'Aina Kai as a guest.