One of my favorite discoveries in recent months is Everlane shoes. They took my work look up a notch (or two), but I also love that they're high quality and will last a long time. Before I get into the pros and cons of Everlane shoes, let me explain why I decided to order them in the first place.
At first, I was reluctant to spend more than $150 on a pair of shoes. At the same time, I was finding myself going through shoes faster than I would have liked and often not finding the classic style in any of the less expensive brands. I kept coming back to the look of Everlane shoes.
I also appreciated that the shoes are made in the best factories around the world, meaning that the factories must make good products and be ethical. In fact, Everlane uses factories that score 90 or above on a compliance audit which checks for fair wages and working conditions. And there are videos of the factories so that customers can learn more about how and where the products are made.
Where did I wear Everlane shoes?
I should mention that I wore these shoes mostly at work. As a teacher, I walk and stand at work a lot. I walk to and from my car plus to and from class about three times a day — that's about 40 minutes total of walking. While I am teaching, I rarely sit down, so that's another 3-4 hours of standing in these shoes. In other words, my shoes get a good comfort test every day at work!


An honest review of the Everlane Modern Loafer:
I love these shoes. I had my eye on these loafers for a long time and am so happy that I finally ordered them. They look great and are even more versatile than I'd expected. I actually wanted the burgundy color, which weren't available then, so I ended up going with black. I love the black loafers because they go with everything and the black leather has a subtle contrast with the brown heel/sole.
How do I wear the Everlane Modern Loafer?
I wear these shoes in two ways.
With cropped pants or slim fit jeans
With a warm weather dress/skirt and opaque tights
I generally wear these shoes at work but will wear them for other occasions once they stretch out more. I find that they are especially comfortable worn with tights because the low-cut socks tend to move around inside the shoe.
How do Everlane Modern Loafers fit?
It's best to size up at least a half size. As you'll see in the reviews on Everlane, these shoes start out snug and they taper in the front. They do stretch, but they were a little tight on one of my feet for the first few weeks.
An honest review of the Everlane Heel Boot:
I fell in love with the look of these because of the contrast between the black leather and the brown heel. Unfortunately, I don't see this exact color on Everlane anymore, but they still carry a range of colors. This graphite suede boot is the most similar to the one I have, and Everlane now has the sleek boss boots.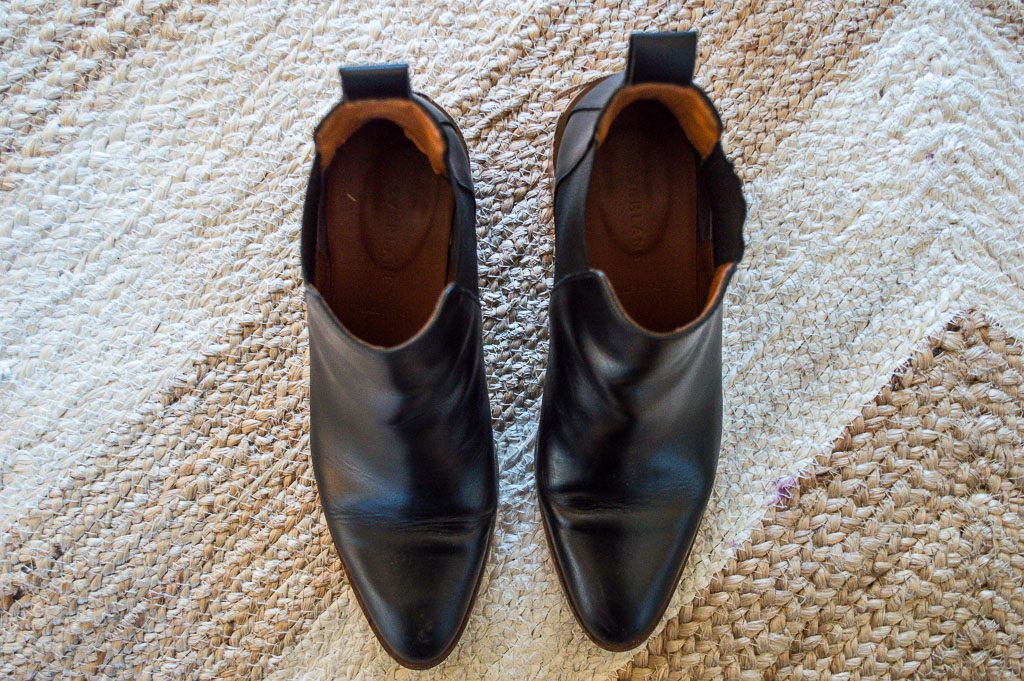 How do Everlane Heel Boots fit?
These boots are very comfortable. The sole is slightly cushioned, and the heel is just the right height. Occasionally, the ball of my foot gets a little tired or my toes a little pinched by the end of the work day. That's not surprising because, as I mentioned above, I spend a lot of time on my feet at work.
These boots took a little time to break in. At first, I experienced some tenderness on the sides of my little toes because the boot narrows as it gets closer to the tip. However, after several wears, this doesn't bother me anymore.
How do I wear the Everlane Heel Boot?
I wear these boots in three ways.
With cropped pants like these slim wool pants
With ankle-length jeans or rolled jeans from Everlane (love their denim!)
With a winter dress and good quality opaque tights
I use a pair of no-show socks. I wear these boots at work and out for a lunch/happy hour/dinner date with my husband or a friend. They are beautiful, classic boots that can be worn for a variety of purposes. I would definitely take them when I travel as well.
What's next?
I have my eye on these comfortable day shoes (after seeing them in this teacher's capsule wardrobe), these low heels in red velvet (yes!), and these beautiful oxfords.
Products featured in this post:

Have you tried Everlane shoes? I'd love to hear your experience!