Do you prefer the ocean or the mountains? Here in Sacramento, we sit right in between the coast and the Sierra Nevada mountain range, each less than two hours away. My preference for the coast and my lack of interest in skiing have meant that I didn't spend much time in the Sierra Nevada, but that's changed over the past years. Lake Tahoe and neighboring Truckee are now one of our favorite places to visit as a family, and I've compiled lots of ideas for things to do in Lake Tahoe, especially travel tips for families at Tahoe.
Like my other 30 Things guides, I try to give ideas that go beyond the most obvious; as a result, I didn't include anything about winter sports, the activities that Tahoe is best known for, but you can find out about snow-shoeing and sledding in this article: 5 Things to Do in South Lake Tahoe with Kids, Snowshoeing at Donner Lake, and much more in these guidebooks for the Lake Tahoe area: (click the image for a link to the book)
And see more in these articles: What to Pack for Lake Tahoe in the Winter , 8 Kid-Friendly Hikes at Tahoe, and 7 Discoveries in North Lake Tahoe.
Lake Tahoe is part of the culture here. It's the place where people escape the summer heat, vacation with family in the winter, ski on the weekends, and so much more. It's not uncommon for Sacramento residents to have a cabin at Tahoe; it's the place to go to relax and be in nature. (For more about Northern California).
Lake Tahoe is divided into North Lake Tahoe and South Lake Tahoe but is also cut vertically by the border of California and Nevada. This post includes travel tips for both North Lake Tahoe and South Lake Tahoe. Click the map below for a Google Map:
Quick tips for visiting Lake Tahoe:
Summer and winter are high season around Tahoe, so you'll find a quieter scene in the spring and fall.
The sun is strong here, so bring sunscreen and a hat, even when it's not hot out.
Some people feel out of breath while hiking here due to the elevation.
Dress for the weather–bring layers and know that it gets cold here at night, even in the summer.
There are bike trails along the highway that goes around the lake, so bring your bike or rent one at one of the many rental shops.
Bears live in this area, and while they are often used to humans, learn what to do if you encounter a bear and how to store food if you're camping.
You can reach this area by train–Amtrak's Capital Corridor line stops at downtown Truckee.
If you're traveling in winter or spring, you'll need all-wheel drive or bring chains in case of snow. We loved driving the Mitsubishi Outlander — not only did it handle the snowy roads perfectly, but it also had smart driving features for a safe, smooth journey.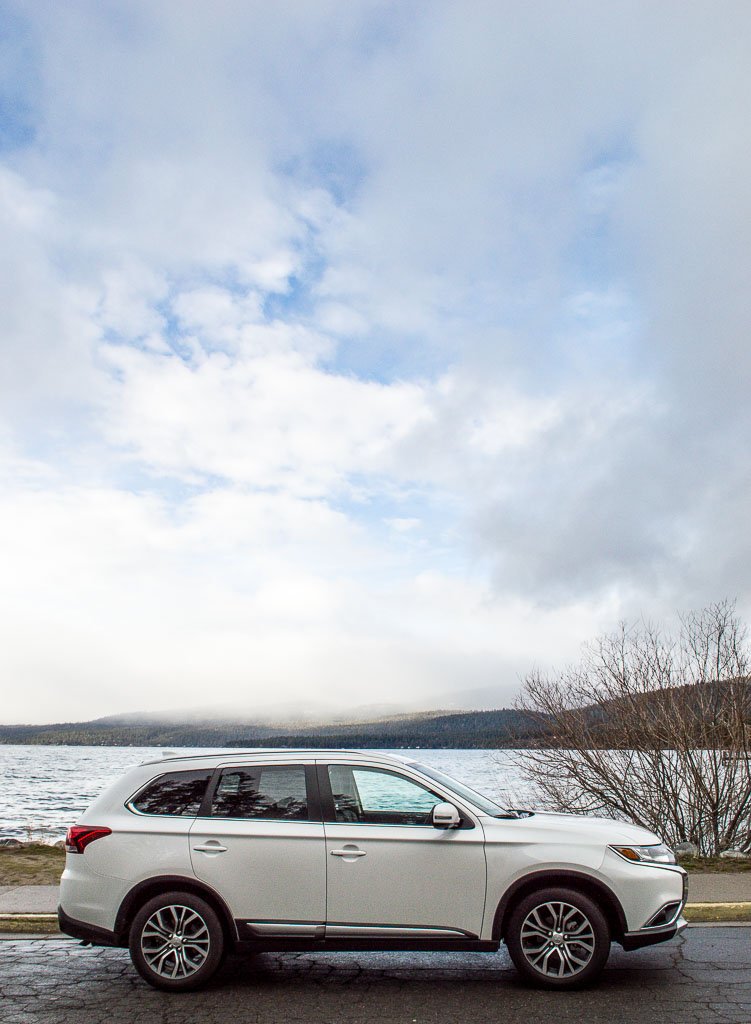 Where to stay at Lake Tahoe:
For the best prices on Lake Tahoe accommodations, try Booking.com's Lake Tahoe accommodations. With 1700 hotels and rentals to choose from and a best price guarantee, you're sure to find a perfect place to stay in Lake Tahoe.
If you prefer the space of a vacation rental, try the many homes and cabins on Airbnb. And you get a $40 credit towards your stay!
After several visits to the area, I've chosen a few favorite places to stay at Lake Tahoe:
Rent this house on the west shore:
We stayed in this cabin through Airbnb on Tahoe's west shore recently and loved it. It's located in a quiet residential area just a few minutes' walk from the lake (there's a small beach and private pier that guests have access to). The house is well stocked and comfortable and has two upstairs decks that would be perfect to enjoy on nice days.
Red Wolf Lodge at Squaw Valley:
Squaw Valley is one of the largest ski areas in the United States and was the home of the 1960 Winter Olympics. It's a beautiful area with mountains on three sides. I found that this was a nice alternative to Lake Tahoe, which is so busy in the summer. Because Squaw is a ski resort, it was quiet and peaceful in the summer yet just a short drive away from Tahoe and Truckee.
The Red Wolf Lodge Squaw Valley has vacation rental condos available in studio, one-bedroom, or two-bedroom, all with a kitchen and living area. We stayed in the one-bedroom condo and had plenty of space for our family of four–my kids slept on the fold-out sofa bed. The condos have recently been remodeled and have nice, new furnishings, a fireplace, and a balcony. Unlike most vacation rentals, this lodge had many amenities, such as a hot tub, a foosball table, and DVDs that we could check out in the evenings. The place was perfect for our traveling family — we loved staying here! And there is so much to do within walking distance of the condos (see Squaw Valley below).
Hyatt Regency Lake Tahoe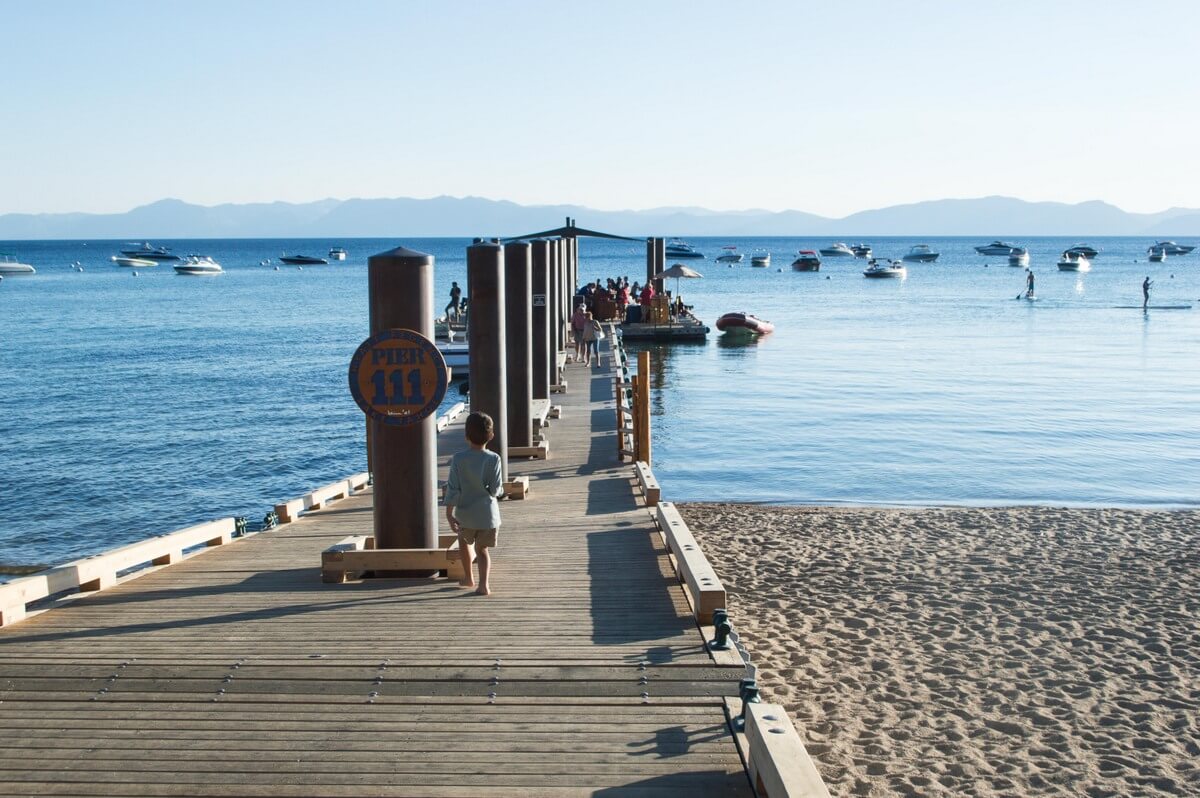 A beautiful resort property on the north shore of Lake Tahoe (just across the state line in Nevada), the Hyatt has its own private beach and access to water sports. See more about it here: a weekend at North Lake Tahoe. The hotel is expensive but is a convenient option, with a full-service spa, several restaurants, beach access, and a very nice pool/hot tub area with a separate pool area for families.
Condos at Northstar
I love the Northstar/Truckee area. It's a bit away from the lake, but if you're in the mood for winter sports or the small town feeling of Truckee, you'll enjoy staying here. The condos available for rent at Northstar are a nice choice for families — they are quiet, comfortable, and clean. A free shuttle service can take you to the Northstar Village, with restaurants, ice skating, a movie theater, and shops, plus a free gondola ride up to the Ritz Carlton. See more: a weekend at Northstar.
What to do in West and South Lake Tahoe:
See my 8 kid-friendly Lake Tahoe hikes.
For more travel information for Lake Tahoe, check out Fodor's Guide to this part of Northern California or the Moon Guide to Lake Tahoe.
Sugar Pine Point State Park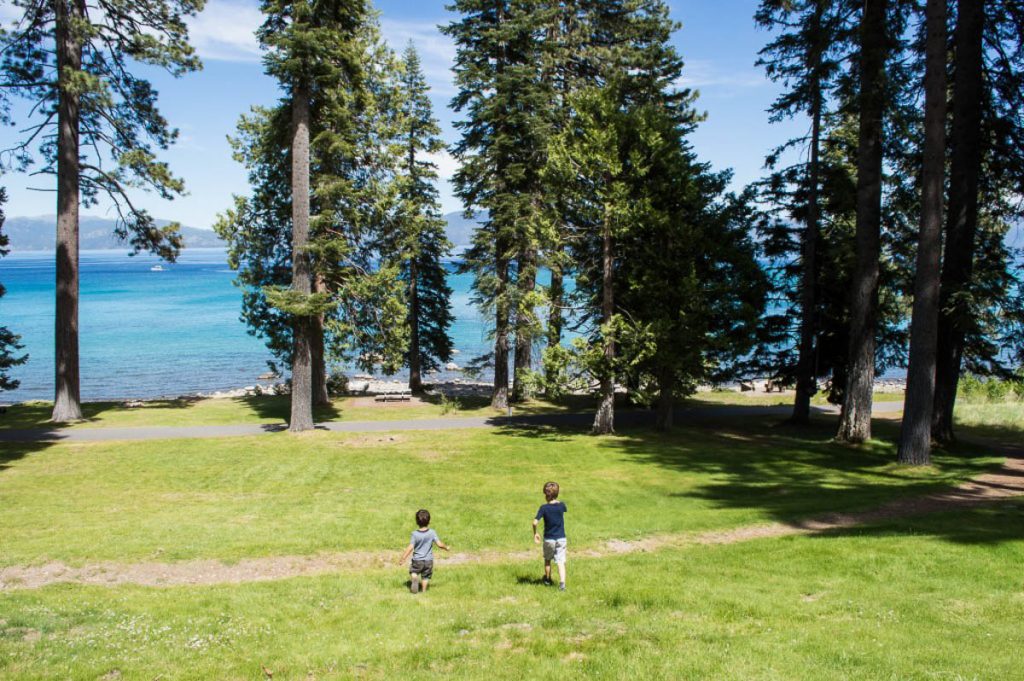 Ed Z'Berg Sugar Pine Point State Park is one of Lake Tahoe's nicest natural areas. It hugs nearly two miles of the lake and contains dense forests that make for wonderful hiking and camping.
The Dolder Nature Trail:
For a perfect day hike, try the Dolder Nature Trail, a two-mile loop that begins behind the mansion, passes the lake shore, and winds through the forest. It's a beautiful, quiet trail full of big trees, ferns, and wildflowers–we even spotted a giant Sequoia next to the lake! (When you reach the fork where it says "Wildlife Area," you can go either way since it's a loop–go right to reach the trail along the shore.)
Cost: $10 is the day-use fee for state parks, but it can be used at other parks on the same day
Tour the Hellman-Ehrman Mansion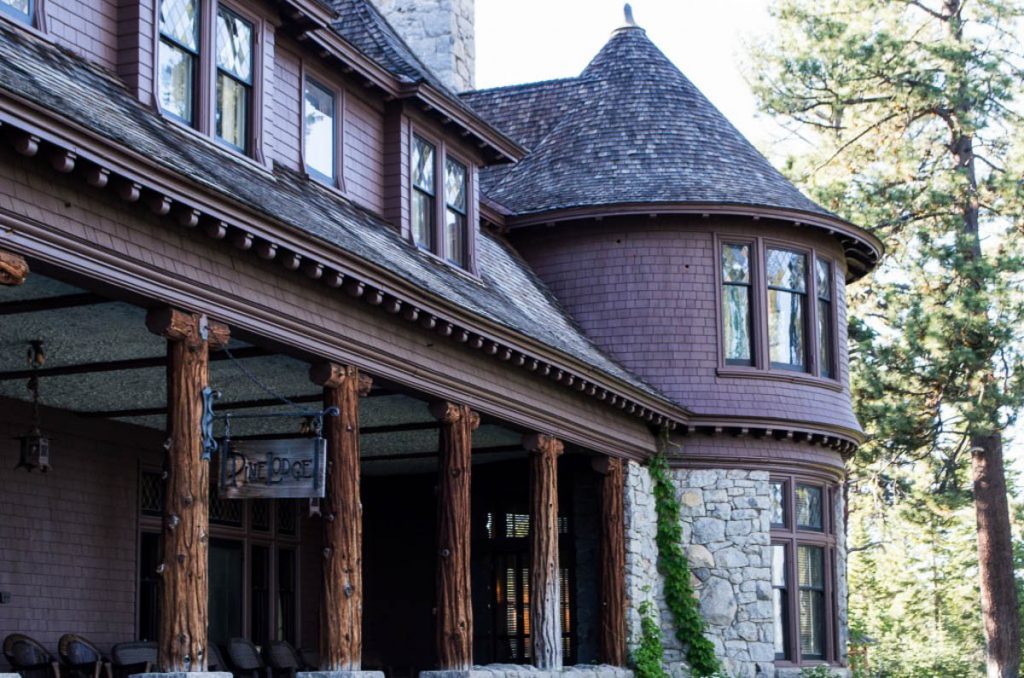 The Hellman-Ehrman Mansion from 1903 provides an interesting peek into the life of the rich on Lake Tahoe. During the house's early years, invited guests would arrive here after a long train ride. The tour of both the main mansion rooms and servant areas lasts less than one hour; if you have kids with you, the tour guide will likely tailor some of the information to their interests. Tours run from late May through late September.
Cost: $10 for the tour of the mansion (students are $8 and free for kids 6 and under). Tickets are available for purchase at the Nature Center behind the mansion.
Nature center at Sugar Pine Point State Park
If you have kids with you or if you like animals, save a few minutes to see the free taxidermy exhibit at the Nature Center in Sugar Pine Point State Park. The collection shows animals that are found locally, and honestly, I saw animals and birds that I had never heard of before!
Emerald Bay State Park
Emerald Bay State Park includes the Emerald Bay overlook and hiking trails that descend to Vikingsholm, a castle-like house at the shore of the bay, and Fannette Island, the only island in Lake Tahoe. The view from the Emerald Bay overlook (shown above) is a classic Lake Tahoe view, but you may want to include the walk down to Vikingsholm and the tour of this historic house. Be aware that the walk back up is steep, and there are no rides out. Restrooms are available at the bottom of the trail.
Cost: Free to park at Emerald Bay overlook (but the lot can be crowded), $10 for the state park day use fee (but this can be used at other state parks on the same day), $10 for the tour of Vikingsholm.
Calawee Cove at D.L. Bliss State Park
One of several beautiful places in D.L. Bliss State Park, Calawee Cove is one of my favorite places in the Lake Tahoe area. We arrived in the morning, when the beach was occupied only by some geese. The sandy beach and rocky cove make it a beautiful place to spend a couple of hours. There are restrooms just above the beach. Plus, this is the starting point for the beautiful Rubicon Trail hike (find out more about Lake Tahoe hikes).
Cost: $10 for state park day use (but it can be used at other parks on the same day)
Balancing Rock Trail at D.L. Bliss State Park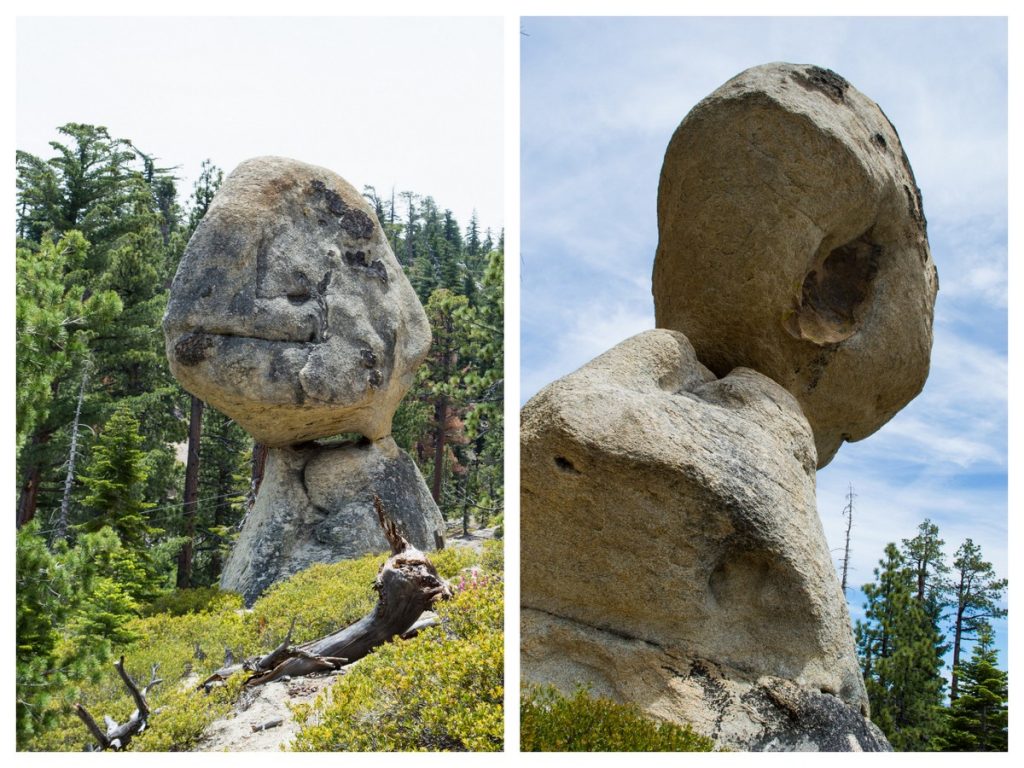 Another highlight of our stay was the half-mile Balancing Rock Trail in D.L. Bliss State Park. Beginning at a teepee that represents the history of the Native Americans who once lived in this area, the trail continues up to the Balancing Rock and other massive granite boulders and then down to a stream. Be sure to pick up one of the brochures in the box at the trail head–it's clear that the stories that accompany the sights along the trail were written by someone who loves this place and has a great respect for nature.
Look for wildflowers in the summer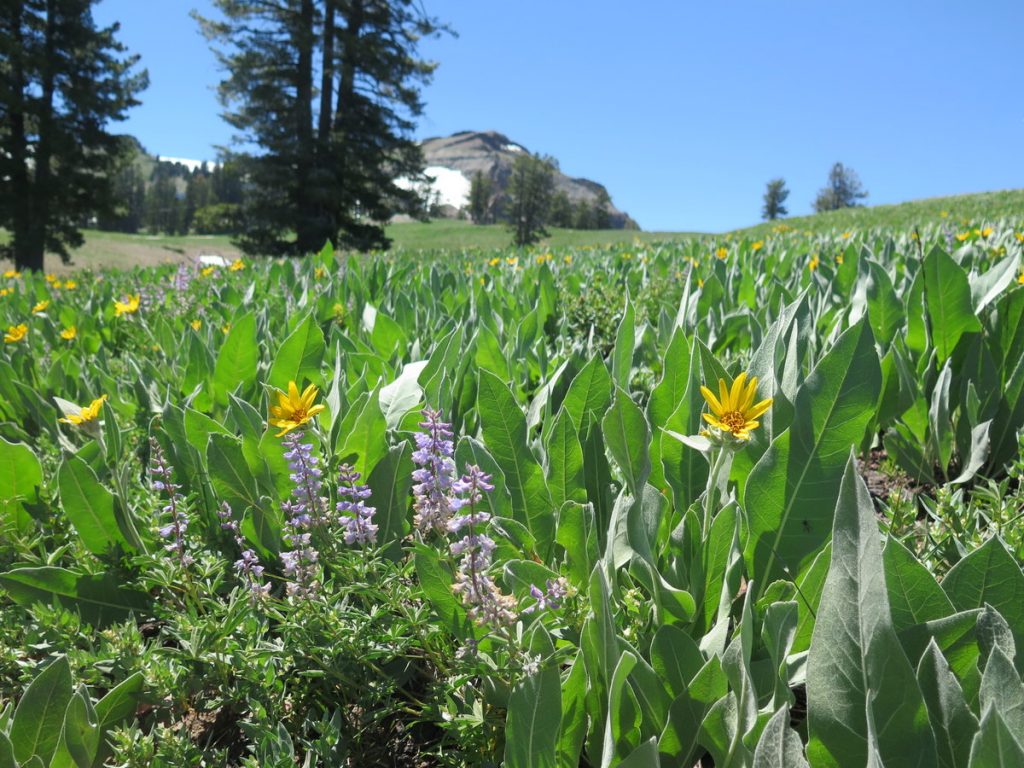 One of the activities that my kids and I did during our stay was counting how many different types of wildflowers we could spot. They were a nice addition to our time in nature around Lake Tahoe.
The Heavenly Gondola at South Lake Tahoe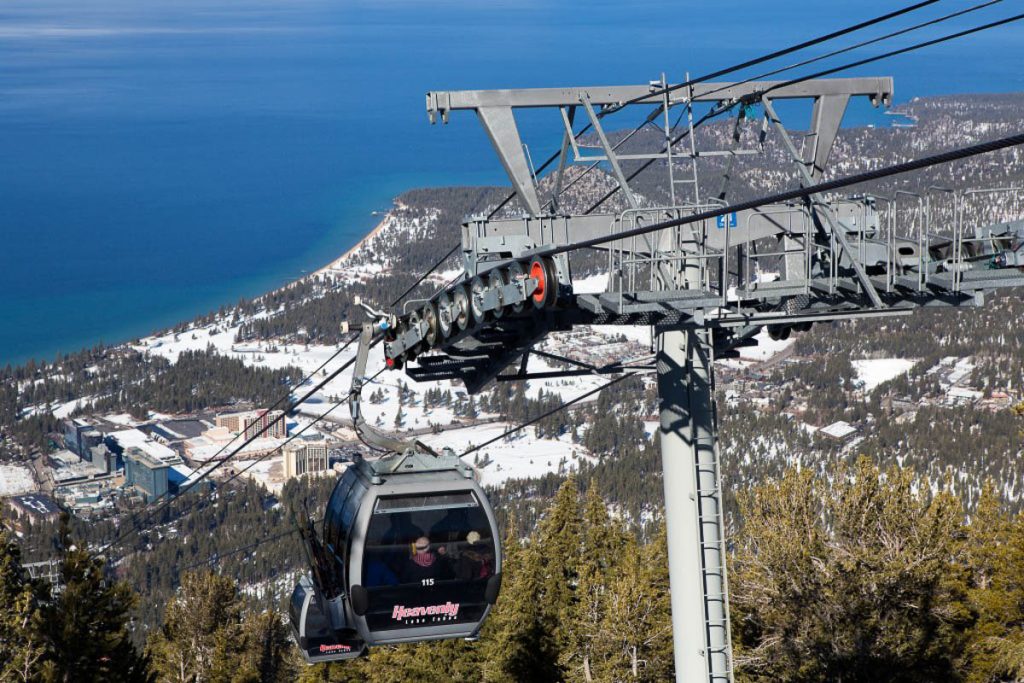 The Heavenly Mountain Gondola is a 2.4 mile ride up above Lake Tahoe. Once at the the observation deck, you can take in a view of Lake Tahoe and the surrounding mountains, or you can continue up to the ski slopes and hiking trails.
Cost: For our family of 4, the gondola ride cost $150. Kids under 5 are free.
The Alpine Village at Squaw Valley
Here you can find shops, restaurants, and activities such as mini golf, wine tasting, and free summer concerts. If you can make it there in the evening, bring s'mores supplies (or buy a kit at the front desk) and enjoy some time at one of the village's fire pits.
Take the aerial tram to High Camp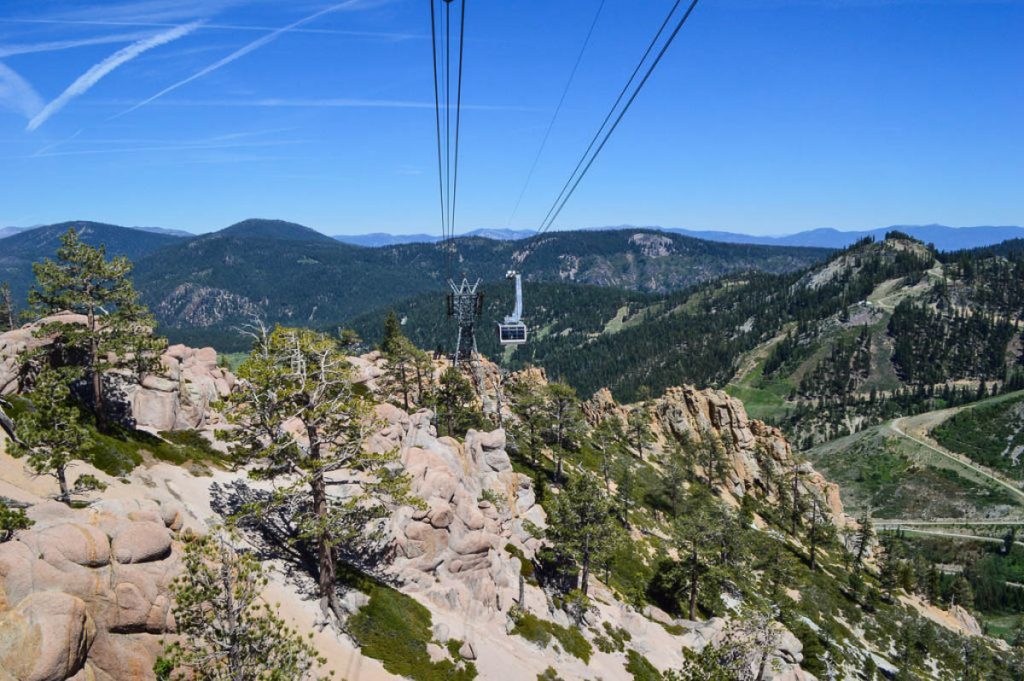 The aerial tram climbs 2000 feet above the Squaw Valley floor, past enormous rocky cliffs, to High Camp. Once at High Camp, visitors can enjoy the overlook of the mountains and Lake Tahoe, swim in the pool or play outdoor games, take advantage of miles of hiking trails with sweeping mountain views, and visit the Olympic Museum; in the winter, there's ice skating. One word of caution: it can get windy up there, so bring an extra layer and know that your hike may be windy.
Cost: The tram ride costs $34 per adult or $8 for kids over 4 if you book online 24 hours in advance + a few extra dollars if you want to swim and/or rollerskate. The Olympic Museum is free.
Bike along the Truckee River
Just outside the entrance to Squaw Valley are miles of bike trails that follow the Truckee River on Highway 89. There is a bike rental shop at Hwy 89 and Squaw Valley Rd. with bikes for adults and kids (including trailers for toddlers).
Hike the Shirley Canyon Trail
Past the Village at Squaw Valley is the Shirley Canyon Trail, a moderately difficult 4-mile trail. It follows Shirley Creek past waterfalls and wildflowers to Shirley Lake. The trail has some strenuous parts where you'll need to climb over boulders. I did the first stretch with my kids–we hiked to the first waterfall, threw rocks in the water, and turned around.
For those who are really motivated, the trail continues up from Shirley Lake to High Camp, where you can take the tram back down for free. Dogs are welcome on the trail and in the tram.
Squaw Valley Meadow trail
In the center of Squaw Valley is this green meadow, which is lined by a quiet bike/walking path. It's especially beautiful in the early evening when the setting sun shines down on the meadow.
Hike at Fallen Leaf Lake: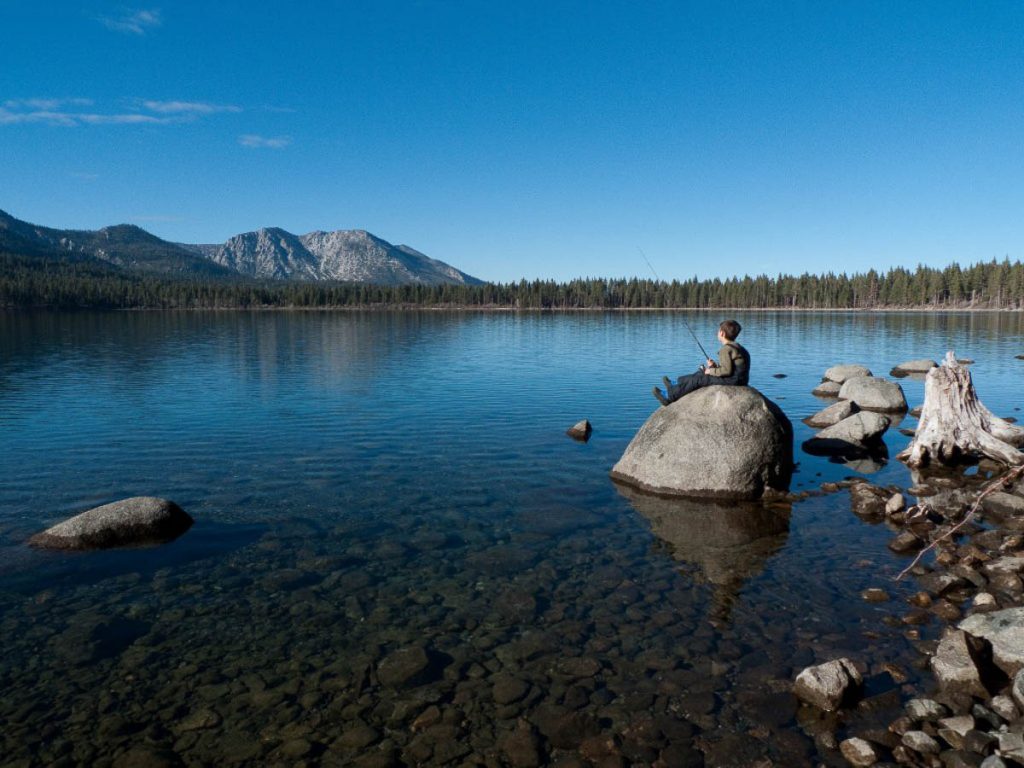 Fallen Leaf Lake is a much smaller alpine lake just a couple of miles south of South Lake Tahoe. At the entrance to Fallen Leaf Lake Campground, you can begin the hiking trail, which leads by the lake and a view of Mt. Tallac. The .75 mile walk is flat with a wide trail, easy to navigate even for kids.
What to do at North Lake Tahoe and Truckee:
Go stand-up paddleboarding
SUP is very popular at Lake Tahoe. There are many places to rent paddleboards, but if you'd prefer, you can rent a kayak instead. The water is calm and clear–it's no wonder that so many people are out on the lake in the summer.
Cost: Paddleboards can be rented for $20/hour here and at other locations around Lake Tahoe. Lessons are also available.
Relax at King's Beach State Recreation Area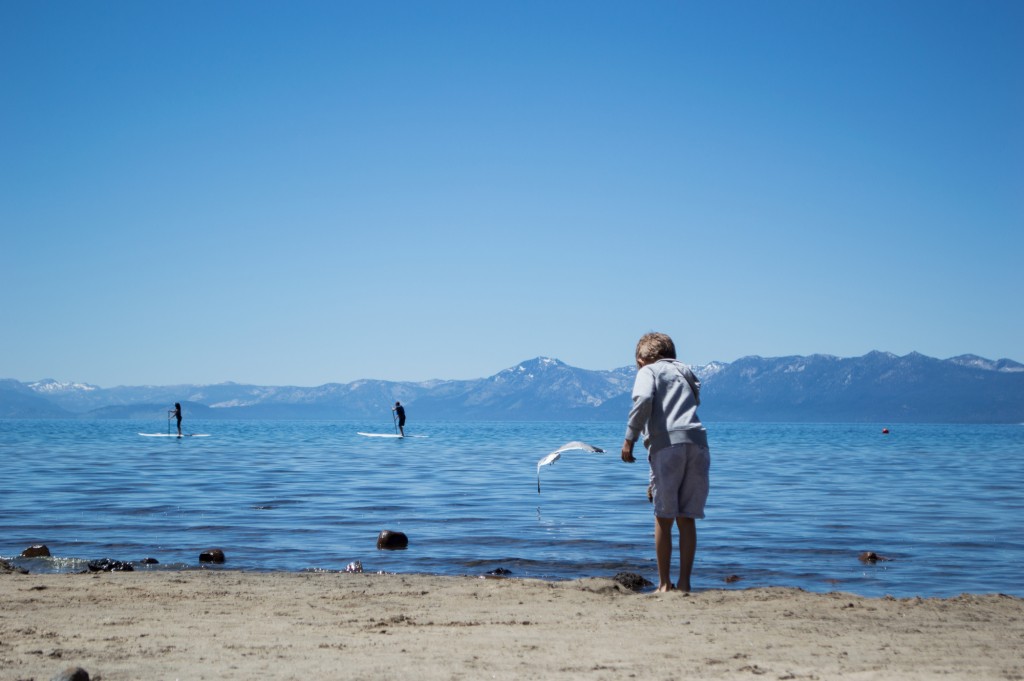 On the north side of Lake Tahoe, the long stretch of sandy beach at King's Beach is the perfect place to relax in the summer. Families come to play in the water (kayaks and paddleboards are available to rent), but there are also shaded picnic tables, a playground for kids, and restaurants within easy walking distance. Parasailing rides are available for $60-80 (information about water sports equipment rentals here).
Dogs are not allowed on the beach.
Cost: $10 for parking (this is the day-use fee for state parks, but you can use the pass at other state parks on the same day). Kayaks cost $20/hour.
Northstar Village's free gondola ride to the Ritz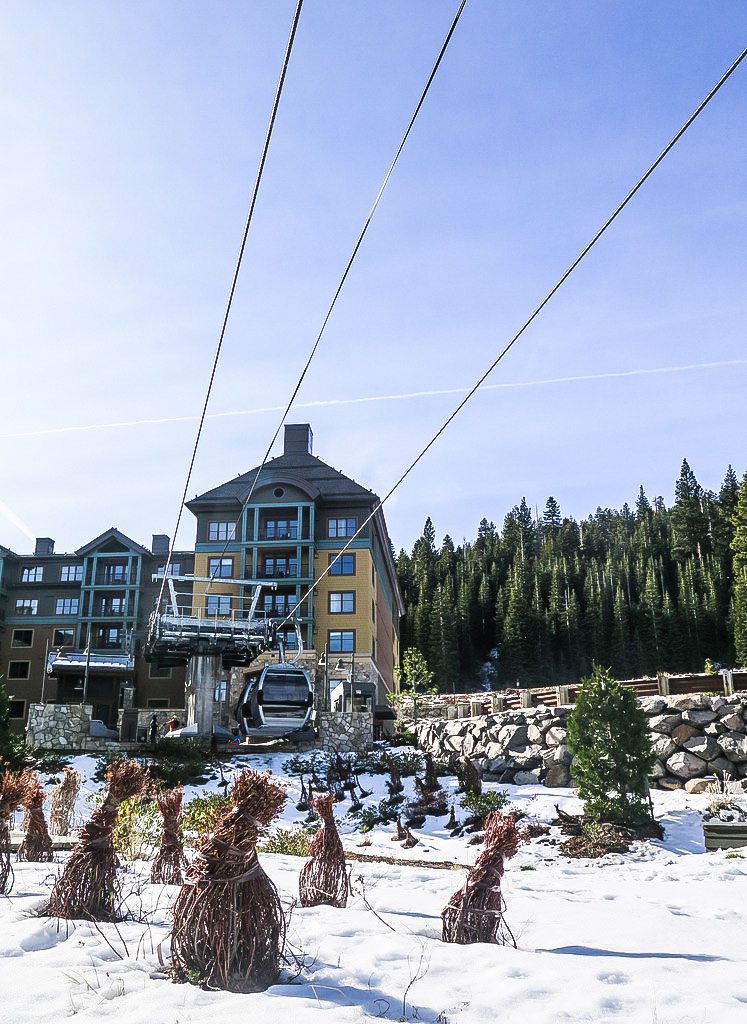 If you want to take a gondola ride but don't want to pay for the Heavenly or Squaw (see above) ticket prices, try the free gondola at Northstar. Compared to Heavenly and Squaw, the ride itself is less spectacular and there's less to do at the top, but it's a nice option for an affordable afternoon activity. Plus, the village itself is fun — check out the ice skating, fries and beer at Frites, and the restaurants like Tavern 6330′.
Parking tip: Just before arriving in the village, turn right at the stop sign and look for the signs for Guest Parking. Continue to the far end of the lot, where there are stairs that lead you down to the village. The lot is free, and if you come on a day that's not crowded with skiers, it's easy to get a good parking spot.
I love Truckee (find out why here) and think it's a great addition to any stay in the Lake Tahoe area. Plus, Amtrak stops there!
Thursdays in Truckee
Every Thursday evening in the summer, downtown Truckee has a street fair that includes a farmers' market, live music, kids' activities, and a beer garden. 5:00-8:30 p.m. June 11-August 20.
The Truckee River Regional Trail
The Truckee River Regional Trail is a fairly new nature trail that runs along the Truckee River. Besides the .8 mile nature trail, there is a disc golf course (bring your own discs) on the hill above the trail plus picnic areas and a very nice skate park at the Truckee River Regional Park. Free.
Donner Memorial State Park
Donner Memorial State Park encompasses the area around Donner Lake, a much smaller alpine lake than Lake Tahoe. Cross-country skiing and snow-shoeing trails around the lake make great hiking trails in the summer (about 2.5 miles of hiking trails total). Picnic tables are scattered throughout the park, so bring snacks.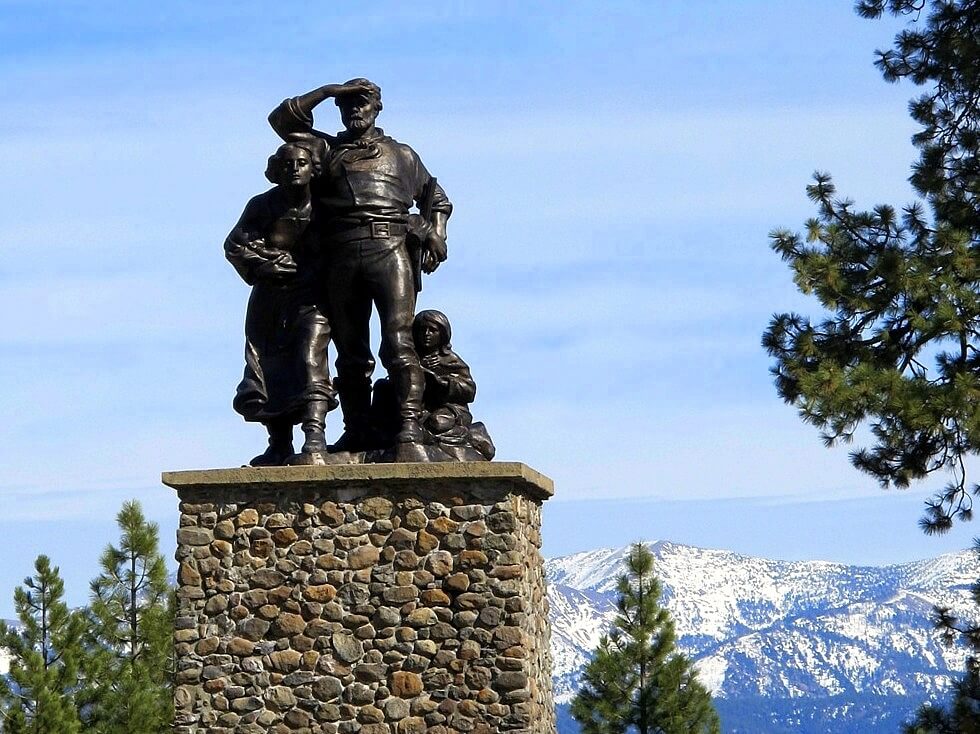 The new Visitor Center houses a small museum that highlights local Native American history and, of course, the story of the Donner Party, one of the pioneer families who became stranded near here in 1846. Outside the center is a self-guided half-mile nature trail (you can pick up a brochure at the center) and the Pioneer Monument, which depicts a pioneer family standing on a platform twenty-two feet high–the height that the snow could have been that winter.
Cost: $5 for state park day use (but it can be used at other parks on the same day)
Where to shop
Trunk Show, Tahoe City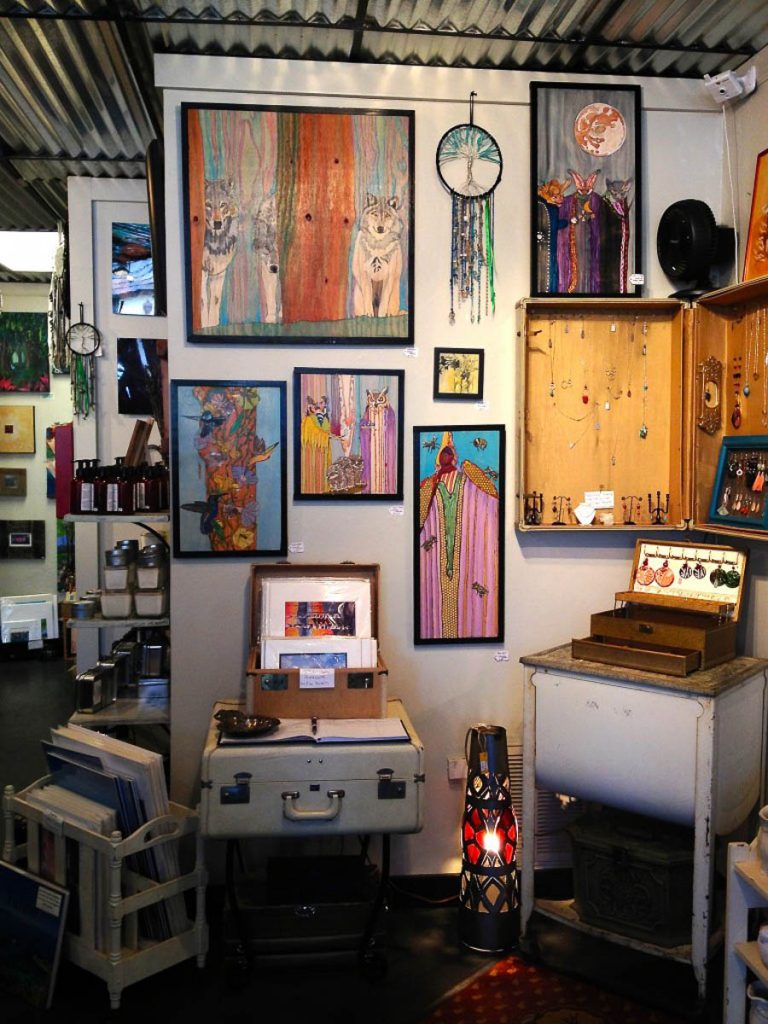 Trunk Show was my favorite shopping find in the Tahoe area. A quirky shop full of "locally made art, jewelry, and stuff," it gets more interesting and appealing the more you look at its contents. By the time I left, I had picked out art and jewelry that I wanted for myself and loved the fact that everything was made by local artists. Definitely a place to support! And you can shop their items online!
Ruffles & Ruffnecks, Tahoe City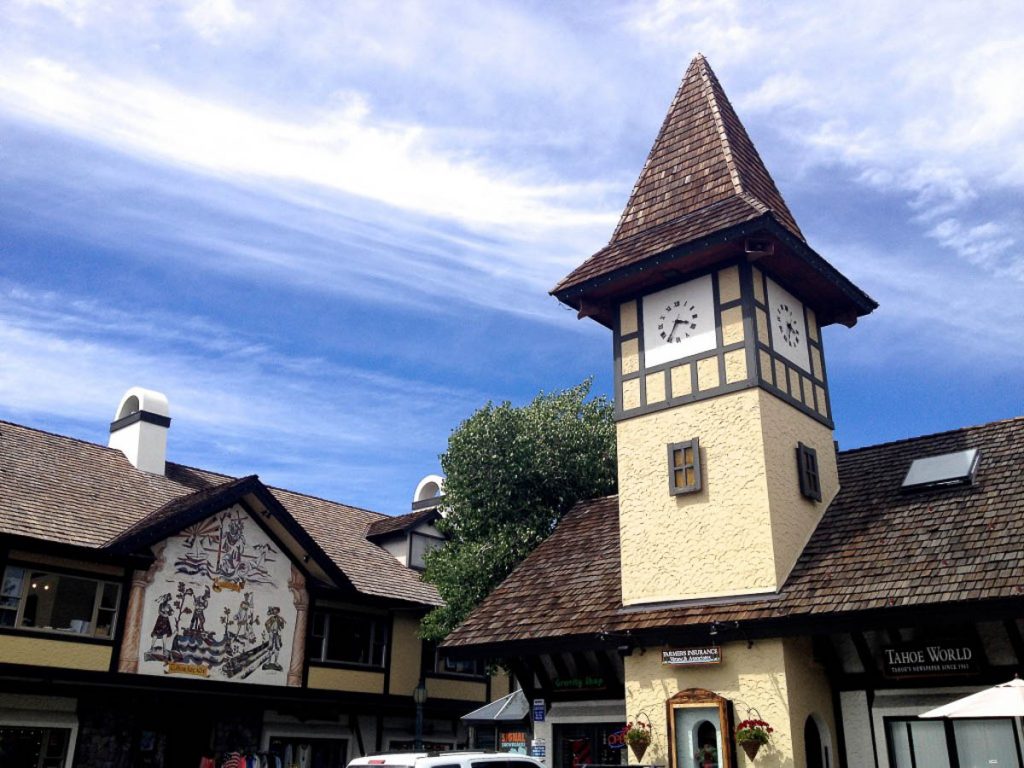 In the Cobblestone, the same little shopping center as the above Trunk Show, Ruffles & Ruffnecks is a shop of carefully selected items for children–beautiful clothing, costumes (I bought my son's next Halloween costume there!), and toys. This is a great place to stop if you have kids or are looking for something to buy for a loved one with kids.
Historic Downtown Truckee Shops
On Truckee's historic downtown strip, check out Sweets for fudge and candy (dark chocolate honeycomb!), Riverside Studios, Tahoe Oil & Spice, Truckee Variety Co., and Bespoke, another of my favorite Tahoe area shops. Bespoke has mostly one-of-a-kind items made by artisans and specializes in what they call "slow products." My favorite items are their jewelry, which feels modern yet natural.
Where to eat & drink
Taste wine at Uncorked: Truckee, the Village at Squaw Valley, and Tahoe City
Uncorked is a wine bar and shop that features limited production wines from around the world available for tasting or by the glass. Outdoor seating is available in summer months. Uncorked opens at noon every day.
Jax at the Tracks, Truckee
I love this diner! The diner is actually an vintage 1948 diner that was moved here from Pennsylvania and completely restored. The diner serves what they call "real comfort food," so you'll find classic American comfort food like a tuna melt, wedge salad, and mac & cheese, plus milkshakes and malts, but the best dish (in my opinion) is the All Day Addiction, a perfect combination of hash browns, ham, eggs, avocado, mixed greens, roasted tomatoes, basil pesto, and balsamic drizzle. YUM! (Note: the last two times I ate here, it wasn't good. I still love the concept but worry that it's being poorly managed. If you go, I'd love to hear your impression.)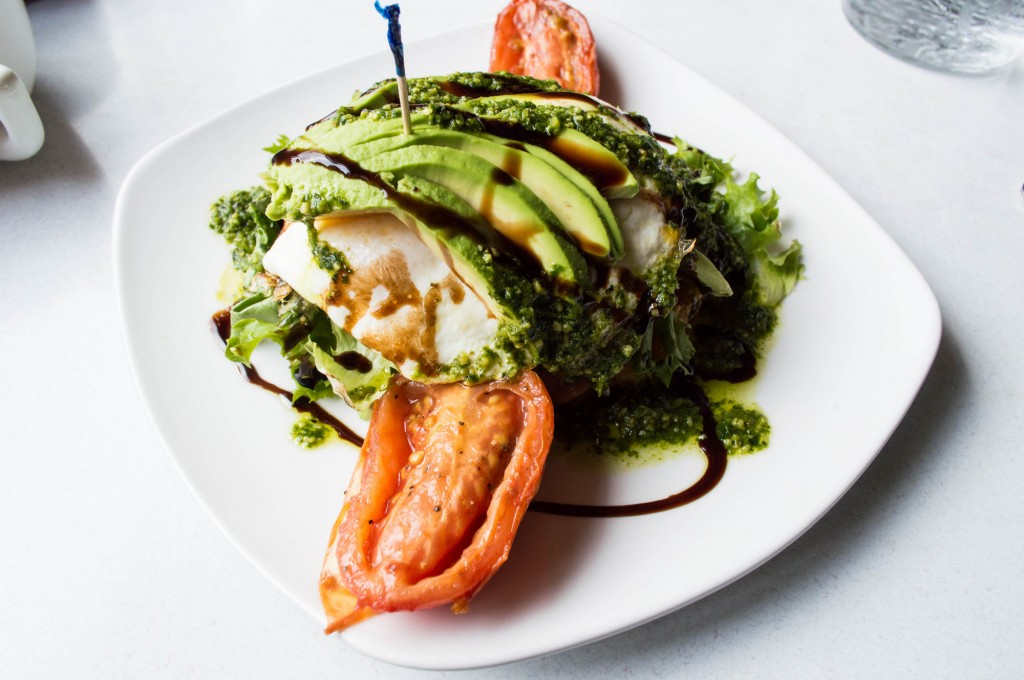 Moody's Bistro, Bar, & Eats in Truckee
Moody's Bistro, Bar, & Eats is located in the historic Truckee Hotel and is known for its live music.
Trokay in Truckee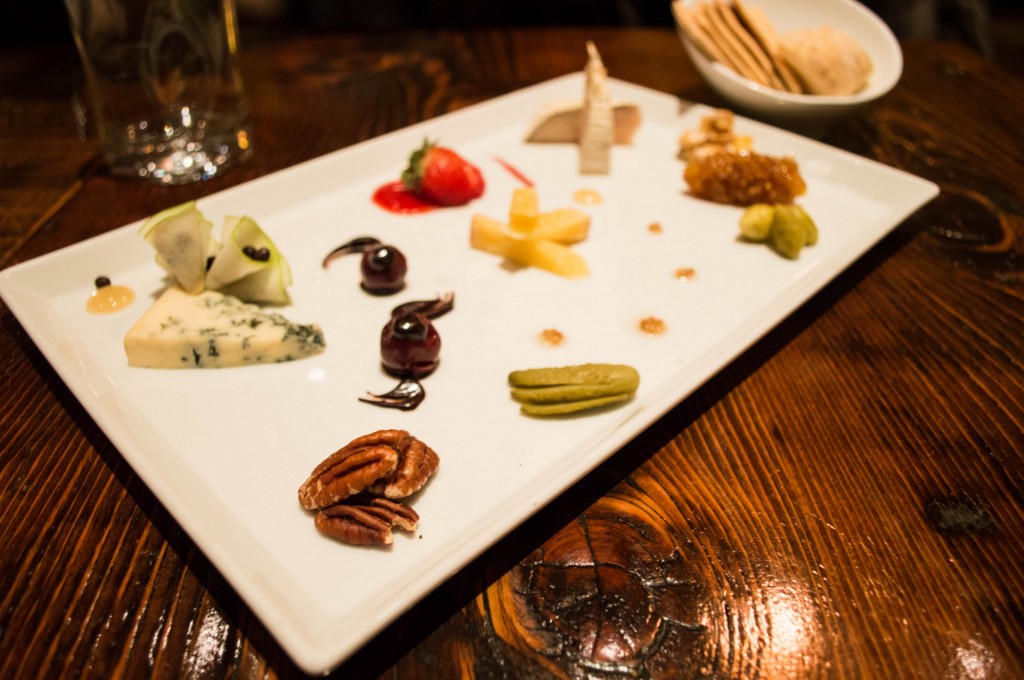 Trokay is the area's finest restaurant and is well worth saving for a special night out. Owned by a couple of award-winning chefs who relocated here from New York City, Trokay offers two prix-fixe menus of several courses, or you can order individual items from the menu. One of the owners is a cheesemonger, so the cheese plates are exceptional here.
Best Pies Pizzeria, Truckee
We were looking for a casual, easy meal in Truckee and got just that at this New York style pizza place right on Truckee's main drag.
Fifty Fifty Brewing Co., Truckee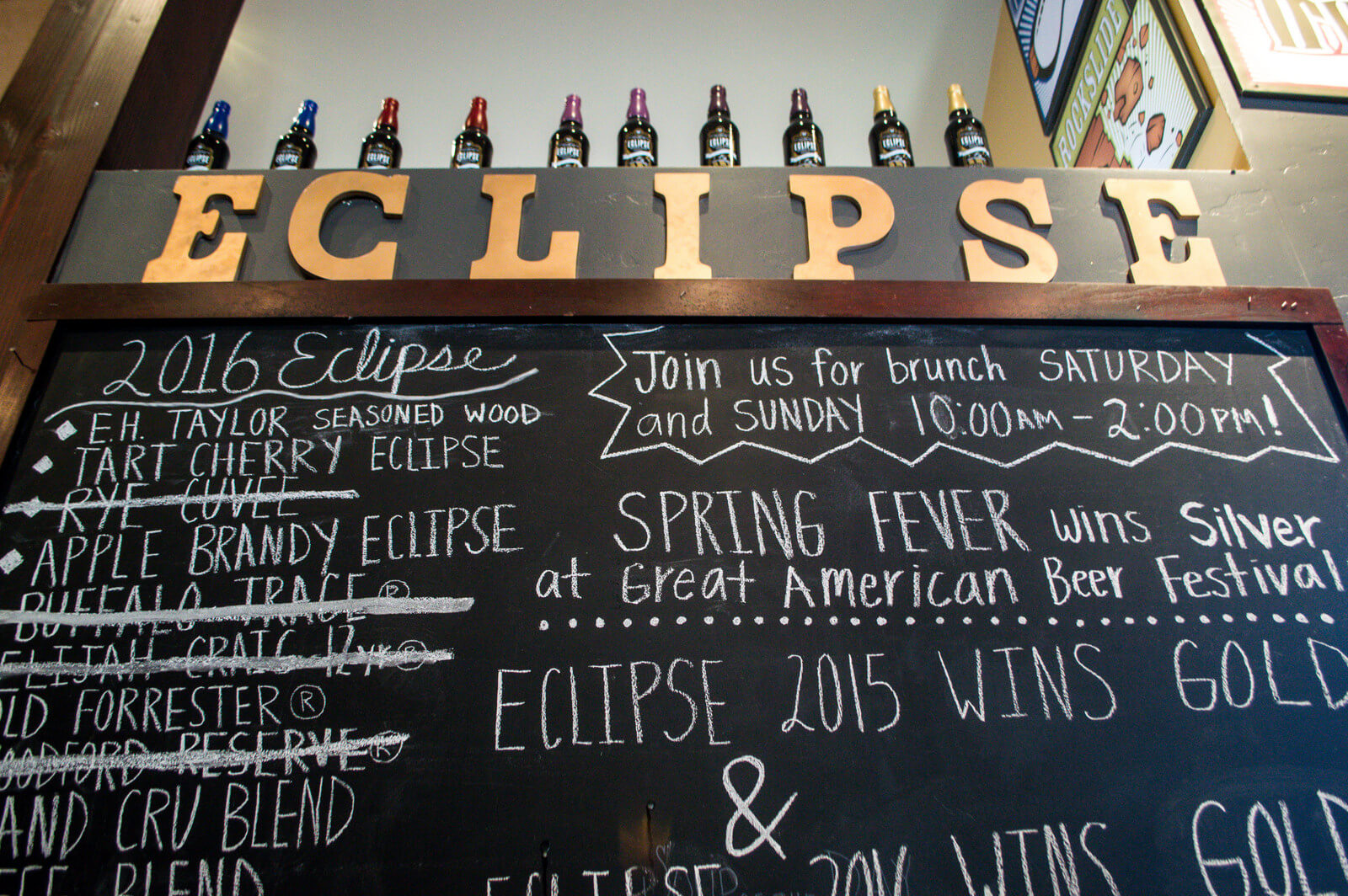 We come here for the beer and the food but we find the service slow and food overpriced. Try their award-winning Eclipse barrel-aged stouts or their Session IPA.
Moe's BBQ, Tahoe City
What a find! This casual restaurant serves Alabama-style BBQ right on the lake in Tahoe City (and, bonus: they have a good beer selection).
Tahoe Mountain Brewing Company, Tahoe City
Tahoe Mountain Brewing Company makes an easy stop for lunch during a day at Lake Tahoe. The food isn't great, but it's family-friendly, conveniently located in the center of town, and has a couple of decent beers: try the Hop Dragon Double IPA or Saison.
Whitecaps Pizza, Kings Beach
This restaurant checked all the boxes for us on a recent stay in King's Beach: a lake view, kid-friendly, good salads, interesting pizzas, and an excellent selection of regional beers.
Have you been to Lake Tahoe? What are your suggestions for things to do in Lake Tahoe?
More information about travel in Tahoe:
5 Things to Do at South Lake Tahoe with Kids
The Perfect Day Trip to Donner Lake and Truckee
Fodor's Guide to Northern California
Pin it for later: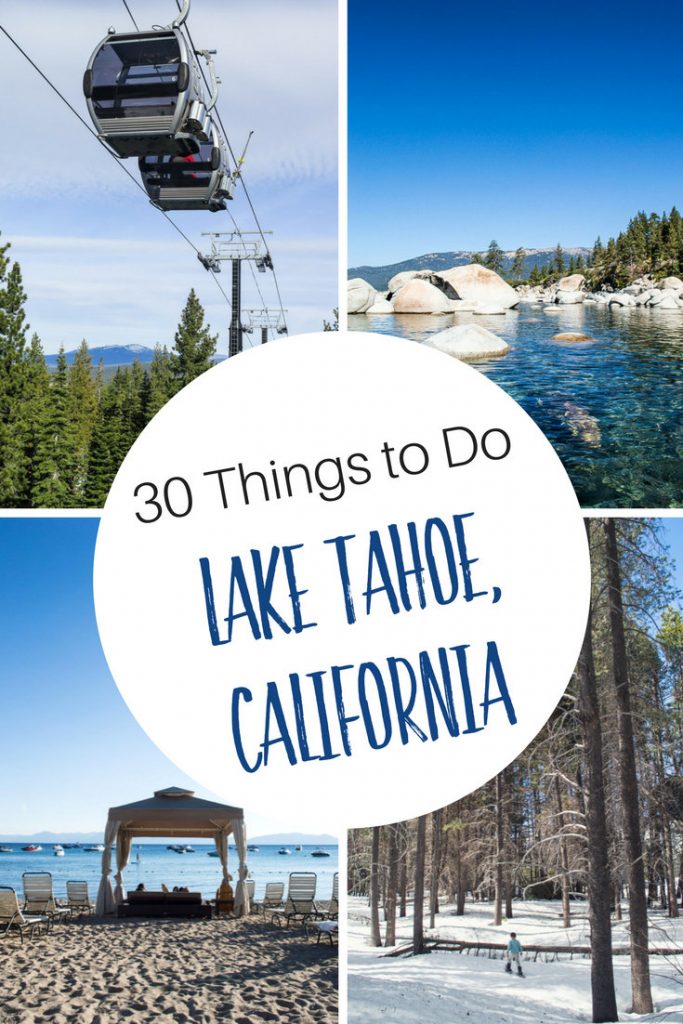 Photo credits: Emerald Bay: Nazhiyath Vijayan on Flickr, Heavenly Gondola: Scott Schiller on Flickr, Fallen Leaf Lake: Eli on Flickr.