The Monterey Bay area is one of my favorite parts of California. It's a powerful combination of stunning natural beauty, wildlife, a charming small-town atmosphere, beaches, plenty of outdoor activities, and good wine. It's a region that deserves at least 4 days…anything less and you'll be making a list of things you'll need to do next time.
You also might want the help of the best travel guidebooks for the Monterey Bay area: (click on the image for the link to the book)
Here are my 30 things to do in Monterey Bay Area, but I'd love to hear yours! I've included suggestions of where to go, eat and stay in the Monterey Bay area: Monterey, Pacific Grove, Carmel, Carmel Valley and Big Sur. Additional resources are listed at the bottom of this post. 
What to do in Monterey: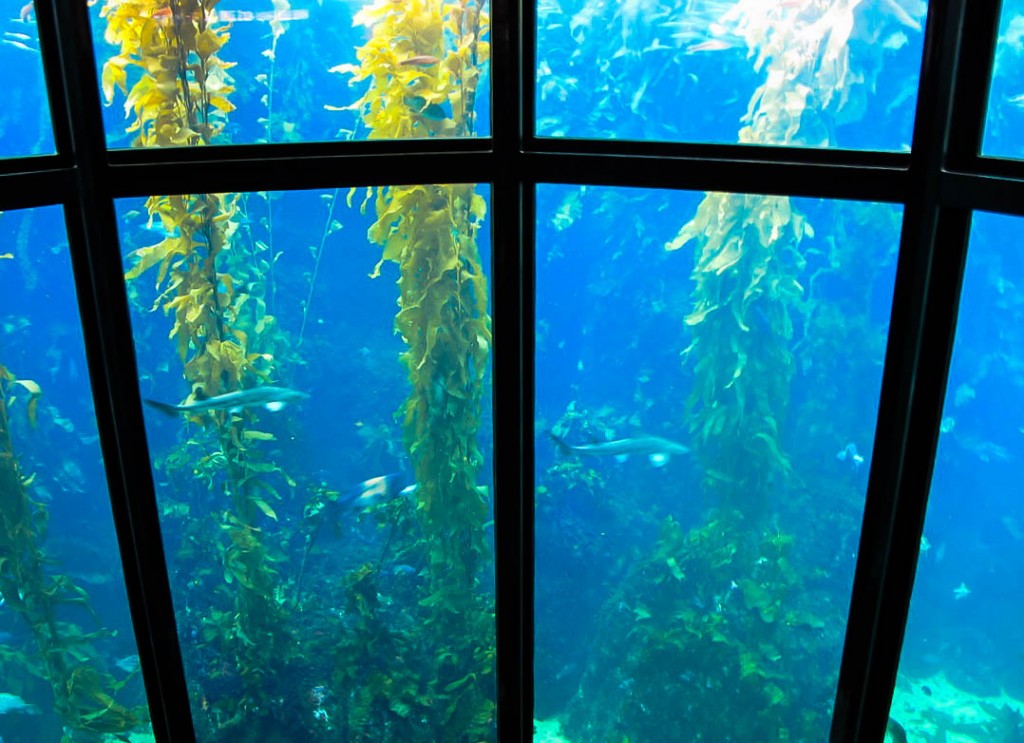 The Monterey Bay Aquarium is one of the best aquariums in the U.S., and its focus on education and conservation make it especially worthy of a visit. The aquarium is known for its location–right on the Monterey Bay with views of sea otters and seals from the aquarium's windows, the sea otter exhibit, the giant kelp forest (reflecting what's in the waters of the bay) and its special exhibitions that currently includes a show of cephalopods. With many interactive exhibits, it's also a great place for children.
The aquarium entrance is expensive–check with your accommodations to see if they have passes, but also know that the entrance fees support the aquarium's important conservation work.
Insider's tip: Add on a private one-hour tour. I took one of these as a guest of the aquarium and was blown away by the guide, who was both knowledgeable and interesting, and how fun it was to go behind the scenes of the aquarium. Highly recommended, especially for families!
Whale watching on the Bay with Fast Raft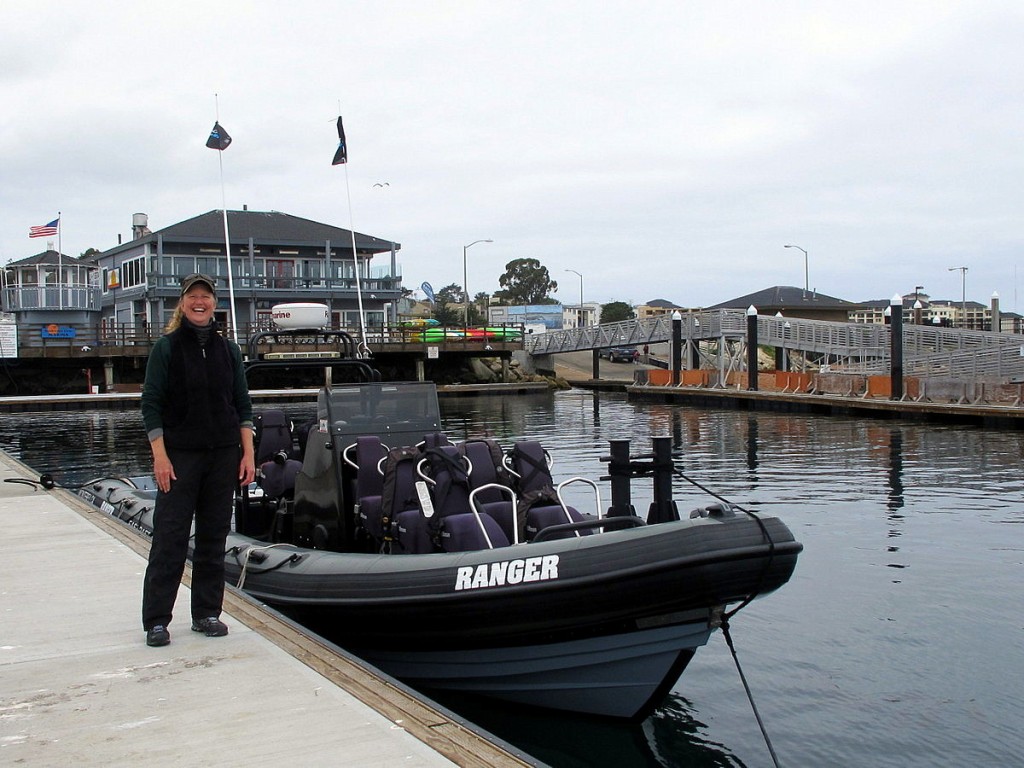 Kate Spencer is one of the captains of Fast Raft, an eco-tour company that provides the perfect way to see wildlife in the bay. Fast Raft uses a small but fast boat that holds just 6 people. I took a tour with her and left wondering why I hadn't done it sooner.
Kate customizes the tour to what you want to see, offers tours at various times of day (including, for example, sunset tours), and knows exactly where to see whales, dolphins, sea otters, and more. Her boat is small enough that it doesn't disturb the animals, so sometimes you'll find that animals will come right up to the boat. Check out their Facebook page for incredible videos and photos from their daily tours.
Walk Historic Cannery Row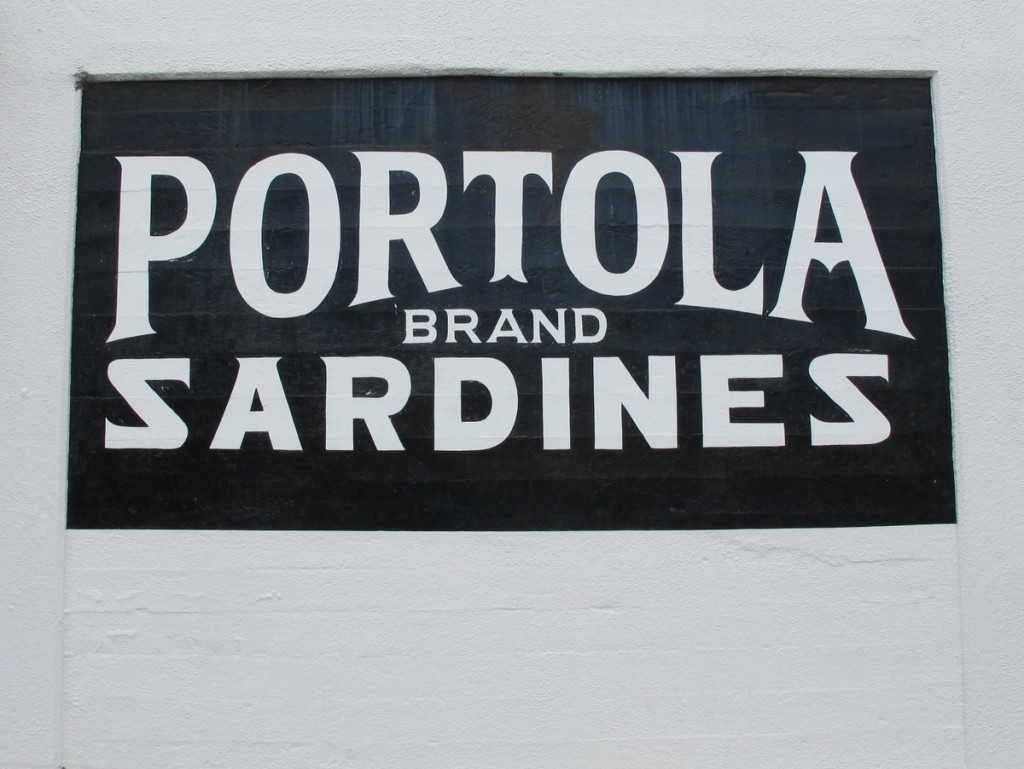 Cannery Row has a multicultural history of immigrants from Europe and Asia who came here to work in the canneries and fisheries. Nowadays this area has become the center of Monterey's tourism, and there are plenty of tacky shops to prove it, but if you look deeper, you can see glimpses of its interesting past. A tour led by knowledgeable historian Tom Thomas is said to be the best way to get to know this area.
Taste wine at A Taste of Monterey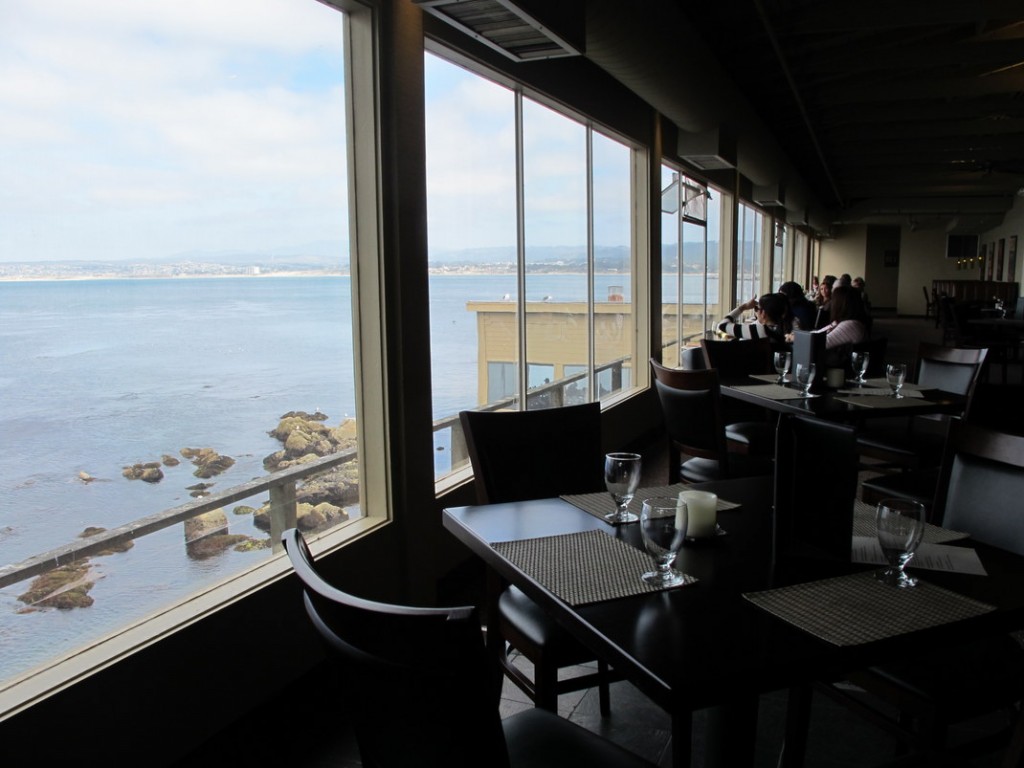 This wine bar and bistro has one of the best views in Monterey. Located near the aquarium on the second floor of an old cannery, Taste of Monterey has more than 90 wines from the Monterey area. You can taste a flight, order a glass, and relax over good food and views of sea otters, seals, and more right outside the windows. Highly recommended.
Monterey State Historic Park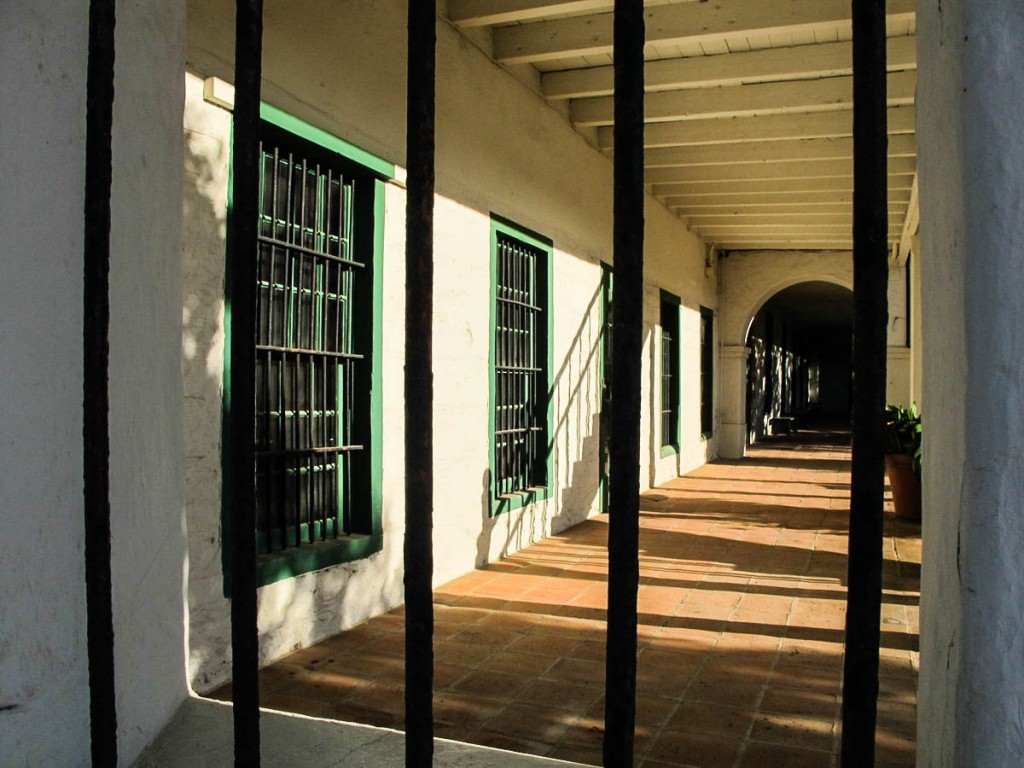 It was here that the Spanish first landed in 1602. Later, Monterey became an important port and California's capital. The Monterey State Historic Park is a complex of historic buildings (some of the oldest structures in California), gardens and walkways that span two miles–you can walk the historic park and all gardens are open daily, but the old adobe buildings can only be entered with a tour. Find out about tours here. You can combine this with a visit to the nearby wharf or a longer walk or bike ride to Cannery Row.
Kayak in Monterey Bay
Kayaking is a great way to get to know the bay and possibly get up-close views of wildlife, but be careful–it's important to give animals such as sea otters and seals space to not disturb them or their young. More information here and here.
Watch the seals, especially during birthing season
Marine mammals are a common sight around here–sea lions and harbor seals can be seen getting sun on the rocks and relaxing on boats in the harbors, but spring is a special time to view them. Spring is birthing season, and by April, the beaches of the Monterey Peninsula are home to moms and their new babies.
Fences are put up in many places to give the seals protection from onlookers. Mothers can easily become alarmed by loud noises or people getting too close, and this can lead to babies being separated from their moms–baby seals are orphaned every year in this way, so enjoy seeing the babies, but keep your distance and voices low.
Where to eat in Monterey:
C Restaurant & Bar
C Restaurant & Bar is located just steps from the Monterey Bay Aquarium inside the Intercontinental Hotel. The food is excellent and because the restaurant is right on the water, the views are fantastic.
Peter B's Brewpub
If you're looking for something casual, you may enjoy Peter B's Brewpub, where local craft beer and innovative pub food are served.
What to do in Pacific Grove:
Asilomar State Beach and Conference Grounds
Asilomar State Beach is not well known to visitors but is one of the nicest places to walk on the peninsula. Walk along the water to explore tide pools and see ocean birds, seals, and surfers. Just before sunset is an especially nice time as the light changes so quickly over the ocean. Across the street from the beach is the Asilomar Conference Grounds, where you can walk the paths through the dunes and see the Arts & Crafts architecture of the conference buildings.
Walk the neighborhoods and see xeriscaping
The Monterey Bay area is not just a place for tourists; people live here and are very proud of their towns. Creative landscaping and front lawns that have no sign of grass are the trend in California, and the cities of Monterey, Pacific Grove, and Carmel provide the year-round temperate climate for a variety of beautiful plants.
Butterflies in Pacific Grove
Pacific Grove, the town between Monterey and Carmel, is one of the important migration stops for the Monarch butterfly. They stay here in the winter. Visit the Monarch Grove Sanctuary to see clusters of butterflies clinging to the trees. You will probably also see deer walking in the sanctuary. The butterflies are here from about mid-October to mid-February.
The 17-Mile Drive (begins in Pacific Grove)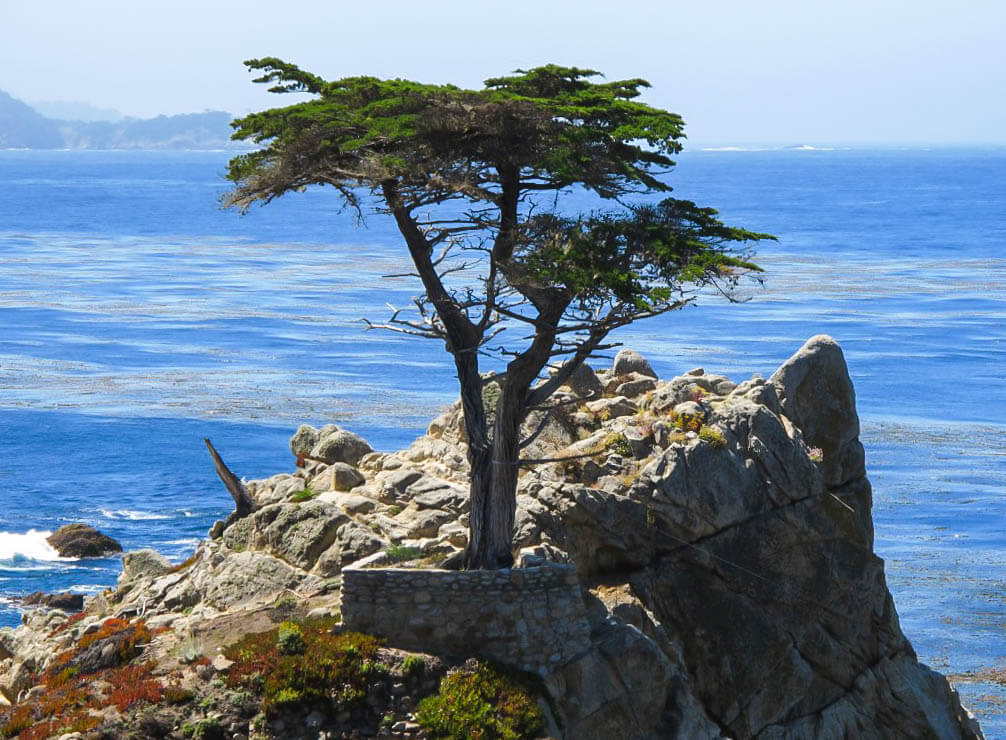 This drive between Pacific Grove and Carmel is just so beautiful. Plan to go slowly, get a map at the entrance (where you pay a $10 fee), and stop often. The history and views of the ocean and forest are to be savored.
Walk Pacific Grove Ocean Trail to Monterey
The walking trail that goes from Monterey through Pacific Grove is my idea of heaven. You can simply walk and watch the sea birds and seals or have a rest on a bench and just watch the ocean in front of you. If you love to be outdoors like I do, you'll enjoy taking a leisurely stroll on this gorgeous walking path. Close to the walking path is Point Pinos Lighthouse, the oldest continually operating lighthouse on the west coast. It's open 1-4 Thursday-Monday.
Where to stay:
There are many vacation homes like this one that you can rent on a site like Airbnb or directly through the local rental company Sanctuary Vacation Rentals. I've stayed in a few of Sanctuary's rentals (like this one), and they are perfect for a family getaway. The drawbacks, however, are that they're expensive and the check out time is very early.
Portola Hotel is another family-friendly option (check out their Pirates program!).
What to do in Carmel-by-the-Sea:
Shop in Carmel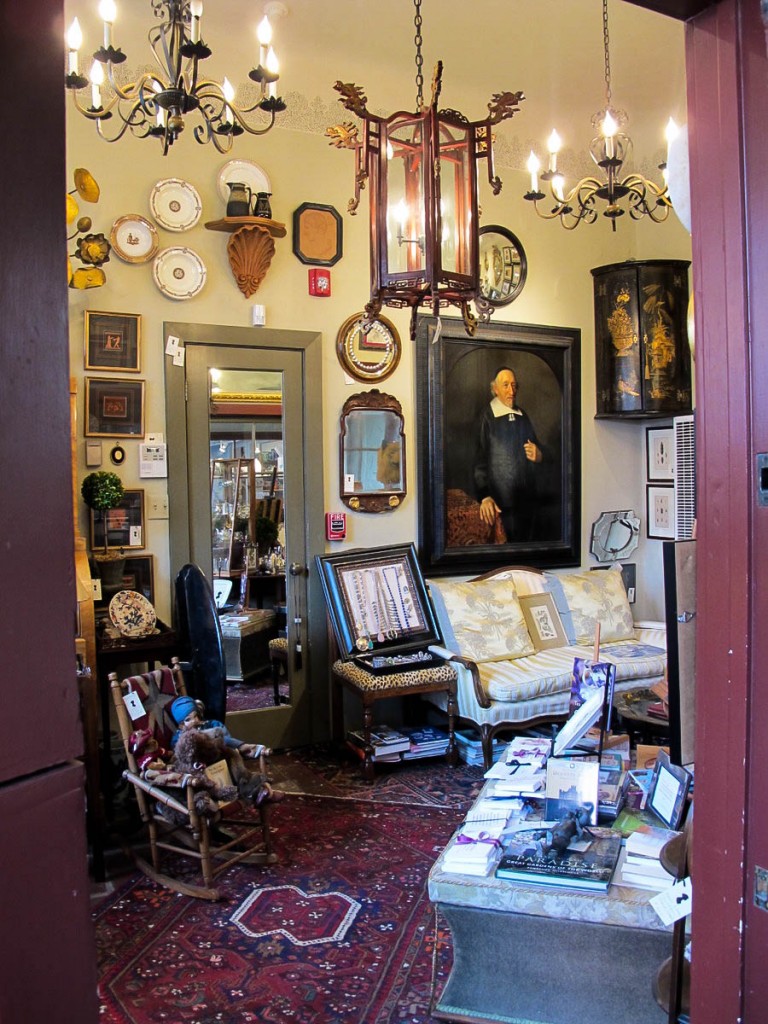 The village of Carmel-by-the-Sea has a quaint downtown of several square blocks that are filled with unique shops and boutiques. I especially like going there before Christmas to see the shop windows beautifully decorated for the holidays. Some of my favorite small shops are Thinker Toys for kids, Jane Austen at Home (above), and Cottage of Sweets, but more shopping options can be found at the Carmel Plaza and nearby Barnyard.
Carmel Beach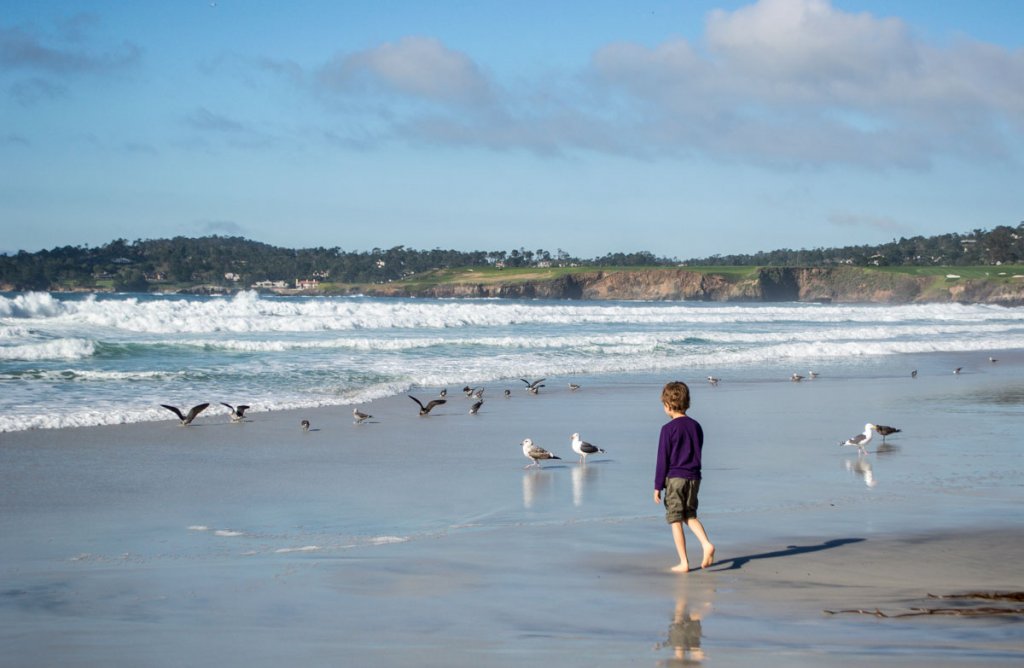 California beaches can be rocky and cold and even uninviting, but this one is different. The sand is perfectly soft and white. The views are stunning. The beach is not just a flat piece of land–it's hilly and the dune invites you to sit and watch the surfers and frolicking dogs down below.
Behind the beach are cypress trees and paths of colorful ice plant to explore. Fires are allowed on the beach, so bring supplies, a bottle of local wine, and food (try 5th Ave. Deli for boxed meals perfect for the beach), and stay a while. But remember, this is the Pacific, so bring layers as it gets chilly here.
Carmel Mission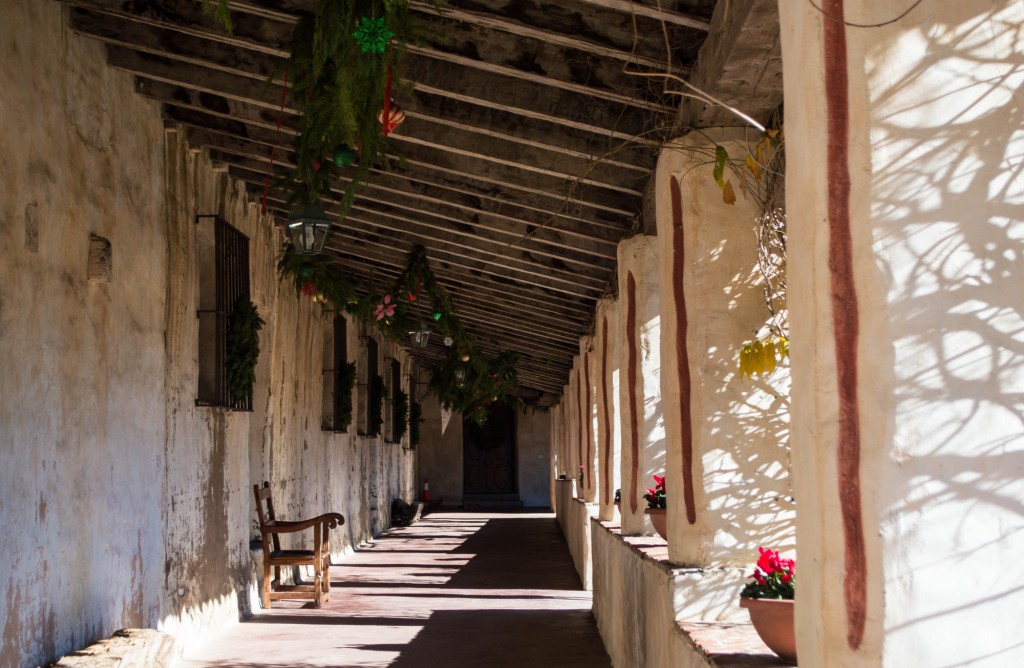 One of the most beautiful structures in central California, the Carmel Mission is a collection of buildings from the 18th century that formed one of the missions that the Spanish built along California's coast. The main attraction is the imposing church, but the details on the entire property are not to be missed. Visiting hours and other information can be found here.
Go Wine Tasting in Carmel
Carmel is home to about 14 wine tasting rooms of wineries from the surrounding area. The Monterey wine region (which was named a top wine travel destination of 2013 by Wine Enthusiast!) includes eight sub-AVAs that vary in climate. Those closer to Monterey have cooler temperatures and more cloud cover, while those farther south and inland tend to be warmer and sunnier. The result is a nice variety of wines made in the region, but the real winners here are Pinot Noir and Chardonnay.
Stop at the Carmel Visitor Center on San Carlos between 5th and 6th and pick up a Carmel Wine Walk Passport. For $65, you can try a flight of wine at any 9 of the 14 participating tasting rooms. This is ideal if you are staying nearby and may be able to enjoy a couple of these a day, or if you plan to visit Carmel more than once. The passport is valid for the whole year. My favorite tasting room is Blair Estate for its elegant Pinots and interesting stories from the vintner himself, Jeffrey Blair (above). You can find out more about wine tasting in Carmel here.
Art Galleries in Carmel
Carmel is home to almost 100 beautiful art galleries in the space of just one square mile. You can't help but notice them as you walk the streets of the village downtown, but save some time to pop in one or two (or a few) and see this town's appreciation for the arts reflected in the work shown in its galleries.
Read more: Carmel-by-the-Sea in Photos
Where to eat in Carmel:
Carmel has many good fine dining options, but reservations are recommended, especially during high season.
The Grill on Ocean Ave.
The Grill is a find for someone like me–it's elegant but also family friendly. My kids enjoyed coloring on the paper-covered tables and their entrees from the kids' menu, but we loved the California style food!
Dametra Cafe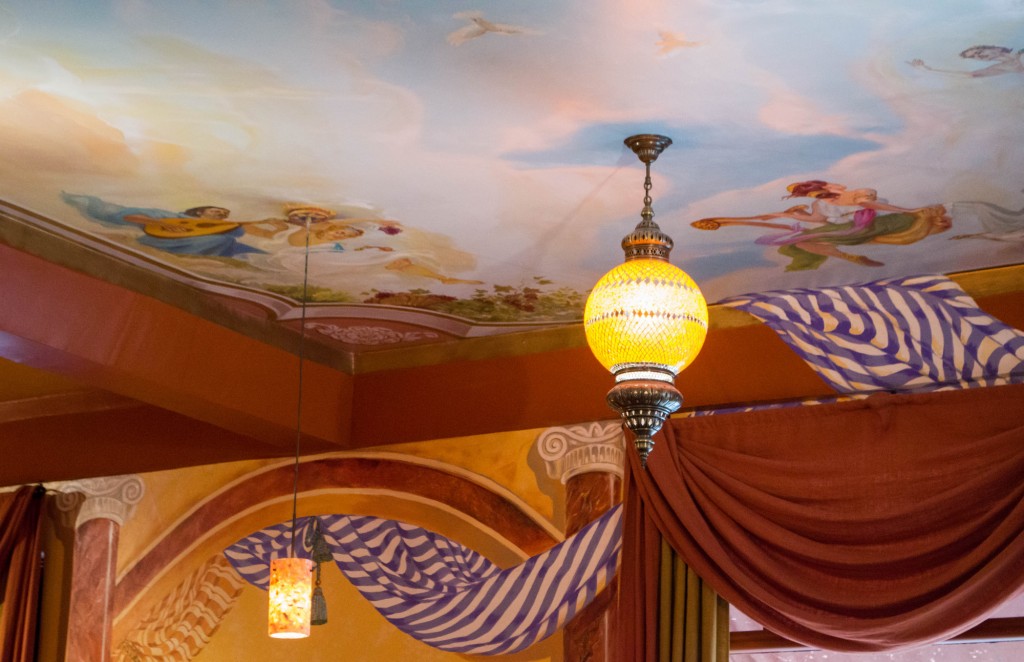 Dametra Cafe on Ocean Avenue serves typical Mediterranean dishes like appetizer platters of hummus and dolmas as well as wraps for lunch, pastas and Greek inspired entrees. Perhaps the best thing about this casual restaurant is the fun and inviting atmosphere. In the evenings things can even get a little wild, with the staff singing and playing music, and a good time seems to be had by all.
La Bicylette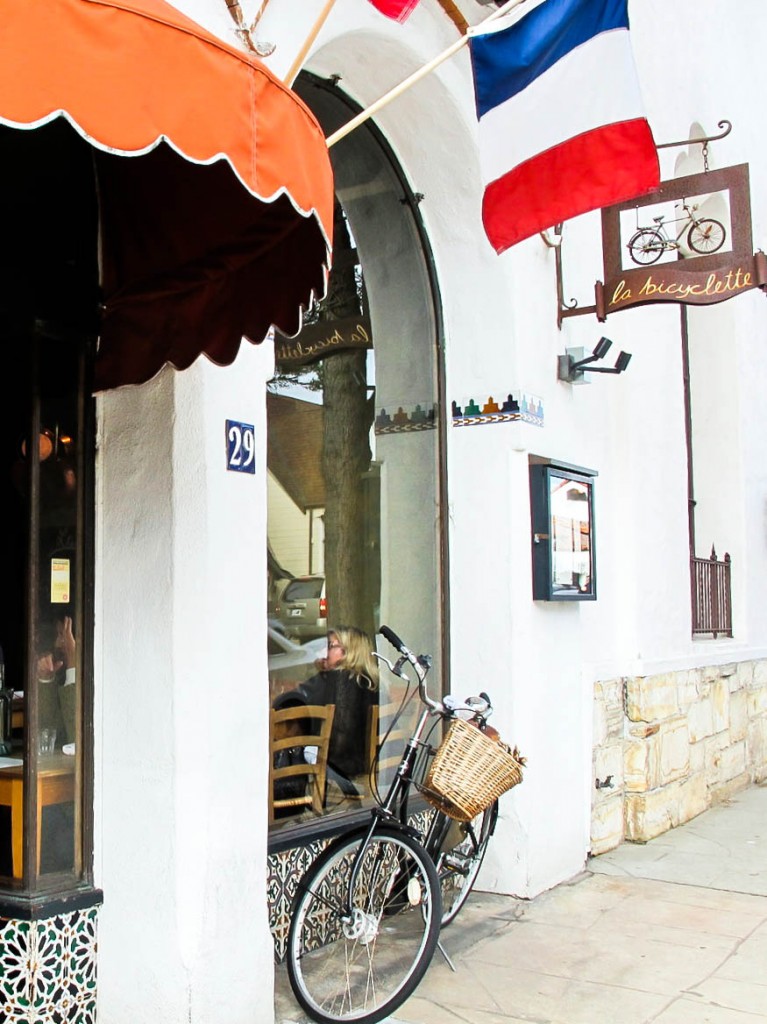 This French restaurant is always crowded and seems to be a locals' favorite. The menu changes daily and utilizes only the freshest local ingredients, including items grown in a children's garden.
Where to stay in Carmel:
Carmel does not allow big chain restaurants or hotels in town, so you will find a lovely variety of small inns and B&Bs here. I highly recommend staying in a small hotel in Carmel because it allows you a more immersive travel experience. Carmel is a small town, so from the hotel, you'll be able to walk everywhere, and there is something for everyone here in Carmel. The town is known for its tolerance of dogs, so most (if not all) the hotels are pet-friendly.
One option that is pet friendly and family friendly is the Hofsas House, an affordable hotel within a few blocks of Carmel's downtown. It's been family run for three generations. While certainly not a fancy place, it's comfortable and conveniently located. Plus, the rooms on the upper floors have ocean views, a wonderful sight at sunset!
What to do in Big Sur, South of Carmel
Point Lobos State Reserve
It took a few visits to the Monterey Peninsula for me to finally heed my friends' advice and get to Point Lobos, but it quickly became one of my favorite stops on the coast. Imagine gorgeous cliffside hiking trails with endless views of the ocean. Add wildflowers, seals, cypress tress, birds, and unnaturally vibrant hues of blue in the water, and you have a walk at Point Lobos. Bring a picnic and plan to stay a while. My favorite walks are the Bird Island Trail and the Cypress Grove Trail.
Drive down Highway 1 through Big Sur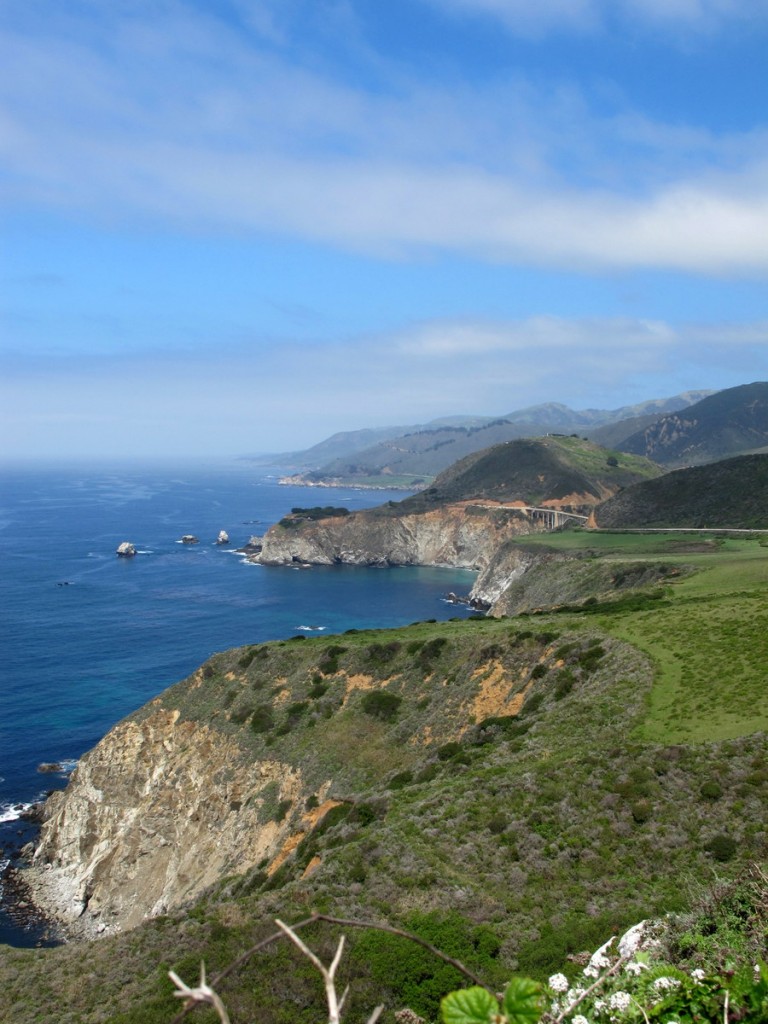 A drive down Highway 1 through Big Sur is an iconic California experience, and for good reason. Try a morning hike at Point Lobos and then a drive down to the Big Sur Roadhouse (see below) for lunch before continuing on with stops at McWay Falls or Garapata State Park, or, if you're pushed for time, return for a late afternoon back in the Monterey/Carmel area or Carmel Valley. See more about a drive down Highway 1 here.
Eat at Big Sur Roadhouse
Contemporary yet rustic design and comfort food inspired by New Orleans…yes, Big Sur Roadhouse is the place to stop for lunch during your visit to Big Sur (but, to the approval of road trippers, it's open all day).
Esalen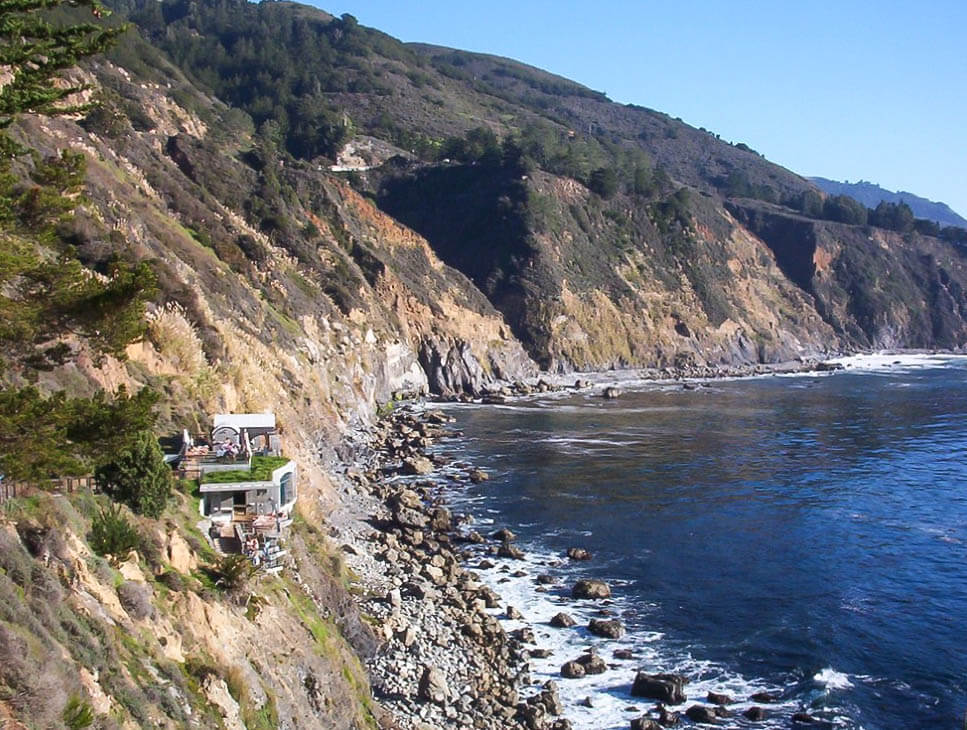 The Esalen Institute is a unique and special place in California. It's been an important hub of spiritual and intellectual exploration since the 1960s. People come here not only for its diverse workshops on philosophy, spirituality, relationships, music, and yoga, but also for its beautiful cliffside grounds between the ocean and the Santa Lucia Mountains.
Perhaps its most famous feature is Esalen's unbelievable hot spring baths (which are co-ed and clothing optional, by the way). If you're not staying at Esalen, you're not allowed to come inside. Those who are staying can use the baths anytime, but Esalen opens its doors to the public late at night to use the baths from 1:00 to 3:00 a.m.
Esalen is expensive, but after having visited a few times, I can say that it's worth it. At least once. Information about personal retreats and workshops are available here.
What to do in Carmel Valley:
Quiet Carmel Valley is located just east of the Monterey Peninsula. Carmel Valley Road takes you from Highway 1 east through Carmel Valley. Its location surrounded by mountains makes a lovely place for a drive, but try staying a while–I think you'll love Carmel Valley. See more about my recent stay in here.
Garland Ranch Regional Park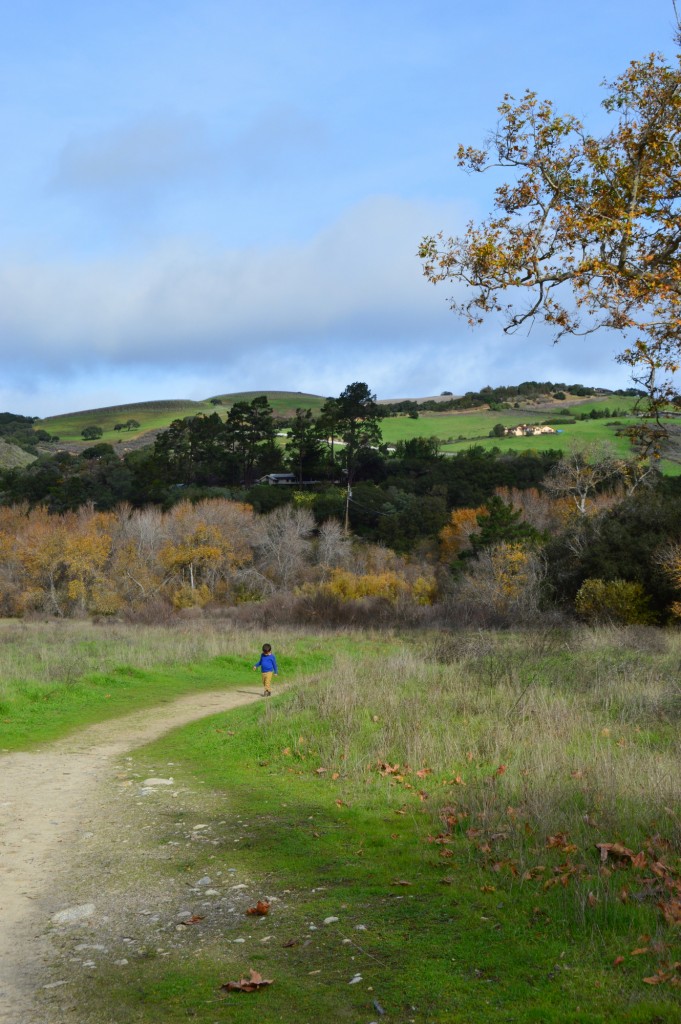 This large regional park is a nice place to spend a half day if you enjoy the outdoors. There are hikes that range from easy (which we did with our kids) to strenuous. The park is dog-friendly and has off-leash areas for dogs to run. The park includes Carmel River and a redwood canyon and has places for horseback riding and mountain biking. More information here.
Visit the wineries of Carmel Valley
The Monterey AVA has good wine and beautiful scenery, and Carmel Valley has several nice wineries that will help you get to know this wine region. Try Bernardus Winery, Holman Ranch Vineyards, Cima Collina, and Joullian Vineyards, which are all within walking distance of each other. Learn more here.
Where to eat in Carmel Valley:
Earthbound Farms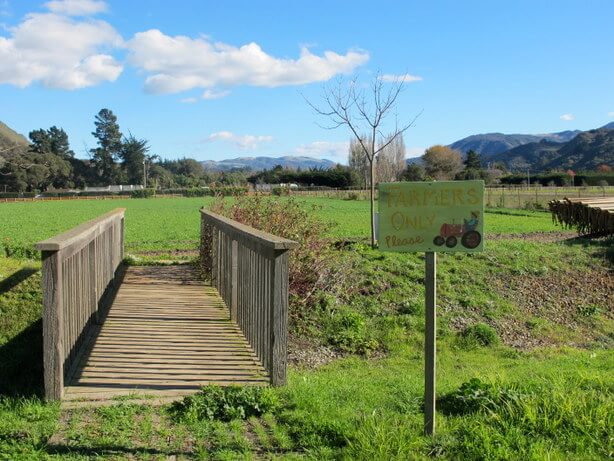 This famous organic farm is located right off the main road that goes through Carmel Valley. Besides gardens that you can walk through on your own or with a guided flower walk, there's the Farm Stand where you can buy a simple lunch made from organic ingredients and eat outside at the picnic tables.
For finer dining options, try Edgar's at the Quail Lodge & Golf Resort, Corkscrew Café in Carmel Valley Village, or some of the restaurants at the Barnyard shopping center.
Where to stay: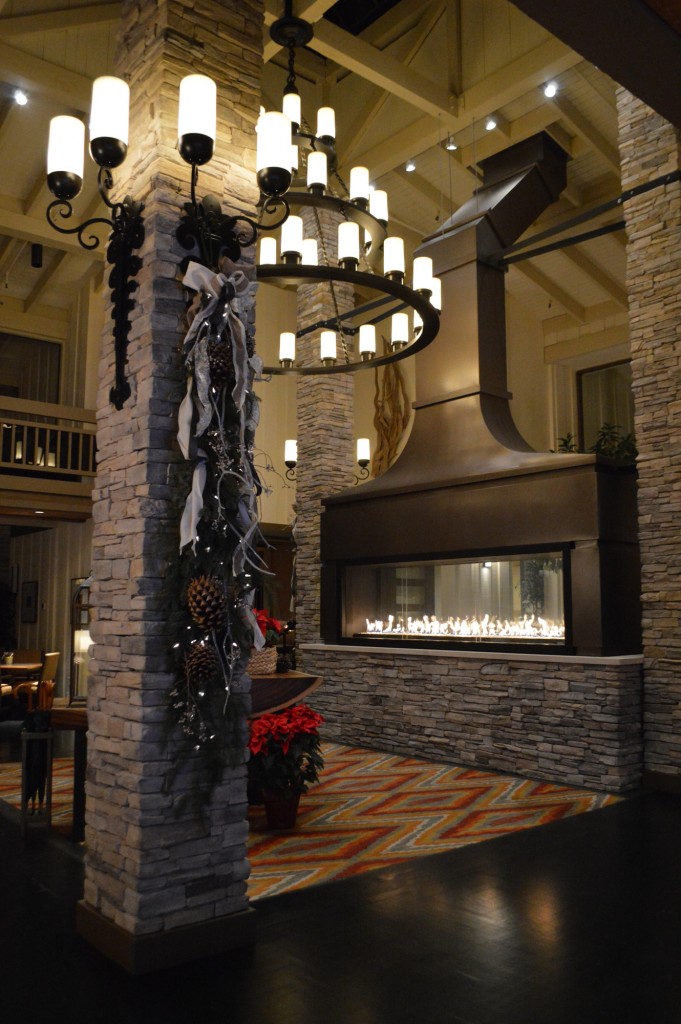 My family and I recently stayed at the beautiful Quail Lodge & Golf Resort and absolutely loved it. The rooms are large and private with a patio, an oversized bathroom, and a gourmet coffee maker. The lodge is luxurious yet family and pet friendly; in fact, we borrowed mini golf clubs for our kids to use on the putting green outside our room and received a pet welcome kit for our two dogs. The grounds of the property are beautiful, and the location just next to the mountains was quiet and peaceful. And don't let the mention of "golf" in the name misguide you–I have no interest in golf but highly recommend this place!
What else? There is still plenty for me to discover in the Monterey Bay Area. On my wish list are the state parks in Big Sur, the National Steinbeck Center in Salinas, Pinnacles National Monument (about an hour east), Elkhorn Slough by boat or kayak, Carmel Valley village, and the wineries of Carmel Valley.
What would you add to this list of things to do in Monterey Bay Area?
My picks for what to pack for the Monterey area: (click the photo to go to their websites)

Additional resources:
A Pre-Holiday Getaway in Carmel & Carmel Valley
And my other "30 Things" guides for California:
30 Things to Do in San Francisco
30 Things to Do in Napa Valley
30 Things to Do in Northern California
30 Things to Do Near Mendocino
Pin it for later: