After a month of the lack of routine that comes with summer vacation, my family and I are gearing up for our big trip. We leave for a month in Brazil soon, and with that comes packing, getting vaccines, making last-minute lists, preparing our housesitters, and trying to keep our kids happy at home so we can get things done. While I can't wait to share all the wonderful things that await in Brazil and even new packing tips and gear, I don't want to leave without introducing you to a place we visited recently, one which I think might be the best place to travel with kids in California.
Columbia was developed in the 1850s, but the Columbia State Historic Park is the wonderfully preserved business district. This town in the foothills of the Sierra Nevada mountains was once a center of the Gold Rush, and people scrambled here in hopes of finding lots of gold. While we weren't the only ones who clearly think this place is awesome for kids, here are the reasons we enjoyed it so much.
The rocks that surround the town were exposed during the Gold Rush, when miners washed away much of the dirt and took gold off these limestone boulders. Now they not only create an interesting landscape, they're also fun for kids to practice climbing.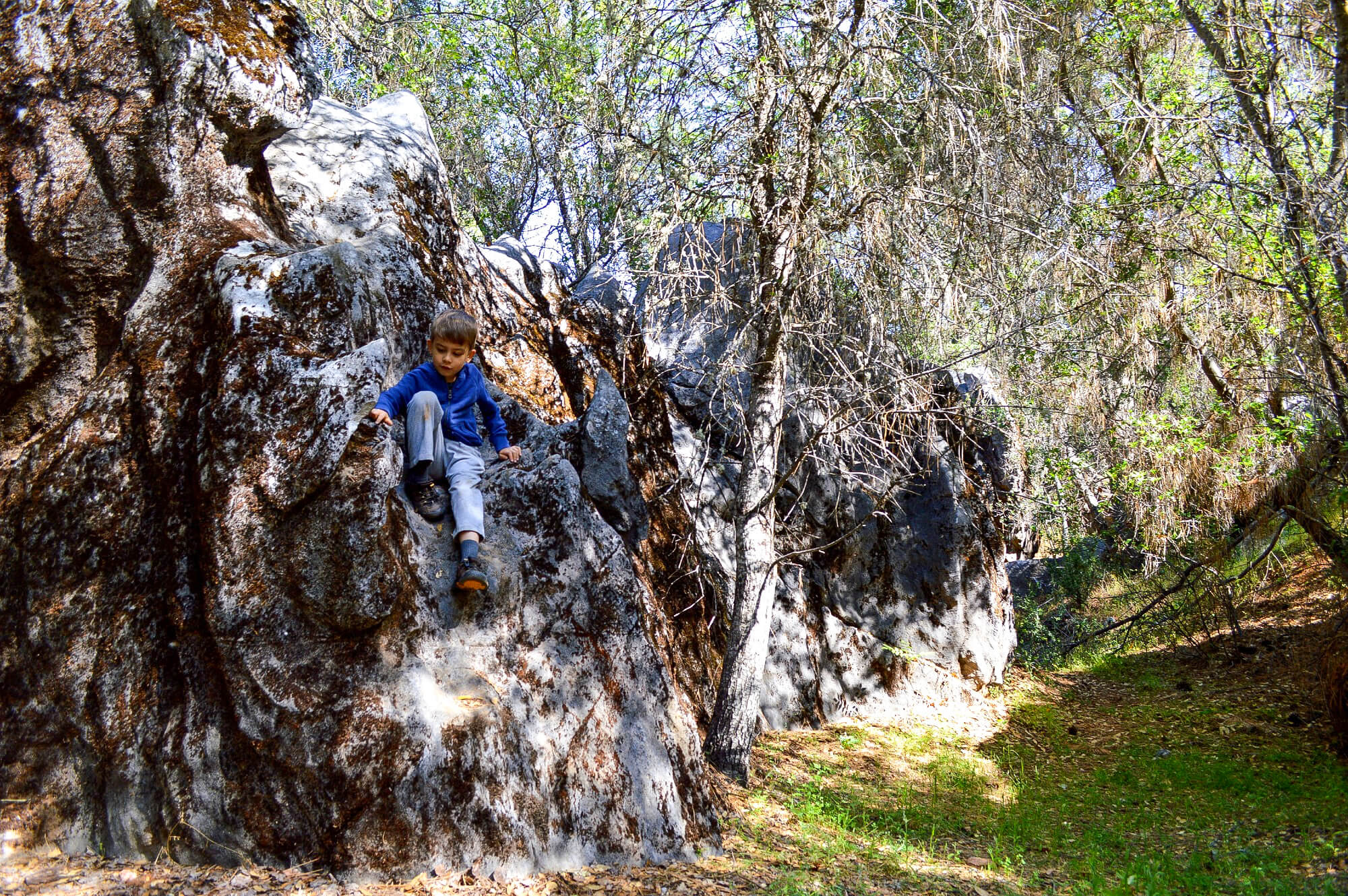 The streets of historic Columbia look like they did more than 150 years ago: the only traffic is horses, the streets are made of dirt, and dust flies up behind your feet as you walk. Plank sidewalks, a real saloon, and historic details that seem untouched since the 1850s make Columbia special. And there's the gold mining equipment, too!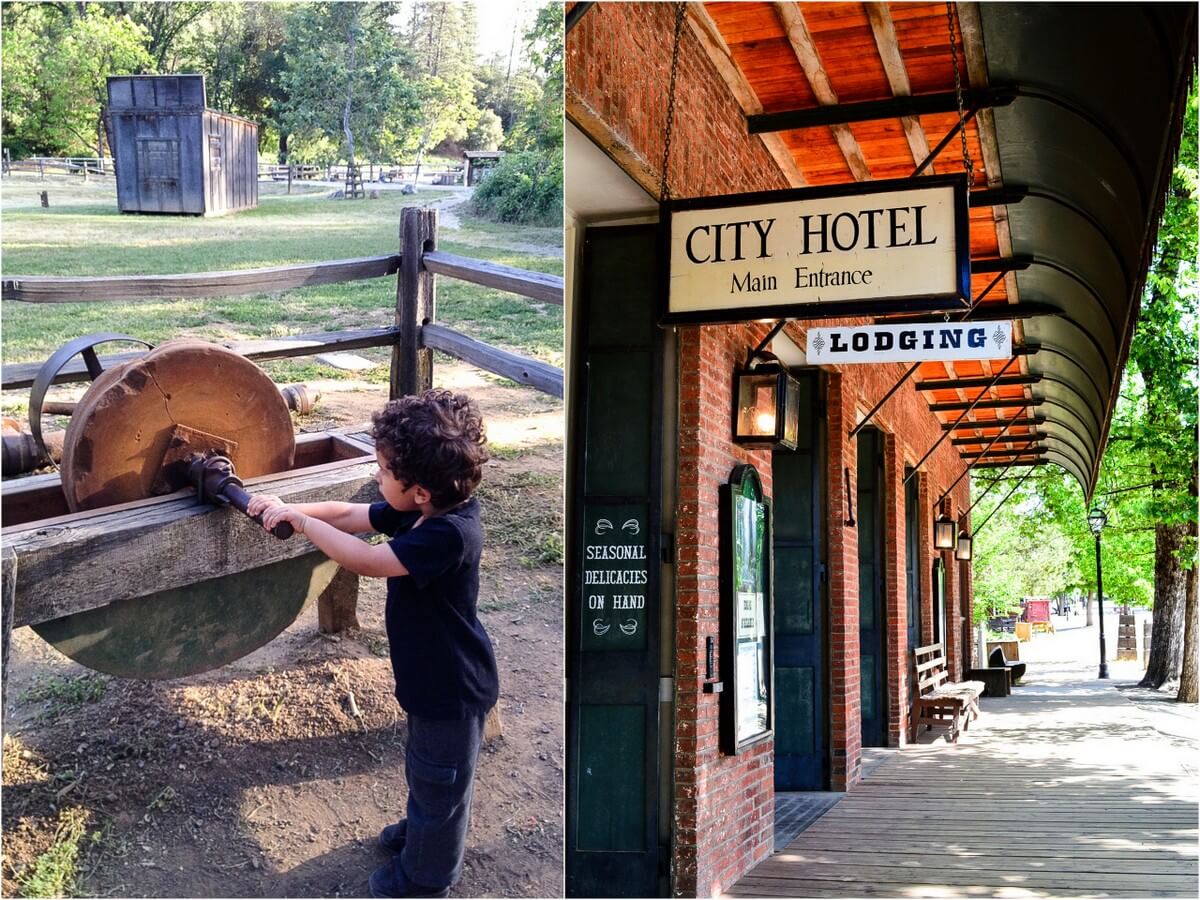 Where else do you find a real working blacksmith's shop?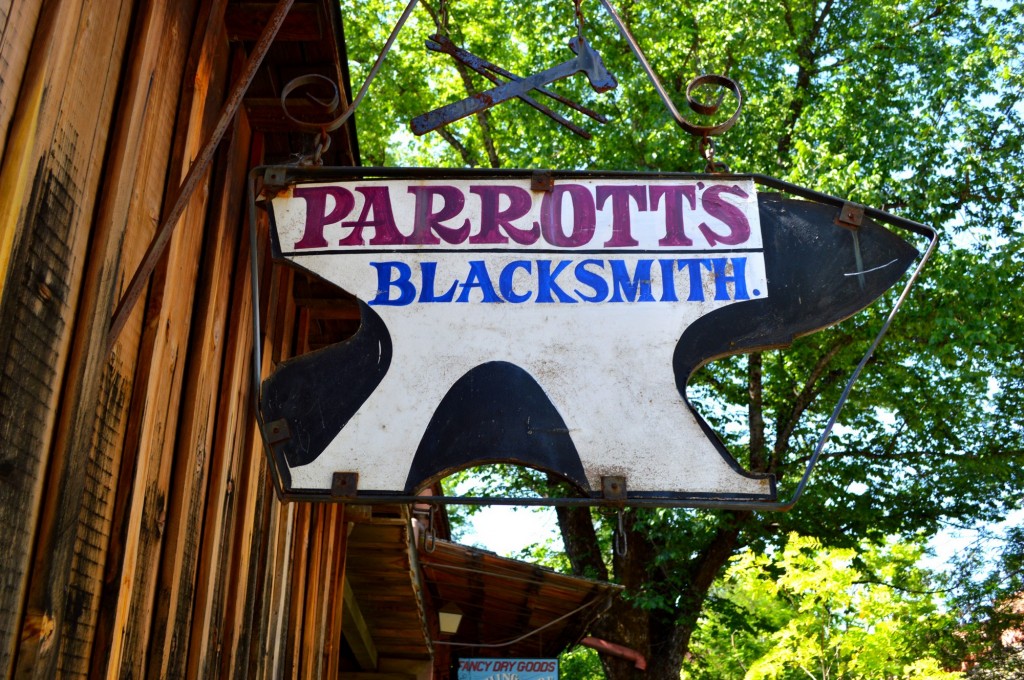 And with a guy that looks like this working the counter? (By the way, many people who work here actually dress the part, and somehow it doesn't seem cheesy.)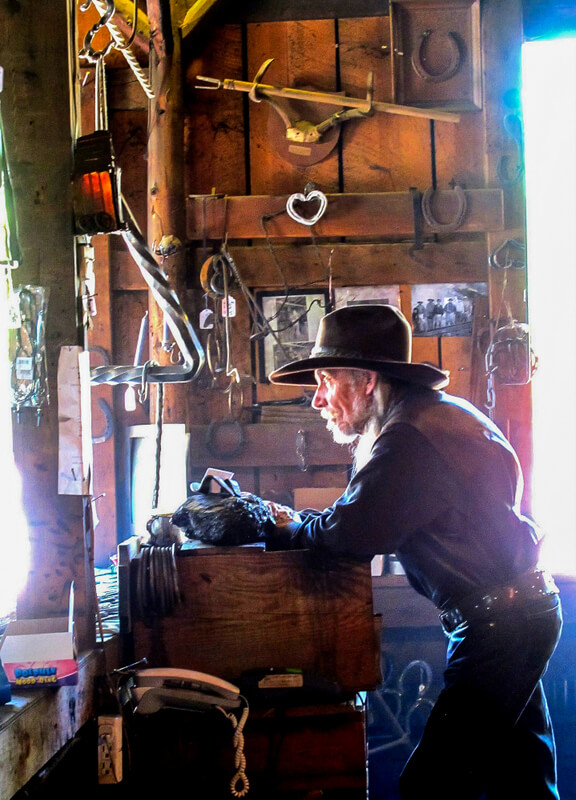 The town is so fun to look at, and the old doors of Columbia are beautiful.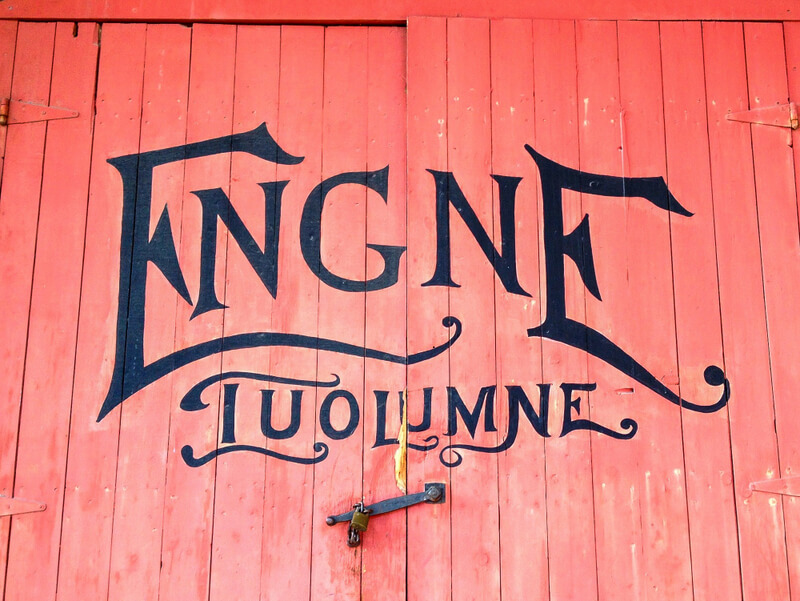 Because Columbia is the site of real history (versus something fake like at Disneyland), the activities felt more interesting and valuable to me. The stagecoach ride on a restored 100-year-old stagecoach is an adventure for kids, especially when the coach is stopped in the woods by a "robber" demanding that each passenger hand over his or her coins.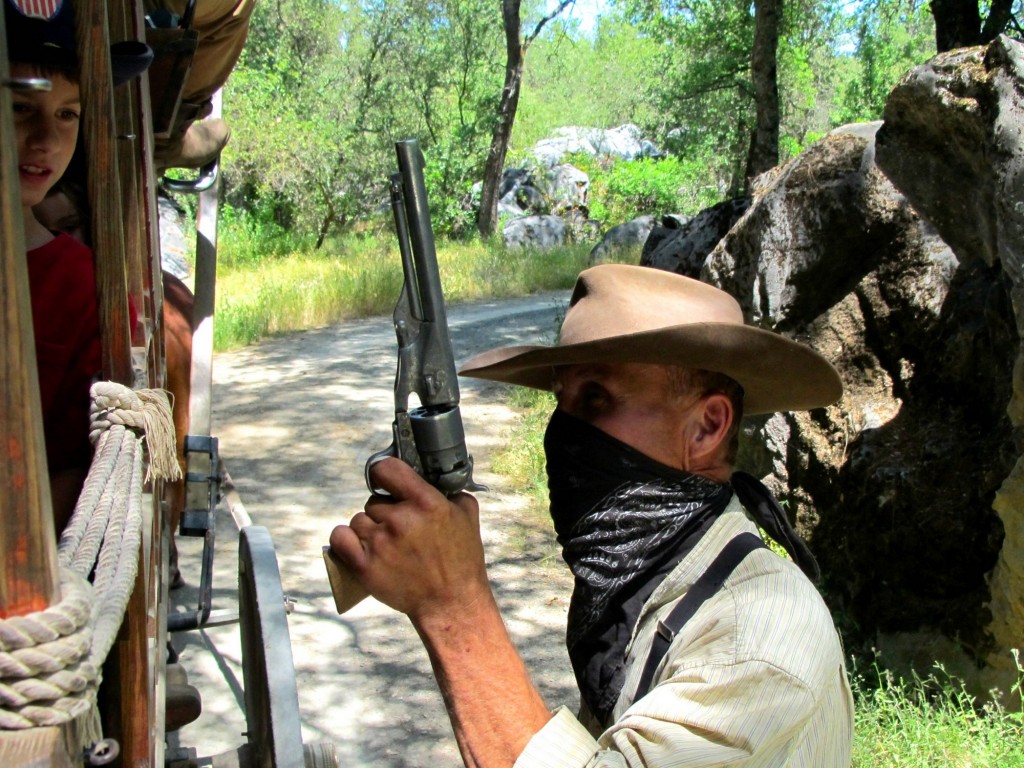 Just a half-mile from the state park is a campground where we stayed in a nice, new, 2-bedroom cabin. My mom and her husband stayed in style, in their brand-new Airstream.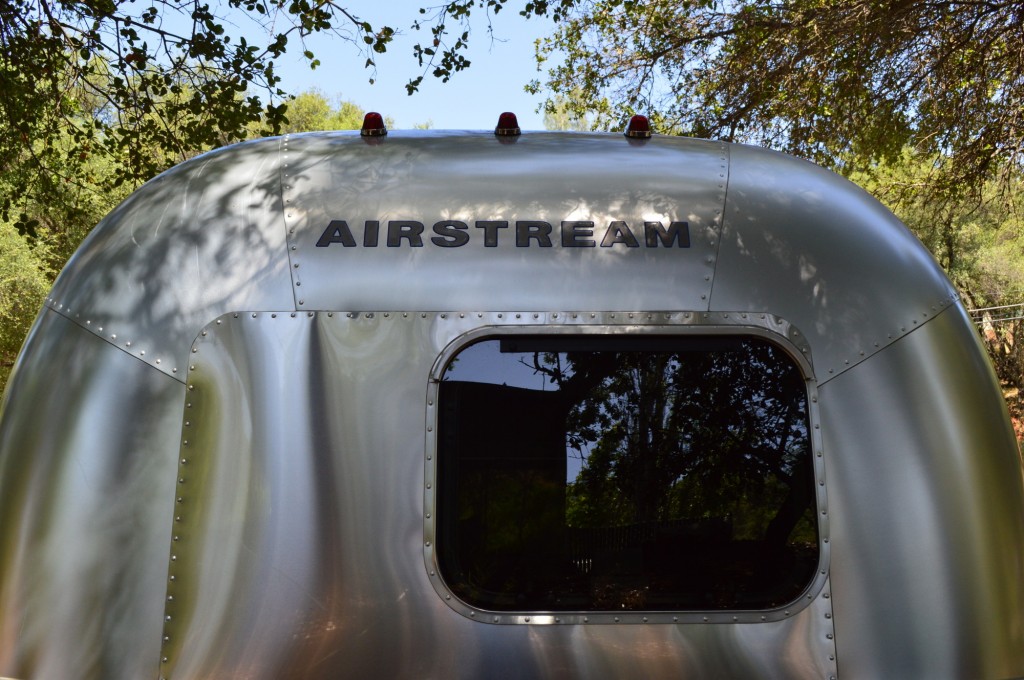 The walk from the campground to the state park through peaceful woods and past limestone boulders was the highlight of Columbia for me.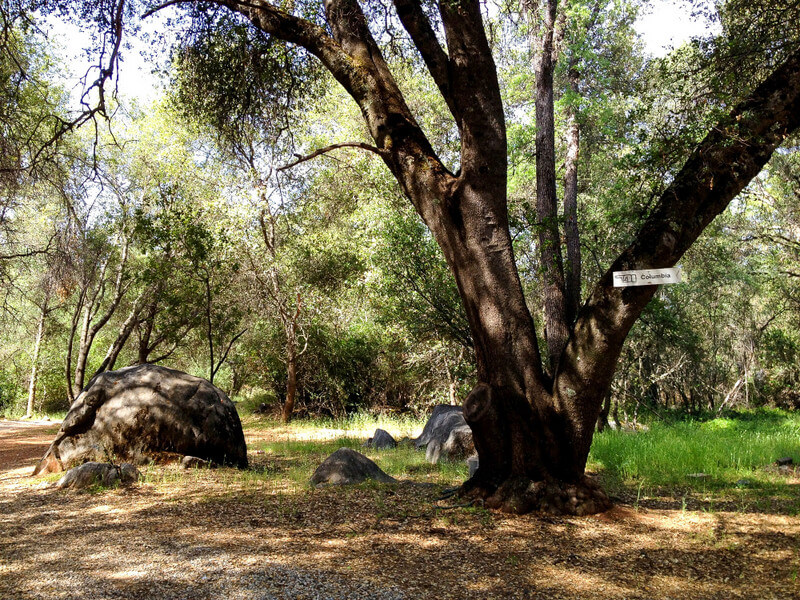 Besides all this, you can visit giant sequoias nearby at Calaveras Big Trees State Park.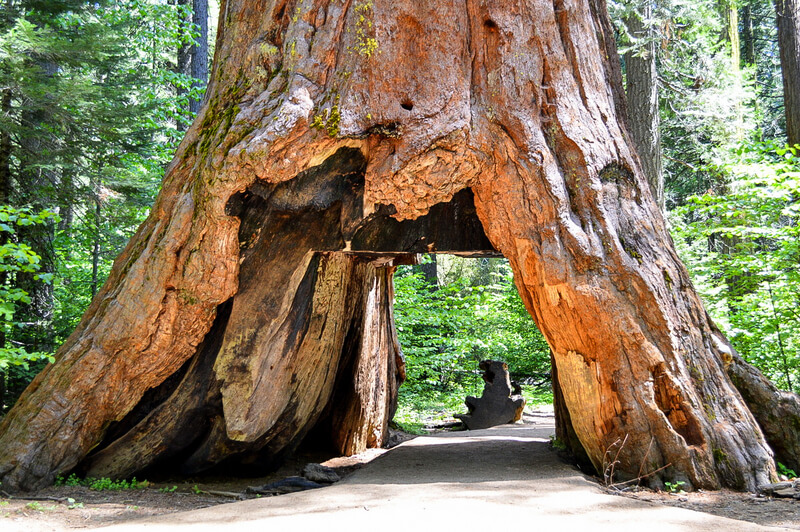 Here's more information about Columbia. What is your favorite historic place to visit with kids? Did your parents ever take you to a place like this?
This post is part of a new on-going series called "Secret California," which aims to cover the variety of interesting and beautiful places in California that many locals don't even know about.