Recently something on Facebook caught my attention. A few travel writers and bloggers were expressing frustration over the lack of travel writing about trips that are actually affordable. I immediately agreed–after all, traveling even here in my home state can really add up!–and decided to share some tips for affordable family travel in Northern California. Even though I get to take some pretty nice trips at a reduced cost thanks to my work online, I think we all know that traveling as a family need not be fancy. After all, kids just want to have fun.
I asked some of my favorite Northern California bloggers for their ideas, but I'd love to hear yours, too!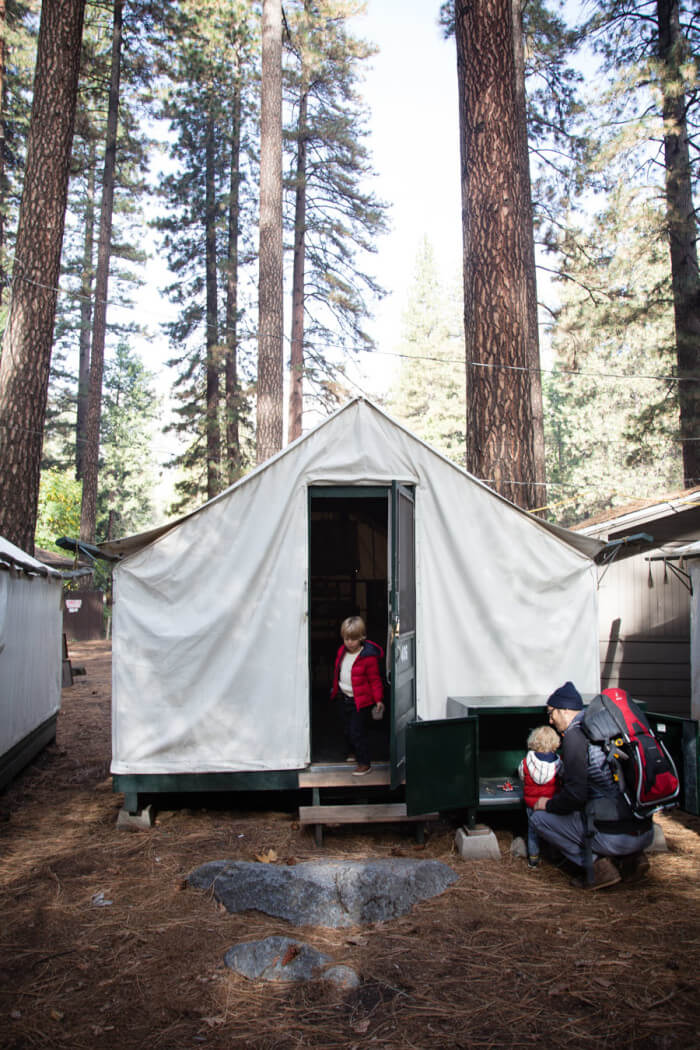 Half Dome Village at Yosemite National Park:
From Ashley, lifestyle/travel/design blogger at Hither & Thither
Half Dome Village (formerly Camp Curry) is a great option for families who aren't equipped to—or don't want to prep to—go camping, and it's a good way to experience Yosemite and stay in the valley for much less than at a hotel. It's also really fun—our kids love it.
Rows upon rows of little white tent cabins sit right under Half Dome, with easy access to one of my favorite trails in the valley—the mist trail to Vernal Falls. Each tent comes with bed linens and heavy camp blankets, fresh towels for the communal bathhouses, water cups, and a safe—all you need, really, to have a camp-like experience without actually camping. (Though we do like bringing sleeping bags.) There's a pizza restaurant and a giant dining hall for breakfast, swimming and bike rentals in the summer, and evening ranger-led programs.
Here are some photos from our visit last fall and some thoughts on what we packed.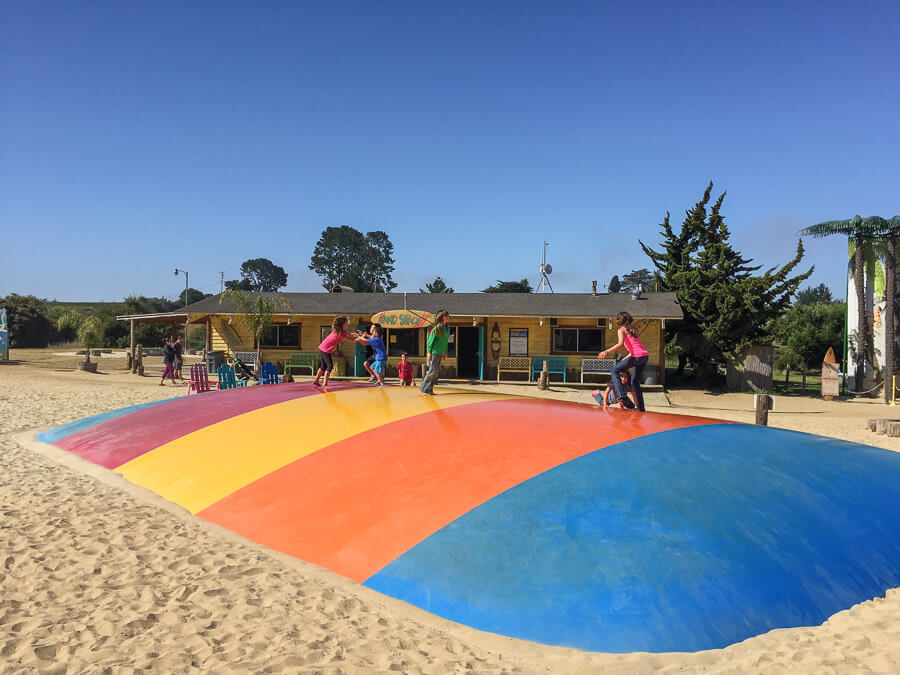 Santa Cruz & Its KOA:
From Cassie, food and travel blogger at Ever in Transit
Affordable family travel means camping, of course, at any of our state or county park campgrounds. The KOA in Watsonville is nice for travel with kids–it's close to Santa Cruz southern beach towns (my favorites!), and there's play gear like a massive bouncey mattress, a rock climbing wall, an arcade, bike rentals, dog park, heated swimming pool, hot tub, and train ride through the park for the really little ones. There are different accommodation levels and pricing (tent, RV spaces, rustic cabins, and the fancy cabins), so different families can stay in different places on the same trip.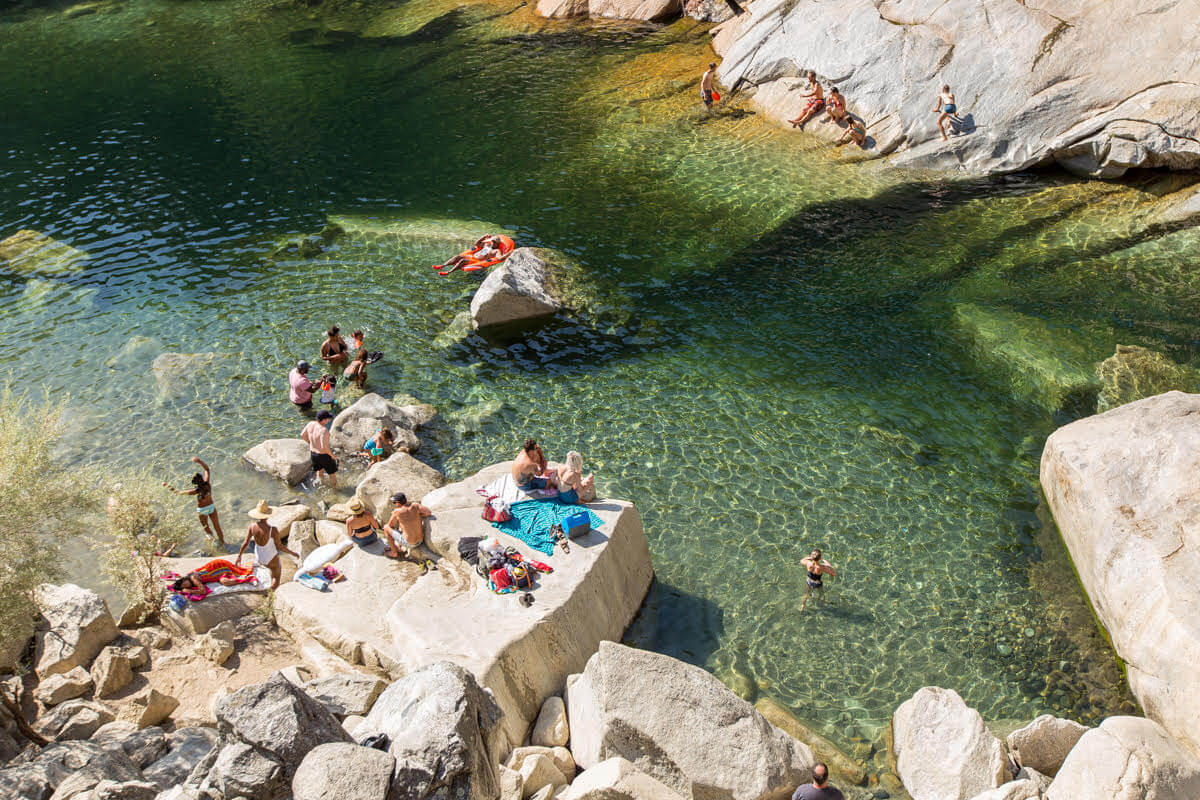 Nevada City:
From Garrick, freelance travel writer and blogger at Weekend del Sol
To afford frequent travel throughout the year, my small family trades passports for road maps. We love the California coast, but when hotel prices run high, we head inland to Gold Country, the series of atmospheric Old West towns that dot the spectacular Sierra Nevada foothills. A favorite stop is Nevada City, roughly one hour northeast of Sacramento, and yep, still in California. Founded during the Gold Rush boom of 1849, its charming downtown brims with enchanting old architecture and tree-lined streets that wind over hilly terrain.
Recently, we staked our claim in a spiffy glamping tent at the new Inntown Campground. It's owned by two parents who get what makes for a happy family: tons of outdoor games for kids, local beer and wine for adults, and family-friendly movies screened under the stars (think Goonies and Despicable Me 2). Next door, the Nevada County Narrow Gauge Railroad Museum offers free train rides through the woods passing old mine shafts along the way.
In warm months, you can plunge into the emerald pools that collect along the nearby South Yuba River. You'll also appreciate the toil of fortune-seeking miners via hands-on gold panning demonstrations at the South Yuba River State Park. And even kids will appreciate the flat, easy Independence Trail, a fascinating pathway of old wooden flumes once used to transport water for mining. Back in town, swap stories from the day over creative pizzas and house-brewed beers at the industrial-cool Three Forks Bakery & Brewing Co.

Steep Ravine Cabins, near San Francisco:
From Audrey, family travel blogger at The Thrifty Traveler
Aside from the amazing views and wildlife spottings, one of my favorite parts of this trip is the disconnect you feel from the rest of the world. It's a reminder of how little you really need to create amazing memories as a family. Other than one or two basic items, like a deck of cards and flashlights, we don't bring any toys or entertainment along and we just enjoy exploring nature together, telling stories once the sun goes down and acting goofy in the dark. You can stay at this beautiful location for about $100/night. Find out how you can rent one of these cabins here.
and now my recommendation:
Columbia State Historic Park:
Like Garrick (above), we often trade the beauty of the coast for the history and laid-back vibe of the foothills. One particularly fun visit was to Columbia State Historic Park, where we settled into a campground cabin for two nights with our two kids and two dogs. A clean, comfortable two-bedroom cabin with full bathrooms and a small kitchen cost about $99/night.
The campground is conveniently located down a walking path from the town, so we were able to truly disconnect from our car and walk to and from town whenever we pleased. Huge boulders, left over from the gold mining days, dot the path, making a fun excursion for kids (who can rarely resist some rocks to climb). But if you want to do more exploring, take a half-day trip to Calaveras Big Trees State Park, where you can walk among the giant sequoias.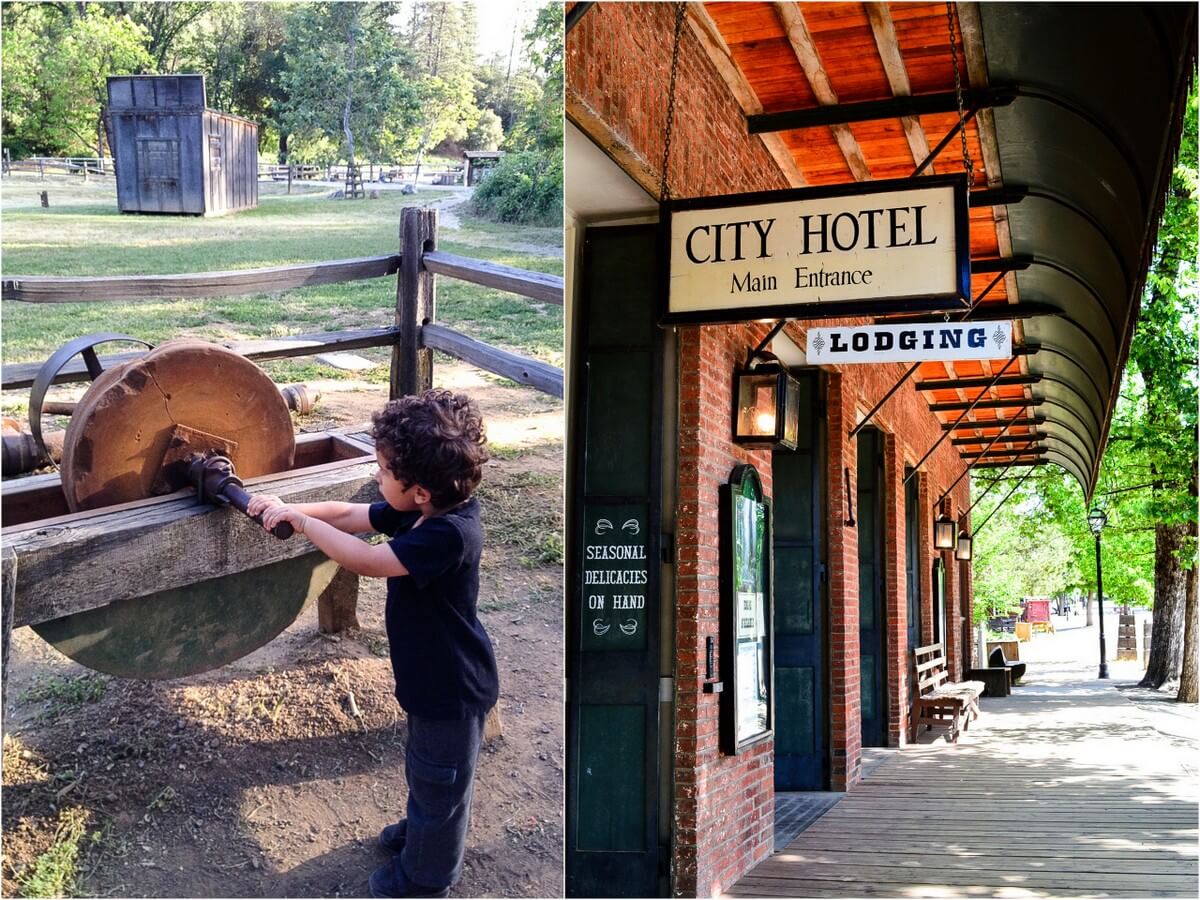 The town of Columbia was settled during the Gold Rush of the late 1840s and is now perfectly preserved. Its plank sidewalks, old saloons and shops, and historic Wells Fargo bank next to the gold mine combine to make a unique atmosphere. But beware–this place can get crowded with school trips, especially on weekends and in the summer, and when it does, it can feel too touristy. One thing not to miss is the stagecoach ride that takes you through the woods where you'll be unexpectedly stopped by a bandit demanding gold coins from the passengers. My kids still talk about that stagecoach ride!
Read more about why we loved Columbia here and the campground here.
Thank you to all these bloggers for their ideas! What tips do you have for affordable family travel in Northern California?
Top photo credit: Garrick Ramirez