San Francisco has long been one of my family's favorite places. Before my kids were born, Rodrigo and I used to take day trips there to visit friends and indulge in the city's top-notch arts scene. But we've actually enjoyed San Francisco even more as parents–our kids love it all, from the nature and museums to the views and the City's undeniable energy. My family and I have tended to visit places a little more off the beaten path, such as taking a hike at Land's End. For that reason, it had been almost 15 years since I'd visited PIER 39, so when they reached out, I was eager to bring my family for a day at PIER 39. Today I'm sharing tips to visit PIER 39 with kids.
Tips to Visit PIER 39 with kids:
We decided to take Amtrak from Sacramento to San Francisco–it's extremely easy, comfortable, and faster than we expected. The train made good time to Emeryville, where we got off and walked for about one minute to the Amtrak bus that was waiting for us. This bus took us across the Bay Bridge and dropped us off right in front of PIER 39.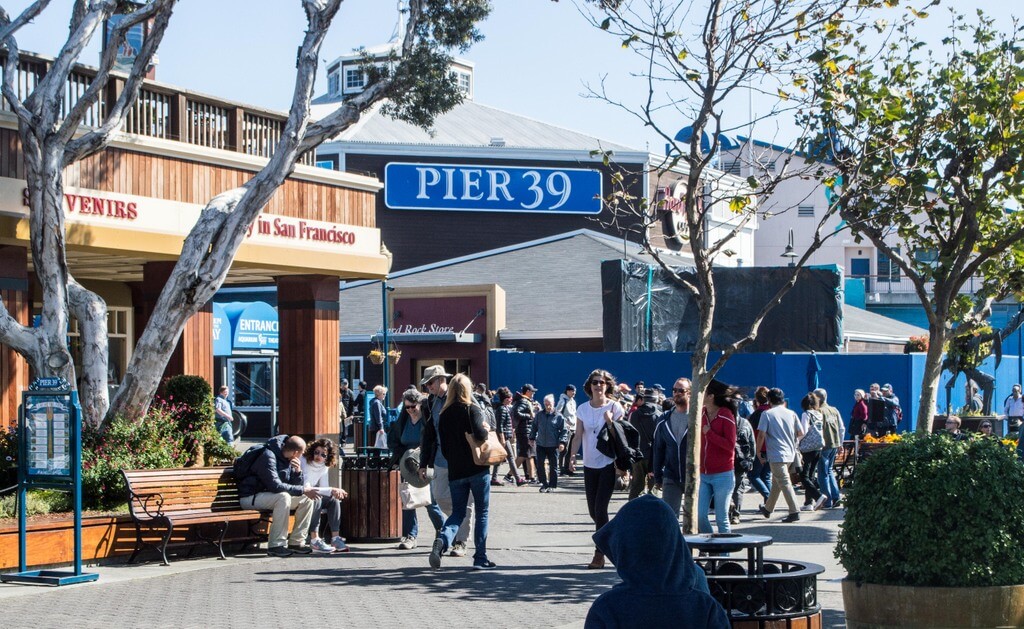 PIER 39 is an outdoor area of shops, restaurants and entertainment spread out over two floors right on the water. We arrived hungry, so we headed to the second floor for lunch at Fog Harbor Fish House. The restaurant's big windows allow for water views of the Golden Gate Bridge and Alcatraz, and my kids enjoyed watching the boats glide in and out of the marina.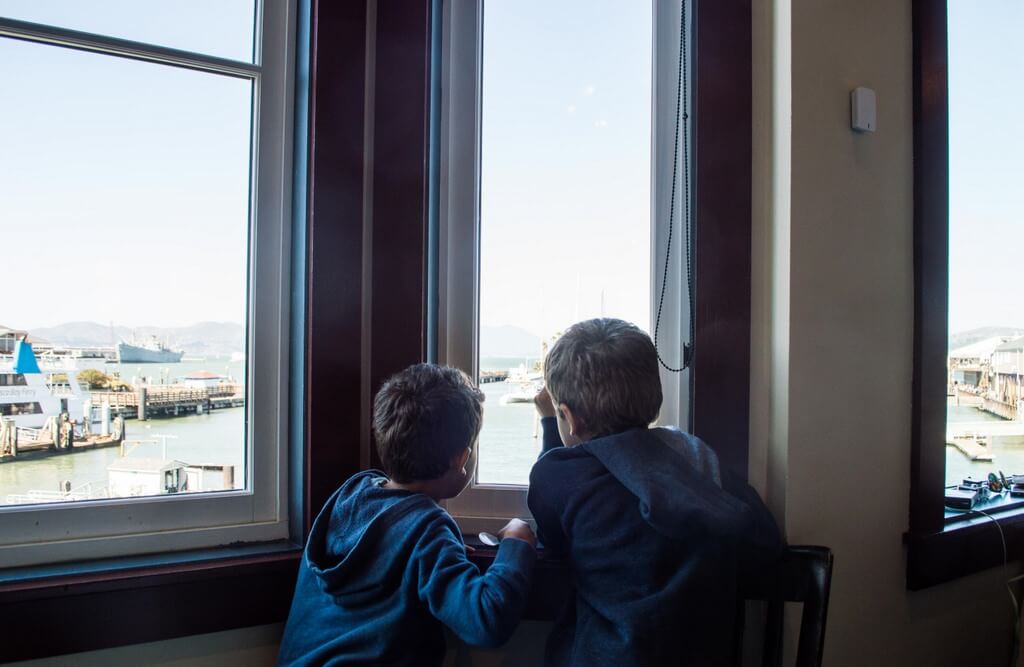 As the restaurant's waterfront location suggests, Fog Harbor Fish House specializes in seafood. I was happy to learn that it was the first restaurant in Fisherman's Wharf to serve 100% sustainable seafood and meets the standards of Monterey Bay Aquarium's Seafood Watch Program.
I started my meal with an excellent Moscow Mule and clam chowder (so good!), and we all loved the fresh, hot sourdough bread. My entree was especially good–a local king salmon with a seasonal twist of pumpkin curry sauce, sweet potatoes, butternut squash, spinach and a lavender plum chutney. The pumpkin bread pudding was the perfect end to the meal.
I also loved that the restaurant was so kid-friendly. The tables are nicely spaced out, so my kids' chattering was hardly noticed by the neighboring tables, and they were given activity papers and crayons. One nice touch is that the kids' menu includes fish dishes in addition to the usual kids' menu fare. If you're in the area, I'd recommend this restaurant for its views, comfortable atmosphere and sustainable seafood choices.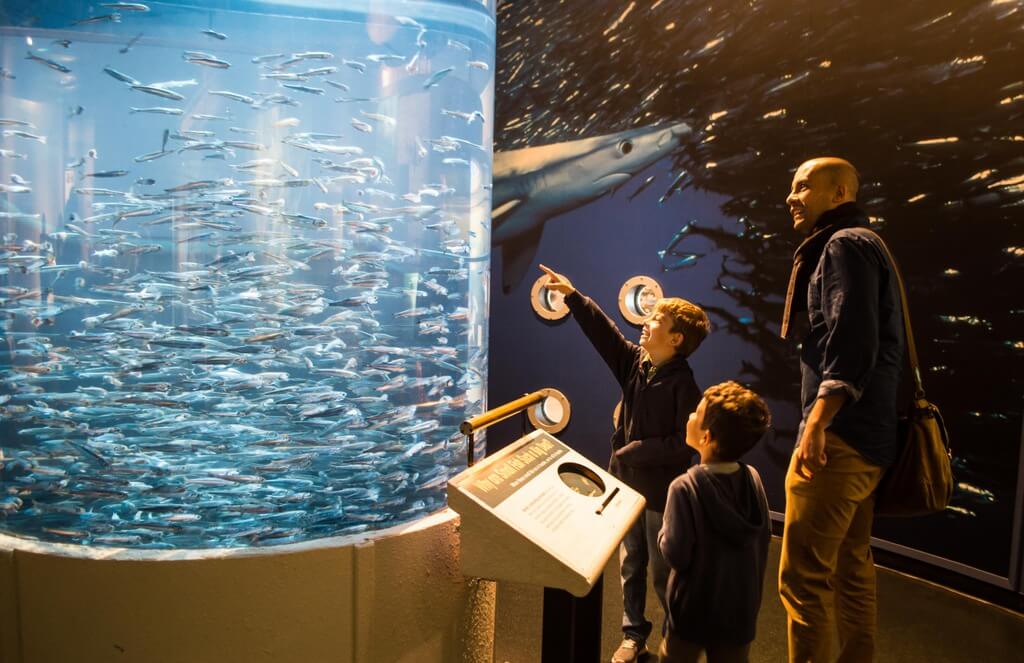 As soon as we finished lunch, we went straight to Aquarium of the Bay, which is what my boys were most excited about. This aquarium is a non-profit organization focused on conservation of the San Francisco Bay. The exhibits showcase local species and aim to educate the public about the interconnectedness of the local environment and the health of the waters around the Bay.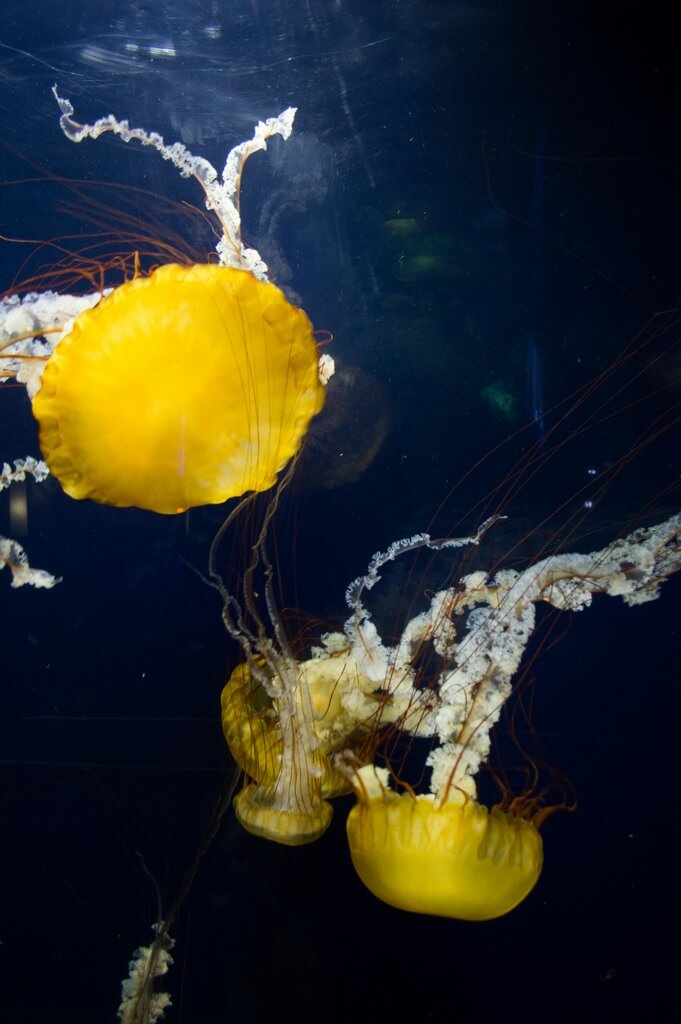 Besides the mesmerizing jellyfish tanks, we loved the crystal clear tunnels featuring a variety of local sea life–rays, sharks, enormous bass and catfish–swim around and above you.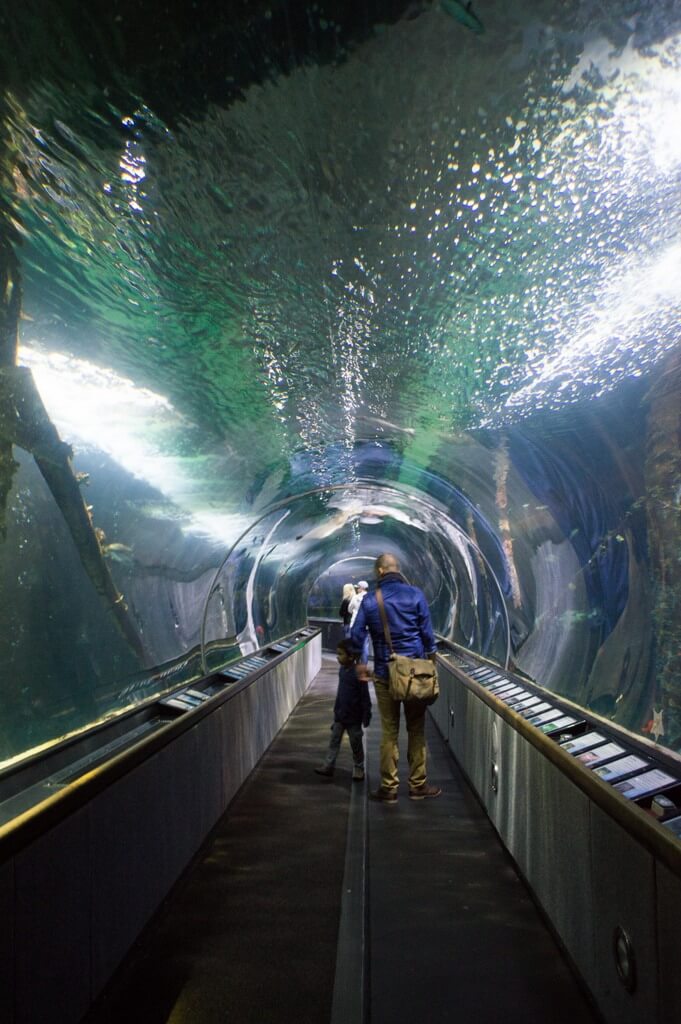 The aquarium also has touch tanks and staff-led talks about sea life, the river otter exhibit, and local animals, like the snake that we were able to see and (gently) touch. The aquarium never felt crowded, so we were able to easily see everything without having to wait.
This video shows some highlights of the aquarium visit: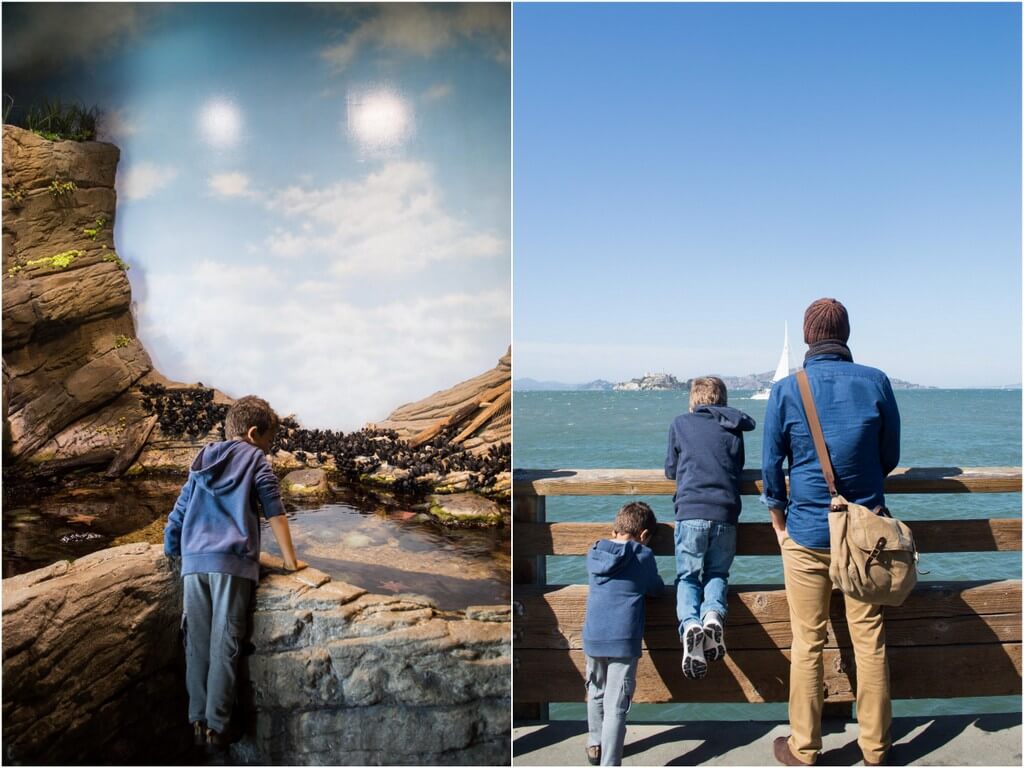 Then it was time to check out the outdoor walking area that runs along the water. I think the best view of Alcatraz in all of San Francisco is from right there, and I had no idea that PIER 39 was so close to it!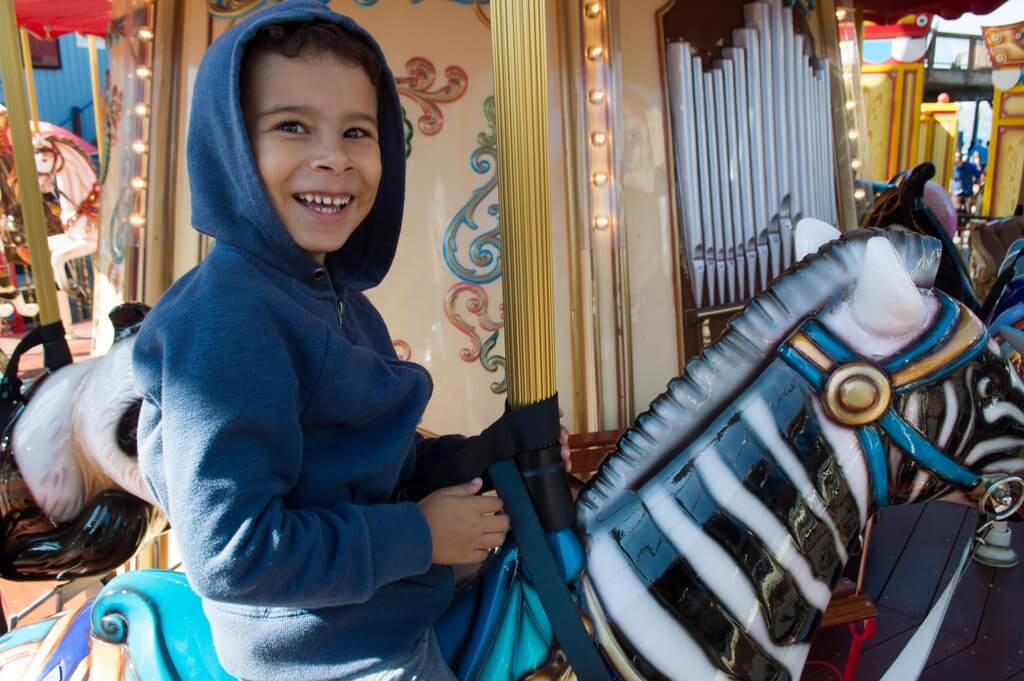 Besides the aquarium, there are lots of other kid-friendly things to do at PIER 39. Rodrigo and Noah opted for the "7D Experience," where they participated in a short interactive movie and game and played laser tag. Gabriel preferred the beautiful two-story carousel, which we happily rode twice.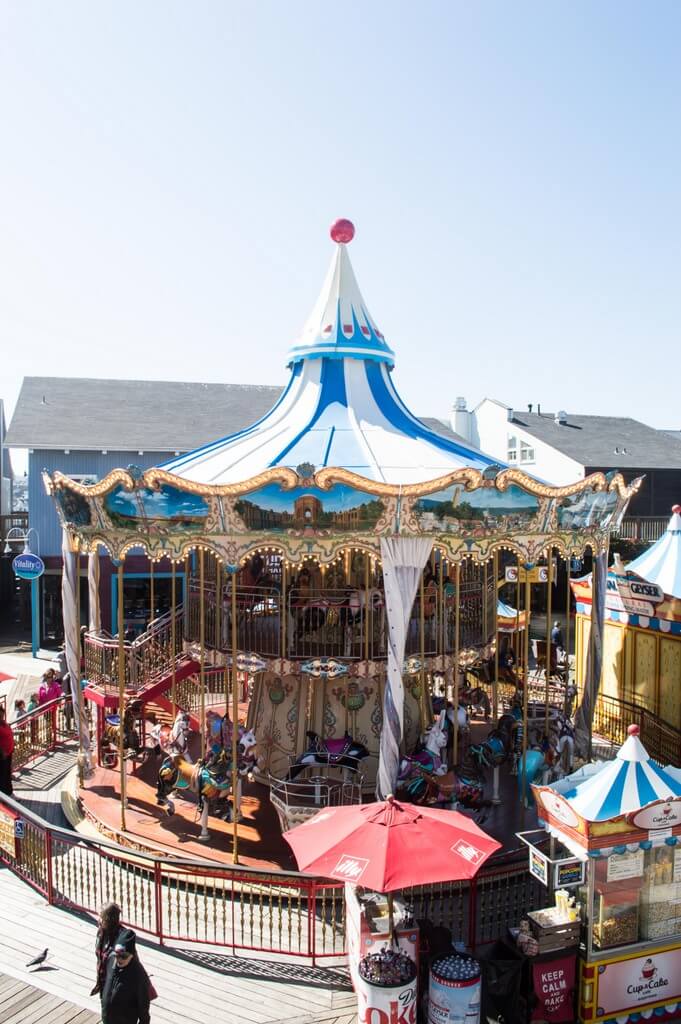 PIER 39 also offers a couple of boat rides in the San Francisco Bay, but unfortunately, it was too windy on the day we were there. We're looking forward to trying the 90-minute Blue and Gold Fleet Bay Cruise next time.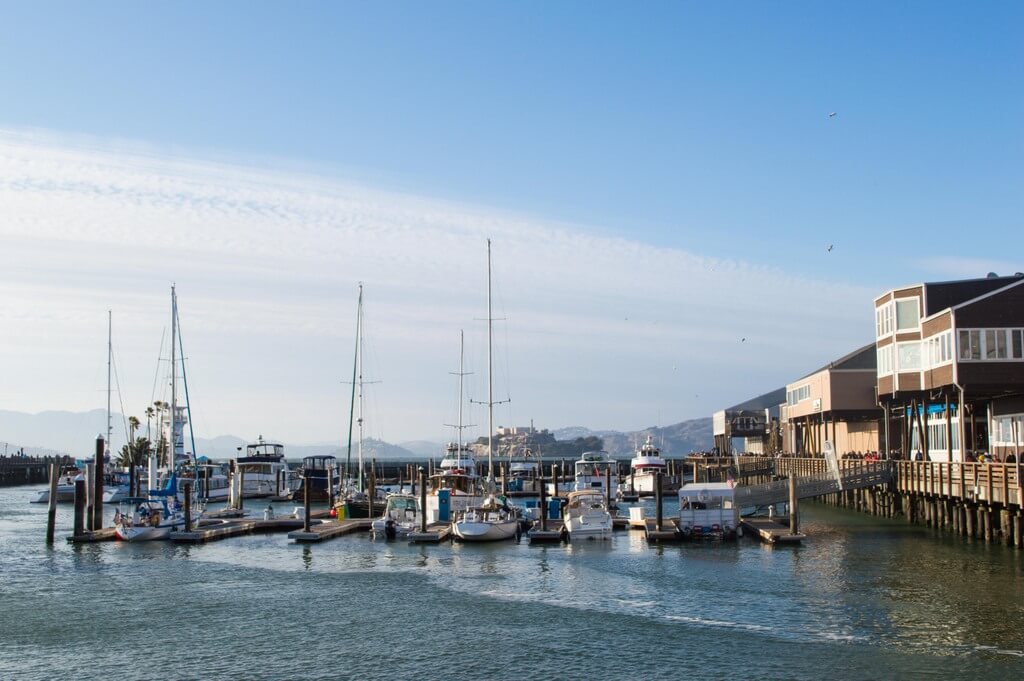 After all those activities, we saved some time for browsing the shops (we enjoyed the Puppets on the PIER store, and Noah loved the store for Lefty's!) and admiring all the yummy snacks, like caramel corn, warm pretzels and cotton candy. No visit to PIER 39 is complete without a walk along the pier to see the boats and, of course, the sea lions. They were actually pretty quiet when we were there, perhaps taking a late-afternoon nap. (See them all piled up on the dock?)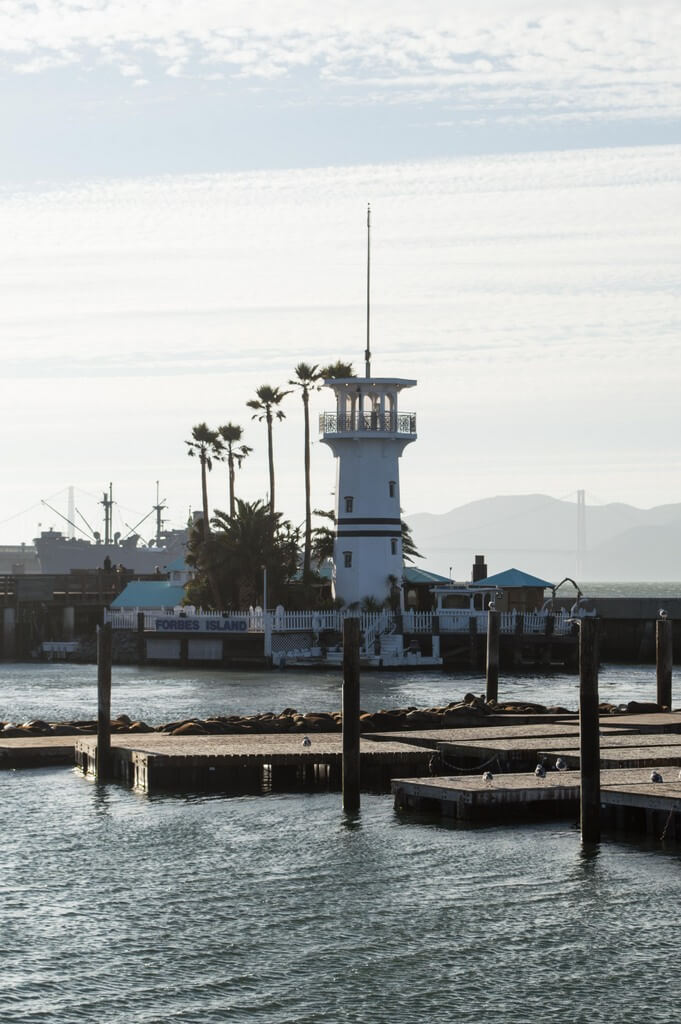 Again, the views of the Golden Gate Bridge and Alcatraz are not to be missed.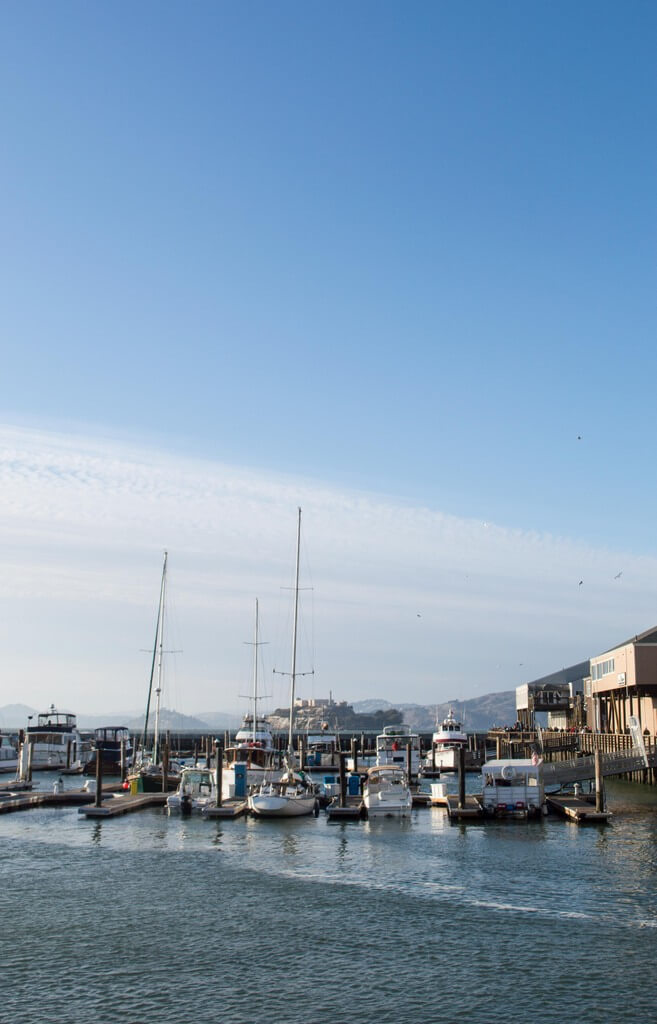 Northern California residents can join PIER 39's free "locals only" discount program, Local Advantage, and receive exclusive discounts throughout the year. 
More on our visit to PIER 39 in this video:
Do you have any tips for a visit to PIER 39 with kids?
Pin it for later:
Disclosure: This blog post is part of a paid Megan Media and PIER 39 blogging program. The opinions and ideas expressed here are my own.