When in Italy, especially Florence, you will see lots and lots and lots of frescoes. During the Medieval and Early Renaissance, most painting was either an altarpiece for a church or a fresco. Painting for private residences and oil painting came about a bit later in the Renaissance with artists like Botticelli, although fresco still held a prominent position– think the greatest fresco of all, the Sistine Chapel from the High Renaissance!
I bet that if I took a poll of people visiting Florence and asked them what type of art was their favorite, frescoes would not score very high. They tend to be thought of as art that's old, sometimes crumbling, maybe a bit boring. I might actually agree with that when it comes to some frescoes, but there are plenty of them in Florence that are sure to please. But why should frescoes get so much attention anyway?
The fresco technique is difficult. The artist applies plaster to a wall and paints the image on the plaster before it dries. This technique means that each time plaster is applied, the image must be finished that very day and makes it almost impossible for the artist to correct mistakes or make changes, as artists often do with other types of painting. Fortunately, the fact that frescoes are part of the wall means that, in favorable climates, they last for a very long time. And because frescoes so often were used to decorate chapels and walls of churches, they were usually part of a cycle, meaning several frescoes that connected to tell a story.
Here are my favorite frescoes in Florence, Italy (and Siena):
1) The Tornabuoni Chapel in Santa Maria Novella, Florence, 1485-1490

Santa Maria Novella has some of my favorite art in Florence. The main chapel houses the fresco cycle of the lives of Mary and St. John the Baptist. It is huge– the Renaissance master Domenico Ghirlandaio enlisted his workshop, including the 13-year-old Michelangelo, to help him complete the frescoes.
One reason to see this fresco cycle is that it shows the trends of the Renaissance, from the beautiful details of the clothes and furniture to the hairstyles. Plus, it goes from floor to ceiling, enveloping you in its size, color, and detail. I love it.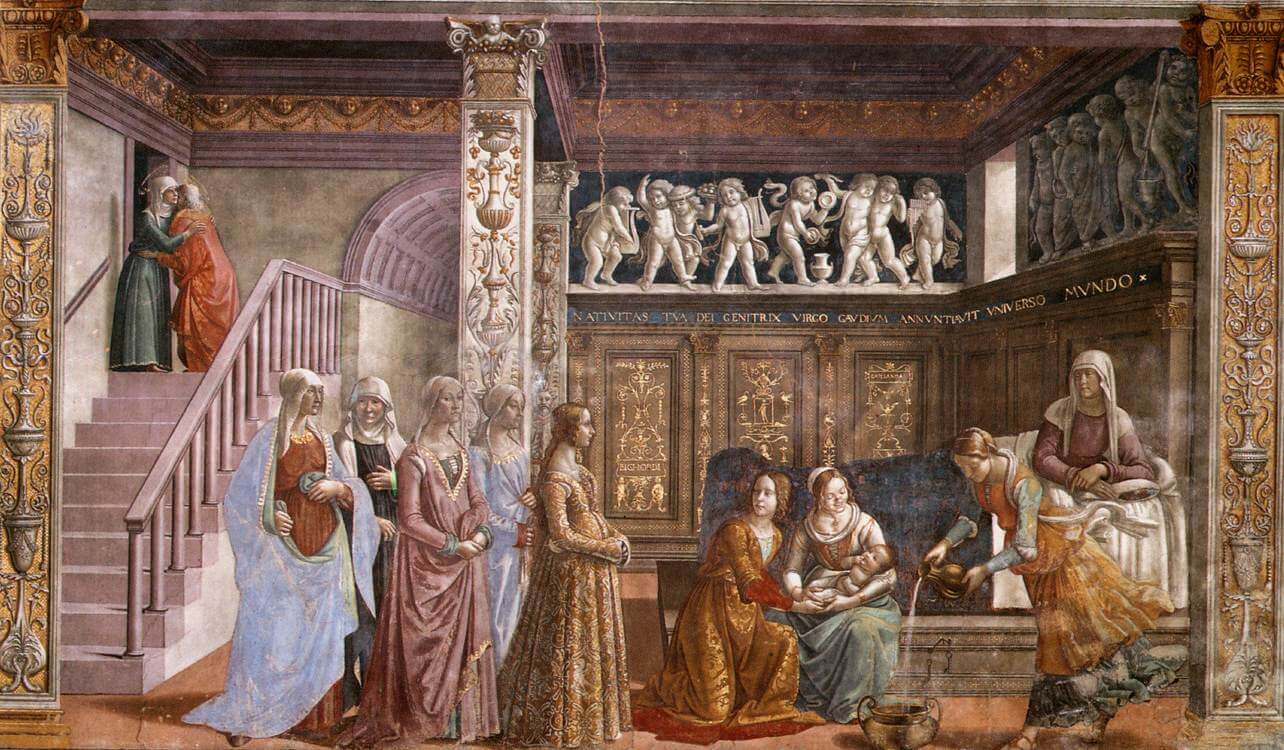 2)  Fra Angelico's frescoes in San Marco, Florence, 1436-1445

Not all frescoes were enormous projects paid for by wealthy patrons seeking extra assurance of salvation. These small, simple frescoes were painted by a monk who adopted some of the innovations of the Early Renaissance into his own delicate style. The frescoes decorated the monks' cells to provide them with something holy to concentrate on while praying.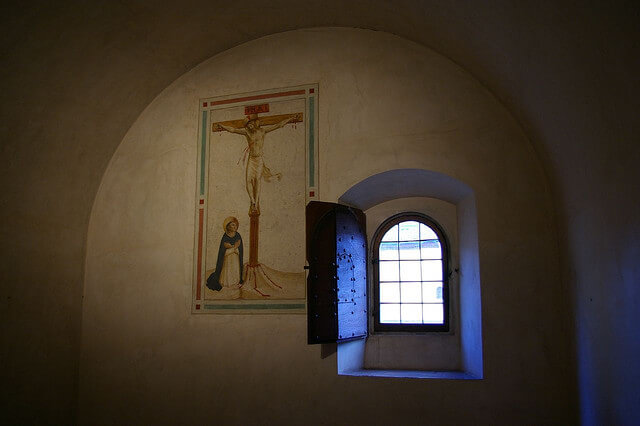 3) The Brancacci Chapel, Santa Maria del Carmine, Florence, (mostly) 1425-1427

The Brancacci Chapel is probably the best place to see the artistic innovations of the Early Renaissance. Most of it was painted by the young artist Masaccio,whose ability to portray humans realistically helped bring the Renaissance ideals of humanism and creativity to life. This cycle was so influential in the Renaissance that several decades after Masaccio painted it, Michelangelo came here to study fresco painting.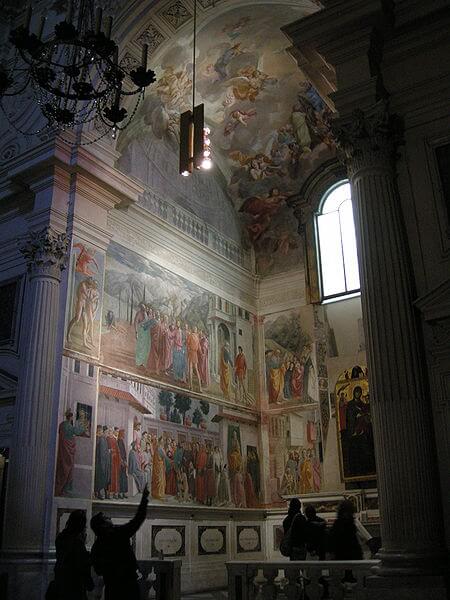 4) The Last Supper, Sant'Apollonia, Florence, c. 1445-1450

This fresco is off the beaten path in Florence. It's located in the city center but in a former convent that is completely off the tourist radar. Go inside the convent's refectory to experience this, and you will probably be there by yourself. The fresco is one of several notable last supper scenes painted during the Renaissance, but I like this one because it is unique.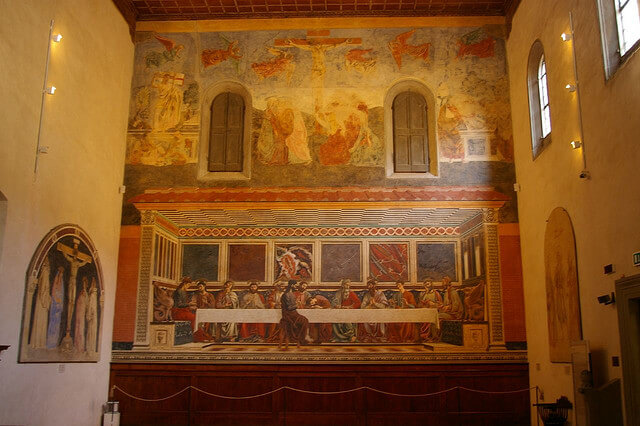 Andrea del Castagno was experimenting with the recent invention of linear perspective. The ceiling of the last supper scene leads your eye back in a dizzying  geometric pattern. The 6 panels above the men are unusual; notice that the most striking panel sits above the heads of Jesus and Judas. Judas's face seems devil-like, and he is seated on the other side of the table, separated from the others, a sign of his eventual betrayal of Jesus.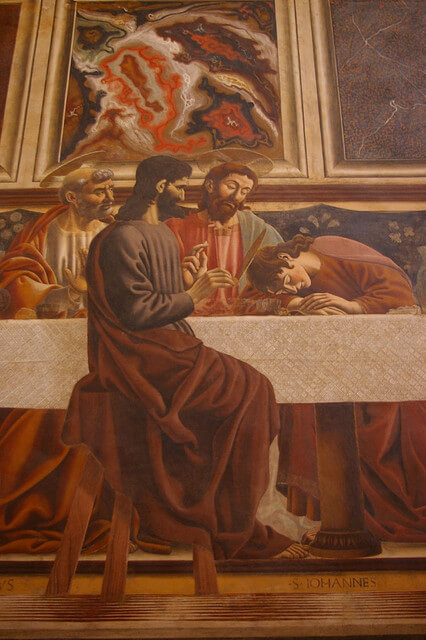 5) The Allegory of Good and Bad Government, Palazzo Pubblico, Siena, 1340

Go inside the beautiful Palazzo Pubblico on Siena's main square to enjoy this wonderful fresco. It wraps around the walls with bright colors and unusual details. It is quite different from other frescoes you will see because… it is not religious! Instead, the civic themes of good and bad government are shown since this is, after all, the town hall.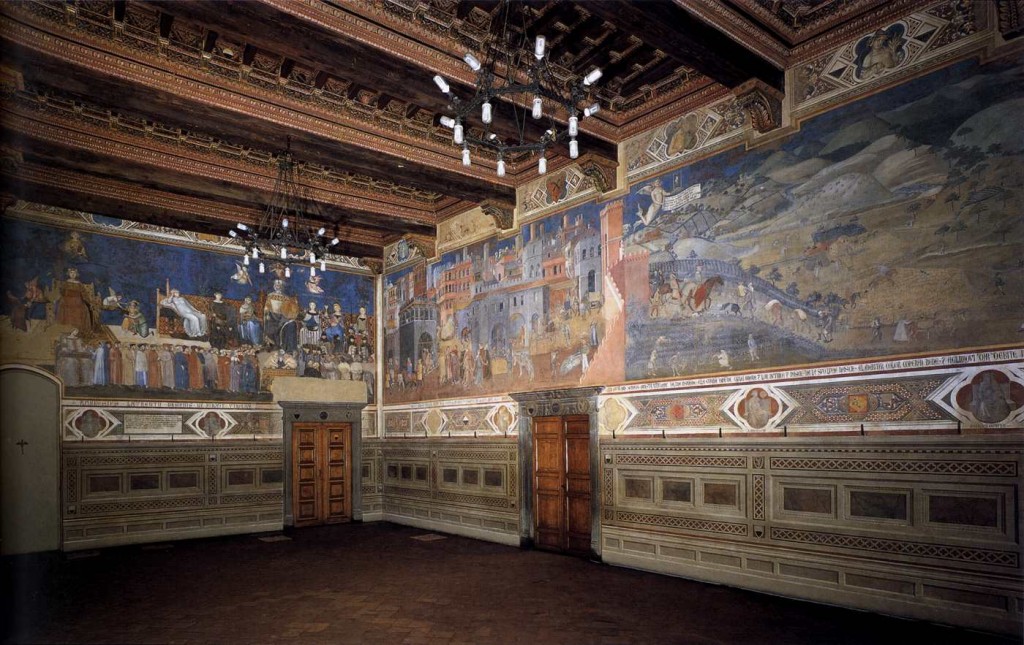 This fresco is from Siena's heyday, in 1340 when it was a powerful city-state. Less than 10 years later, the plague hit Tuscany, and Siena lost up to half of its population. The city never recovered, so what you see now in Siena is a Medieval city with an unfinished cathedral and no Renaissance masterpieces. It is beautiful but had a very different fate from that of nearby Florence.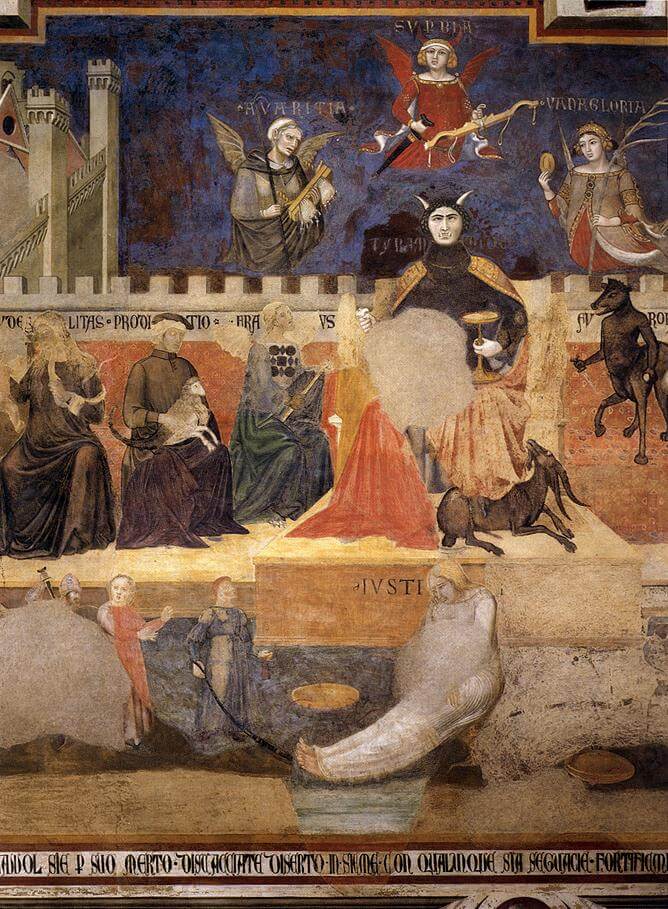 This fresco may have suffered some damage, but the weird details and intense colors are fantastic.
What do you think? Italy has no shortage of amazing frescoes. What are your favorite frescoes in Italy?
(Photos are from Wikipedia Commons except the San Marco and Sant'Apollonia photos from dvdbramhall on Flickr)
More on art and life in Italy:
My Favorite Renaissance Paintings in the Uffizi
Tips to Understanding Renaissance Paintings
The Beginnings of the Renaissance
What's It Really Like to Live in Florence?