Prague is one of my favorite cities in the world. I was fortunate to spend quite a lot of time there when I was younger because I lived in a town in the southeast corner of the Czech Republic. I fell in love with Prague's beautiful architecture, charming back streets, and lively atmosphere, and millions of tourists have fallen for it in the past twenty years, too. With all the people visiting, it may seem hard to know where to go in Prague to see the "real" city.
It makes me sad to hear people complain about Prague being too crowded with tourists. There is much more to Prague than just the main sights, so you should get off the beaten path in Prague by trying some less-touristy places.
Of course there will be tourists at these sights, but just not nearly as many as at the main ones. These are just some possibilities; honestly, Prague is a city with a rich history and culture, so with some good research and plenty of time, you should find many less touristy things to do in Prague.
The Nový Svět area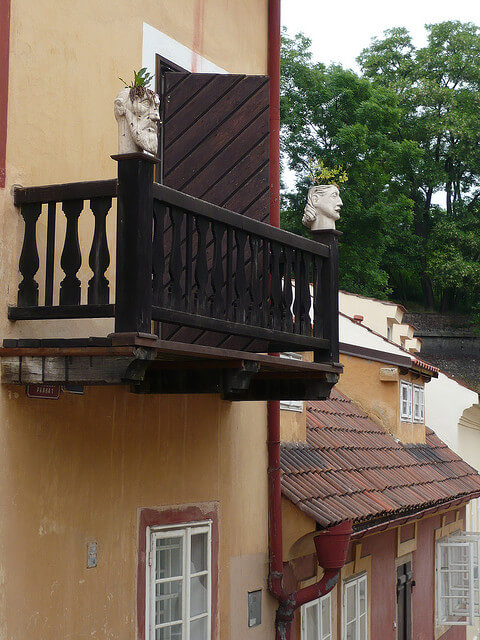 One of my favorite areas of Prague is this quaint little pocket just beyond Prague Castle. It is virtually tourist-free. Nový Svět is named for a long winding alley that starts near the castle and continues past several quiet residential streets that house art galleries.
Because Nový Svět used to be a poor neighborhood, it doesn't have the grand architecture that is typical of central Prague, but it has tons of charm. The combination of walled streets, cobblestones, trees, old street lamps, and charming houses give the area a calm beauty. At the far end is the Loreta, an impressive Baroque church and cloister.
The best way to experience this area is to just slowly wander its streets.  It is easy to find—simply start with your back to the entrance to Prague Castle, then walk straight through the square and continue on until you run into Nový Svět street.
Strahov Monastery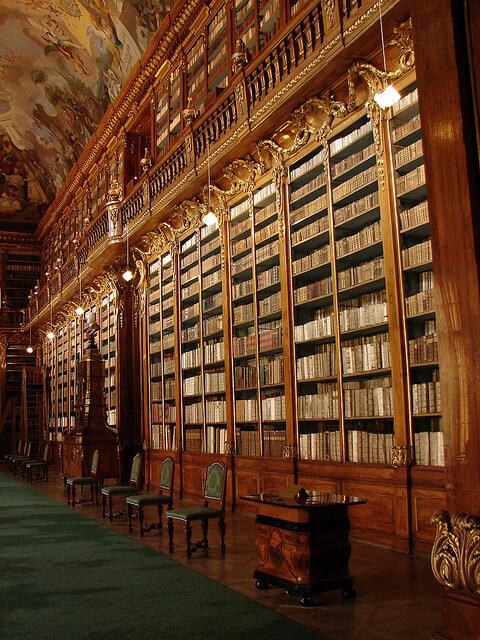 Near Nový Svět is Strahov Monastery, which overlooks Prague and is easily reached from Malá Strana (the Little Quarter) or Prague Castle. Founded in the 12th century, it was rebuilt several times after fires and wars.  It is now famous for its incredible library of old books and illuminated manuscripts.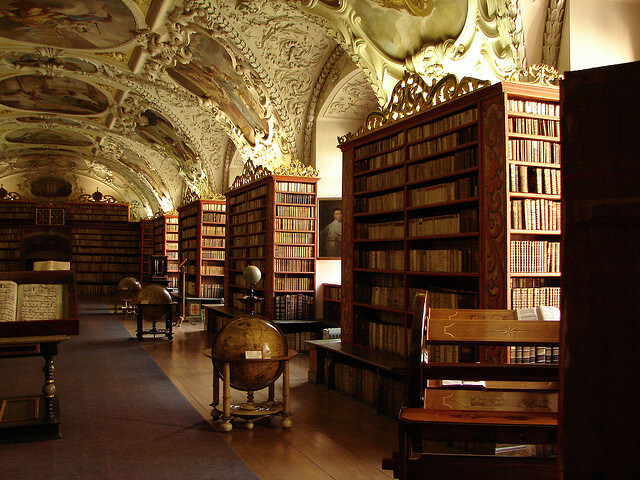 Strahov Monastery also houses a basilica, an art museum, a brewery, the Museum of Miniatures, and the Galerie MIRO, with modern art exhibits.  The grounds offer wonderful views of Prague. If you don't want to walk there, Tram #22 stops right in front of Strahov Monastery.
Valdštejn Garden
Prague Castle is surrounded beautiful formal gardens, including the terraced ones directly below the castle and the Royal Garden just past the castle, but my favorite is Valdštejn Garden (Wallenstein Garden). It is located in Malá Strana below Prague Castle.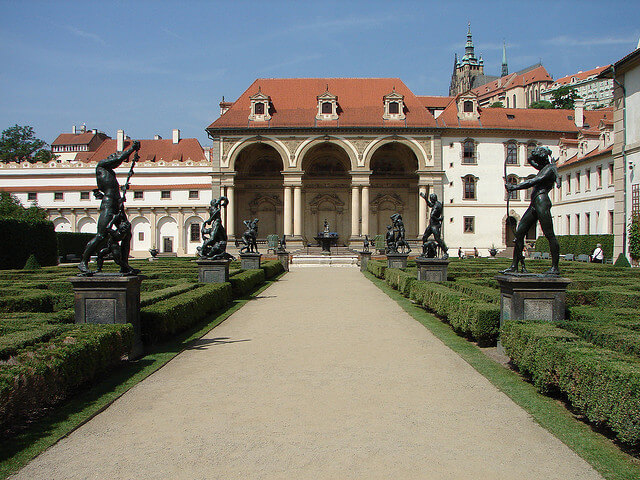 Valdštejn Garden is part of the Valdštejnský palác (Wallenstein Palace), a 17th century Baroque palace that is now home to the Czech Senate.  These formal European gardens are a peaceful respite from the busy sightseeing of Prague's center.  The entrance can be hard to notice-it is located on Letenská Street near the Malostranská metro station.
 Vyšehrad
Vyšehrad is Prague's other hilltop castle. Actually, little remains of the castle from the 11th century, but there is still a lot to see in this quiet spot above the river in Prague.
You will see the impressive Gothic cathedral of Saints Peter and Paul, with its intricate doors and murals by art nouveau master Alphonse Mucha. Vyšehrad Cemetery is a must-visit: its sculptures, painted walkways, grandly decorated headstones, and stunning art nouveau monuments are beautiful.  The cemetery is also of great cultural importance because it is where many famous Czechs are buried.
Vyšehrad also includes an 11th century rotunda, ruins of a lookout tower and castle walls, and green space for you to relax—bring a picnic and soak in the views of Prague and the Vltava River.
Olomouc, a great day-trip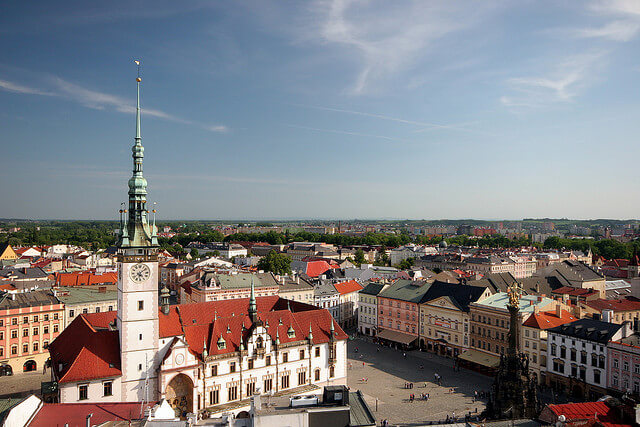 Very few people think of taking a day-trip as far as Olomouc and instead go to Kutná Hora to see the bone church or to a nearby castle, but with fast trains going to Olomouc in about 2 hours, it's easy to visit this charming city in a day.  The city receives only a small number of tourists, so you can easily witness daily Czech life there.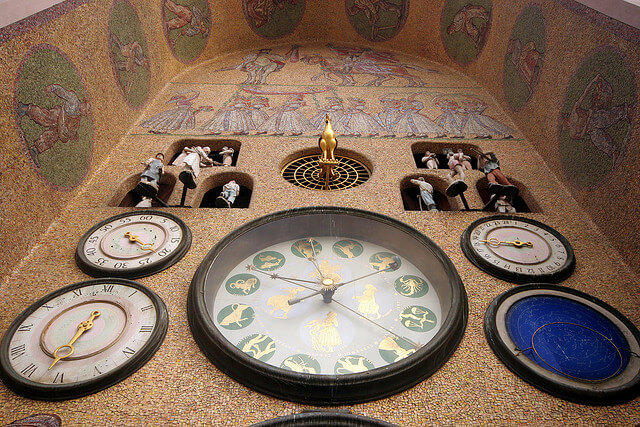 Olomouc, the fifth-largest city in the Czech Republic and former capital of the region of Moravia, offers plenty to do for a one to two days.  It is home to the old and prestigious Palacký University and has the highest density of university students in Central Europe.  Besides people-watching and taking in daily life in Moravia, you can visit St. Wenceslas cathedral, the enormous plague column (a UNESCO World Heritage Site), the squares with their lovely fountains, the local shops and cafes, and the town hall with its communist-inspired astronomical clock.
Looking for more ideas? Try 25 things to do in Prague.
Have you been to Prague? What are your suggestions for getting off the beaten path in Prague?
Pin it for later:
Photo credits: (1st photo is mine), B Romero, Wikimedia Commons, Tjflex2, Tjflex2, Tjflex2, Panagiotis Georgiu, dustin_drew, Ana Paula Hirama, Ana Paula Hirama.