I've said this before and I'll say it again: why does it have to be so hard to find great travel shoes? Sure, there are well-made, comfortable outdoor shoes that hold up to rain, cobblestones, and hours upon hours of walking…but it seems they are only worn by Americans! Since few women in Brazil, Italy, or Japan would wear them, I look for a travel shoe that combines comfort and style.
To complicate matters, I have plantar fasciitis, which makes comfortable shoes for travel even more important. Finding cute and comfortable travel shoes is not easy.
Let's break down the best travel shoes by type and see what we have:
1) Sandals for travel: Birks, Naot & Chacos
Many sandals don't have sufficient support for the walking that comes with travel. To make matters worse, people who live anywhere that's warm enough to wear sandals are probably used to seeing only flip-flops or cute, thin sandals, which are OK if you're going to the beach but don't suffice for days of travel.
Comfortable sandals for travel:
Birkenstocks are very comfortable for traveling, especially if you need a shoe with sole support. My favorite day-to-day sandals are these Giza Birkenstock sandals for travel and these more modern Birkenstocks, but make sure to break them in a bit before traveling. And good news: if you like the support and feel of Birkenstocks soles, you can get inserts to use in other shoes.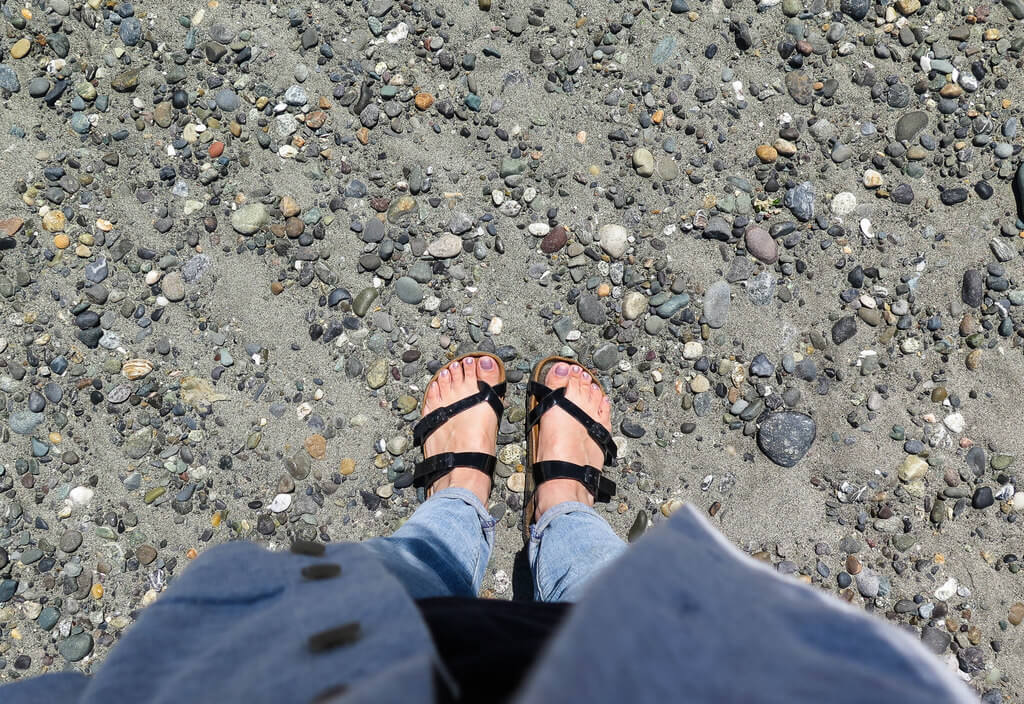 Cute sandals for travel:
These Naot sandals are some of the most comfortable shoes I own! The soles, made of natural latex and cork, are designed to replicate the shape of your foot, so they almost instantly feel like something I've worn a million times, something that just feels right.
Besides Naot shoes' flexibility, durability, shock absorption, and arch support, the most important quality to me is the elevated footbed center, which releases pressure in the joints of the center of the foot. I believe that this is what makes my feet feel so great in these. I have plantar fasciitis in one foot but cannot tell when I'm wearing these.
Sturdy sandals for travel and hiking:
Another quality option is Chacos sandals for traveling. The good news is that they are amazingly comfortable and durable–I can walk all day in them with zero pain. And I've had mine for 10 years, and they're still in excellent condition. They're also adjustable, which is handy in case your feet need a little more room along the way.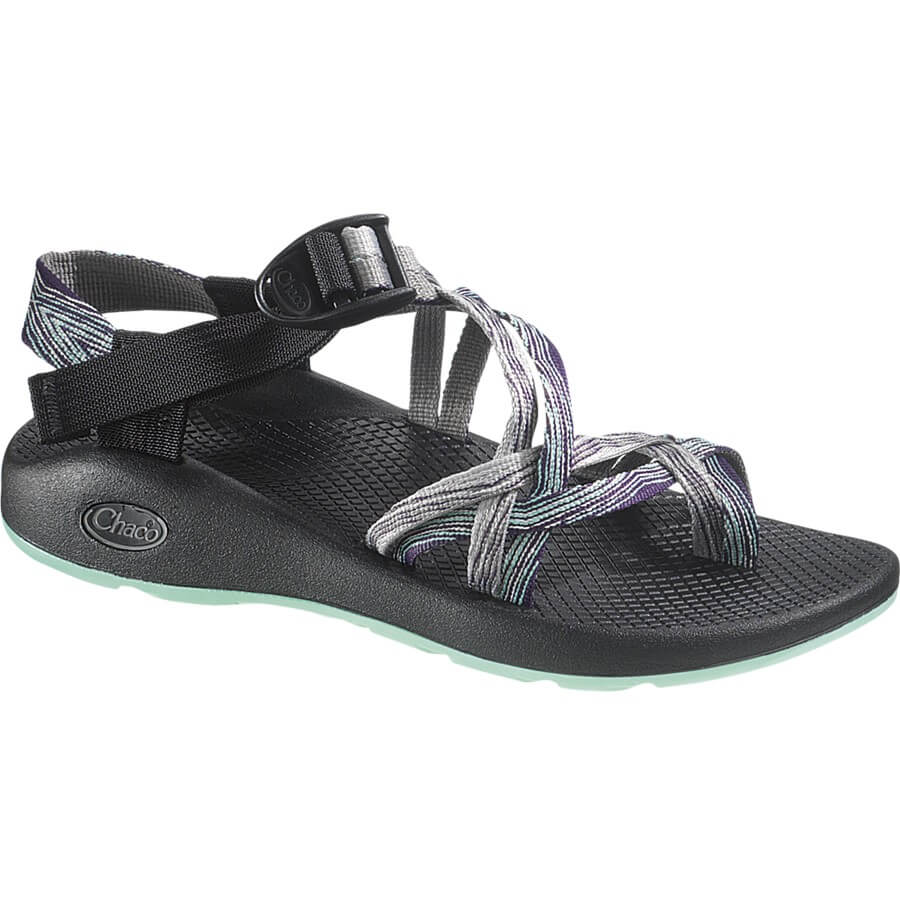 I love my Chacos for walking and hiking, but they're bulky. Try their other styles of cute and supportive sandals, like these and these.
.
2) Slip-on shoes for travel
"Street shoes"
These slip-on street shoes from Everlane make a comfortable, easy shoe for travel, plus they're all leather. TOMS makes a similar leather slip-on shoe.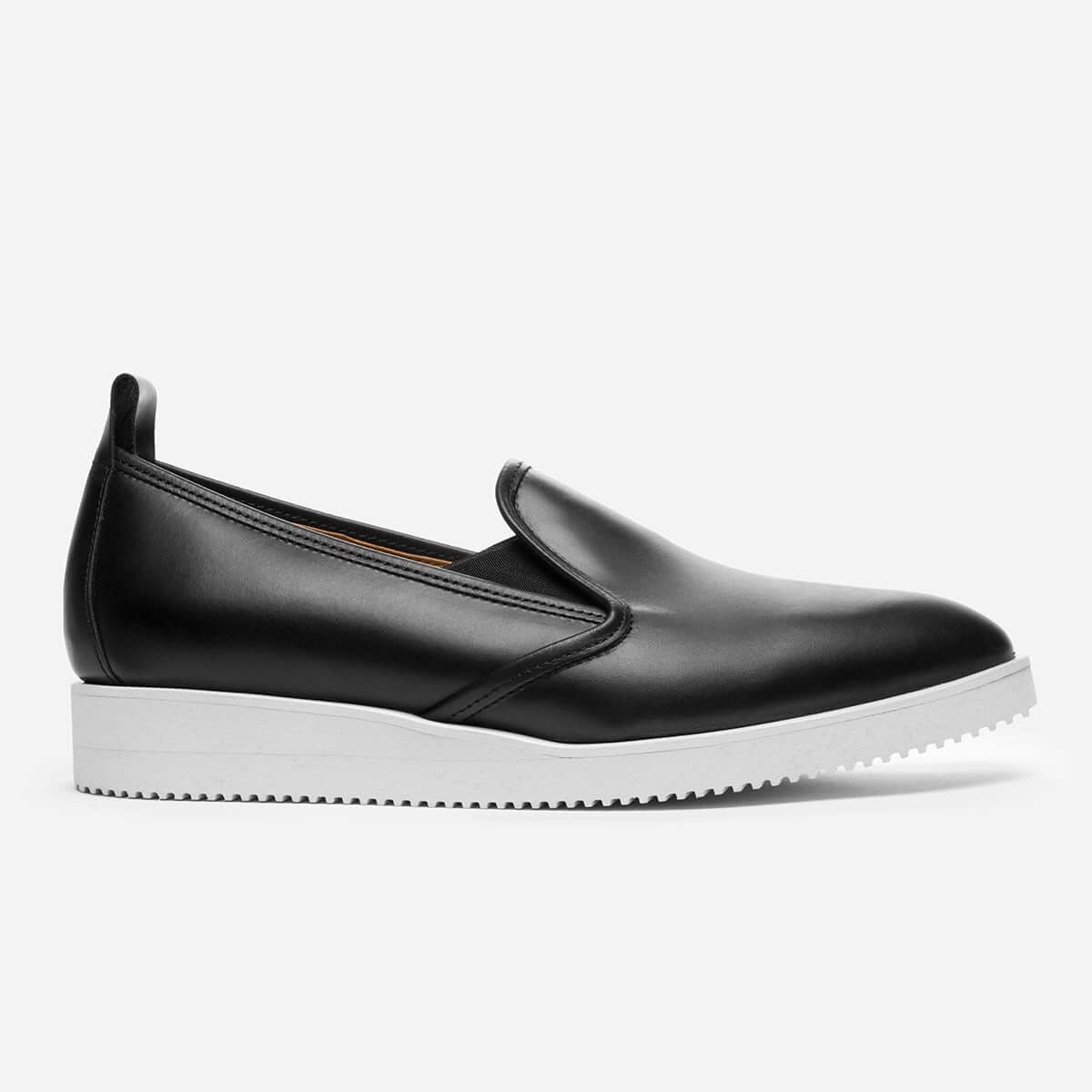 Mary Janes: an old favorite
Since my first pair of Mary Janes in high school (red satin ones from a Chinese store in Sacramento), I've loved the feminine look of the many pairs of Mary Janes I've owned. The good news is that there are comfortable Mary Janes, like these from Hush Puppies. I wear these Mary Janes for hours on end and never feel uncomfortable. They have plenty of arch support to make walking and standing for hours no problem.
The bad news? Mary Janes are not appropriate for all types of weather because the top of your foot is exposed. Without being able to wear socks or have your whole foot covered, these shoes won't work on cold or rainy days.
3) Boots for travel: Be sure to size up!
Boots are a wardrobe staple for me but are a mixed bag while traveling. The good news about boots is that they are great in rain and cold weather, and they can dress up an outfit. And if you shop carefully, they can be comfortable–I have found that boots a half size up are best because they don't pinch and allow room for socks and/or inserts for extra cushioning. Try classic styles like these brown leather boots and these comfortable black boots.
The bad news? Boots take up a lot of space. They can also pinch your feet after too much walking. When I wore my boots to work, they were great, but when I tried to walk around the cobblestone streets of Florence last year, they took on a life of their own and suddenly left me with blisters. I learned that boots for travel must be chosen very carefully.
4) Desert boots/low boots
Low boots seem to be popular right now, not just in the U.S., and I'll admit that I'm a fan.
Try Clark's (see these cute desert boots). The good news for travel is that these can be worn with just about anything and are inconspicuous, but the bad news is that they do not stand up well to rain or cold weather. And they need to be broken in. For lots of walking, I need to go up a size and add good insoles.
5) Comfortable flats for travel:
Because I love a cute pair of flats with skinny pants, I am always on the lookout for flats that look good and are comfortable. I'm happy to say that I've finally found some comfortable flats from Hush Puppies. I can wear them on my feet all day at work  or for hours of walking.
Other recommended brands for comfortable flats include these: this honest Tieks review makes me want to splurge on a pair of these cute and comfortable flats. Or try these Dansko flats, these TOMS flats, these Born flats, and these Rockport flats.
6) Heels/Wedges for travel:
I normally try to use boots or a cute flat for dressing up while on the road. However, even though heels are not typically thought of as good travel shoes, there are some places and occasions that call for nice shoes. Comfortable heels have alluded me, but one lesson I've learned the hard way is that inexpensive heels are a waste of money — they need to be well made and have some support in the sole.
For travel, which includes more walking than you do at home, I would definitely avoid any heel with a strap across the top because it will eventually pinch. But I love wedges. The soles are light, and they're multi-purpose: they look nice with pants, a skirt, or a dress. I tried these wedges from TOMS (also available on Amazon) but didn't like them for travel–the front is too narrow and the heel too high for much walking.
7) Stylish sneakers for travel:
The variety in shoes these days is amazing. Check out how cute these stylish sneakers from TOMS are:
In the end, it comes down to a combination of shoes for every trip. Going to Italy in the fall? I would take my most comfortable high boots, desert boots, and Mary Janes or cozy flats. Going to Brazil? I'd pack Chacos for hiking, low boots for day outings, and nice wedges for evening, and I'd buy Havaianas when I get there.
Help me find better travel shoes! What are your favorite travel shoes and why? What kind of shoes do you wish you could find for travel?
I asked this question over on Facebook and got many answers from readers. Here are some of their picks for great travel shoes:
Clark's (so comfortable!), Born (supportive and great quality!), Toms, Tieks flats (worth every penny!), Vasque lightweight hiking boots, Josef Siebel sneakers (totally European!), Keens (these had a few votes), Merrells (travel shoes for walking!), & Cole Haan's weekender shoes.
Like this post? You might like these, too:
What to Pack for a Snow Vacation
What to Pack for Summer Travel
What to Pack for Winter Travel
8 Things I Never Travel Without
Top Tips for Packing + My Ultimate Packing List