After what proved to be a full summer for all of us ArtSmart Roundtable bloggers, we're back with renewed vigor and ready to share our take on art and travel in our monthly posts. The topic for this month's roundtable is fashion. While thinking of a way to connect fashion and travel, my mind kept returning to the travel experience when fashion actually felt real and interesting–my first trip to Italy.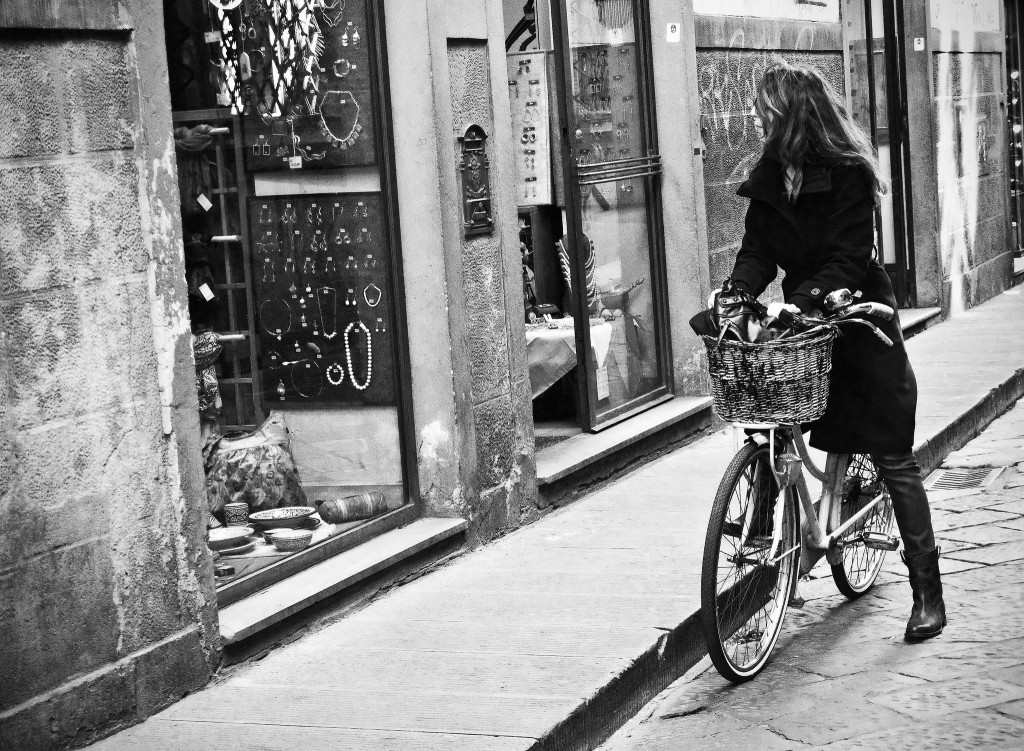 At the age of 16, when I first visited Italy, I was certainly already aware of fashion, in part thanks to having spent plenty of time in New York City, but seeing fashion in Italy took me by surprise. It was everywhere. Walking down the streets of Naples and Rome, I passed shop after shop with beautiful window displays of perfectly displayed shoes, handbags, jewelry, etc. I was so taken with these displays that I asked my dad for two pairs of fancy Italian shoes, and with every subsequent trip to Italy, I would gladly spend evenings window shopping.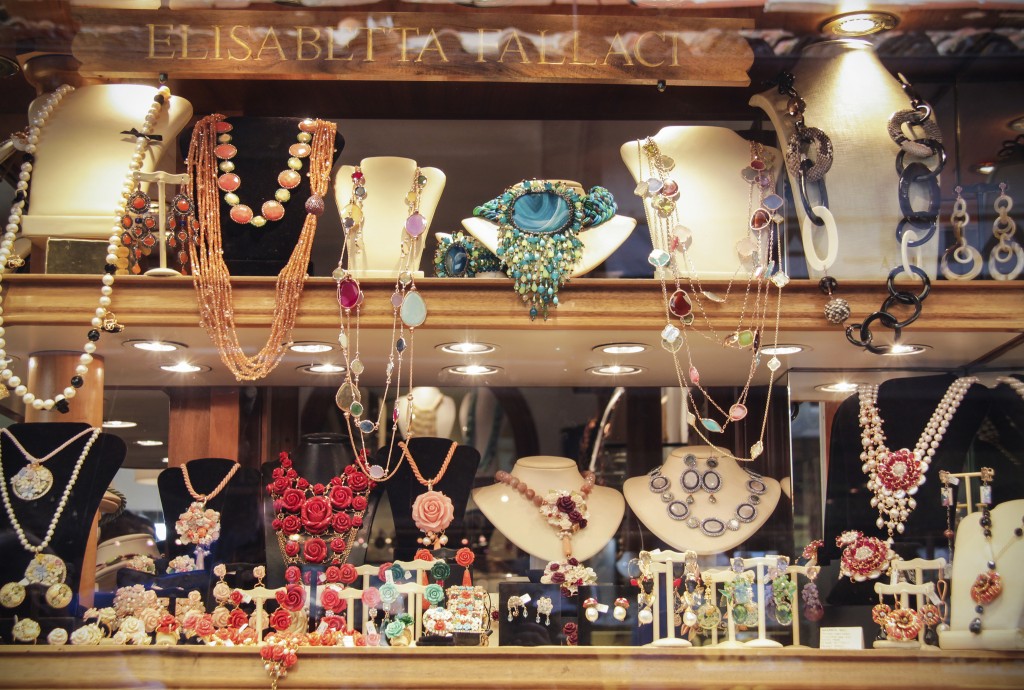 It wasn't just the shops that made me notice the importance of fashion in Italy. More than the displays of beautiful goods, it was the people. The men and women wore classic styles, nothing complicated or reflective of a passing trend. They looked good and seemed comfortable in their looks. Their easy style exuded confidence and positive body image.
This was certainly a far cry from the U.S. where some men (and women) dress in ill-fitting, too big, way-too-casual clothes. These looks might be OK in certain situations, but when you see the overwhelming majority of Italian men sporting flattering, classic clothes, the American tendency to dress down becomes almost offensive.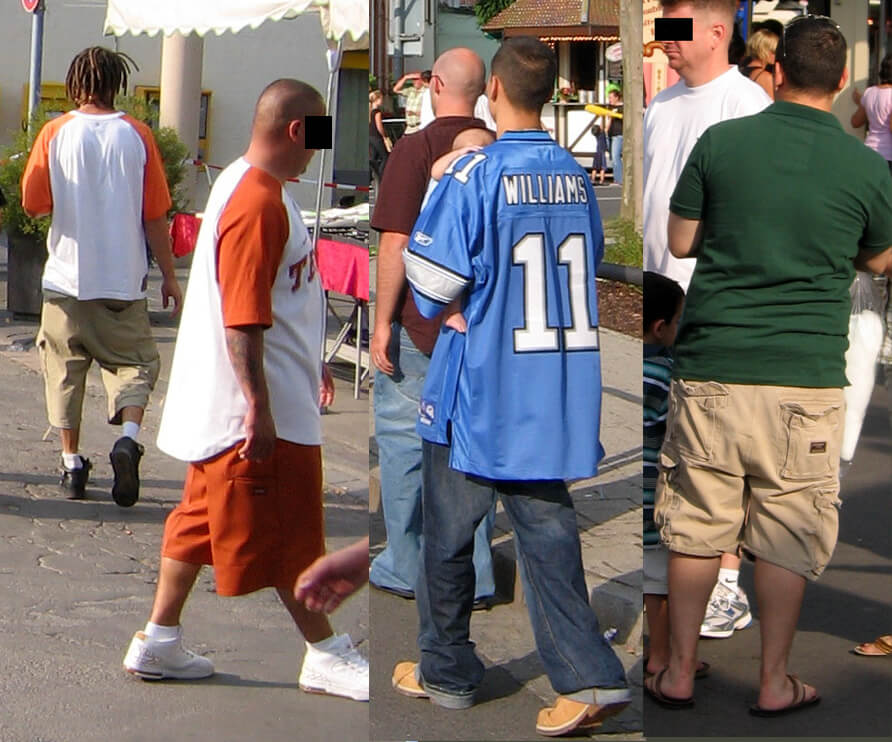 Now, I should let you know that I'm not an arrogant fashion snob, but when you see how easily fashion works for the Italians, it's clear that it needn't be complicated, yet it makes such a difference.
Men in Italy (not all, of course, but enough to make an impression) reflect fashion in a few ways. First, they're not afraid of color. Perhaps the best example is the sporting of red pants. I'm not sure I've ever seen an American man wear red pants (not gym pants!), but in Italy, I sure saw them. In fact, red pants on men is so common (and perhaps so Italian?) that blogger Erica Firpo has taken many photos and tagged them #redpants on Instagram.
Second, Italian men pull off a timeless fashion even into their old age. Trousers, nice hats, basic dark coats…Italian men show that classic style needn't be hard. I'd guess it's about buying quality items that they can wear for years and years.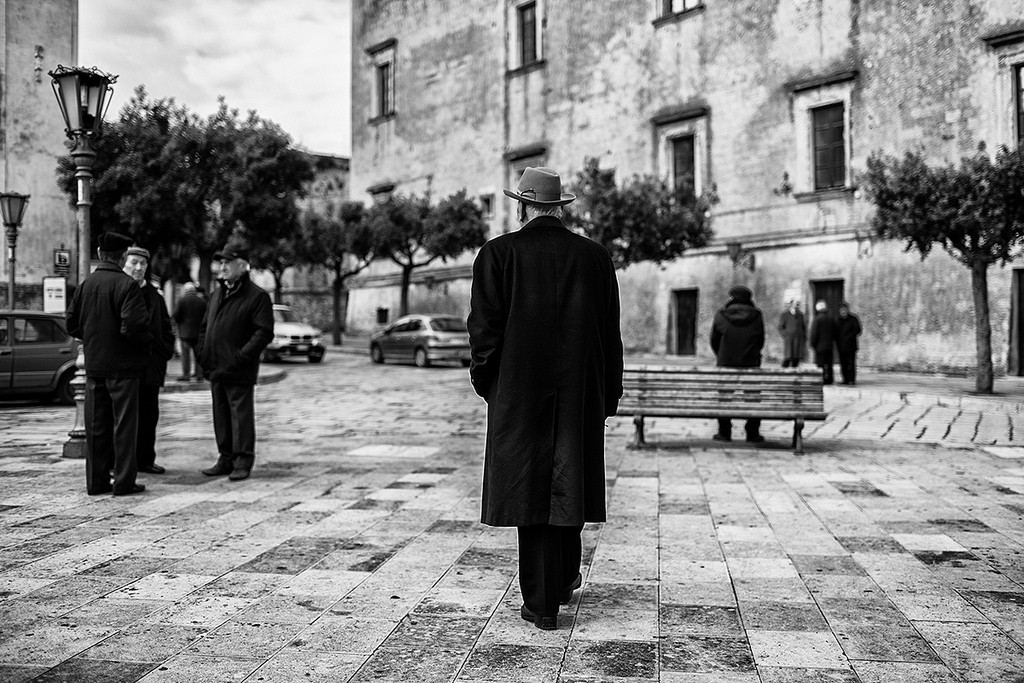 Third, it's the little details, like that Italian men wear scarves. And when they maybe don't have a beautiful outfit put together, they can pull off something decent by wearing dark colors. The guys in the photo below may not be the best examples of fashion in Italy, but their looks are probably a whole lot better than those we'd find if we snapped two random guys in a train station in the U.S.!
The guy on the left shows how average Italian men wear scarves–that shouldn't really be newsworthy, but I never see American men add one as an accessory, especially not one tied like this. The guy on the right shows that, simply by wearing an inconspicuous outfit with mostly dark colors, even a slightly frumpy guy doesn't look so bad.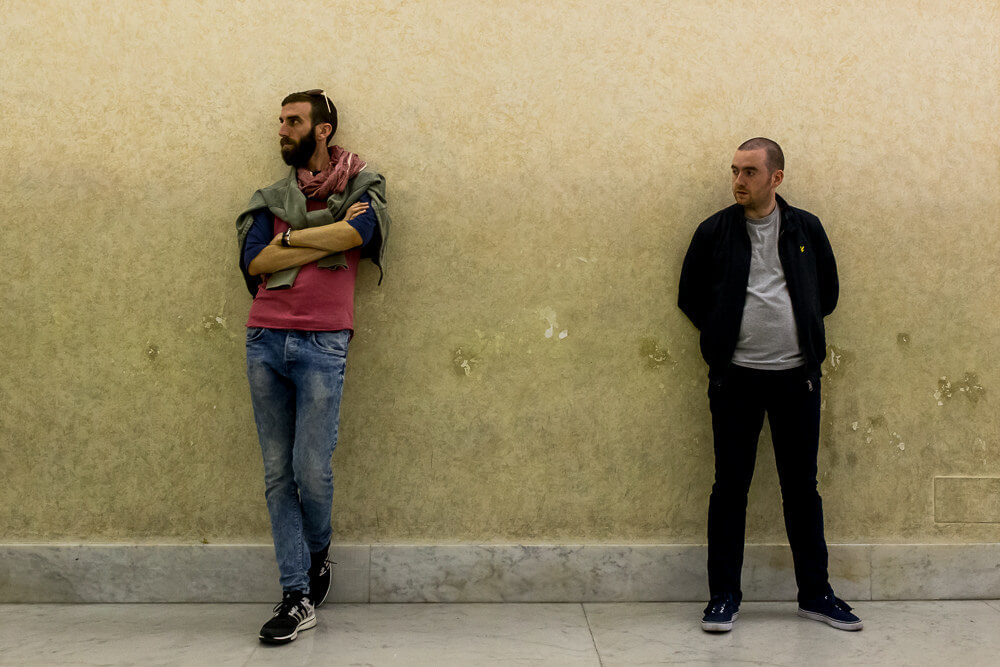 Speaking of dark colors, here's another ensemble–while nothing fancy, it shows class and style with black clothes and a really nice haircut on a middle-aged man.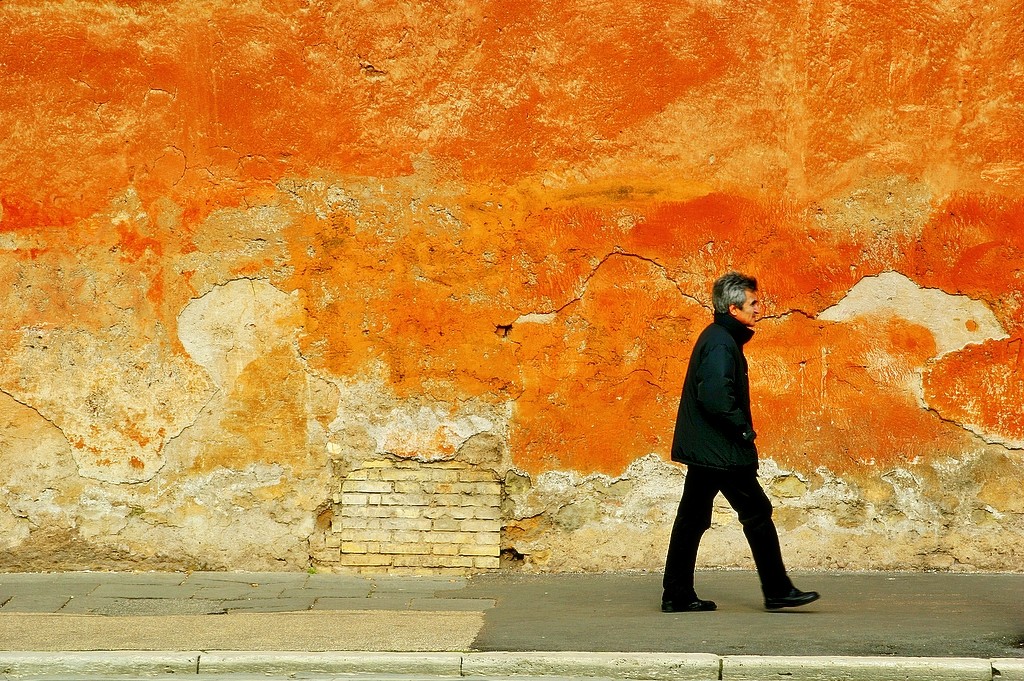 Finally, in Italy, it's OK for men to dress up. It's OK for them to care about what they look like and about fashion. It's OK for them to play with classic looks and maybe turn up the volume a bit.
The same goes for women. Italian women care. They care what they look like when they go out. Before I go on, let me mention that I don't promote women spending lots of time in front of the mirror getting made up to please men's eyes…this is not about that. Or maybe for them it is, but in my view, it's about feeling good about oneself, no matter the size or shape or whatever. When a woman can pull on something that looks good on her, she feels good about herself.
Let's see the next photo as an example. While these looks may not be exactly "fashionable," you can assume that every one of these people cared what they looked like when they got dressed that day.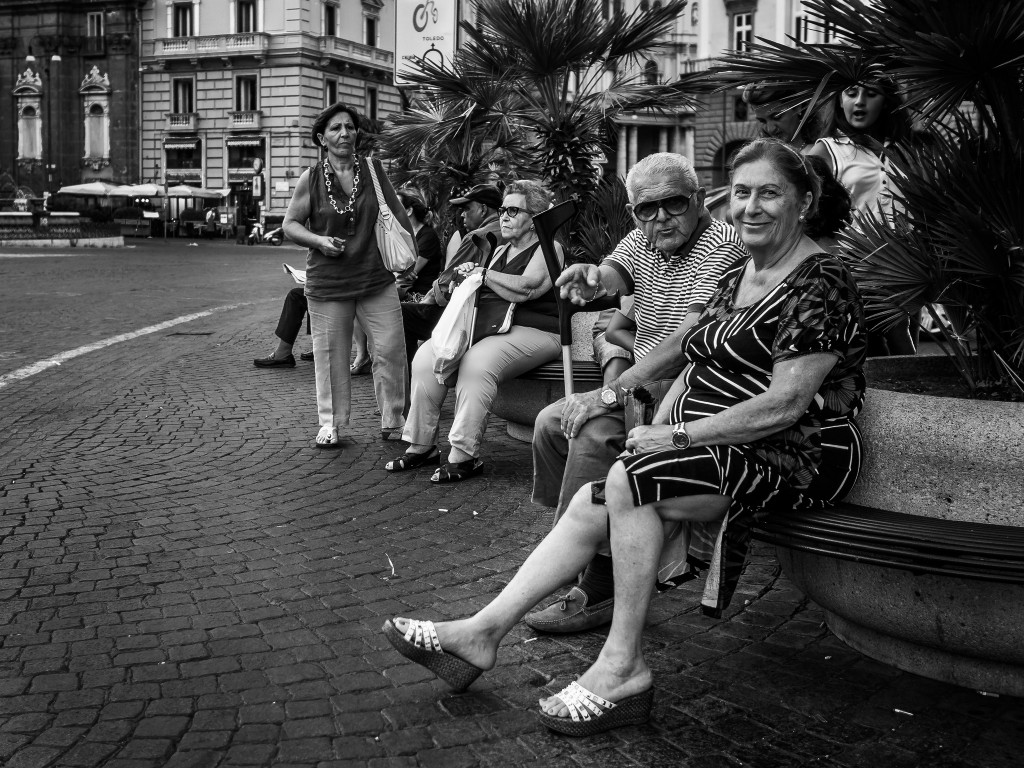 Is it *important* that Italians look good when they go out for their evening walk? Maybe not, but it's part of who they are. I think for them it's about showing a personal style that is a tiny part of what is collectively a national aesthetic. Italy is an achingly beautiful country. It seems only fitting that its people should blend in with the beauty that is all around them.
And how can you not feel inspired to look a little more beautiful when you have this kind of beauty around you?
Where have you seen interesting fashion on your travels? 
For more on fashion, check out these diverse looks at fashion from the ArtSmart Roundtable this month:
Peter the Great Trendsetter: National Change through Fashion on Daydream Tourist
The Fabulous Fashions of Milena Canonero on Wanderfull Traveler
The Best and Worst of Renaissance Fashion on ArtTrav
Fashion in The Netherlands – Exhibitions Fall/Winter 2015 on Art Weekenders
Dismaland: The Fashionable Way to 'Do' An Art Show on Wanderarti
Photo credits: In order from top: BWPhotoStreet, Kotomi Creations, Christina Geyer, Erica Firpo, Andrea Donato Alemanno , Jan Jespersen, Stefano Corso, Mario Mancuso, Craig Allen, Julio Cesar Mesa, all on Flickr with Creative Commons use except the 4th photo.