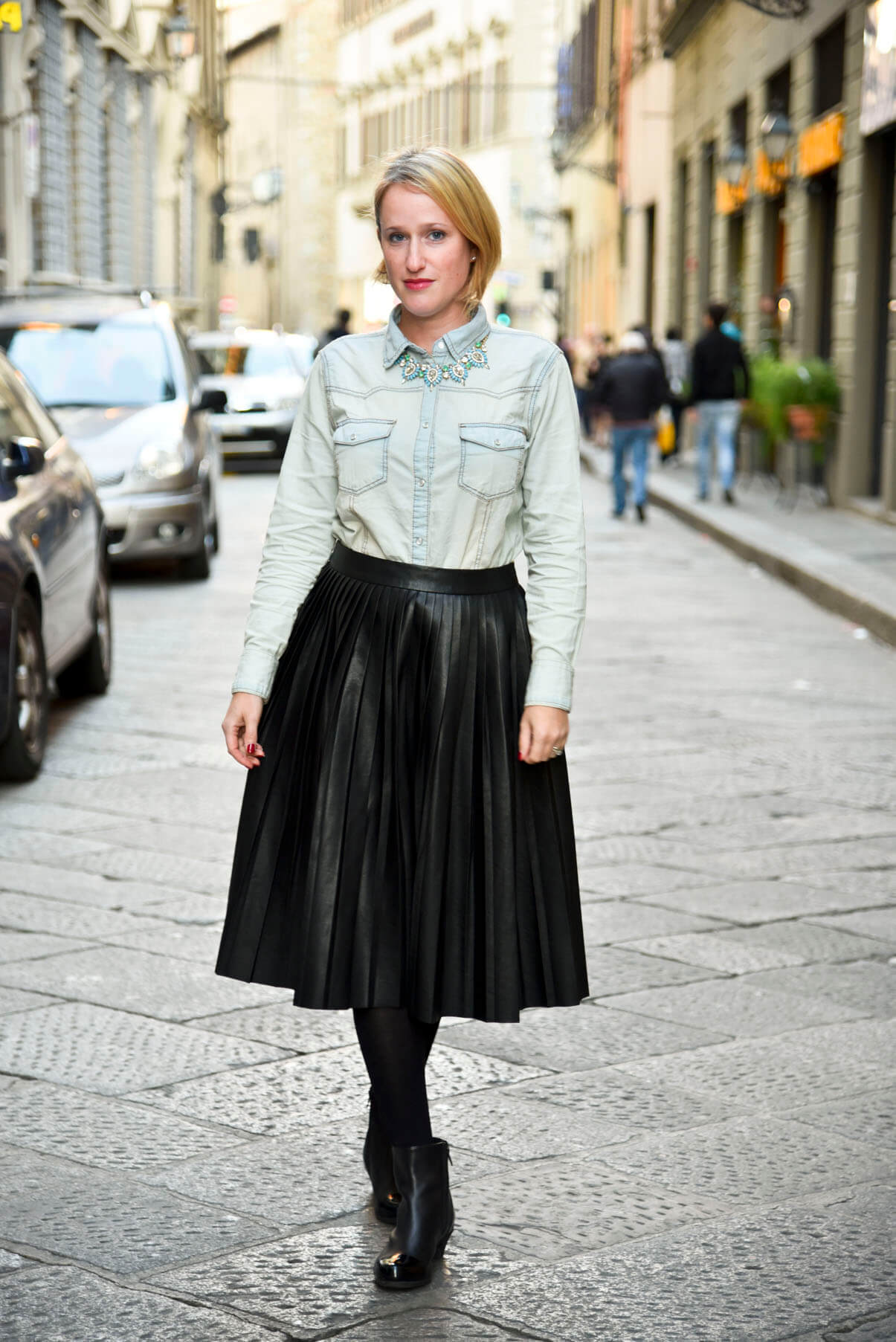 Where have you always dreamed of living? The first place I ever fell in love with was Florence, and I've wanted to live there since. That's why I'm especially excited about this next post in the series "What's It Really Like to Live in .. ?" Today writer/blogger/art historian Alexandra shares the good and the bad of what it's really like to live in Florence, Italy: getting married to an Italian, the challenges of making friends as an expat, why eating strawberries at certain times can practically be a crime, and much more!
I live in Florence, Italy, but I was born in Toronto, Canada. I live with my husband Tommaso, an Italian born in Florence whom I met when I studied abroad for my MA degree back in 2000. We were married in 2004. I work full time at a communications agency here in Florence, with Italian owners and international colleagues, and we also own and run an English language newspaper. In my spare time I write the blog ArtTrav. I'm also on Twitter and Instagram.
On the decision to move to Florence:  
I first came to Florence during my undergraduate studies in art history, and I loved it so much I signed up for a Masters degree program through Syracuse University in Florence. By the time I finished that, and stayed on for a bit as a teaching assistant, I knew I wanted to be here as much as possible. At that point, it was something about the depth of the history in this city that attracted me – and as a student of Italian Renaissance art history, this was perfectly justified for study reasons.
I did eventually leave to go to the States for a PhD, but by then I had fallen in love with the man who would become my husband. If it weren't for him, I probably would have not moved here permanently, but made Florence an annual destination for teaching and research, as have done so many of my university colleagues.
On first impressions of living in Florence:
I made the leap in 2003, and was married a year later (when my permit to stay expired!). The transition was easier for me as a fiancée/wife than it would have been if I were alone. We first moved into my future inlaws' house (yup!) and then into an apartment that was found for us through friends of the family.
It's not easy to set up house when you move somewhere new, as you have to discover which utility company to use, convince someone you're worthy of a phone and internet line, register your presence at city hall, and all that good stuff. But it's easier if you have a local person at your side. I did have to go through some immigration hell, but nothing as bad as that experienced by people who try to move here on their own accord.
My impressions of Florence and Italy are different now than when I first came here in 1999, but that's due to many factors: almost 20 years have passed, and so I'm that much older, we've been in an economic crisis for that long, the country has changed, and I've also changed careers – from student, to young professor, to working in digital marketing.
There's no question that the longer you live in a place, the more you're attuned to its problems. Italians tend to be very disillusioned, and they have every right to be so: the economic situation is such that for the first time in modern history, the new generations will be worse off than their parents. Although I've managed to do quite well for myself, this situation obviously affects my worldview.
On adjusting to cultural differences:
It's been so long now that I have trouble remembering what live was like in Canada or in the States. I have so totally absorbed Italian cultural norms that every once in a while I question if some things are the same elsewhere, like the non-existence of election promise fulfillment, the clear nepotism in everything, the obsession with food… I think more than specific cultural differences, to live in Italy I have just had to learn greater patience, and I am still working on that.
On making friends in another country:
Making friends has not been easy, although I do feel that I have some close friends now – after all these years. Having a partner means you do fall into his "friend group" but those people aren't necessarily the ones you would have chosen. For me, I didn't really connect with any of the other girls.
After years of trying to make friends with Italians to the point of being a bit of a snob towards expat support groups, I kinda gave up and caved into the fact that I do have more in common with other expats or at least with other people who have lived internationally. Working at the "expat newspaper" and being good friends with the other expat bloggers in town has surrounded me with like-minded women. The local Yelp community has also been a great way to get out and meet outgoing types through their events – Florence has a particularly strong group and lately I've made a ton of friends there. Also, the local Instagram groups (IgersFirenze, IgersPrato, etc.) have been the source of activities and new friends. (I wrote about where to meet people in Florence here.)
On the dream of living in Florence vs. the reality of daily life there:
If you take a look at my Instagram profile, it looks like life in Florence is a series of amazing museums and churches, interspersed by countryside views of hay bales, sunflowers, and long walks in the woods. That is the visual part of my life, and I do get out a lot – I travel almost every weekend. Unfortunately, a typical day is much more boring, and could be the same, I imagine, if I lived in Kalamazoo.
I wake up and have breakfast in front of my computer, where I write daily to my mom back in Toronto (the emails are really boring but it's the only way to keep up with the details of life – the 6 hour time difference makes FaceTime calls infrequently possible). My husband gives me a ride to work on the back of his Vespa, which is much faster than taking the bus – unless it is raining, and then I have to deal with the crowded and unreliable public transportation in Florence.
I work in the historic center, in a gorgeous 16th-century building just steps from Piazza Santa Maria Novella, which is graced by a marble façade designed in the 15th century by Alberti. Walking past it every morning makes it worth going to work.
I spend most of my day in front of the computer, where my team and I manage social media campaigns for clients. Luckily there is also quite a bit of variety: we visit our hospitality clients at least once a month, so there might be a day I go out to the Chianti Classico countryside to take photos or to report live from an event, or another that I get to take photographs of gourmet food, or shoot a promotional film for a product.
The best things about living in Florence:
One of the things I love best about living in Florence is that it is a pretty small town. You can put together a good group of friends and become relatively well known, socially. It's also nice because the distances are small between towns in Italy and cities in Europe. We have a home in the Tuscan countryside towards the coast, and we go there most weekends. We frequently travel within and beyond this region, either on blog tours or visiting friends. There are low cost flights that take you in a few hours to London, Paris, Berlin or wherever you want to go. But most of the time we're content to hang out in Tuscany, a region that I really do think has many great things in the world: brilliant food, beautiful seaside, and even decent ski hills in the winter.
What aspects of life in Italy do you wish other countries would adopt? 
Although I would not describe myself as a foodie, nor as a health nut, I do care a lot about what goes into my body – and I also like to enjoy it. In Italy, people eat locally and seasonally. This is in part because we CAN – things grow year round, we don't have to depend on import. Where I grew up in Toronto, it would be impossible to eat only local food – you'd eat only in August, and just corn and berries for that matter. But in California you could pull it off. In Italy, at least in my circles, it's a crime to eat strawberries out of season. People accept that not everything is available year round. It's what makes it such a joy when you DO get that special fruit or vegetable for just a few weeks at your local supermarket. Local, seasonal and natural ingredients are key to good eating, and are concepts that I think should be "exported."
Tips for visiting Florence:
Italy is a lovely place to visit – I generally don't suggest that people plan to move here, since it is not economically sound, really. There are plenty of ideas for cultural travel in the 11 or so years' worth of articles on my website (www.arttrav.com) should you wish for some travel inspiration.
On what's next:
I don't really want to have to leave Italy, though I do wonder how I will manage to take care of my aging parents, since I am an only child. I've spent my entire adult life in this country, I've built a family, circle of friends and a career. I can imagine living somewhere else temporarily, but I think I'd want to live here as long as circumstance permits.
Thanks, Alexandra, for sharing your thoughts on expat life in Florence, Italy! Check out her blog and Instagram account–they're two of my favorites!
And you? Have you lived in another country? What did you love about it? What were the challenges?