I'm feeling the need for a whole lot more fun in my life. In an effort to celebrate all there is to do around Sacramento and add more social time to my life, I've decided to highlight different ways we can have fun and relax on weekends, from favorite local outings to ideas for get-togethers and community building. (Remember this?) Let's start with one of our favorite things to do in Sacramento: try craft beer at Sacramento breweries. The Sacramento beer scene continues to grow and is now making the city a beer destination in its own right. If you'd like to check it out, here are my picks for best places to drink craft beer in Sacramento:
New Helvetia:
New Helvetia on Broadway is the place to go if you want good beer in a laid back atmosphere. All are welcome, including kids. Grab a board game and hang out in the outdoor "biergarten" or inside the tasting room at the bar or big wooden booths. There's a fun sense of community here, as evidenced in the giant Jenga all can play, weekly ping-pong tournaments, and special events like the Thanksgiving block party. Food isn't sold here, but they encourage you to get take-out from the many neighboring restaurants, and there are food trucks occasionally. Street parking is plentiful.
Several of their beers have won awards, but I especially liked the Shandy, coffee stout, and Thunderbeast IPA on our last visit.
Pangea Bier Cafe:
Pangea Bier Cafe is known for its impressive beer selection, but it also serves good food in a relaxed atmosphere. We like to stop in for their hot buttered pretzel, mac & cheese, and kale salad with a couple of Belgian ales. The beers aren't cheap, but the selection is unique–they feature a constantly-changing variety of beers from California and beyond, including several local offerings, Pliny the Elder, and several sours.
New Glory:
Some of my favorite Sacramento beer is coming from New Glory Craft Brewery these days. They make some really good hoppy IPAs but also offer unique takes on sour, gose, and saison style beers.
Fieldwork Brewing Co.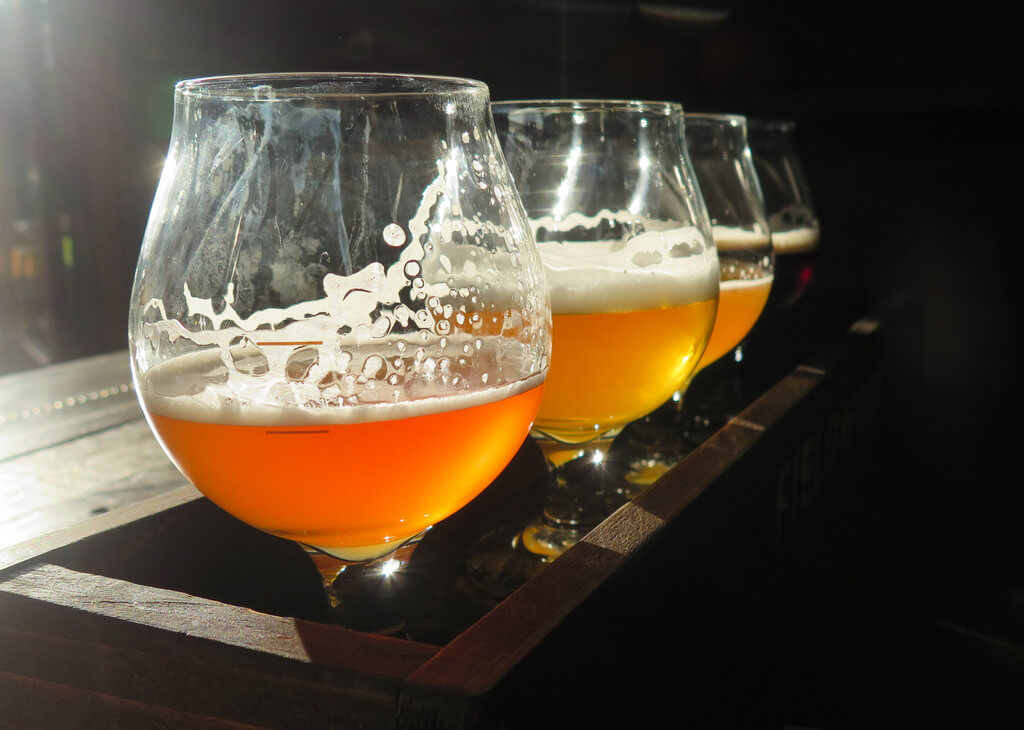 Fieldwork is a Berkeley-based brewery that has recently opened a taproom at Napa's Oxbow Public Market and in the Handle District of Midtown Sacramento. I'd heard lots of good things about it before going, and we weren't disappointed. We always like to order a flight to try a few different kinds, so I like that Fieldwork allows you to choose any number of small pours. On this day, we tried the Strawberry Tart (highly recommended!), the Nomadic IPA, the double IPA, and the chocolate milk stout.
The place is small, but even on a beautiful Sunday afternoon, it wasn't crowded. There are large tables and a narrow bar along the wall, plus several small tables on the front outdoor patio.One nice touch is that each table has a small booklet of information about each beer–being the wine lover I am, I enjoy reading all the specs about beer, too. A limited food menu is available. We weren't the only ones with kids here, but, considering the size and feeling of the place, I would bring kids here only if they're quiet!
Track 7 Brewing Co.:

Track 7 is perhaps the most popular brewery in the Sacramento area, and for good reason. They consistently put out quality beers, especially their IPAs like Panic IPA. The only reason we don't go here more often is that it's usually crowded. It's kid and dog-friendly and has a food truck daily.
Ruhstaller: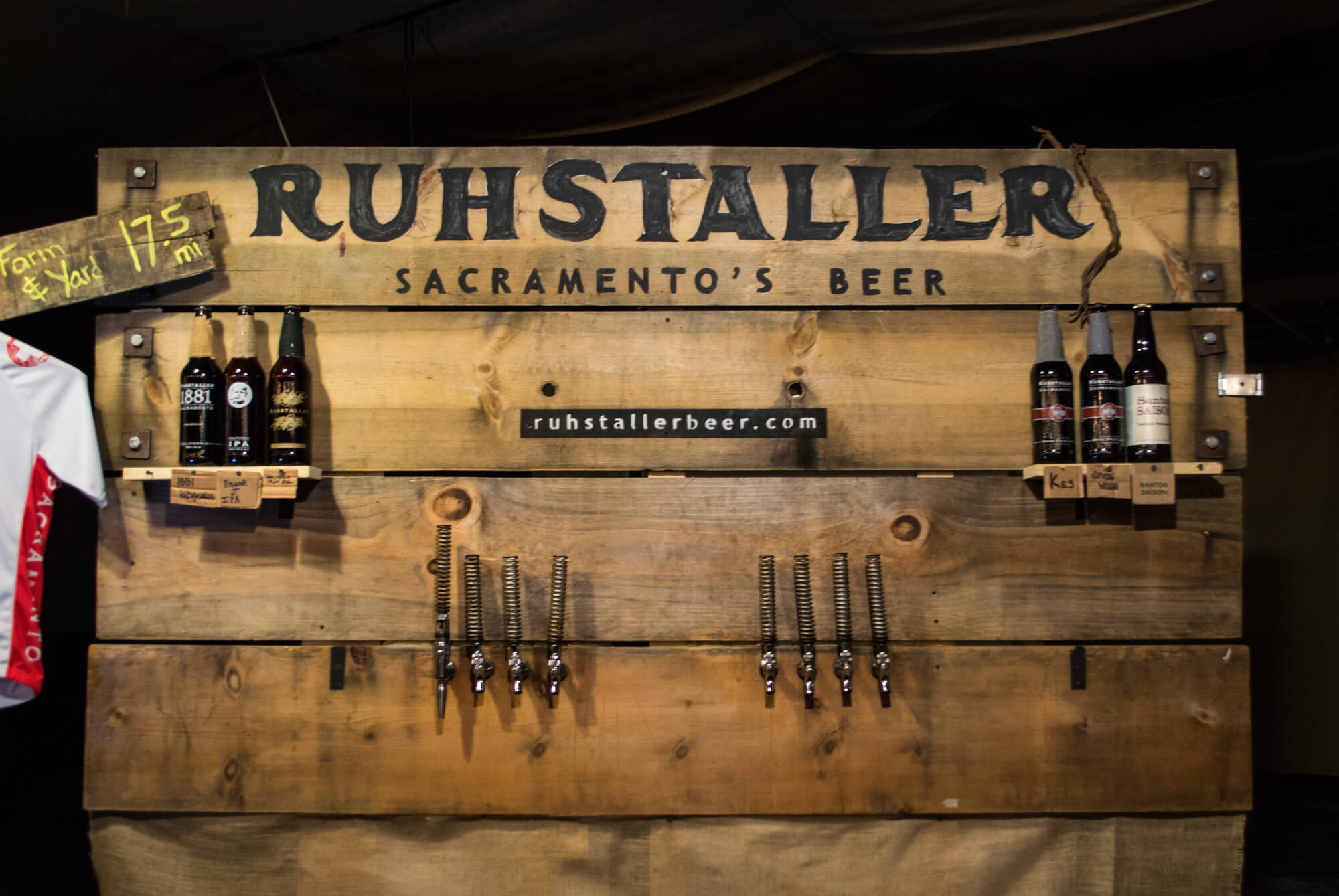 Ruhstaller was known for using indigenous hops grown at their farm just outside of Sacramento until the farm was forced to close last year. The Ruhstaller Brewery and Taproom in downtown Sacramento is still worth a stop for its unique atmosphere. Reminiscent of the cellar bars I hung out in in central Europe, this cozy taproom is discreetly located in the basement of a downtown building near the new Golden 1 arena.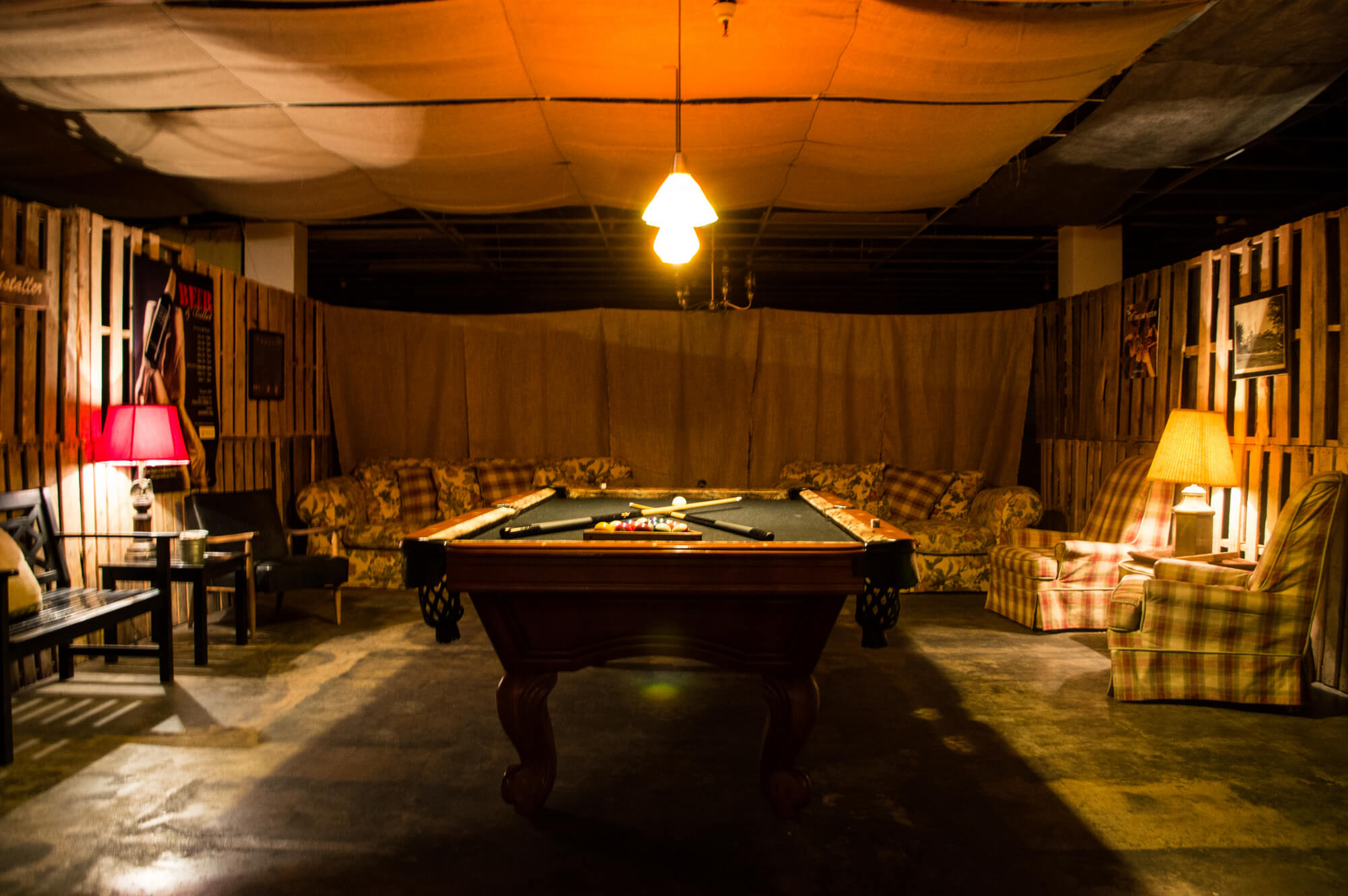 You may have to look for a small sign that says "Ring for beer" and ring the buzzer to be let in. The first time we visited, we did just that, but the second time, the door was open and we just walked in. The service is friendly, there are peanuts to shell and snack on while drinking, there's a pool table, and the taproom is dog friendly. They've also started a live music series called Basement Sessions.
Two Rivers Cider: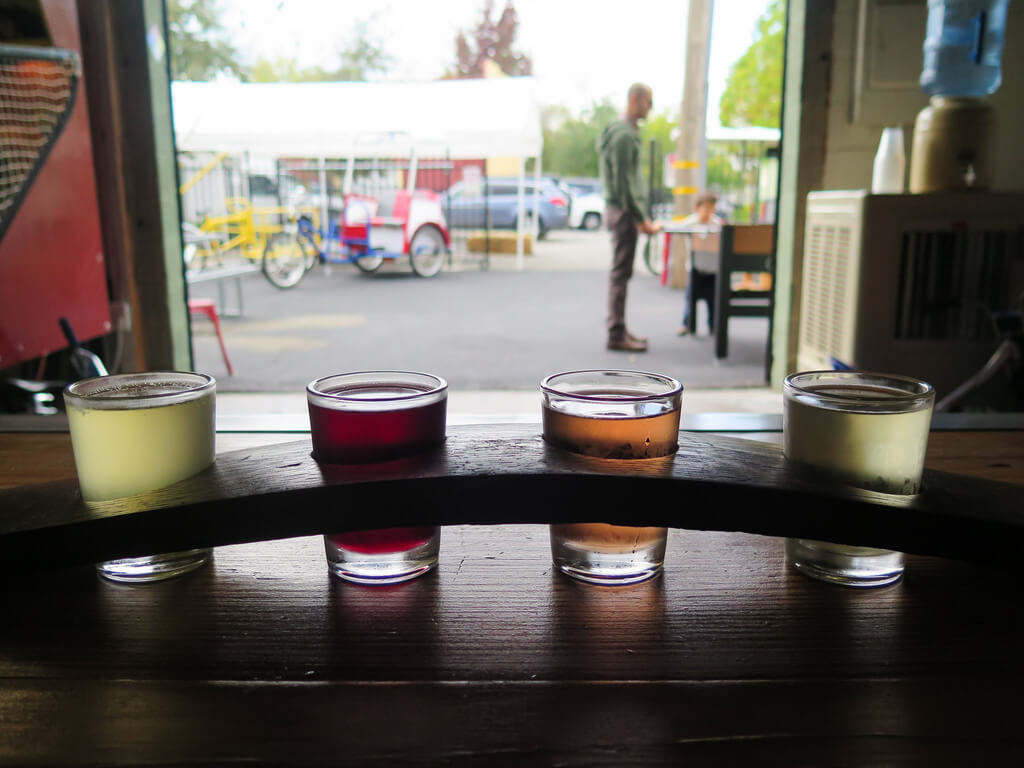 Two Rivers is a cidery, not a brewery, and even though I usually prefer a beer over a cider, we love hanging out here. Like New Helvetia, the atmosphere here is very laid back–imagine kids zooming around in the many bikes they have outside, families eating sandwiches at the long wooden tables, and couples sipping the easy-drinking ciders with their dogs at their feet. My kids especially love the games here, including skee-ball. I usually start with a flight of 4 (their menu changes frequently) and then order a favorite, like the pomegranate or blackberry.
Oak Park Brewery:

Oak Park Brewing Company is the place to go if you want good food and a proper restaurant atmosphere with your beers. I wasn't blown away by the beer I tried, but I loved their food menu, especially the housemade pasta and pulled pork sliders. Plus, they have a kids' menu!
I haven't visited other breweries that are a bit farther afield, but I've heard good things about Device and Bike Dog, as well as Mraz and Knee Deep, east of Sacramento. What are your favorite places to try craft beer in the Sacramento area?