I love to have people over. I actually don't do it too often, but hosting friends and family is one of my favorite ways to spend time, especially when we can gather around food or drinks. I love to cook for parties or throw themed get-togethers, like a beer tasting or caipirinha party. And now that summer's in full swing, I'm inspired to entertain more. Some of these get-togethers will certainly center around wine. Here are a few tips I've come up with for how to host a wine tasting party: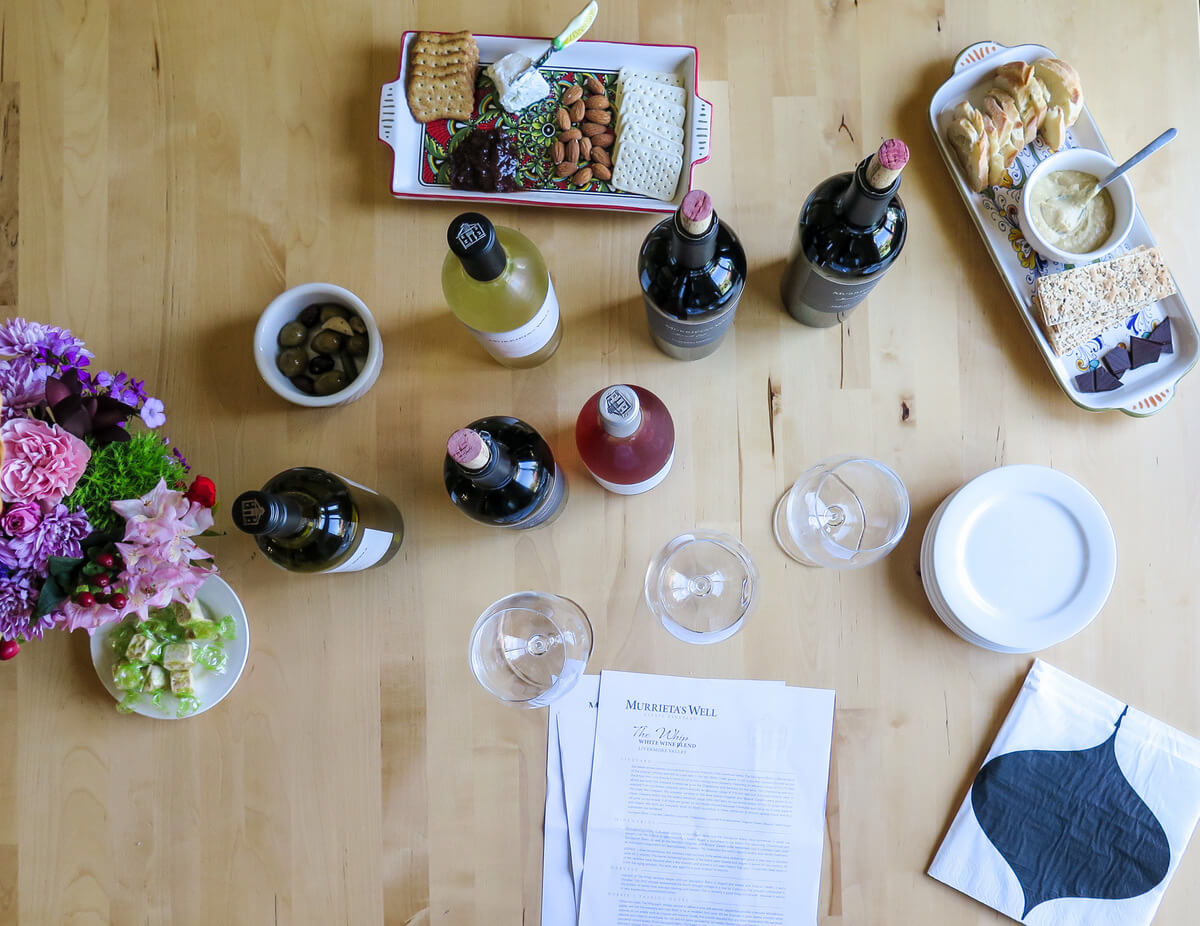 How to Host a Wine Tasting Party:
1. Choose your wine theme.
The first decision to make while planning a wine tasting party is what wines you'll include. Here are a few ways to do it:
Showcase wines from one winery:
If you have a favorite winery, try buying a few bottles of their wines and inviting friends for a "get to know X winery" party. I recently did that with one of my favorite California wineries, Murrieta's Well. As you can see in the above photo, we had a bottle of white, a bottle of rosé, and four bottles of reds. I gathered some information about the winery — location, history, winemaker, what makes their vineyards special — and shared that with my friends while we tasted the flight. My friends liked the wines so much that we also shared ideas for visiting the winery in the future.
Try wines of one varietal:
This is one of my favorite ways to try wine because it gives you a good idea of how different wineries can use the same type of grape but produce very distinct wines. In the above photo, we tried three California Chardonnays, which gave us a chance to experience different expressions of the same grape. You can include details of where the grapes are grown or how the wines are produced (e.g. stainless steel or oak for Chardonnay) as a way of learning a bit about terroir and winemaking.
For even more fun with one varietal, try to collect wines that are from distinct regions, for example Cabernets from Washington, Sonoma or Napa Valley, and Monterey County, and discover how the region where the grapes grow results in different expressions of the grape. Take it up a notch by trying wine from lesser-known wine regions like Contra Costa or Livermore Valley in California.
Everyone brings their favorite wines:
The one rule for this type of party is that everyone brings one bottle of their favorite wine. You can narrow it down by adding a price range, like "favorite bottle of wine between $10 and $20." This works well if your guests are already into wine and have some personal favorites.
Try wines from around the world:
I usually prefer to stay pretty local with wine, but it's fun to broaden my horizons with wines from other countries. You can start by choosing 4 or 5 countries and asking at your local wine store for a recommendation of the most typical wine from each country. Or you could focus on one varietal, say Malbec or Chardonnay, and discover how the wine of that grape differs from one country to another.
2. Pair your wine tasting with food.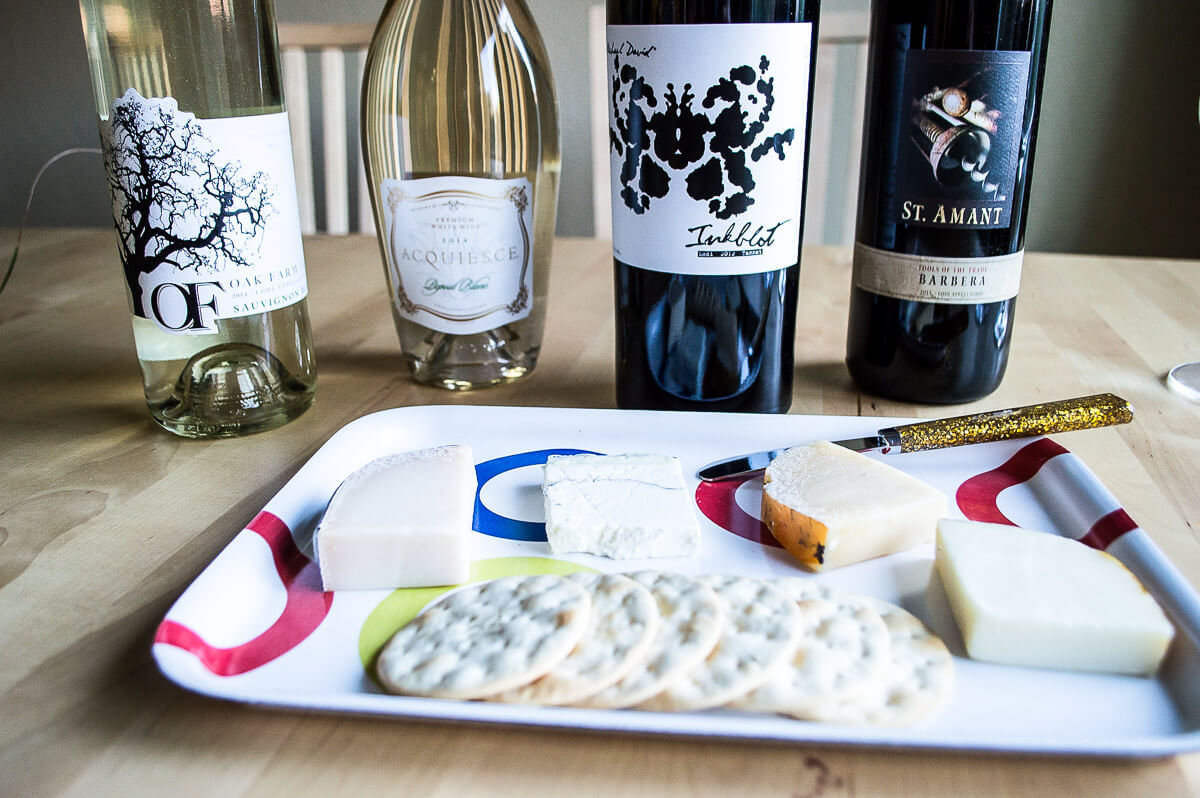 What food to serve at a wine tasting party:
Start with water and palate cleansers. Between each wine, your guests may want to refresh their palate before moving on to the next wine, and water and plain crackers or baguette slices are essential for this.
Make a cheese platter. Include the usual suspects: a few kinds of cheese, charcuterie, crackers and/or baguette slices, almonds, dried fruit or sliced fresh fruit, and jam, chutney or honey. Aim for a variety of types of cheese, such as a soft brie, a goat cheese, and a couple of hard cheeses, such as gruyere and pecorino. A blue cheese goes well with sweeter wines like Reisling or Port. (More tips for pairing wine and cheese here.)
And while wine and cheese pairing sounds amazing to some, other people don't agree. They don't like to pair cheese with wine because it can overpower the taste of the wine, so you might want to suggest tasting the wines alone first and then trying them again with the cheeses.
Consider providing food before wine tasting so that your guests don't try wines on an empty stomach. My preference is to have a spread of things to graze plus shortbread, fruit and dark chocolate for later.
3. Decide how to serve the wines
Make a flight: If you have a few types of wines, pour the wines individually like at a wine tasting room. Start with the lightest white, then rosé, then reds. If you have more than one white or more than one red, serve them from light to medium to full body. For example, serve a Sauvignon Blanc, Chardonnay, rosé, Pinot Noir, Merlot, and then finish with the full-bodied red, such as Cabernet Sauvignon or Tempranillo. If you have a sweet wine like a Port, serve that last.
If you have wines of all the same or similar types (like all Chardonnays, all reds, all Cabs), try a blind tasting. Cover the labels and then try the wines, either ranking favorites or guessing what type of wines they are or where they're from.
Use the right type of glass. You don't need lots of fancy glasses, but you want to use a glass with a fuller bowl for reds than for whites. Fill wine glasses less than half full so that the aromas can be released, especially for reds.
And as a way to thank your guests for coming, let them choose their favorite wine of the tasting to take home.
Have you ever hosted a wine tasting party? What tips do you have for how to host a wine tasting party?